The Heart-Wrenching Death Of David Crosby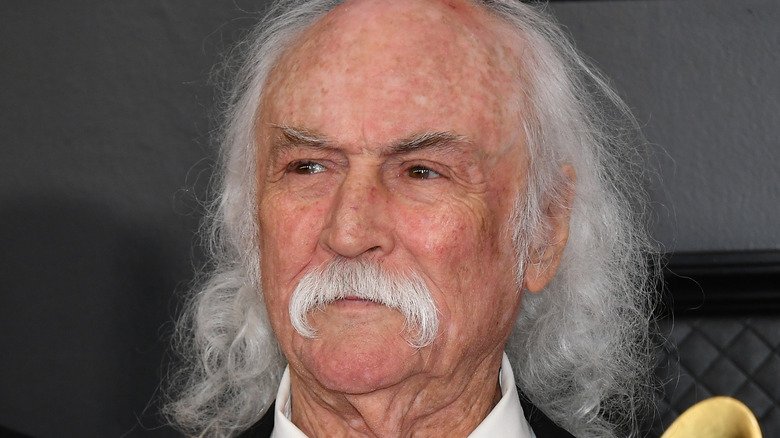 Amy Sussman/Getty Images
Acclaimed folk-rock musician David Crosby died at the age of 81, according to Variety. The death of the two-time Rock & Roll Hall of Fame inductee was confirmed by a statement from Crosby's wife, Jan Dance. Crosby's death came after a long illness, his wife wrote. As a musician, Crosby played with The Byrds and Crosby, Stills, Nash & Young (CSNY). Both groups with which Crosby was most closely associated helped define the popular Laurel Canyon folk-rock sound of the '60s, so named after the wooded Laurel Canyon neighborhood of Los Angeles where Crosby and many of his contemporaries lived (via Music Connection). In his career, Crosby, a Los Angeles-area native, also released a number of solo records (via AllMusic). His latest work, "For Free," came out in 2021.
Crosby's first Hall of Fame induction came in 1991 for the Byrds and again, in 1997 for his work with CSNY. In the statement announcing her husband's death, Crosby's wife wrote, "[Crosby] was lovingly surrounded by his wife and soulmate Jan and son Django. Although he is no longer here with us, his humanity and kind soul will continue to guide and inspire us." As news of Crosby's loss, many took to Twitter to share their thoughts. In a tweet, The Beach Boys' Brian Wilson wrote, "David was an unbelievable talent — such a great singer and songwriter. And a wonderful person. I just am at a loss for words. Love & Mercy to David's family and friends."
Crosby began his music career as a solo artist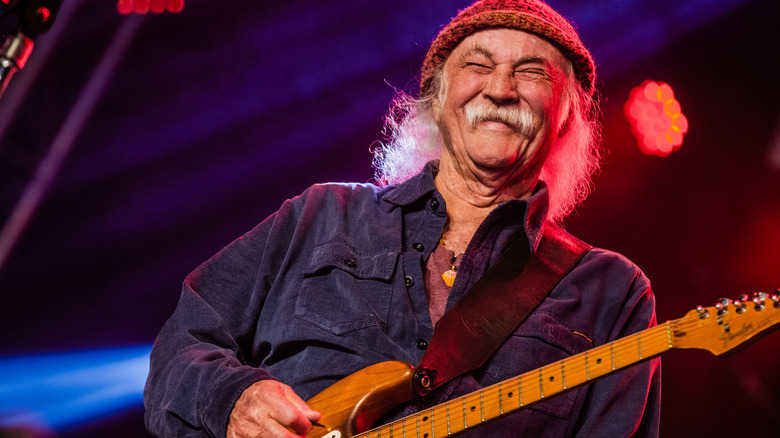 Ben Houdijk/Shutterstock
Though David Crosby would break through in music as a member of groups like The Byrds and CSNY, he began his career as a solo artist singing and performing at iconic L.A. venues like the Troubadour. The first record he released with The Byrds, "Mr. Tambourine Man," came out in 1965 (via AllMusic). By 1967, The Byrds' lineup changed and Crosby's songwriting became the focus of the band. That same year, in the midst of recording their record "The Notorious Byrd Brothers," tensions boiled over and Crosby was kicked out. With the end of one project though, Crosby found himself at work with Stephen Stills and Graham Nash of CSNY, then just CSN (per AllMusic). Neil Young joined the group later.
The first CSN record, self-titled "Crosby, Stills & Nash" came out in 1969 (via AllMusic). Soon enough, Crosby was back to work as a solo artist. His debut solo record "If Only I Could Remember My Name" came out in 1971. In 2016, tensions between Crosby and  Graham Nash finally became too much after decades of releasing music and performing together. At that time, Nash told Billboard Magazine (via Daily Mail), "There will never be another Crosby, Stills & Nash record or show. Right now, I don't want anything to do with Crosby at all. It's just that simple. I was letting Crosby be who he is. I let people play their hand in front of me, and I let him do it and then I make a decision."
Crosby had substance use issues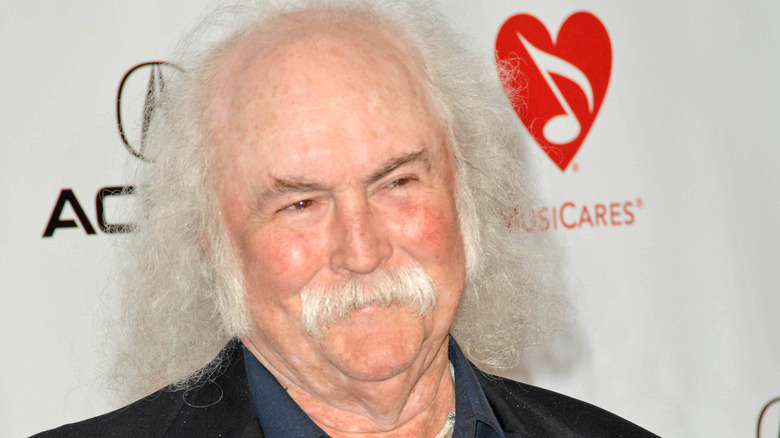 s_bukley/Shutterstock
In 2016, tensions between Graham Nash and David Crosby were not the only instance in Crosby's career when interpersonal relationships overwhelmed songwriting often caused by Crosby's cocaine use and numerous run-ins with the law, as Variety writes. As early as 1970, all that combined drove a wedge between Crosby and Neil Young. Still, Crosby continued to write and record solo records, participate in The Byrds reunions, and collaborate with a number of other musicians from his generation, including Graham Nash.
Despite their later acrimony, the pair of musicians released a series of records together in the early-to-mid 1970s, performing as Crosby & Nash (via AllMusic). In 1989, Crosby released his first solo record in a dozen years, "Oh Yes I Can," and continued to write and record a number of solo works from that point on. 
Crosby is survived by his wife, Jan, and his son Django, as well as two daughters from previous relationships, Erika and Donovan. In 2000, folk-rock singer-songwriter Melissa Etheridge released the information that her son Beckett was conceived with her partner using Crosby as a sperm donor (via CNN). 
In the statement announcing her husband's death, Crosby's wife Jan Dance also wrote, "[Crosby's] legacy will continue to live on through his legendary music. Peace, love, and harmony to all who knew David and those he touched. We will miss him dearly. At this time, we respectfully and kindly ask for privacy as we grieve and try to deal with our profound loss."
If you or anyone you know needs help with addiction issues, help is available. Visit the Substance Abuse and Mental Health Services Administration website or contact SAMHSA's National Helpline at 1-800-662-HELP (4357).