Why Ace Frehley Once Drank A Bottle Of Perfume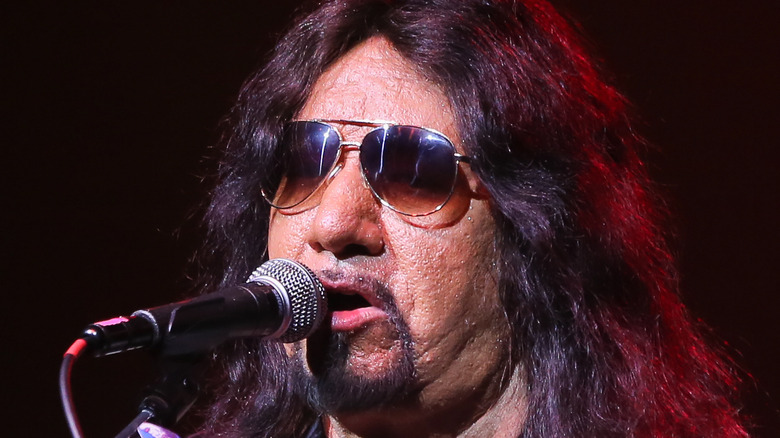 Debby Wong/Shutterstock
The world of sex, drugs, and rock n' roll can often include other strange indulgences. Famous rock stars are more often than not also famous for wild behavior. Keith Moon of The Who once used dynamite to explode the toilet in his Michigan hotel room and then drove a Lincoln into the hotel's pool. In 2018, Steven Tyler estimated that he had spent a total of $2 million on drugs.
Many recognize the band Kiss for their full faces of black and white makeup paired with platform shoes and tight pants that almost overshadows their genuine talent. Band members Paul Stanley, Ace Frehley (replaced by Tommy Thayer in 2002), Gene Simmons, and Peter Criss (replaced by Eric Singer in 1991) landed 24 songs on the Billboard Hot 100 and have enjoyed decades of successful world tours. Time has been good to the band, but that doesn't mean that they've forgotten their past less-than-favorable antics.
Ace Frehley struggled with addiction while in Kiss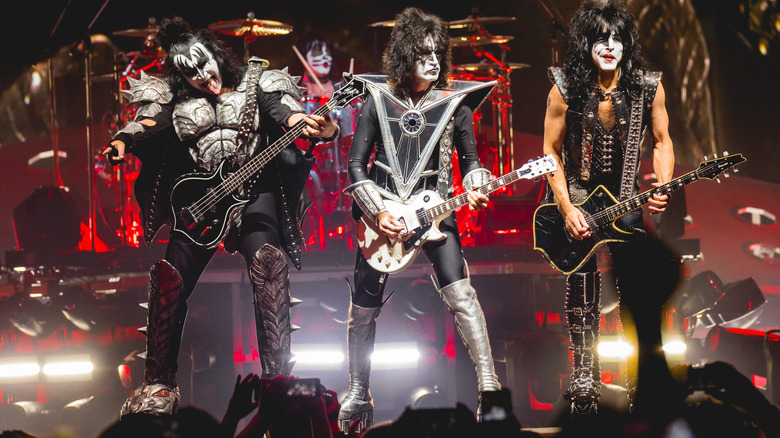 Tony Norkus/Shutterstock
Founding member Kiss Ace Frehley left the band in 2002 and has since spoken about his time in the band, as have his former bandmates. In 2017, he opened up to Stuff regarding the years of hard work that the band put into their careers before finally finding success. He also explained how the life of a touring musician is so hectic and "surreal" that it often drives musicians to abuse drugs and alcohol. Such abuses rendered Frehley so often incapacitated that when coupled with the speed of touring, he was left with unclear memories of his time in Kiss. 
His former bandmembers have been able to fill in some of the gaps in Frehley's memory. Upon the band's 40th anniversary in 2014, Gene Simmons and Paul Stanley recalled a time when they were all stuck in a limo, but Frehley desperately wanted some alcohol. Someone told him that perfume contains alcohol. Naturally, Frehley downed an entire bottle of it right there in the limo (per Rolling Stone).
Ace Frehley has been sober since 2006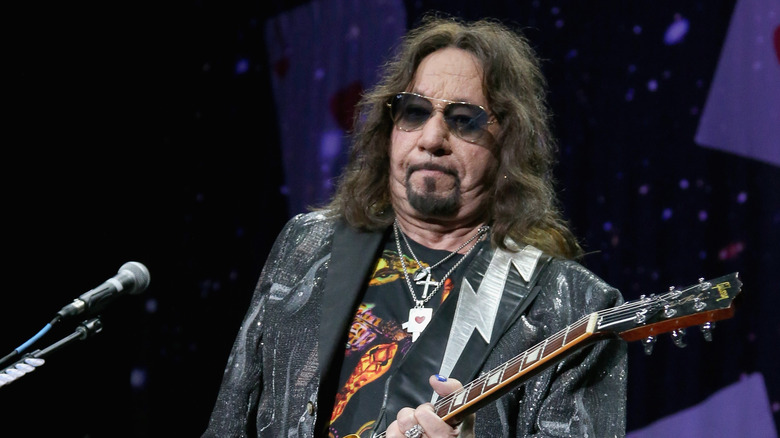 Gary Miller/Getty Images
As of 2006, Ace Frehley is sober (per Far Out). His explanations as to why so many musicians struggle with drug and alcohol addiction could make the general public more sympathetic to celebrities. They may seem to have anything they could want, but it is not easy to keep one's head screwed on straight when constantly waking up in a different city. "Most of the time I really had no idea where I was. We went from city to city so fast. You know, pretty much you spend most of the time in a hotel or the venue. They all pretty much look the same," he told Stuff.
Fellow Kiss founding member Gene Simmons does not drink either. It may be hard to believe, but Simmons told the LA Times that he has never even been drunk or high. Perhaps he can lend his secrets of success and sober coping skills to others in show business.