The Bridge Over I-90 In Washington That Prevents Roadkill
While 27,000 vehicles a day zoom east and west on Interstate 90 in Washington state, on a bridge above a stretch of the road in the Cascade Mountains near Snoqualmie Pass there's a similar movement heading north and south, according to the documentary "Cascade Crossings." But this traffic flow involves four-legged creatures like elk, bears, deer, coyotes, and other wildlife both large and small that can now safely cross the interstate thanks to a coalition of state and national agencies and non-profits that joined forces to create North America's largest wildlife overcrossing bridge, per Scenic Washington.
"Everything from an elk down to a small salamander, they need to move to find food, to find mates, to find new places to live as their populations expand or just when conditions change, like when a fire breaks out," Jen Watkins of Conservation Northwest told the Associated Press in 2018 during the bridge's construction. Completed in 2019, the 35-foot-tall, 66-foot wide bridge, which features native plants to appear more natural, has not only saved countless wild animals but it's saving money as well.
The idea started in the 1950s in France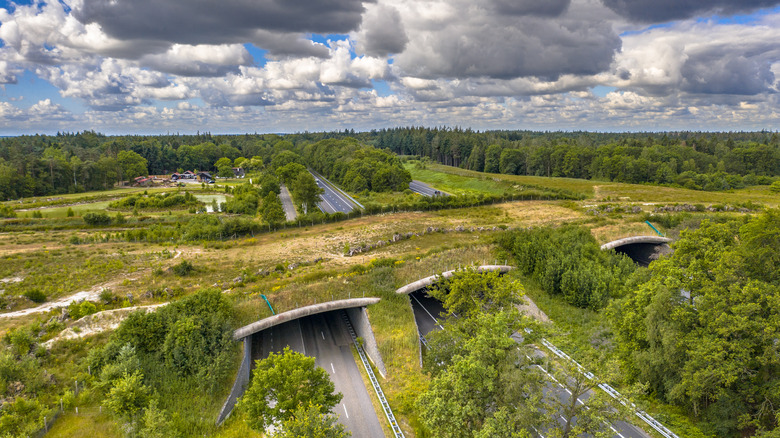 Rudmer Zwerver/Shutterstock
The idea for a bridge where wildlife could safely travel over highways began in France in the 1950s, with the first in the world completed in 1960, near Fontainebleau, southeast of Paris, according to the Economist. The Dutch then ran with the idea in a big way. There are more than 600 such animal crossings in the Netherlands, which boasts the longest one in the world at a half-a-mile long, per National Geographic.
You can now find wildlife bridge crossings across the globe, from Australia to Canada, and the idea has more recently caught on in the U.S. as well. Washington state can lay claim to a wildlife bridge built in Longview way back in 1963, per the city's website. A local builder created the Nutty Narrows Bridge specifically for squirrels to cross a busy street. In Arizona, the state has created more than 20 wildlife corridors — both bridges and underpasses — since 2000, with one area seeing a 90% reduction in vehicle accidents involving wildlife, per National Geographic.
Not just saving wildlife, but people and money too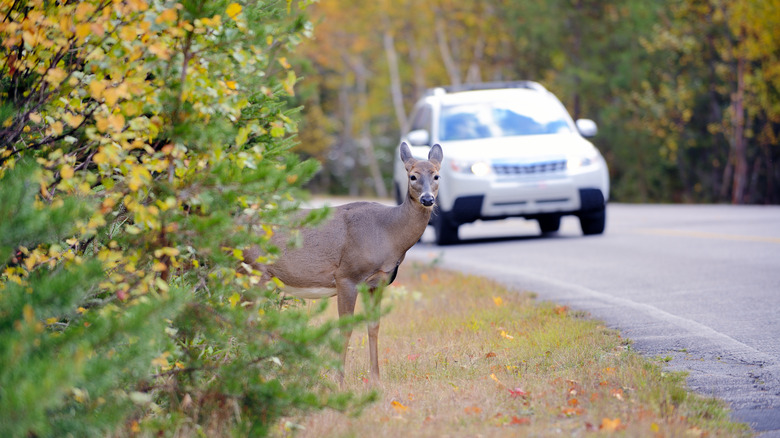 Pascal-l-marius/Getty Images
A Washington State University economic analysis published in August 2022, found each wildlife crossing can save an average of between $235,000 and $443,000, according to The Spokesman-Review. The crossings accounted for between one and three fewer vehicle accidents per mile per year within a 10-mile radius of the structures, meaning less of a potential for injured or killed drivers.
The Infrastructure Investment and Jobs Act of 2021, signed into law by President Joe Biden, includes $350 million in funds over five years for more wildlife crossings, per The Citizens' Voice. There are currently 22 wildlife crossings in Washington state, with plans to build more. Meanwhile, in California, there's a newish law on the books that allows people to collect and eat wildlife they hit on the road in designated areas, according to CBS Sacramento. Washington has a similar law, but if all goes according to plan, there will be fewer chances to scavenge roadkill along I-90.