Stevie Nicks' Near-Death Experience While Filming A Music Video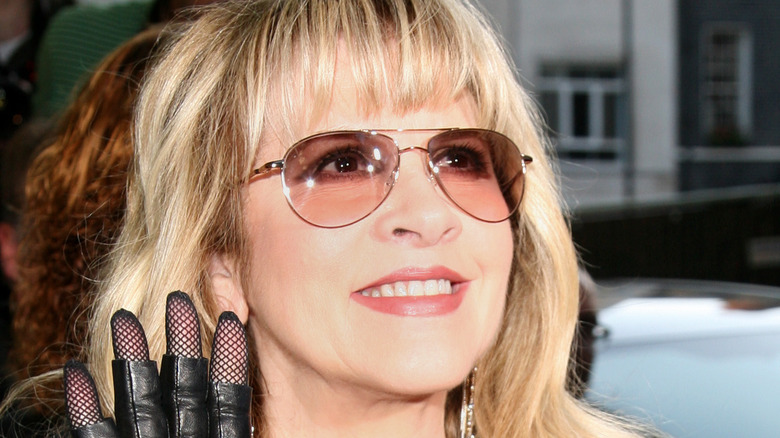 Featureflash Photo Agency/Shutterstock
It was 1983, and MTV had already changed the music business, requiring artists to put out bigger and bolder music videos if they hoped to make a splash. A video on rotation on the upstart cable network had become nearly as important as radio play for a hit record, according to "Gold Dust Woman: The Biography of Stevie Nicks." And so Stevie Nicks, the singer-songwriter who had risen to fame with Fleetwood Mac, went big, perhaps too big, for the first single from her second solo record, "The Wild Heart."
Director Brian Grant wanted something spectacular for Nicks' "Stand Back," and not just for his client but to prove to Hollywood producers he could direct feature-length films. He figured it could be a win-win situation. "I dreamed up the idea of doing 'Gone with the Wind' in three minutes," he recalled in "I Want My MTV: The Uncensored Story of the Music Video Revolution." What he didn't plan on was Nicks going on a wild ride that could have killed her as the cameras rolled.
A mansion on fire, bad acting, and a wild horse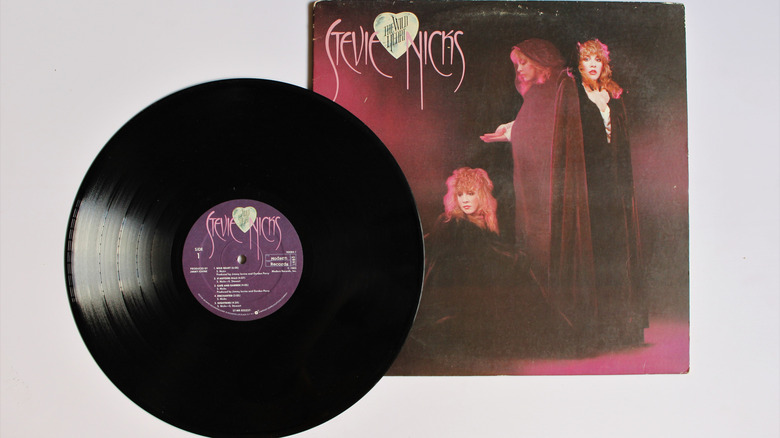 Blueee77/Shutterstock
Stephanie Lynn Nicks was born on May 26, 1948, in Phoenix, Arizona, and was musically talented from a young age. She met Lindsey Buckingham, her long-term boyfriend and musical collaborator while still in high school in Palo Alto, California, per Biography. The couple would rise to the top of the charts when they joined the band Fleetwood Mac in 1975. By 1983, Nicks already had one solo hit record under her belt and was looking for a second.
Nicks was onboard for a video that would attempt to remake the blockbuster 1939 film about the U.S. Civil War, including the burning of Atlanta, into a three-minute music video. She even contributed to the storyboard, per "Mirror in the Sky: The Life and Music of Stevie Nicks." But the video's budget soon became bloated, the video crew accidentally set fire to the Beverly Hills mansion where they were filming, and Nicks wasn't happy with her acting abilities. Then there was the scene in which she rode a galloping horse that didn't go as planned. Stevie Nicks, dressed in an emerald green velvet dress and wearing a brown top hat, sat astride a white horse. The director called "action" and they galloped off.
A second attempt at making the video 
"I almost got killed riding that horse," Nicks told Stephen Davis for "Gold Dust Woman: The Biography of Stevie Nicks." "He bolted into a grove of trees and the crew in the car driving alongside were screaming at me to jump off." She did. Thankfully, unlike the tragic scene in "Gone with the Wind," in which Bonnie Blue Butler, Scarlett and Rhett's young daughter dies while riding her pony, Nicks wasn't hurt during the filming of the video.
When Nicks saw the end result, she thought it was "insane — it didn't go with the song at all. It was so bad it was almost good, per "I want my MTV: the Uncensored Story of the Music Video Revolution." She told her manager she didn't want the video to come out and didn't care if it cost a million dollars. Director Brian Grant had a different memory of how it went down. 
"When Stevie watched the video, she hugged me and said 'I look fat,'" per "I want my MTV." They shelved the first video and Nicks quickly found another director, who had been the choreographer for "Flashdance," a wildly successful film about a struggling dancer, per "Mirror in the Sky." The second video featured mood lighting, lots of dancing, and Nicks singing directly into the camera. The song and video were a hit, with the song reaching No. 5 on the Top 40 Singles' Chart that August, per Top 40 Weekly.