The Heart-Wrenching Death Of The Original Wednesday Addams, Lisa Loring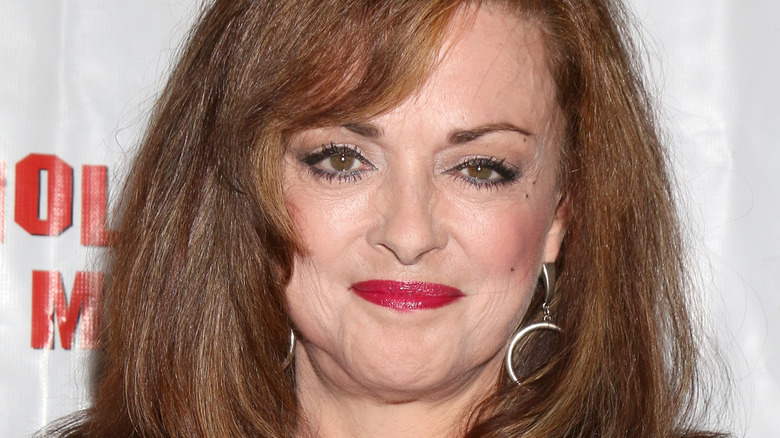 Kathy Hutchins/Shutterstock
Lisa Loring, the actress who played young Wednesday Addams on the classic television show "The Addams Family," died on January 28, 2023. She was 64 years old. Loring's daughter, Vanessa Foumberg, confirmed that her mother died of a stroke, per Variety. Loring died at Providence St. Joseph Medical Center in Burbank, California, of complications from a stroke caused by high blood pressure, Foumberg told The Hollywood Reporter. Loring was reportedly been on life support for three days before her family decided to remove it, according to The Guardian. "She went peacefully with both her daughters holding her hands," Foumberg said.
Laurie Jacobson, Loring's friend, reported her death on Facebook, writing, "She is embedded in the tapestry that is pop culture and in our hearts always as Wednesday Addams." And how true that is. Loring was only six-years-old when she took on the role of the death-obsessed Wednesday Addams in 1964. Although the show ended two years later, her portrayal of Wednesday as the pale, pigtailed child delivering dark, deadpan lines became the blueprint for every Addams Family adaptation thereafter. Jenna Ortega, the actress who plays the lead role in the Netflix comedy horror, "Wednesday," said her version of the character is certainly inspired by Loring. "I paid homage to Lisa Loring, the first Wednesday Addams," Ortega said during an appearance on "The Tonight Show Starring Jimmy Fallon" (via YouTube). "I did a little bit of her shuffle that she does."
Lisa Loring was a performer at an early age
Lisa Loring was born Lisa Ann DeCinces on February 16, 1958, in the Marshall Islands. Her parents divorced shortly after her birth, and she moved with her mother to Hawaii and, eventually, Los Angeles, where she began her career in show business. According to The Guardian, her mother initially began putting her up for modeling gigs at the age of three. Soon after, Loring began going after acting roles and landed her first job in 1964 for an episode of "Dr. Kildare," a medical drama series that ran on NBC from 1961 to 1966. That same year, she landed the role of Wednesday Addams in "The Addams Family," the iconic television show based on Charles Addams' New Yorker cartoons, which shaped her life forever.
While many child actors run the risk of being typecast — especially after portraying such recognizable characters — Loring had no such trouble after "The Addams Family" came to an end. According to IMDb, she took roles in "The Phyllis Diller Show" and then "The Girl from U.N.C.L.E." in 1966. But it would be another decade before her next role in the television movie, "Halloween with the New Addams Family," in which she played Wednesday Sr. In the late 1970s, Loring made special appearances on "Fantasy Island" and "Barnaby Jones." She later had a recurring role in "As the World Turns" before appearing in a series of slasher films — including "Blood Frenzy" and "Iced" — in the late 1980s.
A difficult life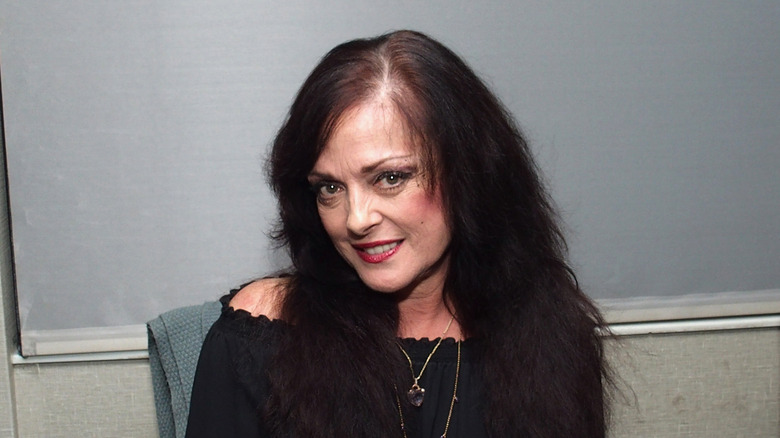 Bobby Bank/Getty Images
The path of Loring's career and life wasn't particularly easy. Her mother, Judith, died from chronic alcoholism at the age of 34, per the Hollywood Reporter. She was married at 15, and the couple had a daughter before divorcing a year later. Loring married three more times before her 2023 death, but the one that became tabloid fodder was to adult film actor Jerry Butler, whom she met when she was working as a make-up artist on the adult film set, "Traci's Big Trick," according to The Sun.
According to People, Loring tried to leave behind the entertainment industry after a friend's death and dealing with her substance use disorder. But she also said she felt a calling to come back to the business in a different way. "I'm trying, but I'm afraid of the rejection," she told People. Loring noted that she wasn't willing to take just any role. "I will not do any schlock. But I'd love to do a Quentin Tarantino film."
That Tarantino role never came before Loring died. Butch Patrick, who played the role of Eddie Munster on "The Munsters," which ran during the same years as "The Addams Family," paid tribute to Loring (via Variety). "Very sorry to hear of my dear friend Lisa Loring's passing. We were very close and worked together often. I know she was very weak," he said, referring to her stroke. Patrick added, "I was in her company just a few weeks ago. Godspeed my friend."
If you or anyone you know needs help with addiction issues, help is available. Visit the Substance Abuse and Mental Health Services Administration website or contact SAMHSA's National Helpline at 1-800-662-HELP (4357).