The Tragic Murder Of Bobbi Jo Stinnett
The following article includes details regarding a murder case.
Off a rural highway in a remote corner of northwest Missouri is the farming community of Skidmore. Well off the beaten path, the little community is a shadow of its former self, suffering the same fate as many rural midwestern towns after the demise of passenger railroads and the implementation of the interstate highway system. As a town, there really isn't a reason why outsiders would go there. But for being a fading dot on the map, Skidmore has received national attention on several occasions in the last four decades. It's a place that every true-crime buff is sure to be familiar with.
The most publicized case from Skidmore was the murder of Ken Rex McElroy. He was shot to death while sitting in his truck while parked on a downtown street. Though dozens of people were there when the bullets from two guns ripped into his body, police were unable to get anyone to talk. No one was arrested. The murder became the subject of the best-selling book "In Broad Daylight," and later made into the docuseries "No One Saw a Thing" (per IMDb).
More than 20 years after McElroy's 1981 murder, the people of Skidmore were shaken by the horrific murder of 23-year-old Bobbi Jo Stinnett. She lived in the little town with her husband, Zeb, and was starting a family. On the morning of December 16, 2004, Stinnett's mother arrived at her daughter's home to visit. When she walked in the door, she was greeted by the sight of her daughter lying in a pool of blood on the floor (per The Washington Post).
Police track a brutal killer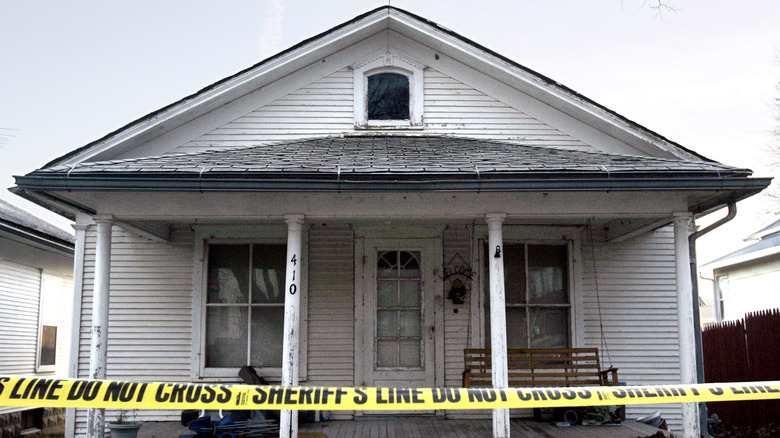 Larry W. Smith/Getty Images
When paramedics arrived at Stinnett's home (pictured above), they were unable to revive her. Police were able to piece together several important facts when examining the crime scene. There was no sign of forced entry, so it was concluded that Stinnett let her killer into the home willingly. Stinnett was strangled to death by her assailant, who then used a kitchen knife to cut open her body (per The Washington Post). Stinnett, who was in her final month of pregnancy at the time of her murder, had her unborn child removed from her body, and the baby was nowhere to be found.
For more clues, police began to examine Stinnett's computer. She and her husband bred and sold rat terriers on the side, and Stinnett was part of an online chat community for rat terrier lovers called "Ratter Chatter." Police noted that Stinnett and a woman named Darlene Fischer met on this forum and exchanged emails about Fischer driving to Skidmore to look at some puppies Stinnett had for sale (per BBC News).
Police used the emails between the two women to isolate the IP address of the sender. They soon discovered that "Darlene Fischer" was an alias for a woman named Lisa Montgomery from Topeka, Kansas. BBC News reports that when police arrived at Montgomery's home, they found her "cradling a new-born girl" that she told officers she gave birth to the day before. However, it wouldn't take long for detectives to extract the real story from Montgomery. Tripped up by inconsistencies in her statements, Montgomery confessed to murdering Stinnett.
Montgomery becomes the fourth woman executed by the federal government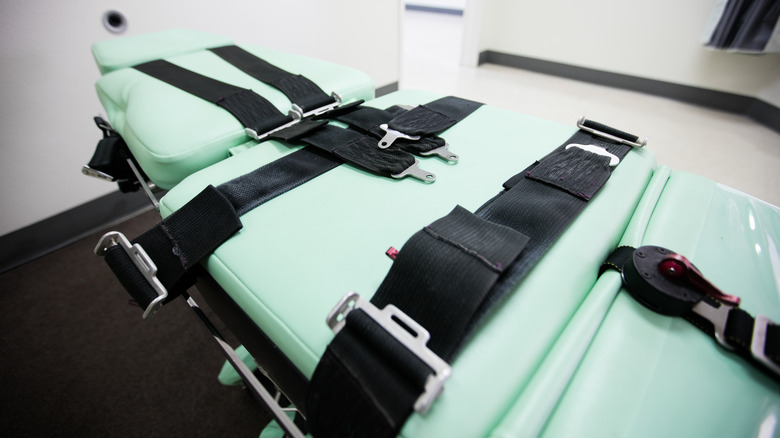 Handout/Getty Images
Montgomery was arrested and charged with kidnapping resulting in death (per The Guardian). This charge took Montgomery to a federal courtroom, where she pled not guilty. Kelley Henry served as Montgomery's trial attorney. The defense made a case for mental illness, one that gave details of the years of physical, sexual, and emotional abuse Montgomery suffered at the hands of her mother and stepfather (per BBC News). Montgomery was run through a battery of tests that would show that she had mental illness that was left untreated. But prosecutors would counter these claims by arguing that the murder and kidnapping were premeditated by Montgomery. They also showed that the defendant did careful internet research on how to perform a Caesarean section and had put "meticulous planning" into the act.
In the end, a jury agreed that Montgomery was able enough to be found guilty. For her punishment, Montgomery was sentenced to die by lethal injection. After exhausting her appeals, the federal government executed Montgomery on January 13, 2021 (per The Springfield News-Leader). Montgomery was only the fourth woman to be executed by the United States government. Alleged Lincoln assassination co-conspirator Mary Surratt was the first in 1865 (per History). Ethel Rosenberg was next for the alleged crime of espionage in 1953 (via Biography). Also in 1953, Bonnie Brown Heady was sent to the gas chamber for her role in the kidnapping and murder of six-year-old Bobby Greenlease (via The Springfield News-Leader).
If you or someone you know may be the victim of child abuse, please contact the Childhelp National Child Abuse Hotline at 1-800-4-A-Child (1-800-422-4453) or contact their live chat services.