How A Yellow Legal Pad Brought Down South Carolina Killer Larry Gene Bell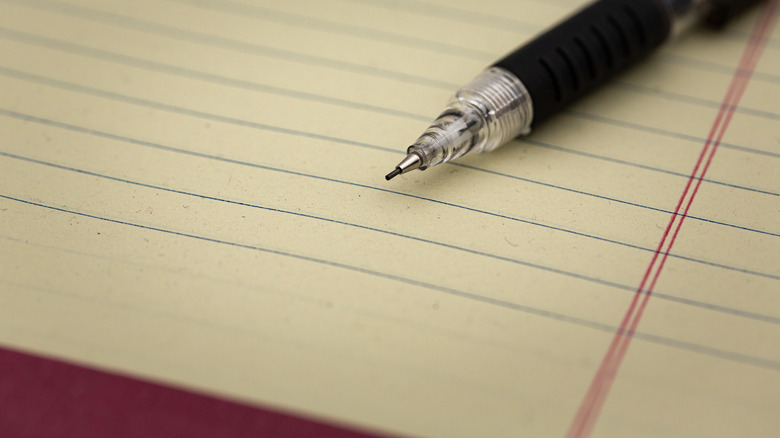 Karl Robert Lamberg/Shutterstock
Days after they reported 17-year-old Shari Smith missing from their South Carolina home, her worried parents received a letter from her in the mail. The man who kidnapped her had been calling the Smiths for days, relentlessly taunting them about her abduction. The letter was handwritten, scrawled on pages from a yellow legal pad. Written at the top were the words "Last Will and Testament" (via Forensic Tales). Soon after reading what they may have known was an indication that their teenage daughter had been murdered, another phone call was placed to the Smiths from the mysterious man. This time, he gave them directions on where to find her body. He also told them that he had given her a choice of how to die, and their daughter chose suffocation (per Justia). Smith's remains were recovered, and an autopsy was performed. Forensics determined that the young woman likely suffocated to death after her head was wrapped with duct tape (per Forensic Files Now).  
Two weeks later, nine-year-old Debra May Helmick was taken from her parent's front yard. After her abduction, the Smith family received a phone call from the man believed to have murdered their daughter, this time giving them the whereabouts of Helmick's body. Helmick's autopsy revealed that she died from suffocation in a way similar to Smith. Police were able to identify a suspect within weeks of Smith's murder. Using keen detective work, investigators looked to the letter Smith had been made to write to her parents for clues. In the end, the pages from the pad would reveal Smith and Helmick's killer, Larry Gene Bell.
An important clue was found in the letter Smith wrote
The FBI used technology to locate Smith and Helmick's killer. They poured over the letter that Smith's family had received and used an electrostatic device (similar to what is pictured above) to reveal one important clue. Using this, they could detect a partial telephone on the letter. The number hadn't been written in ink. Someone had penned the number onto the pad, leaving a faint imprint on subsequent pages (via AL.com). The traces of the phone number were enough to give investigators hope. 
In her book "Carolina Crimes," Rita Shuler tells how the FBI pieced together enough to get the number of a man in Alabama. When he was asked if he knew anyone in South Carolina, he gave his parents' names, Ellis and Sharon Sheppard. The Sheppards told police that a man named Larry Gene Bell had been housesitting for them while they were away; a job that coincided with the date of Smith's disappearance. A search of their home uncovered several important clues. Blonde hairs that belonged to Smith were found in the carpeting. Additionally, the stamps in a desk drawer at the Sheppards' house matched the ones used on the letter Smith had mailed to her parents (via Forensic Tales). 
Bell was placed under arrest and charged with murder. He was also considered a suspect in two missing person cases, but there was never enough evidence to charge him. But there was more than enough to get him convicted in the murders of Smith and Helmick. The brutality of the crimes also meant a death sentence.
Bell went to the electric chair in 1996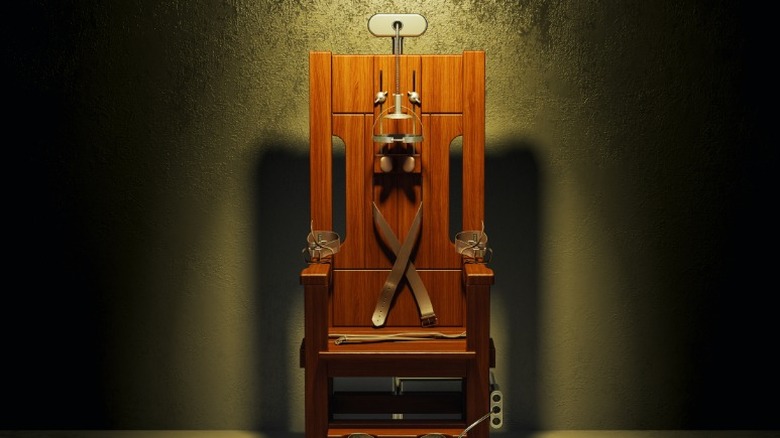 Alexlmx/Getty Images
Bell was executed on October 4, 1996. He was given a choice between lethal injection or taking a seat in the electric chair. UPI reports that Bell chose the latter because he believed that death by electrocution would enable him to "be with (his) victims sooner." Not long before he was walked into the execution chamber, he was given a psychiatric exam and revealed to the doctor that he believed he was Jesus Christ and that God was directly communicating with him. This prompted mental health professionals to proclaim that Bell was schizophrenic (per the Associated Press), and Bell's lawyers argued for a stay of execution. Prosecutors believed that Bell's purported divine connection was nothing more than an act. Bell's attorneys attempted to stop the execution based on their client's mental evaluations, but a judge ruled against the motion only a week before the scheduled execution date.
Bell's execution brought a sense of closure to at least some of the members of the victims' families. Helmick's father, Donnie, told the media that after the execution, he could maybe "get a rest." He was at the prison to witness the execution, along with Smith's uncle, Rick Cartrette. Cartrette's reaction was less harsh, as he explained that the family forgave Bell for the grisly crime and that not having to hear his name any longer would help them all move on (via UPI).