What Happened To The Freckle-Faced Killer After His Release From Prison?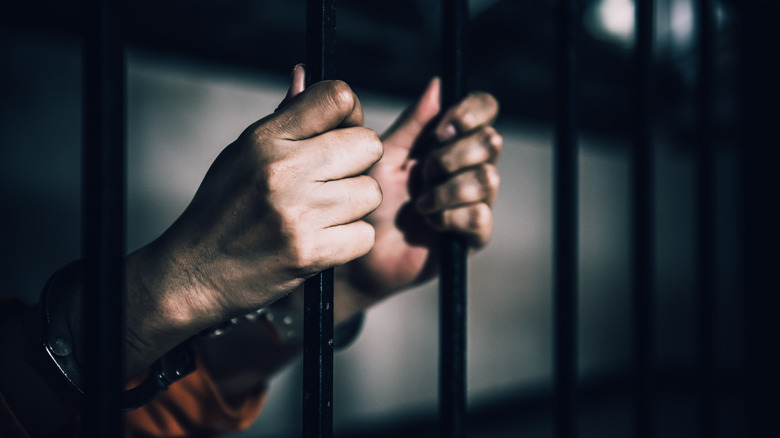 kittirat roekburi/Shutterstock
The last time Doreen Robie saw her 4-year-old son Derrick, he was walking down the street to the summer camp in the local park she had enrolled him in. Robie normally supervised the short walk, but a fussy baby had kept her hands full that morning. After a quick kiss goodbye, he set off to camp. When storms begin to roll into their upstate New York community hours later, Robie rushed to the park to usher little Derrick to safety (per CBS News). But he had never made it. Later that day, Derrick's battered remains were found in the woods near the park. Every parent's nightmare became reality for Robie that afternoon. Her young son had been strangled and beaten with rocks, killed minutes after she saw him for the last time. 
Robie wasn't the only mother who was about to face a horrific reality. The assumption was that Derrick Robie was murdered by an adult who had wandered in from out of town. But after the news of the murder was played on TV that evening, Marlene Heskell was asked by her friend's 13-year-old son, Eric Smith, what would happen if Derrick had been killed by another kid (via CBS News). It clicked then that Eric might know something about the murder. Heskell told Smith's mother about the conversation, and the latter decided to take her son to talk to the police. Though he denied seeing Derrick at first, Smith eventually confessed to luring the Derrick away and killing him.
A child put on trial for murder
Eric Smith was indicted by a grand jury and put on trial as an adult (per CBS News). In 1994, Smith was found guilty of murder and sent to serve a sentence of nine years to life. Smith spent time in a facility for juvenile offenders until he turned 21, when he was transferred to an adult prison. His sentence made him eligible for parole beginning in 2002. He was denied release and had his parole denied an additional 10 times. But in October 2021, Smith was able to convince the parole board that he wasn't a threat to anyone any longer. 
Smith outlined his plans for his life if he were granted parole. He expressed his desire to get a college education and find work in the carpentry or electrical trades. The transcript of the hearing also revealed that Smith had found love behind bars and was engaged to be married to a woman that he had been corresponding with. The woman was studying law and had initially written to Smith to ask him about the juvenile justice system. 
The parole board granted Smith his freedom. They were impressed by Smith's clean record with prison officials, as well as his post-release plans. This release didn't happen overnight, however. Smith was housed in prison for several more months before he was allowed to leave.
Parole granted
Eric Smith was held in prison until February 1, 2022 (via CBS News). The authorities needed to buy some time to get proper housing arranged for the new parolee so that Smith was given important tools for his fresh start. He was sent to live in Queens, New York. Mixed Article reports how Smith was working toward getting a college degree in "crusade evangelism" while he was still in prison and was hoping to become involved in a ministry after his release (via Democrat and Chronicle). He also wants to work to become "an asset to society." Smith will still be under the watchful eye of the law, even though he no longer lives in prison. As a condition of his parole, he will be monitored on parole for the remainder of his life. 
Some feel as though Smith hasn't paid his dues. "48 Hours" reports that Derrick's parents fought against his release every time he came up for parole. Though they were not allowed to attend the closed-door hearings, they wrote letters and sent in videos expressing their desire for the state to keep Smith locked away for the rest of his life. But when Doreen Robie heard the news of his release, she was also accepting of the decision. "I understand why after so many years they decided to give him a chance. And that's fine, you know for him and his family," she said. She went on to state that this would be a relief for the grieving couple, as they would no longer have parole hearings to fight. "Now the true healing can begin," she adds.