Why The Kansas City Chiefs Helmet Has A No. 16 Sticker On It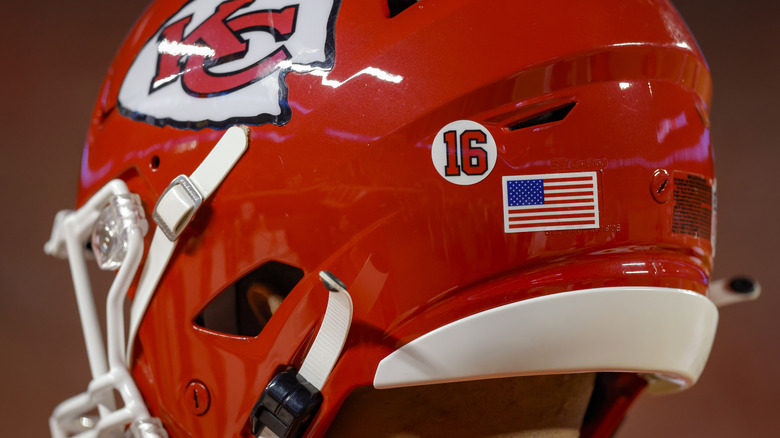 David Eulitt/Getty Images
NFL fans who caught Kansas City Chiefs games in the 2022 season or who planned to watch Super LVII between the Chiefs and the Philadelphia Eagles on February 12, 2023, may have noticed a No. 16 sticker on KC players' helmets. According to ESPN, the No. 16 is a meaningful number in Chiefs franchise history that refers to not only an important player from the team's past, but a long-time voice from the Chiefs' broadcasting booth. No. 16 is the retired number of Hall of Fame quarterback Len Dawson, who moved with the team from Dallas in 1963, where they were known as the Texans, and where Dawson helped the future-Chiefs team win an AFL (American Football League) title, prior to the AFC-NFC merger.
As the Texans franchise moved to Kansas City and became the Chiefs, Dawson traveled along with the team to the new city. Fans too young to remember the Chiefs with Dawson under center may recognize Dawson's name from his long post-playing career in Chiefs broadcasting (via Chiefswire). On Dawson's legacy with the team, Chiefs chairman Clark Hunt said, "You would be hard-pressed to find a player who had a bigger impact in shaping the organization as we know it today than Len Dawson did."
As a player, Dawson was known as 'Lenny the Cool'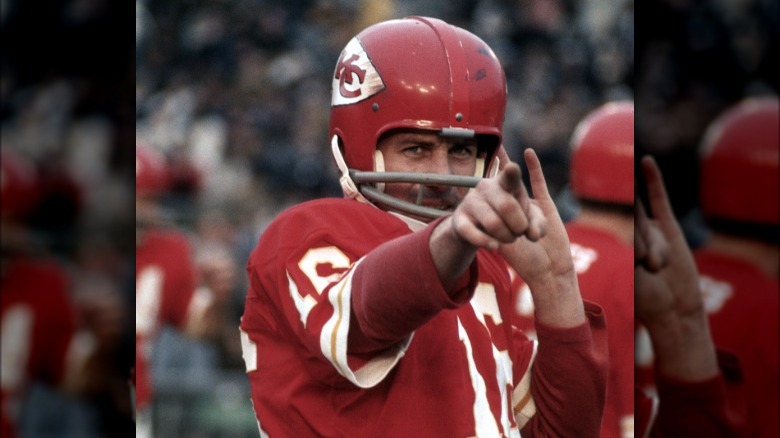 Focus On Sport/Getty
According to The New York Times, during his playing career, Len Dawson was known as "Lenny the Cool" for his unflappable style of play characterized by pinpoint passing accuracy. He played 19 years in the league, and 13 of those years were in Kansas City (via Pro Football Reference). Dawson took snaps for the Chiefs, despite his bad knee, in KC's 1970 Super Bowl IV win over the Minnesota Vikings. For his strong performance, Dawson was named Super Bowl MVP. Other notable accomplishments from Dawson's playing career while in Kansas City include a 1966 AFL title, and an appearance in Super Bowl I, a game in which the Chiefs lost to Bart Starr and the Packers.
Famed Texans/Chief coach Hank Stram called Dawson (via ESPN), " ... the most accurate passer in pro football." He led the AFL in completion percentage, and was a seven-time All-Star/Pro-Bowler, just to mention a few of the many distinctions Dawson earned throughout his career. Dawson's on-field career ended in 1975 when he retired at age 40 with league-leading stats in several categories. He then moved to the booth in 1985 as a color commentator for Chiefs broadcasting, per the Missouri Broadcasters Association, and he was inducted into the Pro Football Hall of Fame as a player in 1987 and again as a broadcaster in 2012.
Dawson retired from broadcasting in 2017
Tim Mosenfelder/Getty Images
Dawson's successful second-act as a sport broadcaster for the Chiefs and other networks ended in 2017 as health issues, including prostate cancer and quadruple heart bypass surgery, caught up with him, based on ESPN reporting. In 2022, Dawson died at the age of 87, and to honor one of the most beloved players in team history, the team announced they would wear Dawson's number, No. 16, as a decal on their helmets all season, only one of 11 team numbers retired in Chiefs franchise history (via Chiefswire).
Another Chiefs legend, Emmitt Thomas, who played alongside Dawson in KC, said in their time together (via The New York Times), "We started calling [Dawson] the Governor ... To this day, I call him Governor. He was the guy here in Kansas City." Many of Dawson's records as a player have stood until just recently, as Chiefs quarterback Patrick Mahomes has surpassed them. On the news of Dawson's death, Kansas City Chiefs chairman and CEO Clark Hunt said in a statement (via Bleacher Report), "Len Dawson is synonymous with the Kansas City Chiefs. Len embraced and came to embody Kansas City and the people that call it home."