The Meaning Behind The Song Shenandoah Sung Before The Super Bowl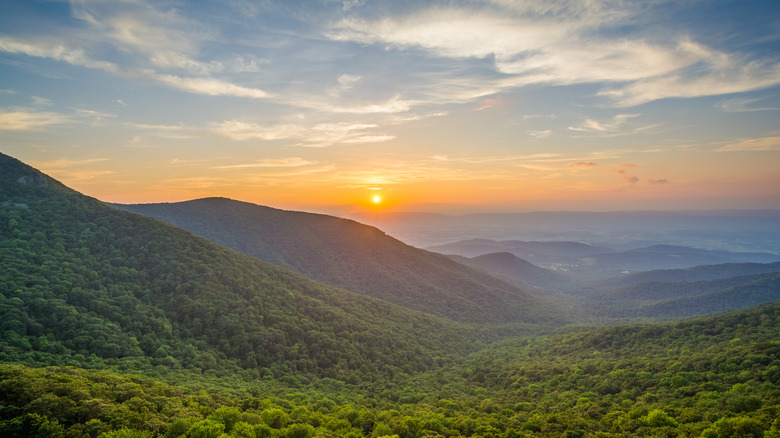 Jon Bilous/Getty Images
Sports fans are used to "The Star Spangled Banner" being played or sung before the games begin, but at Super Bowl LVII between the Philadelphia Eagles and the Kansas City Chiefs in Glendale, Arizona, a somewhat less well-known song in the context of sporting events, "Shenandoah," made its way into the pregame festivities. As Ballad of America points out, early versions of  "Shenandoah," sometimes called "Oh Shenandoah," among a few different titles, dates back to the time of French exploration of the North American continent.
Theorized to have derived from a sea chanty, the song likely got its start as French fur traders interacted with Native American populations in the Great Lakes region of the American midwest. Fittingly, the name "Shenandoah" itself — which now shows up in several place names like the Shenandoah River, valley (pictured), and both state and national parks — is rooted in the Native American Algonquin language, according to Mom.com, a people that early European American explorers encountered in the northeast and upper midwest areas of the North American continent (per Britannica).
Many associate 'Shenandoah' with the American Civil War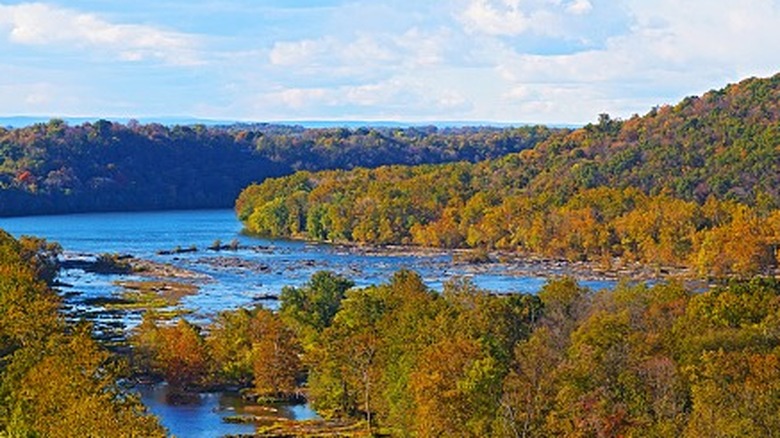 Amedved/Getty Images
Though some version of "Shenandoah" has likely existed since the time of pre-colonial European American exploration, Ballad of America goes on to note that today, the song is often assumed to have come about from the American Civil War. Though the exact origins are unclear, today's version almost certainly did not come about any later than that conflict, per the Library of Congress. The Civil War connotation likely comes from the song's popularity from the period and that the Shenandoah Valley spans Virginia and what is now West Virginia, a hotspot for Civil War conflict (via The New York Times).
The first time the song appeared in print as "Shenandoah" was in 1882, anthologized with other "sailor songs." Other versions were said to exist as early as the 1850s (via Ballad of America). As to exactly what the song is about, there's also disagreement. Some say it's about the Shenandoah River. Others contend it references the daughter of Indian Chief Shenandoah, Sally, and her love affair with a white Missouri colonist, or even possibly to be of African-American origin. At Super Bowl LVII, Virginia's Shenandoah University sent a student group to the game, where they were involved in a number of game-day events and other educational opportunities (per Shenandoah University).