One Of U2's Founding Members Won't Be With The Band When They Rock Las Vegas. Here's Why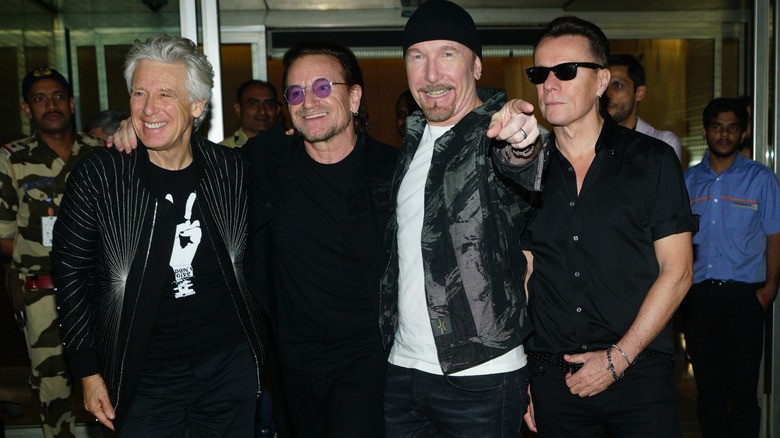 Prodip Guha/Getty Images
The Irish teenager pinned the note on the message board at his school, Mount Temple Comprehensive School, in Dublin. "Money wasted on a drum kit," the note read, according to "U2: The Definitive Biography." "Anyone done the same on guitars?" It was the fall of 1976, and Larry Mullen Jr. was unknowingly about to launch one of the biggest rock bands in history. On Saturday, Sept. 25, 1976, an "odd group of people convened in my kitchen in Artane," Mullen recalled on the U2 website.
Those four teenagers — singer Paul Hewson AKA Bono, guitarist David Evans AKA The Edge, Adam Clayton on bass, and of course, Mullen, the drummer — formed the band that would eventually settle on the moniker U2. And unlike so many other long-lived rock acts who have gone through personnel changes over the years, whether through death or inter-band strife, for more than four decades, U2 has always comprised those four original members. But this fall that's going to change.
A residency in Las Vegas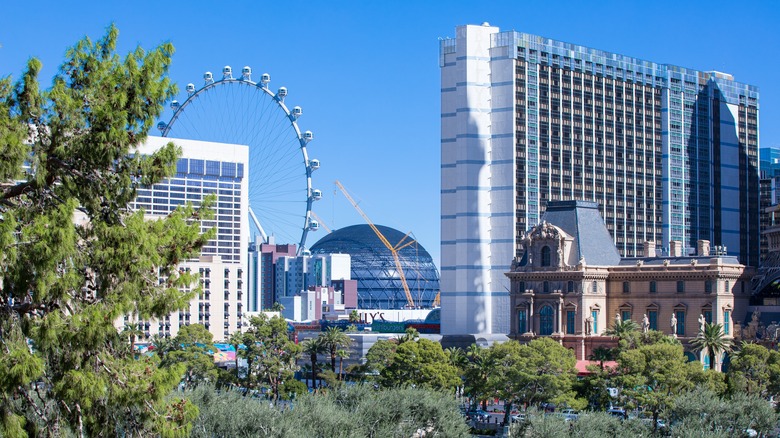 RYO Alexandre/Shutterstock
U2 announced their newest project, U2:UV Achtung Baby Live At The Sphere, on Feb. 12, 2023, via a mysterious Super Bowl LVII commercial involving a giant sphere with a baby's face. The band followed up with a more detailed announcement on their official website, describing their plans for a residency this fall on the Las Vegas Strip. The multimedia concert series focused on the band's 1991 album "Achtung Baby" inaugurates The Venetian resort's new venue, MSG Sphere.
"U2 hasn't played live since December 2019 and we need to get back on stage and see the faces of our fans again," the band wrote. "And what a unique stage they're building for us out there in the desert." The band also announced that Larry Mullen Jr. wouldn't be joining them in Las Vegas. "It's going to take all we've got to approach the Sphere without our bandmate in the drum seat, but Larry has joined us in welcoming Bram van den Berg who is a force in his own right."
A post-surgical recovery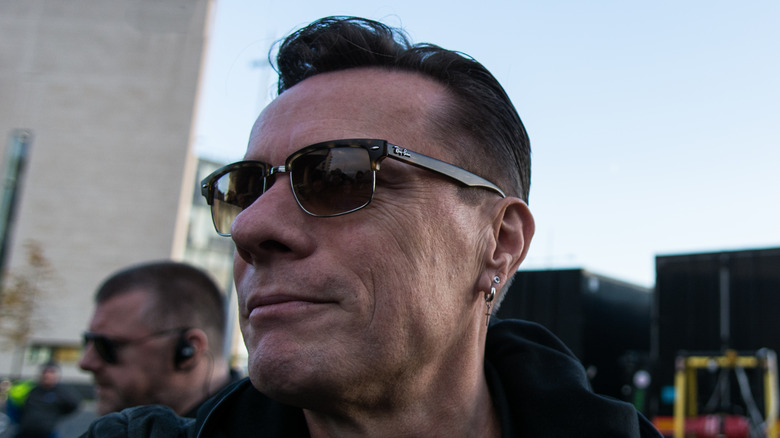 Kristin Greenwood/Shutterstock
While U2 didn't specify what surgeries the 61-year-old drummer had or was planning to undergo, Mullen told the Washington Post in November 2022 that he needed surgery if he wanted to continue playing and would likely not be performing with the band in 2023. In a follow-up Twitter thread by Geoff Edgers, who wrote the story, he revealed more about Mullen's ailments. "I have lots of bits falling off, elbows, knees, necks, and so during Covid, when we weren't playing, I got a chance to have a look at some of these things," Mullen told Edgers. "So there's some damage along the way."
Bram van den Berg, who is stepping in as U2's drummer for the Las Vegas shows, is the drummer for the Dutch alternative rock band Krezip, who, while chart-toppers in the Netherlands, remain somewhat obscure to American audiences. On Instagram, van den Berg wrote that he was excited to play with U2 and admitted he had "big shoes to fill but Larry and the band have been so supportive, I can't wait!!"