Guns N' Roses' Strangest Music Video Was The Result Of A Breakup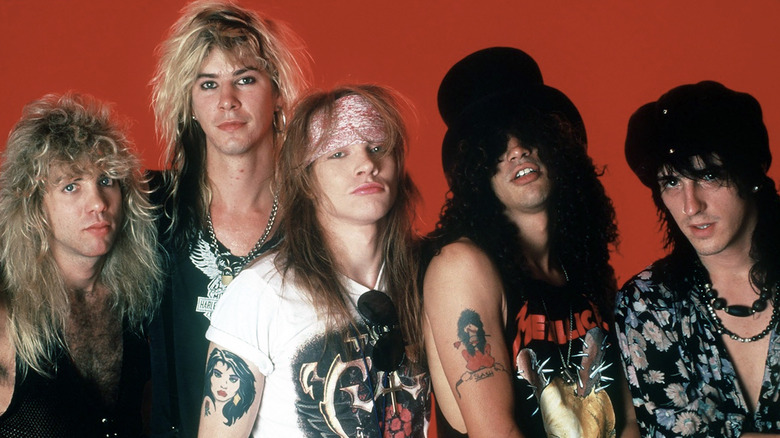 Icon And Image/Getty Images
By 1993, the metal band Guns N' Roses had reached the pinnacle of international success and had begun the long inevitable slide that ended in a messy megalomaniac implosion. This is best typified by lead singer Axl Rose's behavior on their world tour to support their massive hit double album, "Use Your Illusion I And II." A belligerent Rose's erratic and sometimes violent behavior kicked off two riots during the band's 28-month tour, per Rolling Stone; one in St. Louis on June 2, 1991, and the other in Montreal in August 1992.
Rose's personal life was also imploding. The band released the video for "Estranged," from "Use Your Illusion II" that December. Rose came up with the idea for the nearly 10-minute video that cost $4 million to make, with Andy Morahan directing, per Kerrang! Rose meant for it to illustrate his inner turmoil, but critics and fans scratched their heads over its strange and nonsensical imagery that included flying dolphins, children dressed all in white, and the band's lead guitarist Slash walking on water, or more accurately, wailing on his guitar while standing on the water.
Use or lose your illusion 
The video was the third installment in a massively expensive video trilogy. The second, and best known of the three, is "November Rain," which featured Axl Rose's then girlfriend, supermodel Stephanie Seymour, and was a bit of a cliff hanger since she mysteriously dies at the end of the video that became the most requested in MTV's history, per Vice. British director Any Morahan had plenty of money in the budget but not a lot else to work with.
"It was never really fleshed out," Morahan told Kerrang! "It was to do, I guess, with Axl falling in love with a girl, and he was going through personal regressive therapy, whatever that was ... Things that had happened in his past and all that kind of stuff ... I couldn't really begin to explain what it all meant." Apparently neither could Rose, who described it in a 1994 behind-scenes documentary about the video as his own "emotional destruction" and "the process of transcending that," per Vice.
A bad breakup with a famous model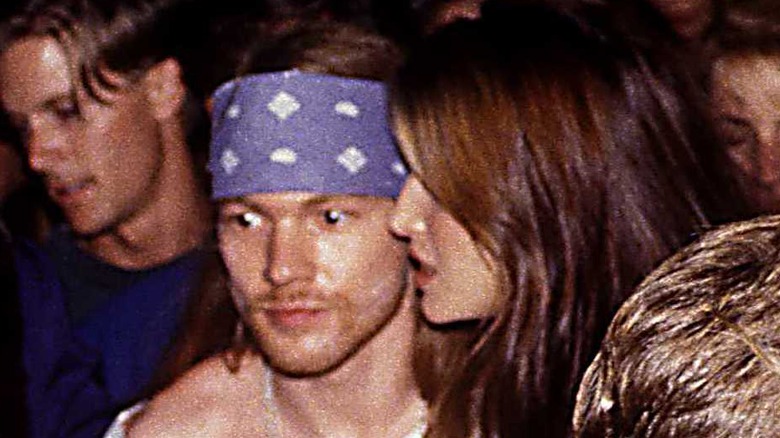 Paul Harris/Getty Images
One reason for the strange and convoluted nature of Guns N' Rose's "Estranged" video had to do with the very public and rancorous breakup of Axl Rose and his ex-fiancee Stephanie Seymour in February 1993 that involved lawsuits and countersuits and allegations of physical abuse by both Rose and Seymour, according to The U.S. Sun and the Pasadena Star-News. The first two videos heavily featured Seymour and, after their breakup, Rose needed to take the third installment in a different direction. Rose would later say the video was his "conceptual way" of dealing with the breakup, according to "Goodbye Guns N' Roses: The Crime, Beauty, and Amplified Chaos of America's Most Polarizing Band." 
"Estranged" ends with a smiling Rose sitting next to a dolphin that's wearing a plaid outfit (yes you read that correctly) with the message "Lose Your Illusions. Love, Axl. G N' R '93." In the behind-the-scenes video, Axl explained the dolphins represented "a state of peace or a state of grace." The video's director Andy Morahan had a different answer for Kerrang! "By that time, Axl had split up with Stephanie Seymour, and he was like, 'I don't want any more beautiful girls in my videos; I'd rather have a dolphin," he told the magazine.