Ohio Family Affected By Train Derailment Lived The Tragedy Before (But In A Movie)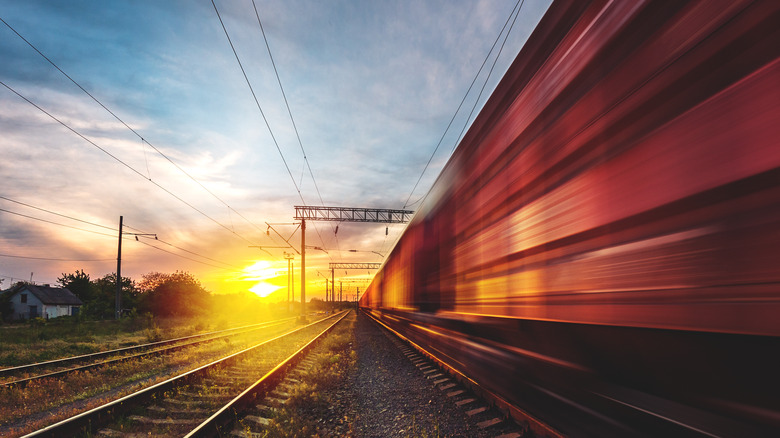 Rudenko Taras/Getty Images
The train derailment near East Palestine, Ohio, left one family living out a scary scenario similar to a 2022 movie plot in which one family member appeared as an extra. In early February 2023, a Norfolk Southern train carrying hazardous materials crashed near East Palestine. After the train wreck, East Palestine resident Ben Ratner, his wife Lindsey, and their four children found themselves in an emergency situation strikingly close to the storyline of the 2022 movie "White Noise," starring Adam Driver and Greta Gerwig and based on the book of the same name by author Dean DeLillo.
After the Norfolk Southern explosion, a plume of black smoke was seen high in the sky over East Palestine, a city of 5,000 residents on the Ohio-Pennsylvania border. Several train cars involved in the train accident carried flammable vinyl chloride, among other toxic chemicals, prompting widespread evacuations in the area due to safety and health concerns. Delillo's book is set in the same region, and the movie was shot in several locations near East Palestine. In a case of life mimicking art, while under evacuation orders with his family due to the derailment, Ratner said the first half of "White Noise" (via CNN) " ... is almost exactly what's going on here ... All of a sudden," Ratner added, " ... it hit too close to home."
There's also a train wreck in 'White Noise'
In the movie "White Noise," directed by Noah Baumbach, a toxic chemical spill from a train wreck near a small town in Ohio prompts evacuations as a so-called "airborne toxic event" causes the local air to become unbreathable. In the "White Noise" scene East Palestine resident Ben Ratner appears in, he's forced to flee his home by fallout from the fictional explosion. Authorities burned off the toxic chemicals involved in the Norfolk Southern derailment in a controlled release. After that time, East Palestine residents, including Ratner and his family, were allowed to return home.
At a spill-cleanup briefing, US Environmental Protection Agency (EPA) representative James Justice said (via CNN), "All of the readings we've been recording in the community have been at normal concentrations, normal backgrounds, which you find in almost any community." Complete cleanup of the toxic chemicals from the wreck could take years, though, according to an Ohio EPA Office of Emergency Response representative. Though officials have stated the air is safe to breathe and the water is safe to drink, health problems were reported in humans and animals in the East Palestine area. In the days after the accident, a number of residents had filed lawsuits against Norfolk Southern.
The Ratner family returned home three days after evacuation orders were lifted
Ohio news outlet Cleveland19 reports that once the evacuation order was lifted, the Ratner family was in no hurry to return home. However, specific testing on their property will be conducted to ensure the area is safe to return to. "We're definitely signing up for the air testing of the home before we get in there," Ben Ratner said (via CNN). Having lived through an experience similar to the movie in which he made a brief appearance, Ratner added (via Cleveland19), " ... [Y]ou get a different perspective ... you can't really capture the range of emotions we've been through." At that time, the area had already reopened for train traffic.
After the accident, Norfolk Southern paid for a phone line for East Palestine residents to call and speak with a toxicologist from the Center for Toxicology and Environmental Health. There was also an assistance center established by Norfolk Southern in East Palestine to address the health and safety concerns of local citizens. As many as 2,000 of East Palestine's 4,000 homes were ordered to evacuate. Among other toxic chemicals, Butyl acrylate, reportedly used in plastic and paint production, was spilled in the accident. Clear, colorless, and able to be absorbed through the skin, Butyl acrylate can cause lung damage after prolonged exposure. The Ratner family lived less than one mile from the crash site.