Interviews That Athletes Walked Out Of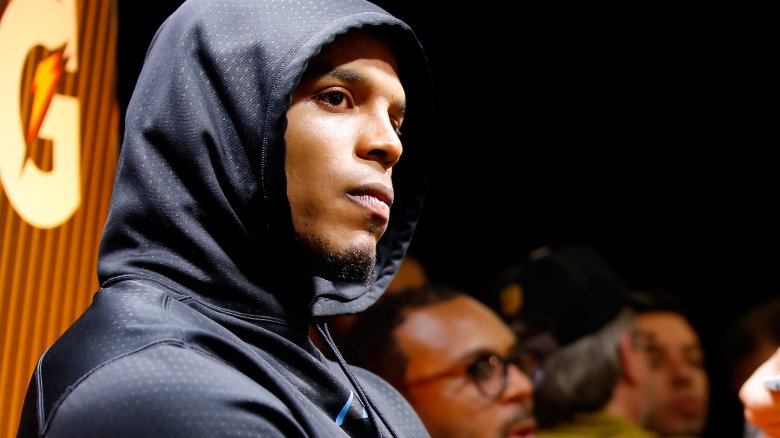 Getty Images
In the wide world of celebrity, professional athletes are a unique breed. They've cultivated their fame based on their skill at sport, not based on their ability to move you with music or engage you with an acting performance. They're really not trying to make you like them the way other celebrities are, even though they can easily attain the same levels of fame and success. This is even more true for the best of the best. Maybe it's because they're so into competition and are working to achieve their goals — not usually working to entertain you as an audience, but winning for themselves and their team — that some of them have less refined people skills.
Sure, some athletes are born to be on camera and have a great energy and personality like Charles Barkley or Shaquille O'Neal. Others are a bit more difficult, and really don't take a shine to being put on the spot, especially with an interviewer asking them questions they're not interested in answering. And that leads to some extremely awkward interviews that don't always go as planned. Which is to say sometimes the interview is over because the athlete has had enough and just walks away. Sometimes it ends even worse.
Tyson Fury wants to forget his past
British boxer Tyson Fury is known chiefly for two things. The first is his remarkable record of 25 wins and zero losses, with 18 wins by knockout. The second is his penchant for saying some of the worst possible things a person can say. He once stated he'd hang his own sister if he found out she was promiscuous because he apparently lives in some kind of 1800s dystopian society. The Guardian had a rundown of some of his more infamous quotes and beliefs, like when he accused two other boxers of being gay lovers. Another time he stated that a woman's best place was either in the kitchen or on her back. He also equated abortion with homosexuality and pedophilia, the similarity being that they're all leading us to Armageddon. Suffice it say, Fury has some terrible opinions.
In 2016, Fury was stripped of titles and suspended from professional boxing after testing positive for cocaine. He told Rolling Stone that not only did he do cocaine, he did a lot, something he attributed to his depression.
Fast-forward to 2018 and Fury is all set to make a boxing comeback. During a press junket, a reporter asked Fury about his past, specifically the controversial things he's said and his drug use. Fury was having none of it and, after repeating "no comment" several times and saying he only wanted to discuss boxing and not politics, he weirdly said "Terminated!" and walked away.
Brandon Marshall isn't talking about race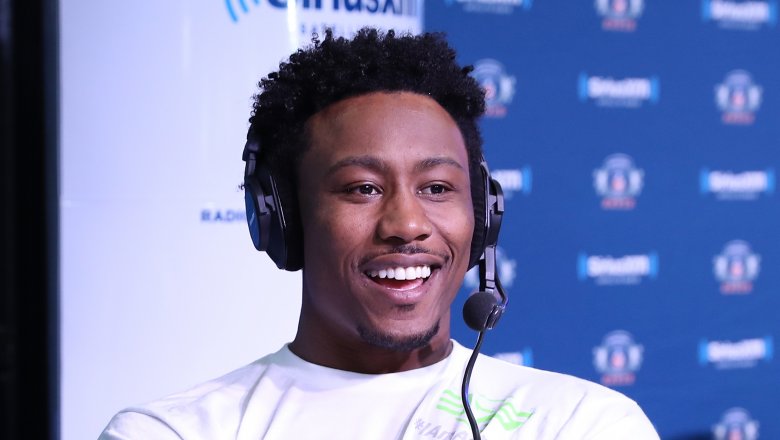 Getty Images
Back in 2015, Tom Brady was handed a four-game suspension for what became known as "Deflategate," a controversy surrounding the New England Patriots and Tom Brady using underinflated balls to help them win games. That suspension was initially overturned and New York Giants wide receiver Brandon Marshall was not amused. He stated on Inside the NFL that "there are a lot of players out there that believe that white players — specifically, at the quarterback position — are treated differently."
In 2016, Brady's suspension was eventually upheld, and in 2017 during an interview with WIEE's Kirk and Callahan, Marshall was asked about black and white athletes being held to different standards. Marshall shut down the line of questioning right off the bat, stating he wasn't interested in getting into the race card and that he feels black men, not just black athletes, are treated differently in America. 
As Business Insider noted, Marshall initially praised Brady and the Patriots' culture after the suspension was upheld, but made it clear he didn't want to rehash the topic. After offering a chance to switch gears and ask him something new, the interview stayed on race relations and Marshall simply dropped his mic and headphones and left.
Mitch Austin's panic attack
Not every interview has to be shut down thanks to a difficult athlete feeling spoiled or a line of questioning that becomes untenable. Sometimes it's just that the interview subject legitimately needs to not be in front of a camera anymore, which is what happened with Australian soccer player Mitch Austin in 2017.
Austin was on a morning news show to talk about playing in the forthcoming soccer season. The interviewer asks him a seemingly easy question about challenges from the previous season and it's clear right off the bat that Austin is a bit out of sorts. His body language and demeanor are very nervous. After offering up a partial answer he apologizes and just walks off set on live TV without another word.
The interviewer was clearly thrown for a loop, but she valiantly covers and then tosses it back to the show's anchors in time for the camera to catch Austin walking in front of them as well. As it turned out, Austin had suffered a panic attack and just needed a moment to be off camera to calm himself down and relax. Luckily he was fine and feeling better in short order, but it definitely made for a bit of dramatic and baffling television.
Russell Westbrook made a reporter answer his own question
Oklahoma City Thunder point guard Russell Westbook is almost legendary at this point for his absolute disdain for the press and answering questions on camera. The man just does not like being interviewed at all, and especially hates questions he thinks are stupid. For example, Westbrook was once asked if his team lost the game he'd just played or if the other team had won it. Westbrook responded with utter incredulity over the stupidity of the question and ended that interview.
By now, reporters who cover Westbrook should be more than familiar with him and how to approach him with questions, but it seems like they still fall into the trap of saying the wrong thing occasionally. That's what happened a reporter came at Westbrook with a question about how he planned to prepare for a game against the best team in the league.
Rather than answer, Westbrook just asked the reporter what his answer was going to be. When he finally got the reporter to say "You play every game the same way," he walked out of the room. Interviews are easy when you don't even need to be part of them. Maybe he should just hand out business cards with his answers written on them.
Cam Newton walks out after listening to the other team trash him
After the Carolina Panthers lost to the Denver Broncos at the 2016 Super Bowl, likely the last thing any member of the Panthers wanted to do was give press interviews, but they literally have to do it, so Cam Newton did it. Sort of.
Dressed in a hoodie and looking fed up with the world, Newton sat on a dais in front of dozens of reporters and shook his head, staring into space and offering simple, short answers to questions. And then he abruptly stood up and walked off without a word of explanation.
While it seemed like this was just sour grapes on Newton's part, it's worth noting that there was more afoot. At the exact same moment Newton was in front of the press, Broncos cornerback Chris Harris was giving an interview that you can actually overhear in the background of Newton's. Harris was explaining to the press how the Broncos broke down Newton, according to Sporting News. Even in the best of moods, you'd be hard pressed not to be annoyed listening to someone a few feet away talk about how they outplayed you.
Newton is no stranger to walking away from the press or to saying outright foolish things to them, as Sports Illustrated points out, and could obviously only take so much. Despite his coach trying to signal him to maybe take off his hood and engage more, he left.
Ryan Leaf loses his cool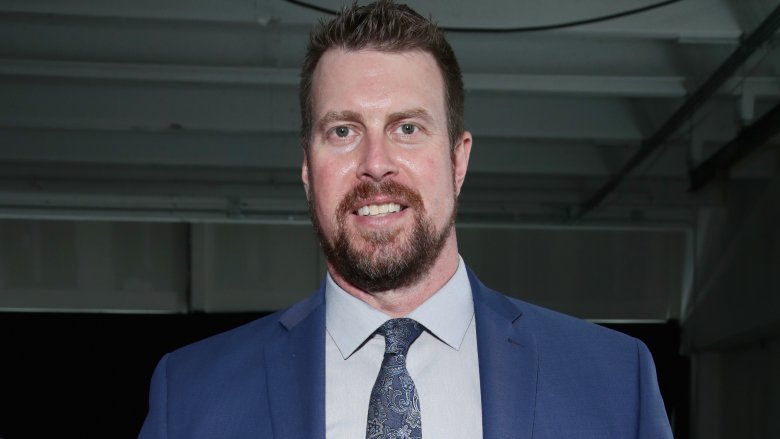 Getty Images
Ryan Leaf has been called the biggest draft bust in NFL history by several observers. The one-time San Diego Chargers quarterback was drafted second overall in 1998 and then proceeded to have one of the worst careers in football. Complex called him the worst quarterback in NFL history, and the stats bore it out. In his third game of the season he completed only a single pass for 4 yards.
Off the field, Leaf wasn't much better. After reportedly yelling at a cameraman who worked for the Chargers organization, a journalist in the locker room decided to bring it up the next day. Rather than speak about why it happened, Leaf exploded. You can hear Leaf on tape curse the reporter out and tell him to knock it off before some guys rush in to break the situation up.
Things never really improved for Leaf after this time. As ESPN reported, by 2009, Leaf was being indicted on drug and burglary charges. He was in and out of prison and rehab since that time, though he's currently working as a recovering ambassador for a group of sober living houses called Transcend, so hopefully he's turned a corner.
Jim Rome calls Jim Everett 'Chris' one too many times
Jim Rome is a sports talk show host who, back in 1994, hosted a talk show called Talk2. Jim Everett was the quarterback for the New Orleans Saints. And Chris Evert was once the top-ranked female tennis player in the world. All three of these names are important to understand just why Jim Everett nearly came to blows with Jim Rome on his own show.
Rome had been, by his own admission, referring to Everett as "Chris" for a while. It was a juvenile joke — Rome was calling him a girl. And even a juvenile joke can get under your skin if someone keeps doing it over and over like Rome had been doing. Especially since he did it to Everett's face, more than once.
In their confrontation, Everett basically dared Rome to call him Chris again, and Rome pointed out he'd already done it twice to his face and would absolutely do it again. Everett had enough and when Rome popped it out one more time, Everett tossed the table between them and went for Rome. Rome fell back off the stage and, while they didn't come to blows, you better believe it put an end to the interview. The irony of Chris Evert being an incredible athlete was apparently lost on everyone.
Ronda Rousey hangs up on a personal question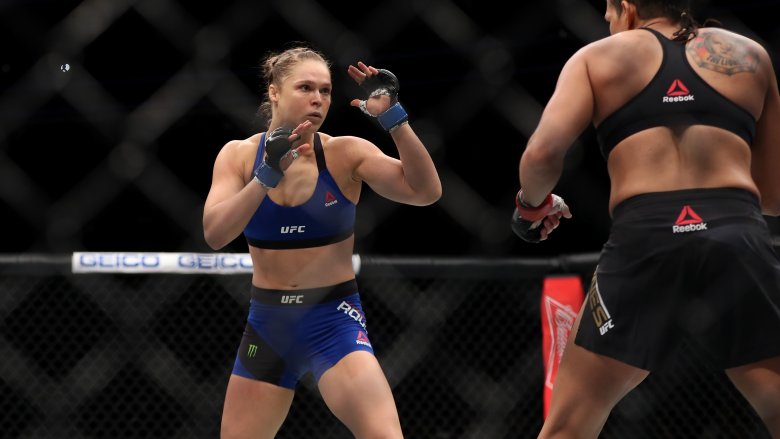 Getty Images
In the world of MMA, a handful of names will come up time and time again as some of the biggest in the game. These are the names that have so transcended the sport, even people who don't watch know who they are. Ronda Rousey is absolutely one of those names. Women's fighting is still growing in popularity, but Rousey has definitely contributed a lot to its appeal by mixing an incredible skill with a likable persona and just giving the audience that overall great package that makes someone a superstar in their field. That said, she's not one to put up with people's crap.
During a conference call back in 2015 when Rousey was on the phone with her soon-to-be opponent Holly Holm, a reporter brought up Rousey's relationship with UFC Heavyweight Travis Browne. Though the two married in 2017, back in 2015 Browne was in a bit of hot water as his then-wife had accused him of domestic abuse.
According to the Sydney Morning Herald, Rousey had made it clear she would not answer questions about Browne. So when the question came up and dead air was the only response from Rousey, it wasn't necessarily a surprise. The phone cut out, and Rousey was gone. The official word was "technical difficulties." She never returned to the call.
Bobby Bonilla tells interviewer to shove it as far as he can stick it
Many interviews that end badly end on one of those "what the heck just happened?" notes where the reporter seems confused and the athlete walks away. That's not what happened at the end of this Bobby Bonilla interview when he absolutely laced into reporter Art McFarland.
During a locker room interview after a game, Bonilla, who already had a history of threatening reporters according to the New York Times, ditches any semblance of civility and threatens to literally fight McFarland right then and there. You can hear McFarland criticizing Bonilla's foul language, which just seems to anger Bonilla more. When it seems for a moment like he might just walk away, he comes back and gets right into McFarland's face asking if he has a problem with his vocabulary. McFarland stands his ground and says he'll only have a problem if Bonilla touches him, which most humans recognize as "fightin' words."
The heated exchange reaches an awkwardly hilarious crescendo when Bonilla tells McFarland to stick his microphone someplace it absolutely won't fit and another person in the locker room steps in to keep the men apart. It's safe to say McFarland probably didn't get any more exclusive quotes after that one.
Jim McMahon interrupted an interview to blow snot on a reporter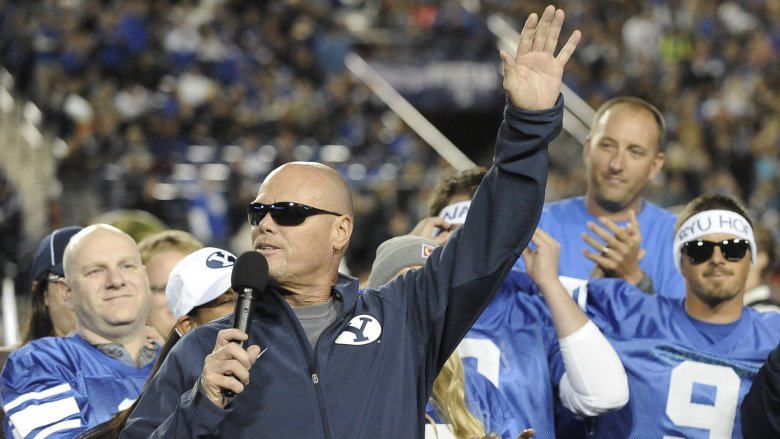 Getty Images
Back in the 1980s, Jim McMahon played quarterback for the Bears, the Eagles, the Vikings, the Packers, the Chargers, the Browns, and the Cardinals. He won two Super Bowls, once at starting QB with the Bears and once as backup to Brett Favre with the Packers. But despite his record, McMahon was not necessarily a well-liked player. He had major fallouts with some of his coaches and has accused Mike Ditka of knowing players were smoking pot, according to CBS Sports.
McMahon's last season in the NFL was playing for the San Diego Chargers, and its when one of his most infamous interviews took place. Reporter TJ Simers was in the locker room and asked McMahon about the Chargers' failing two-minute offense. In lieu of a proper response, McMahon raised a finger to his nose, pressed down one nostril, and fired snot all over Simers. That's a clear and concise interview ender if ever there was one.
McMahon refused to answer questions later on about why he'd chosen to snot-rocket Simers, but Simers shed some light on the matter later in an interview with The Big Lead. He stated that he had once parked a golf cart behind the locker room doors so McMahon couldn't escape and that he would regularly antagonize him. Well, sometimes you get more than you expect in an interview.