The Heart-Wrenching Death Of Raquel Welch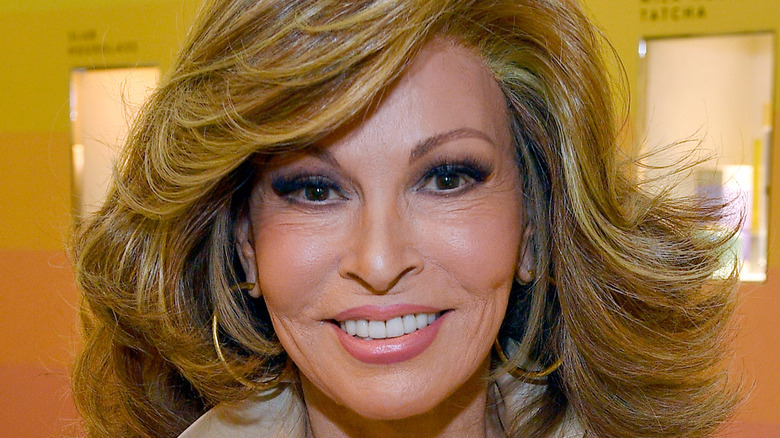 Matt Winkelmeyer/Getty Images
On February 15, 2023, the world said goodbye to famed actress Raquel Welch (via TMZ). She was 82. 
From the moment Raquel Welch appeared on screen in 1966's "One Million Years B.C.," dressed in a furry bikini among prehistoric men and cat-fighting in caves, she became an instant sex symbol. She'd been in television shows before then, as her IMDb shows, but it was this one singular, bathing-suited role that set the trajectory of her entire career. As Welch said of her public-facing alter ego in her 2010 autobiography, "Beyond the Cleavage," quoted by ABC News, "She came into public consciousness as a physical presence, without a voice. How could I hope to survive such an unpredictable beginning, and learn to carry the baggage that came with it?" She continued, "My task of destroying the myth is long overdue. It's an absolute necessity to pull back the veil, so to speak, in order to make way for the authentic me."
Besides this iconic role, and the 50-plus-year baggage and career that came with it, Welch starred in films such as "Bedazzled" (1967), "Fathom" (1967), "The Three Musketeers" (1973), "Legally Blonde" (2001), and a host of television shows, often playing an ironic turn of herself. She was a beauty contest winner in her teenage years, as Biography and The Famous People tell us, winning titles such as Miss Fairest of the Fair, Miss Photogenic, and Miss Contour. Welch also endorsed a number of products throughout her life, such as Lux Soaps, HairUWear wigs, and Foster Grant sunglasses.
A proud mother and proud Latina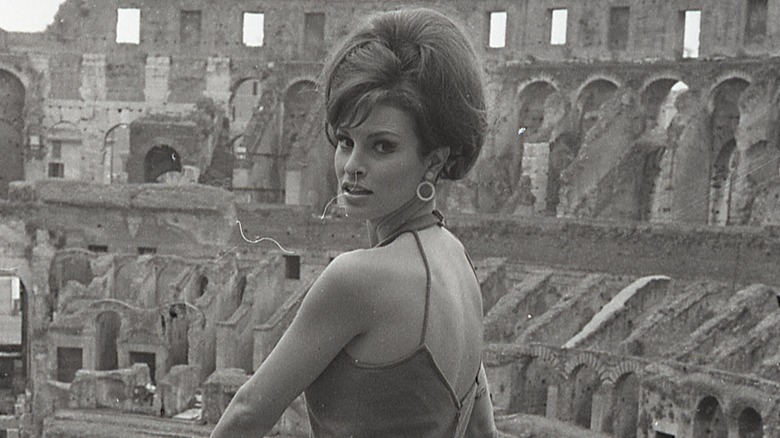 Umberto Cicconi/Getty Images
Born Jo Raquel Tejada in 1940 in Chicago, Welch was the daughter of a Bolivian-born father and an American mother. Welch didn't speak Spanish fluently, but later on in her 70s she nonetheless stated (per Telegram), "I still feel very, very Hispanic. The essence of who I am is a Latina," continuing, "I think if you have an Anglo-Saxon background and you are of Latino descent, the Latin side wins out. It's something about your temperament and your essence." Growing up, as The Famous People says, Welch wanted to be a ballerina but was told she didn't have the physique for it. By all accounts not cut out for cold environments, as she said in her autobiography, per ABC News, she felt right at home in California. "My baby brain thawed and I became a much more smiley toddler in the Golden State of Boredom."
In high school, Welch went on to become a cheerleader, perform in school plays, and take dance lessons, as Biography says. She grew up glued to the radio, then the TV, loving images of singing and dancing, saying "I had a highly emotional nature and loved being swept away on flights of imagination." Wins in beauty contests, such as 1957's Miss Fairest of the Fair, spearheaded her transition to film. By the time of filming "One Million Years B.C.," facing an uphill battle to be taken seriously as an actress, she was already a mother of two.
An independent person who stood by her roots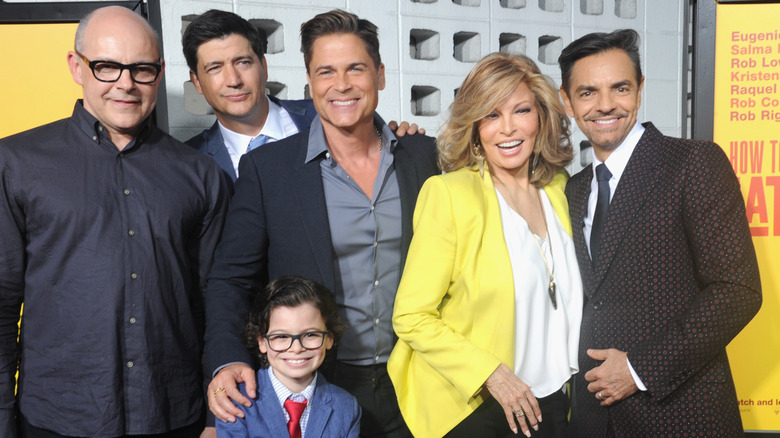 Albert L. Ortega/Getty Images
Welch stayed in the public spotlight and remained busy in her career throughout her life. In 2017, she played the role of a wealthy, widowed grandmother in the film "How to Be a Latin Lover," and in 2015 she won a Lifetime Achievement Award by the National Association of Latino Independent Producers. Speaking of her award, Welch curtailed any questions about the authenticity of her Latina heritage by asking a reporter directly, "Do you think I'm a traitor because I don't speak Spanish?" She stated that her father didn't speak Spanish at home because "he wanted to spare us some of the difficulty and, he felt, prejudice against people who speak with an accent." He named her "Raquel" after his mother, and Welch refused to change her name to "Debbie" as Hollywood executives wanted. She said, "They wanted to change it and I was not happy at all. I did really feel like Raquel," continuing, "People didn't like my name and they said it was too ethnic, too difficult to pronounce, too exotic."
Welch was married and divorced four times during her life, and had two children. On Amo Mamma she said that she was stuck in a loop of searching for "Mr. Right," but in the end, "I like what I do, and I actually enjoy being me. I make a very good living from it, and I'm happy. I don't have to have a man."