The Buffalo Shooter's Sentence Explained
Scott Olson/Getty Images
The man who walked into a Buffalo supermarket in May 2022 and opened fire with intent to kill African American shoppers arrived in court on February 15 to be sentenced for his crimes. Payton Gendron, 19, will be spending the rest of his life behind prison walls for the murders of 10 people, all of whom Gendron killed because of their race. Just days before the massacre, Gendron posted a 300-page racist manifesto online (per NBC News). This diatribe was wrought with racist and anti-semitic conspiracy theories, including one that modern white supremacists refer to as the "Great Replacement Theory." Gendron drove several hundred miles to the Buffalo supermarket two days later, killing 10 African Americans and wounding three other people in a hate-fueled killing spree that shocked the nation and paralyzed the small city.
Gendron entered a guilty plea in his last courtroom appearance on November 28, 2022. Altogether, he pled to 15 charges, including 10 counts of first-degree murder and domestic terrorism motivated by hate (via Yahoo News). The latter charge alone carries a penalty of life without parole. The victims ranged in age from 20 to 86 and included a former police officer and the mother of Buffalo's former fire commissioner (via CNN).
Gendron still faces federal court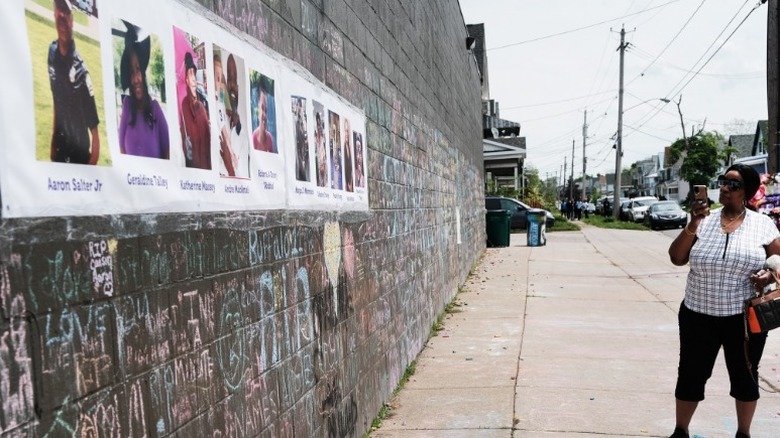 Spencer Platt/Getty Images
Judge Susan Eagan ordered Payton Gendron to prison to serve a sentence of life without any possibility of parole. But she had choice words for the man as she was sealing his fate. "There is no place for you or your ignorant, hateful and evil ideologies in a civilized society," she stated (per Axios). "There can be no mercy for you, no understanding, no second chances. The damage you have caused is too great, and the people you have hurt are too valuable to this community.
Before Eagan handed down Gendron's sentence, she gave friends and loved ones of the many victims an opportunity to address the courtroom. Some of these individuals took this as a chance to tell the defendant just how devastating his actions were. Barbara Massey Mapps, whose elderly sister was killed by Gendron in the racially motivated massacre, admonished the convicted killer and told him that he had taken away her "best friend" (via Yahoo News). Another man wasn't about to wait his turn to speak. While Mapps was still giving her emotional impact statement, the unidentified man charged past her in an attempt to get at Gendron. "You don't know what we're going through," he was heard saying as court officers escorted him out of the room.
Gendron's days in court are not finished. In June of last year, U.S. Attorney General Merrick Garland charged the shooter with 27 federal charges, including 14 hate crime counts and 13 weapons violations (via WKBW). If convicted, he could be sentenced to death in a federal court.