Michael Toothman's Heartbreaking Last Words Before Being Killed By His Son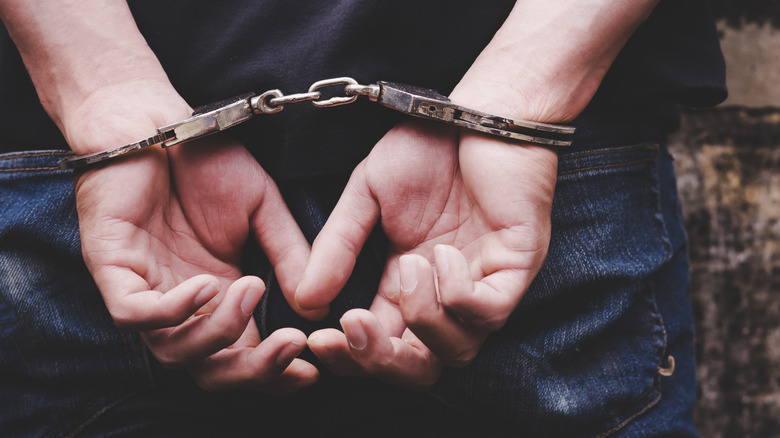 Nutlegal Photographer/Shutterstock
On the surface, it looked like Michael Toothman's son Zachary was working toward a successful future. His elder son was enrolled at Virginia Tech and studied computational modeling and data analytics. As a U.S. Navy ROTC cadet, he was honored to be one of the cadets to receive flags at a football game in 2014. Zachary came from a good home in the suburbs. Toothman was a great provider for his family and was a 30-year veteran of the Chesapeake (Virginia) Police Department. Toothman had, by all accounts, given Zachary the tools and support to build a promising life for himself as an adult. But underneath the facade lay a troubled young adult whose challenges began bubbling to the surface.
At one point,  Zachary attempted suicide and was placed in a treatment center. The doctor felt that this was an isolated incident, however. What wasn't known to the doctor or Toothman's family was that the student was beginning to struggle with his academics. By the end of that semester, his grades suffered so much that he was suspended from the university for falling below its minimum grade point average (GPA) requirements.
Zachary Toothman's family became fully aware of his secrets on August 7, 2016. Michael Toothman's storied career in law enforcement had led him to become a firearms instructor, member of the SWAT team, and criminal investigator (per Graham Funeral Home). However, none of his training could prepare him for what happened that day. 
If you or anyone you know is having suicidal thoughts, please call the National Suicide Prevention Lifeline​ by dialing 988 or by calling 1-800-273-TALK (8255)​.
Toothman's police skills could not save him
On August 7, 2016, Michael's wife, Susie, asked Zachary to sit down at the computer and enroll in the next semester's classes.  Instead, Zachary went upstairs with his father's service revolver and fired a single shot into his younger brother Matthew's head. When Michael rushed to investigate, Zachary shot him in the arm. 
Even though he knew Zachary had just killed Matthew and despite suffering a bullet wound in his arm, he still wanted his son to know how much he cared for him. Court documents later revealed the last words that Michael Toothman spoke. Before the fatal bullet was fired, he looked at his son and said (per The Lineup), "I love you." Michael then struggled with Zachary in an attempt to get the gun away from him. However, all of his efforts were to no avail. Zachary hit him in the head and fired a fatal shot.
Susie Toothman pled for compassion from the court on her son's behalf
Susie Toothman tried to plead with her son to stop. But her attempts to reason with him were to no avail. Before he pulled the trigger to shoot his mother, Zachary told her (via the Collegiate Times), "It's you or me, mom [sic.]. Turn around, close your eyes. It will be easier." The bullet grazed the back of her head, and she survived. Susie pretended to be dead until Zachary walked away. As soon as he was out of sight, she grabbed the gun and ran from the house to a neighbor. When she was relaying what happened to the neighbor, Zachary appeared and said (per the Collegiate Times), "I would never hurt you. Why did you do this?" But the evidence left behind at the crime scene told the truth.
Susan Toothman continued to show love and support for her son. While she begged the court for leniency regarding sentencing, Zachary wanted no such thing. He told the court that he couldn't forgive himself and needed to spend time in prison. The Collegiate Times reports that he told the court, "I am not going to ask you for mercy for myself." The court agreed on that count. He was sentenced to two life terms with an additional 23 years added, the maximum he could receive under his guilty plea.