Why Elvis Presley Couldn't Stand To Be Called The King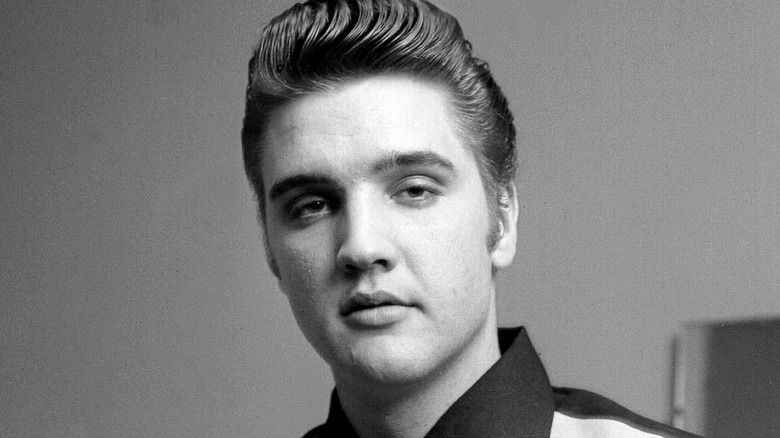 Michael Ochs Archives/Getty Images
It doesn't matter how much of a superstar you rise to become, you can never be the be all and end all of your sport, discipline, musical genre, whatever line of work you happen to be in. Writing for BBC Sport in May 2020, Gary Lineker (quite the soccer legend himself) stated of Argentinian World Cup winner Lionel Messi, "to have that vision and awareness on top of everything else is what makes him incomparable as a player ... no-one else does the things he does, the way he does them — and no-one ever has done."
For Lineker, Messi is the Michael Jordan of his sport. There's certainly no doubting the incredible career and abundant talent of either athlete, but something else is certain too: there were greats before both, and there will be new ones long after both. This is just as true in the music world.
Elvis Presley has long been known by the adoring moniker of "the King." For the megastar Memphis musician himself, though, this never sat right. He had far too much respect for another rocker who came before him, who seemed to be the true King in his eyes.
Fats Domino: The Real King?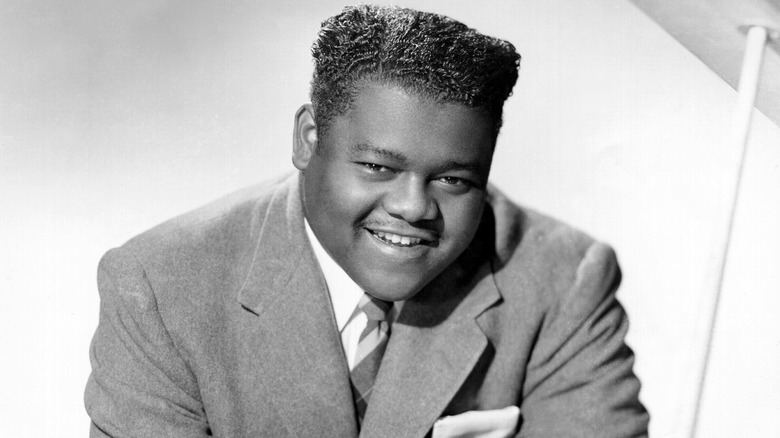 Michael Ochs Archives/Getty Images
Elvis's remarkable career began like that of so many other famous musicians. He was inspired by his own favorites, he had budding talent, and he worked hard to try and succeed in the field he loved. Per Britannica, Presley may have never taken off the way he did without Arthur Crudup, a blues performer known as "Big Boy." It was Crudup who originally created and performed "That's All Right Mama," and Presley's own unique take on the song, while not his first, would be the release that marked the start of his big musical break.
Another of Presley's inspirations was Antoine Domino, Jr., Britannica states, who would become better known as Fats Domino. This New Orleans musician also rose to fame rather quickly. Born in February 1928, he was a performer in smaller venues who had teamed up with Dave Bartholomew and released his first album, "The Fat Man," by his early 20s. The record's success, and its timing, meant that Domino's career took off at just the right time for him to become something of both an inspiration and a rival (record sales are record sales, after all) for Presley.
Sharing the crown around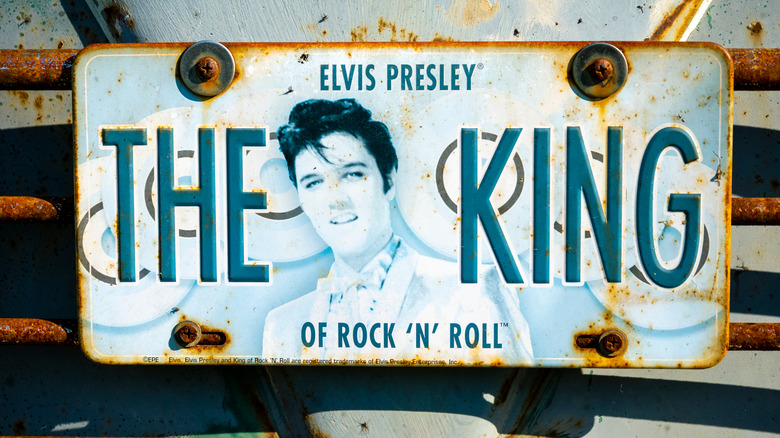 Lenscap Photography/Shutterstock
Elvis, of course, was also dubbed "Elvis the Pelvis" for the moves that accompanied his singing. He seemed to have nothing but disdain for the nickname, telling "TV Guide" in September of 1956 (according to the Elvis History Blog), "I don't like them to call me Elvis the Pelvis. It's the most childish expression I ever heard from an adult."
Most famously, Presley is known as the "King of Rock 'n' Roll." As big as he got and as impressive as the circles he traveled in and the contracts he commanded became, he was still too modest to accept this nickname.
1969, as USA Today reports, was a crucial year for Presley. It was the year he started his remarkable run of performances at the Las Vegas International Hotel, some of his most celebrated live shows ever. The year he secured his reputation as the King, many would argue, but not the man himself. For Presley, the true King was none other than Fats Domino.
At a press conference that same year, the National Post reminded readers of the sad death of Domino (in October 2017), Elvis was addressed as the King. He quickly quieted the offender by pointing out Domino, who was also in attendance, and announcing, " ... that's the real King of Rock 'n' Roll." This was no one-off moment of modesty, either. According to Craig Philo, via the Independent, Elvis "often paid homage to Fats recognizing no one could sing those songs like he did."