The Tragic 2015 Death Of Jimmy Carter's Grandson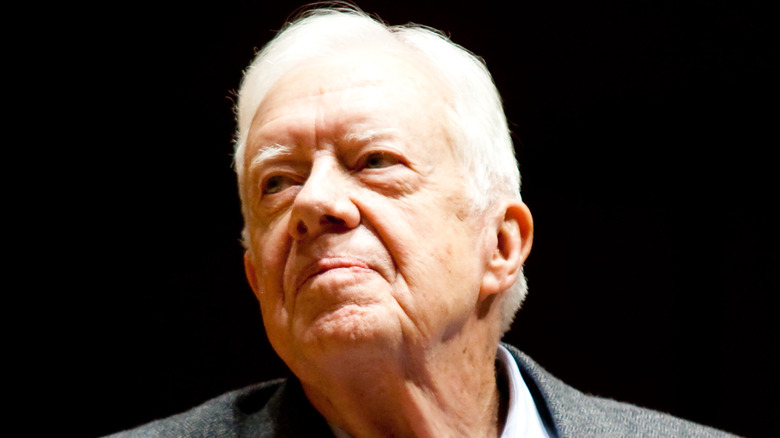 Nir Levy/Shutterstock
For the 39th U.S. President, Jimmy Carter, and his wife of more than seven decades, Rosalynn Carter, the year 2015 was a time of deep celebration but also of immense mourning. That year, at the age of 91, Carter said the melanoma that spread from his liver to his brain was gone thanks to cutting-edge cancer treatment, according to NPR. Shortly after that good news was announced, tragedy struck the Carter family when the former U.S. president and Georgia governor reported his grandson, Jeremy Carter, had died suddenly at the age of 28. Jeremy was the second child of Annette and Jeff Carter, with Jeff being the third of the Carter's four children, as USA Today explains.
In keeping with Jimmy's lifelong devotion to the church in his tiny hometown of Plains, Georgia, Carter revealed his grandson's death just a few hours later to the congregation at the Maranatha Baptist Church, where Carter also taught Sunday school. After apologizing for his tardiness, Carter shared that the night before, his grandson had felt unwell and around dinner time and then informed his mother he would lie down and take a nap. "So he went to his room to lay on the bed," Carter added, speaking to the congregation. " ... [W]hen they went to see if he was OK, his heart quit beating." 
The minister at the church, Rev. Jeremy Shoulta, noted that the former president was visibly upset breaking the news (via CNN). "He was obviously sad although he was able to teach and he was able to present the lesson as well as he always has," he said. "But it was apparent to everyone there that this was weighing on him very heavily."
Jeremy Carter had recently been seen by a doctor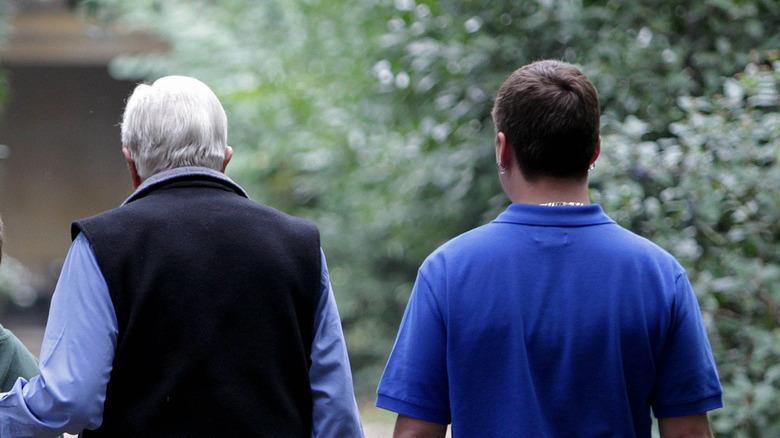 Handout/Getty Images
As People reported in 2015, Jeremy's brother, Josh, explained in a blog post after Jeremy died that his brother had seen a doctor just a few months before his sudden and unexpected death. In the post Josh wrote on his personal blog, JC Woodworking, he revealed that in the time leading up to his death, Jeremy reportedly had trouble eating and had experienced pain in his legs. As a result, Jeremy had seen doctors at Emory University and had undergone extensive medical testing. Doctors at that time noted that he had both vitamin A and D deficiencies, and prescribed supplements to treat him.
In his post, Jeremy's brother wrote, "[Jeremy] got the full work over and really just needed vitamins. If a 28-year-old heart is going to go out, shouldn't they have found that? Maybe, but they didn't." Josh explained the events of his brother's death, echoing the same timeline their grandfather shared with his church — his mother found that his heart had stopped and immediately performed CPR until the arrival of emergency services, who then transported him to the hospital around 1:30 that morning. Once Jeremy arrived at the local hospital he was placed in intensive care. Speaking with CNN, Rev. Jeremy Shoulta said, "They were trying to keep his heart going and eventually, later in the night or the wee hours of [Sunday] morning, his heart stopped."
Carter joined his family at the hospital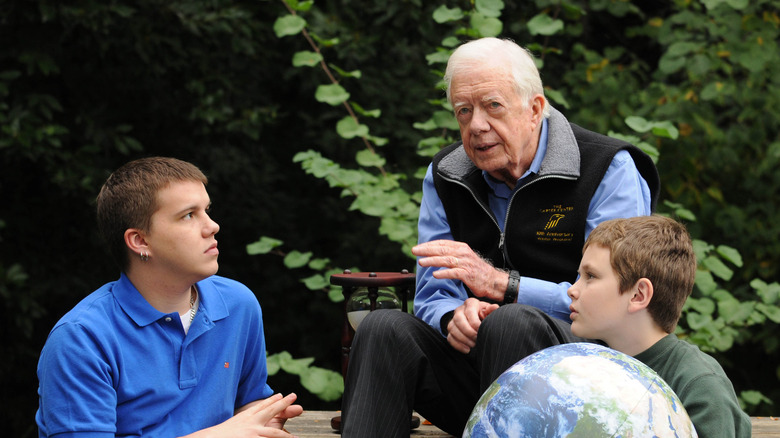 Handout/Getty Images
In his words to the Maranatha Baptist congregation, former President Jimmy Carter said he rushed to the Georgia hospital when he learned his grandson was in danger, apparently arriving at the hospital around the same time as his grandson. Per Business Insider, Carter said, "After we were there about 20 minutes his heart stopped beating again," referring to the fact that Jeremy's mother had restarted her son's heart temporarily at home through CPR. "So they tried to give him CPR but he passed away. He was just 28 and a wonderful young man whom we loved very much." 
In his blog post, Jeremy's brother, Josh wrote that after his brother's heart stopped a second time, CPR was administered but the family was told if successful, Jeremy would likely still live with brain damage. With that news, the Carter family asked them to stop. In his speech to the Maranatha congregation, Carter called his grandson a "very special child." (via NBC).
Shortly after Jeremy Carter's death was announced, the Atlanta Journal-Constitution reported that no autopsy would be conducted on the young man's body following a consultation with the Fayette County Coroner's Office. Though his exact cause of death is unknown, Jeremy's cause of death is widely reported to have been a heart attack. 
In February 2023 it was announced Carter had entered hospice care at the age 98, based on Associated Press reporting.