Why Blues Legend Howlin' Wolf Called His Time In The Army 'Hell'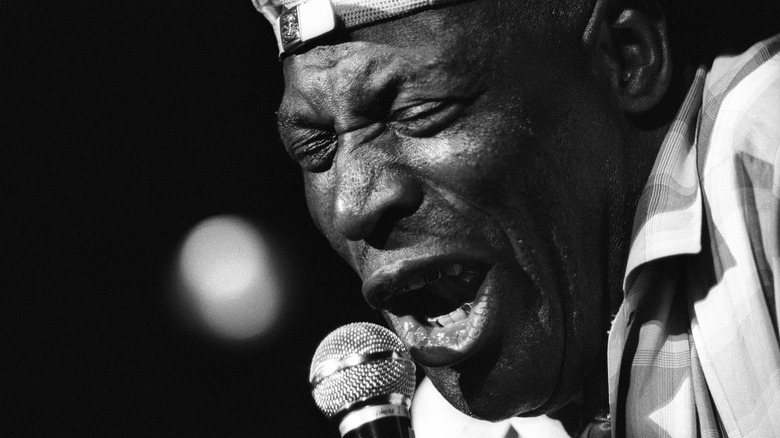 Tom Copi/Getty Images
The Mississippi River delta that runs through the northwestern part of the state that is its namesake has a long agricultural history. The National Parks Service tells of how this region has been a leading producer of important resources, especially cotton. But the land that surrounds the mighty Mississippi has been fertile ground for more than just cash crops. The Mississippi Delta has long been known as a place where many of the best-known and most talented blues musicians have come from. The post-emancipation life of formerly enslaved people wasn't easy, and generational poverty was commonplace among those still tethered there. The long hours of toiling in the fields as sharecroppers gave little opportunity for respite. But the people of the Delta had that one outlet that not only provided a release for their sorrows and agitations but also lead to putting that part of the country on the map.
Nestled just south of Memphis, the Delta provided a great feeder into one of the most storied cities in the U.S. for launching music careers. Blues legends like Robert Johnson, John Lee Hooker, and Muddy Waters originated in the area. One of the earliest Delta Blues musicians was named Chester Arthur Burnett. The Memphis Music Hall of Fame notes that his musical career took root and grew after the end of WWII. But before he became a music legend, the man the world would soon know as Howlin' Wolf served his country in the military. Though he never saw combat, to hear his account of his time in the service — it wasn't a pleasant experience.
Burnett did not volunteer his services to the U.S. Army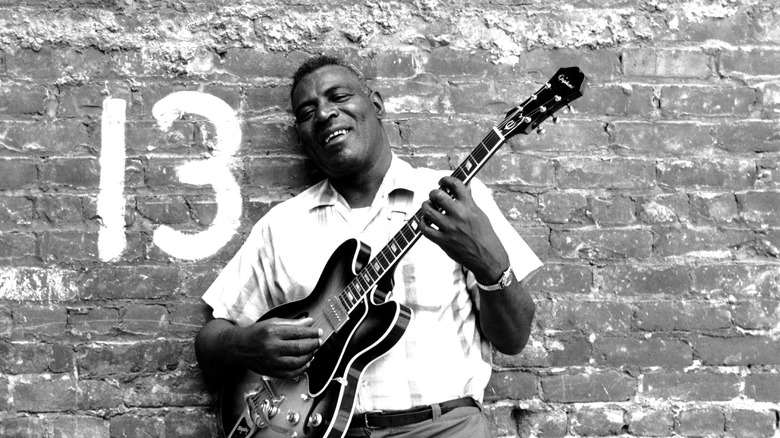 Sandy Guy Schoenfeld/Getty Images
When the United States became involved in the war, millions of enlisted and drafted GIs were sent overseas to combat Axis forces. But Burnett wasn't one of the men who stood in line to sign up for combat. Counterpunch reports that it took government agents to track the musician down and force him into service. Later in life, Burnett blamed plantation owners for revealing his whereabouts to the army in retaliation for his refusal to work in their fields. As soon as they got their man, they sent him off to train in Pine Bluff, Arkansas, and later to Jacksonville, Florida. 
The training proved to be a challenge for Burnett. He had no formal schooling, and his time in the army was the first time he had ever stepped foot into a classroom. Burnett was illiterate, but this fact seemed to be lost on the military bureaucracy. He was transferred out of his kitchen job to a role in the Signal Corps, where he was to learn how to decode combat communications. The 30-year-old Burnett was sent to Camp Murray near Tacoma, Washington so that he could be tutored to read. According to how Burnett described it, (via Counterpunch) the instructor he had was quite cruel. He routinely struck Burnett with a riding crop with each reading or writing mistake. 
Burnett soon reached his breaking point. He collapsed one day, shaking uncontrollably. In 1943, he was transferred to a mental facility to undergo evaluation. He recalled years later that "The Army is hell!"
Burnett's experiences in the mental hospital were horrifying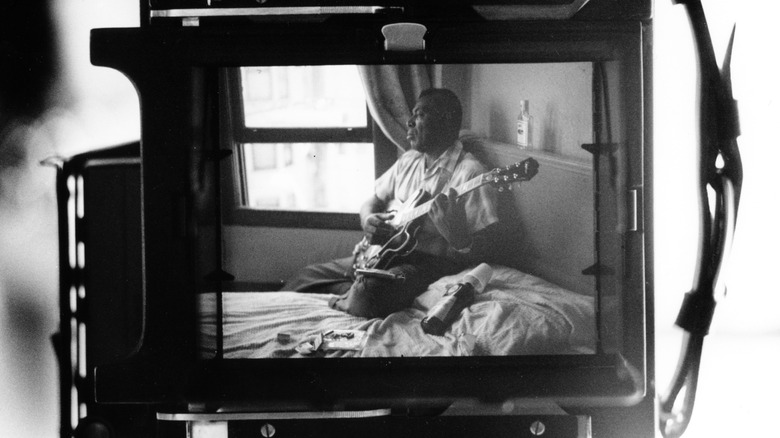 Sandy Guy Schoenfeld/Getty Images
For two months, Burnett was kept locked away in the mental hospital, according to Counterpunch. No one seemed to care that the man in their care was already becoming a music legend in the Delta, a strong and talented performer who was clawing his way from impoverished roots on the road to stardom. Instead, they tied him to a bed and had his entire body poked and prodded by the medical staff. The staff forced him to undergo electroshock therapy and even resorted to physically abusing him when he refused to comply with their orders.
Other times, he recalled singing the blues on the ward, keeping time by tapping his feet on the cold floor and acting as a comfort to the other patients. When he was able to be away from his bed, he'd play checkers with other patients and the orderlies. Counterpunch says that somehow, Burnett's experience at the army mental hospital was the first time he felt like he was on equal ground with white men.
Doctors gave various medical opinions on Burnett's condition, with one even speculating that he suffered from syphilis-induced schizophrenia (he wasn't). He was eventually discharged as mentally unfit to serve in the military. His treatment in the institution might have been different if he were white, as he was labeled in the way that many Black soldiers were, as a "hysteric." Of his time in the service, Burnett would later say "The Army ain't no place for a Black man. Jus' couldn't take all that bossin' around, I guess. The Wolf's his own boss."