What We Know About The Woman Claiming To Be Madeleine McCann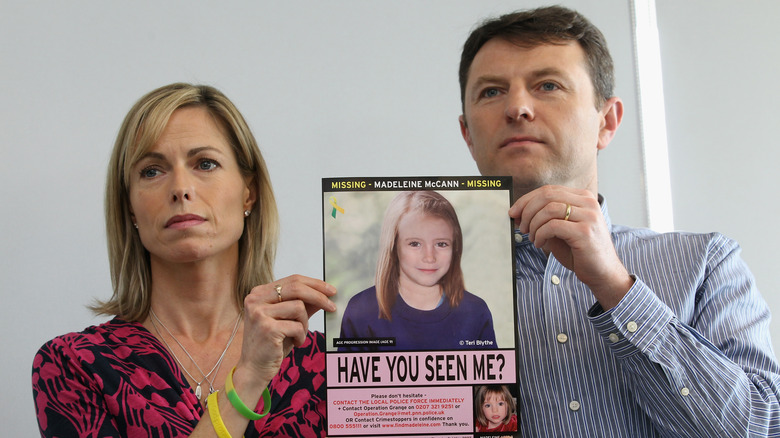 Dan Kitwood/Getty Images
The following article includes allegations of sexual assault related to a minor and kidnapping.
In 2007, Kate and Gerry McCann left their three-year-old daughter Madeleine alone in their apartment in Praia da Luz, Portugal, to head to dinner with some friends. The apartment was close enough to the restaurant — only 50 meters away. But, National World reports, Kate and Gerry didn't want to disturb their children's sleeping patterns. Madeleine was with her twin siblings, Sean and Amelie. Throughout the evening, Kate, Gerry, and their friends slipped away from the tapas restaurant where they were having dinner to check on the kids. They arrived at the restaurant at 8:35 p.m. At 9:05, Gerry saw Madeleine sleeping in her bed. By 10:00. Madeleine was gone.
At first, police suspected the McCanns, speculating that the parents accidentally killed Madeleine, and tried to cover it up with a kidnapping story. By 2008, this theory fell by the wayside. The case presented no primary suspects until 2022 when police turned their attention to convicted rapist Christian Brueckner, who was in the area of Praia da Luz two years prior to Madeleine's disappearance in 2005.
Meanwhile, the McCanns have continued to grieve, saying that each May — Madeleine's birth and disappearance month — is particularly hard. Kate McCann detailed their struggles in the 2011 book, "Madeleine: Our Daughter's Disappearance and the Continuing Search for Her." As National World explains in a separate report, she and Gerry conceived Madeleine via IVF in 2002. And now, almost 20 years later, someone has come forward claiming to be their missing daughter.
Uncertain side-by-side comparisons
As recently as February 2023, the Instagram account @iammadeleinemcann cropped up online. The account, operated by user Julia Faustyna, states, "Help me, I need to talk with Kate and Gerry McCann" in the bio. The account has a designated email address, and a recent post contains contact information for Dr. Fia Johansson under the header "Press & Media Inquiries." Dr. Johansson, a.k.a. the "Persian Medium" and "Subconscious Mind Surgeon," is a self-professed "celebrity medium, film producer, master etrepreneur [sic] coach, and keynote speaker," as her website Persian Medium describes. She's conducted interviews with Faustyna on Faustyna's @iammadeleinemcann Instagram account. As for what happened to Faustyna, she simply states that she was in the hands of a "German pedophile," as the New York Post quotes. 
All in all, this isn't what you'd call legitimate-sounding information. In fact, it sounds very much like a grift. The general public and various media outlets seem divided on believing Faustyna, with users on Instagram posts asking things like, "What if it is her and no one helps her?" Meanwhile, the Mirror states in its headline, "Biometric analysis shows woman claiming she's Madeleine McCann is not 'Missing Maddie.'" A "biometric analysis," by the way, is just a side-by-side comparison of photos. Such photos, showing dimples or dot-sized birthmarks circled by red ink on Instagram, aren't exactly conclusive. Even at a glance, 7News Australia states that it's clear that childhood photos of Madeleine and Faustyna look nothing alike.
If you or anyone you know has been a victim of sexual assault, help is available. Visit the Rape, Abuse & Incest National Network website or contact RAINN's National Helpline at 1-800-656-HOPE (4673).
A DNA test to connect the dots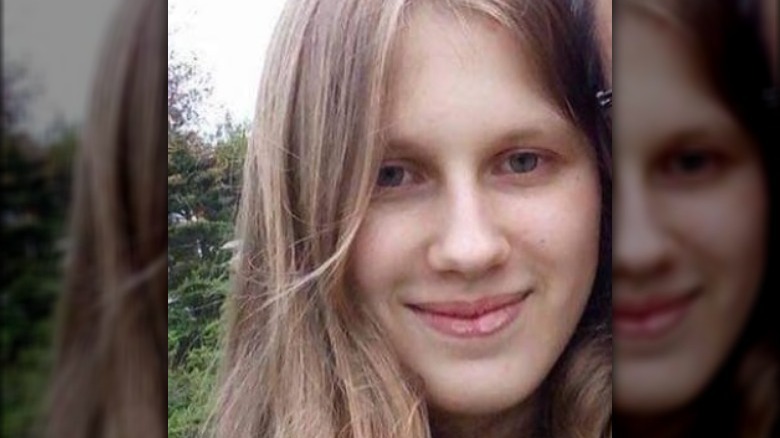 sommthink/Shutterstock
So what else do we actually know about Julia Faustyna? Not a whole bunch. Kate and Gerry McMann are of Scottish and English descent (per IMDb and IMDb, respectively), while Faustyna appears to be Polish, or at least was raised in Poland and speaks English with a Polish accent, as can be heard in various Instagram videos. If she was kidnapped as a child and ferried away to Poland this makes sense, but there's no information about such events. The New Zealand Herald discusses photos that Faustyna received from her grandmother, which show a baby younger than Madeleine McMann was when she went missing at three years old. And yet other Instagram posts depict an admittedly similar brown blemish called a coloboma on both Madeleine and Faustyna's right iris.
In the end, however, such superficial markers don't prove anything. It would take a DNA test to say conclusively whether or not Faustyna is the McManns' lost daughter, and indeed, that's what Faustyna herself offered to do in a number of posts. The New York Post states that Kath and Gerry McMann agreed to such a test. For her part, it's true that each and every one of Faustyna's statements comes across as pleading and desperate as though she's actually trying to discover the truth of her past. The New York Post quotes her as saying, "I started doing my own research, I discovered what happened to Madeleine McCann and I connected the dots."
If you or someone you know may be the victim of child abuse, please contact the Childhelp National Child Abuse Hotline at 1-800-4-A-Child (1-800-422-4453) or contact their live chat services.