The Crucial Piece Of Evidence In The Morgan Nick Case Found Years After The Suspect Was Already Dead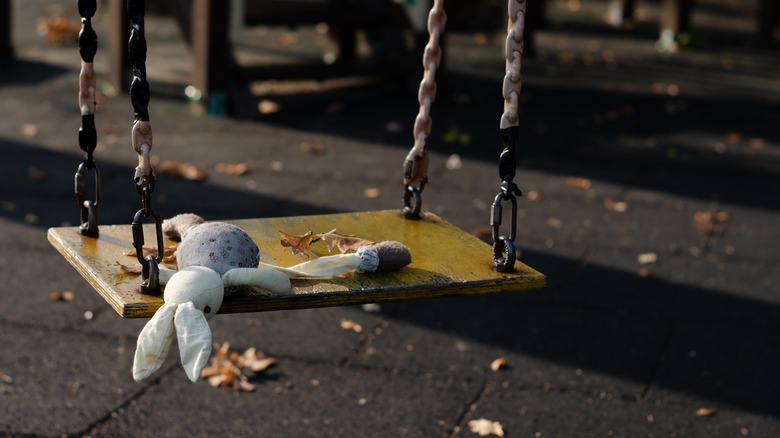 Vera Shvetc/Shutterstock
The 1995 abduction of then six-year-old Arkansas resident Morgan Nick may have been solved, according to "Still Missing Morgan," a 2023 Hulu True Crime series. Morgan disappeared from a park in Alma, Arkansas while playing with friends. The evidence used to solve the case was recovered recently, and one small item found has only now been matched to Morgan's case. At the time that she vanished, a man was reportedly seen approaching children in the area where the young girl went missing, according to Fort Smith, Arkansas news outlet KHBS.
The man who reportedly owned a red truck, Billy Jack Lincks, was later arrested for another young girl's attempted kidnapping around the time Morgan disappeared. At that point, Arkansas police impounded Lincks' vehicle, which remained in police custody for decades. That truck and what the police only just recently found inside it would play a crucial part in providing some closure for the Nick family, as Morgan's mother, Colleen Nick, told KHBS, "I've always said that until someone can prove to me, Morgan is not coming home, I believe she will."
Police auctioned Lincks vehicle
Billy Jack Lincks' red truck, which was spotted at both the scene of Morgan's disappearance and the attempted abduction for which he was later arrested, was impounded. It is unclear if Lincks' truck was searched at the time and, if so, what was found. Based on further KHBS reporting, as early as 1993, two years before Morgan vanished, Lincks had a criminal record for child sex abuse. At that time, Lincks received a suspended sentence on the contingency that he would enter counseling.
After the latter attempted abduction of an 11-year-old girl in 1996, Lincks pleaded no contest and was sentenced to six years in prison. Lincks' truck was eventually auctioned, but police later recovered the vehicle, as the Hulu documentary series, "Still Missing Morgan," explains. The truck was searched once again at that point, and this time, three bits of evidence were found: Blood, blonde hair matching the color of Morgan's, and some mysterious, blue-green fibers.
If you or someone you know may be the victim of child abuse, please contact the Childhelp National Child Abuse Hotline at 1-800-4-A-Child (1-800-422-4453) or contact their live chat services.
The blood and hair could not be matched
After finding those three bits of evidence, police sent each off to an FBI crime lab where it was determined that a definitive match could not be found between Morgan Nick and the blood and hair samples recovered due to lack of DNA information (per KHBS). That evidence might have been found sooner but witnesses at the park where Morgan disappeared reported a truck with a camper but once in custody, the shell had been removed, according to Little Rock, Arkansas news outlet, THV11. After microscopic examination, the blue-green cotton fibers recovered did match a Girl Scouts shirt Morgan was wearing when she disappeared.
Billy Jack Lincks died in 2000 while serving his six-year prison sentence. Still, the fiber match was enough for the FBI to declare Lincks a person of interest in Morgan's case — the first substantial lead since the young girl disappeared. The FBI then called on the public for more information. FBI Public Affairs Officer Connor Hagan said (via KHBS), "This is still an ongoing investigation so we're not releasing everything right now, but we have taken a pretty substantial step in labeling [Lincks] as a major person of interest." Colleen Nick added (via THV11), " ... [I]f we fight hard enough, we will find the truth and we'll bring [Morgan] home."