Why Elvis Presley Once Serenaded His Friend And Music Icon Tom Jones In The Shower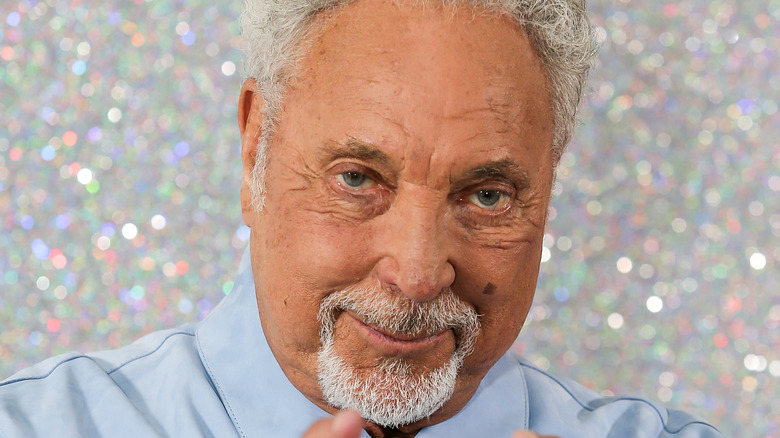 Nick England/Getty Images
Celebrity status has been quite a ride for Tom Jones. As he told i in a interview published in December 2021, "I always wanted to keep my professional life separate to my private life. Do people really want to know what I have for breakfast? Apparently, they do these days." Jones was 81 at the time, but his eagerness to perform doesn't seem to have abated. In 2023, per his official website, Jones is embarking on a tour that will hit the Los Angeles Hollywood Bowl in April, taking in France, Germany, and the United Kingdom (among other locations) before ending in August.
Needless to say, it's not unusual for a star of Tom Jones' caliber to rub some impressive shoulders and have some fantastic showbiz anecdotes to share. One of his very best, perhaps, involved the time that an excitable Elvis Presley just had to share a song with him while Jones was in the shower. Speaking on "The Graham Norton Show" in 2021, Jones explained to the host that his relationship with Elvis Presley seemed destined to be a remarkable one from the very start. 1965, he stated, was his "first year in showbusiness," and it saw him stay at "the Gene Autry hotel ... on Sunset Strip at the time." Autry was in attendance, which was enough in itself to leave Jones starstruck. More excitement was soon to come, however.
Tom Jones and Elvis Presley, legendary musical friends
Keystone/Getty Images
Soon after his arrival, Tom Jones was due to record at Paramount Studios, he told Graham Norton. He was then told that the King would be there himself the next day, and that Elvis was keen to meet him. On his arrival at the studios, Jones eagerly awaited the legend's filming to conclude ("They closed the doors again, and I'm standing in the back with the Memphis Mafia," he stated, via "The Graham Norton Show"). When Presley did emerge, he sang Jones' new single at the time — "With These Hands" — to him as they approached each other.
It was the beginning of an extraordinary friendship. "Elvis used to love to sing ... late at night in Vegas after we'd do the shows," Jones told Jonathan Ross (via "Friday Night With Jonathan Ross"). "We'd go to his suite and we would sing gospel songs." They even, Jones went on, bought their clothes at the same outlet in Los Angeles, North Beach Leather. An intimate friendship indeed.
Things would go on to take an even greater turn for the intimate. In another interview, this time with Conan O'Brien in 2015, O'Brien asked whether it was true that Presley had been offered a song he felt would be a better fit for Jones. "He kept bugging you, 'You've gotta record this song,' is that right?" the host asked, via Team Coco.
The bathroom incident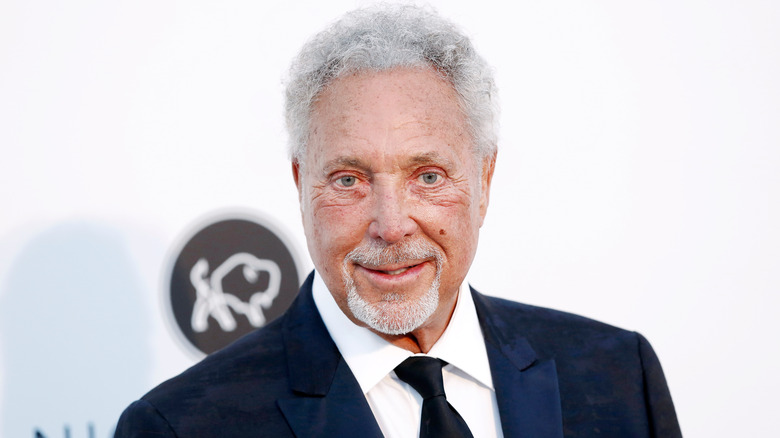 Andrea Raffin/Shutterstock
Tom Jones then went on to explain just how hard the King pushed the song to him. While the pair were both performing (separately) in Las Vegas, he said, Elvis stayed to watch the Welsh wonder's performances when he could. On one memorable occasion, according to Jones, Elvis began his pitch immediately after Jones had finished performing. "Well, yeah ... I've got to jump in the shower," Jones responded, via Team Coco, subtly indicating that this wasn't the precise moment for the pitch.
The King, it seems, was undeterred. As Jones tells it, "I got in the shower, and I was washing my hair, and I hear," followed by a questionable impersonation of Presley singing. Yes, a shower serenade from the King himself. On getting the soap out of his eyes, Jones was reportedly greeted by Elvis' face inches from his own over the top of the shower.
Presley had reportedly relieved himself in Jones' toilet, singing all the time. "I'm naked and he's half-naked... his pants were down round his ankles," Jones stated. "I'm trying to towel down and Elvis is singing." That wasn't even the end of the story, it seemed, as Elvis then called his then-bodyguard, Red West, into the room to help him pull up his North Beach Leather pants. Jones may not have elaborated on the ultimate fate of the song, but one thing's for sure: this has to be the greatest Elvis anecdote of all time.