The Parody Elton John Wrote To Poke Fun At John Lennon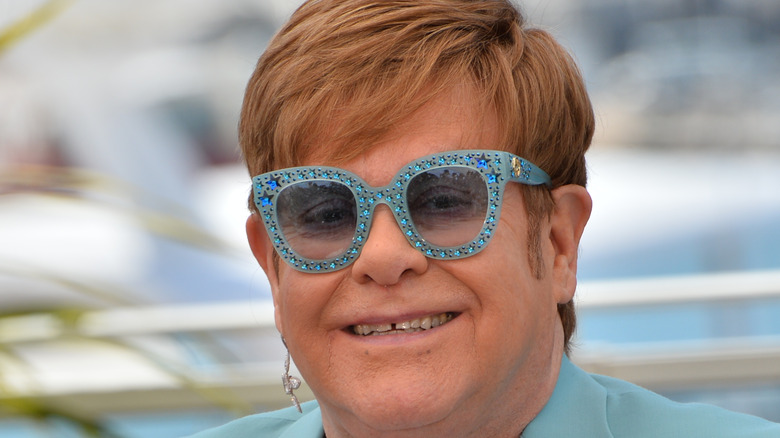 Featureflash Photo Agency/Shutterstock
Music is one of the most emotionally-charged mediums of all. From songs picked at weddings to those selected for funerals, musicians have an incredible ability to make us feel something. Several things, frequently, all at once. Just a few bars of a song can transport us back to our childhood or another very special memory.
Music can also be incredibly funny. "Weird Al" Yankovic, notably, has managed to make a career from brilliant parody songs. He has created ample original output too, but for many fans, Yankovic is the king of parodies. He admits, though, that there were some superstars he wished he'd had a chance to lampoon. "Prince was the one that got away," he told IGN in January 2023. "He had a sense of humor, but not so much about his own music, so he never allowed for that to happen," he later said.
Regardless, Yankovic has parodied some of the greatest music stars to ever live. Curiously, some other musical legends have gotten in on the act themselves. Elton John, it seems, wrote his own little parody in honor of The Beatles' John Lennon.
Elton John's absurd spending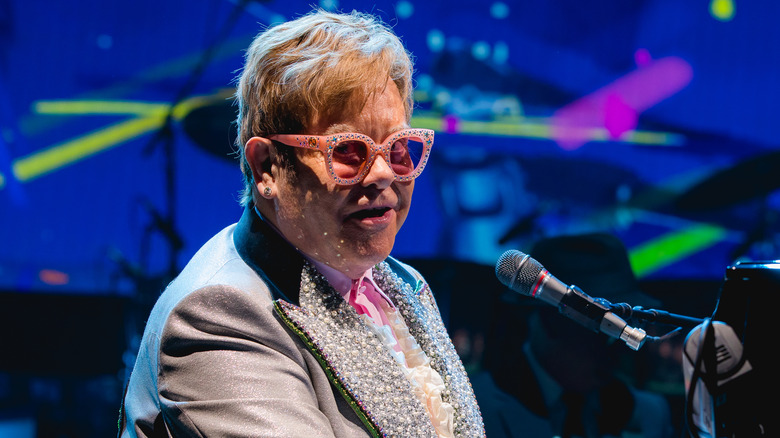 Tony Norkus/Shutterstock
Elton John has undoubtedly lived a uniquely privileged life. According to Celebrity Net Worth, he's worth a remarkable $550 million. That's a staggering sum indeed, but fame and fortune can also have a devastating effect. John would be the first to admit that this was the case for him. In a 2019 Variety interview, he said, "I have a wonderful life now, but I had to change it. I had to change my life really drastically, otherwise I wouldn't be sitting here."
Now that he's both a husband and a father, one of these changes presumably addresses his documented fondness for splashing the cash. In November 2000, The Guardian reports, John was involved in a court case against PriceWaterhouseCoopers, the accounting company, and John Reid Enterprises Limited, the organization that had represented him. During the proceedings, he was asked, "It says here you spent £293,000 (around $355,000 today) on flowers alone. Is that possible?" John's only response, reportedly, was, "Yes, I like flowers."
As fans will know, John's autobiography, "Me," is every bit the tell-all, gripping memoir it promised to be. In one of many remarkable showbiz anecdotes, John reports that he once parodied one of John Lennon's songs to make fun of Lennon's own cash-flashing ways.
John Lennon was quite spender too, Elton John said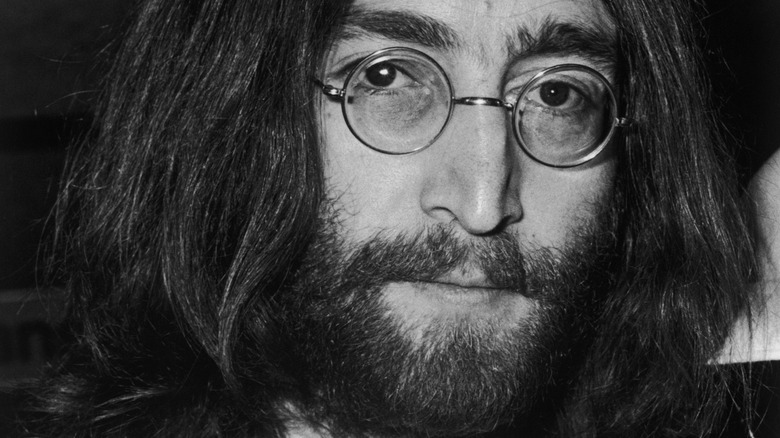 George Stroud/Getty Images
In an excerpt of "Me" via Daily Mail, Elton John states that, naturally, he's far from the only celebrity to have ever gone on a dizzying spending spree. "John and Yoko were as bad as me when it came to shopping," the British balladeer wrote. "The various apartments they owned in the Dakota were so full of priceless artworks, antiques and clothes that I once sent them a card, rewriting the lyrics to 'Imagine': 'Imagine six apartments, it isn't hard to do, one is full of fur coats, another's full of shoes.'"
The Dakota, as History reports, is the apartment building in New York City where the iconic couple lived. Lennon was tragically shot by Mark David Chapman just outside the building on December 8, 1980, and was pronounced dead shortly after. Aged just 40 at the time of his death, Lennon, like John, is perhaps representative of the incredible highs and equally terrifying lows of fame and fortune.
Materialistic he may have been at times, according to John's parody, Lennon never let go of the ideals expressed in the original "Imagine." As he told Rolling Stone in an interview just three days before his death, "I still believe in peace, love, and understanding."