Rita Moreno Recalls The Unscripted Moment MLK's Speech Became 'I Have A Dream'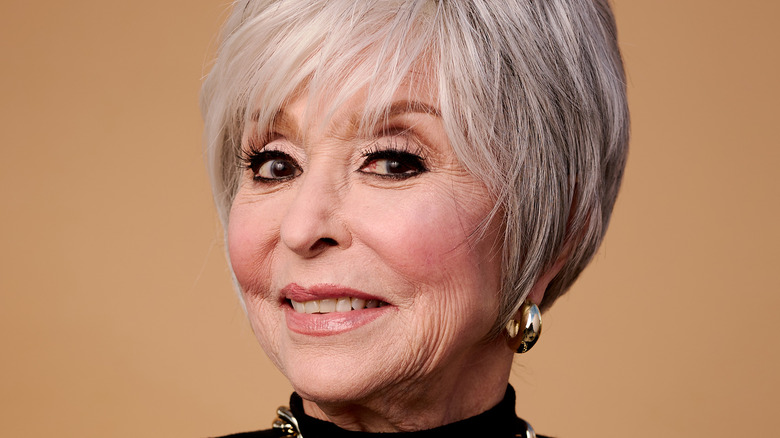 Emma Mcintyre/Getty Images
The United States has multiple activists to thank for initiating social change over the country's two-and-a-half centuries of history. Names like Harriett Tubman, Cesar Chavez, Susan B. Anthony, and Malcolm X are forever ingrained into American culture. However, Martin Luther King, Jr. may be the first face that comes to mind when one thinks about civil rights leaders. He is one of few to have his own national holiday. His quotes and iconic speeches drew massive crowds before his assassination in 1968.
King gave his most well-known speech in 1963 at the March on Washington for Jobs and Freedom. Among those in the crowds witnessing the words of King's "I Have a Dream" was future Senator Bernie Sanders and Hollywood heavyweights like Sidney Poitier, Paul Newman, Marlon Brando, and Rita Moreno. Many in attendance recounted their experiences from that day in 1963 even decades later as the sentiments continue to impact eye-witnesses and even people who were not even born when the speech occurred.
Rita Moreno has long championed social issues
Rita Moreno gained fame from her role as Anita in "West Side Story" released in 1961. The Puerto Rican-born actress became part of the exclusive EGOT club in 1977 after winning an Emmy, a Grammy, an Oscar, and a Tony award over the course of her career. Along with these accolades, Moreno aligned herself with civil rights issues pertaining to women, Hispanic Americans, and African Americans. When speaking at Bentley School (posted by PBS), she stated that her first civil rights experience was hearing Martin Luther King, Jr. deliver what became known as his "I Have a Dream" speech.
Moreno sat down with Jennifer Hudson on the "Jennifer Hudson Show" and recounted the moments that led up to the speech. She remembers singer Mahalia Jackson had a hand in it. "She [Jackson] tugs him by his jacket and she says, 'Martin, tell them about the dream. Tell them about the dream, Martin.' Because he was, I think, going to do another speech," Moreno said (via YouTube). 
'I Have a Dream' was not part of Martin Luther King, Jr.'s speech notes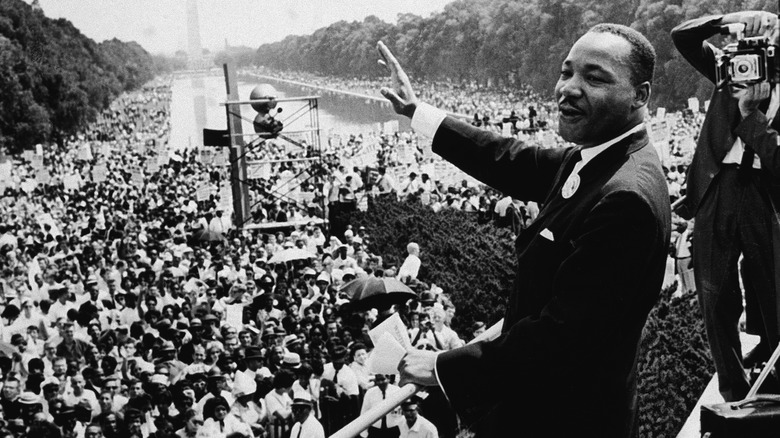 Cnp/Getty Images
Rita Moreno's assumption that Martin Luther King, Jr. did not plan on saying the words with which he is commonly associated was correct. Clarence B. Jones was among King's speech collaborators. In his book "Behind the Dream," Jones explains that at the March on Washington, King spoke from notes that Jones and himself had put together the night before. However, he eventually veered off-script. After Mahalia Jackson asked King to talk about "the dream," Jones states that King "shifted gears" and slid his notes away from the center of the podium. Jones knew that King was going to change his plan, but called the material that King then delivered "soul-stirring."
Now in her 90s, Moreno still carries a passion for activism that she shares with Lily Tomlin, Sally Field, and Jane Fonda who all star with Moreno in the 2023 film "80 for Brady." When they appeared on "The Kelly Clarkson Show" (posted on YouTube), Moreno said recalling King's speech at the March on Washington still gives her "goosebumps."