The Secret Code Jimmy And Rosalynn Carter Have Been Using For Decades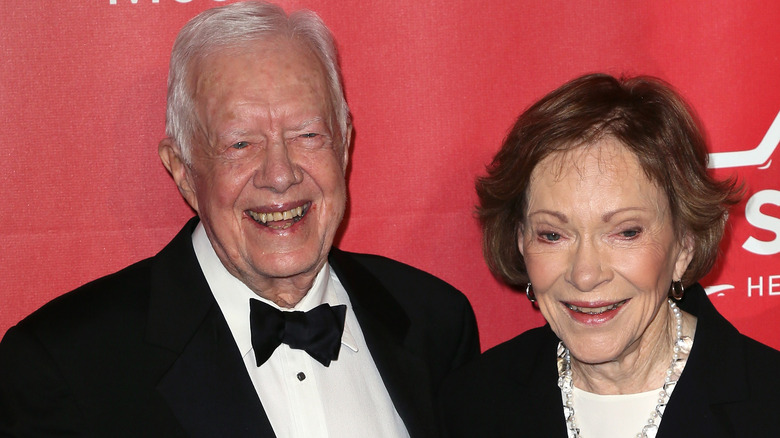 David Livingston/Getty Images
Jimmy Carter: definitely the most genteel and mannerly president to hold the office. No matter that he lost his second term election against Ronald Reagan back in 1981 — this arguably afforded him the opportunity to do much better humanitarian good than he could have as president. In fact, he thinks as much himself, as he said during a 2015 press conference. President Carter won the Nobel Peace Prize in 2002, almost single-handedly eliminated diseases like Guinea worm through The Carter Center, and gave the craft beer scene a huge boost thanks to legalizing home brewing in 1978. What's not to like? Plus, he had a swell Secret Service code name — Deacon — that reflected his longstanding commitment to the Baptist church. And in 2023, he celebrated his 75th wedding anniversary to his wife Rosalynn, an unbelievable accomplishment in an era where many can't be bothered to commit to cooking a proper dinner.
It's through his marriage that Carter used another secret code — nothing to do with special agents this time. Seeing as the former president has not only lived a long time and done a lot of good but also had a successful, three-quarters-of-a-century-long marriage, he has boatloads of helpful advice for couples. As he discusses on ABC's "Good Morning America," personal space is important, as is resolving disagreements before going to bed, and of course, choosing the right person. And as he told People, he and Rosalynn always say ILYTG to each other: "I love you the goodest." 
'I love you the goodest'
If you think long-married high school sweethearts first met when they were young, then be prepared for Jimmy and Rosalynn Carter. Their families were friends when they were growing up, and Jimmy Carter's mom Lillian was a nurse. Lillian helped deliver a baby in the Smith family one day in 1927, when the Carters' hometown of Plains, Georgia, held only 600 people. Lillian Carter brought her son to the hospital to meet the newborn, Eleanor Rosalynn Smith. Jimmy was 3 years old, and Rosalynn was a newborn. 
Rosalynn and the future president didn't instantly get along together as kids just because their parents knew each other. But by the time Jimmy headed off to the Navy — and Rosalynn saw him in his uniform — she was at least growing curious. Jimmy was as well, and by the time he asked Rosalynn out and they went to a movie together, Jimmy felt for sure that he'd just left the company of his wife-to-be. In an interview with The Washington Post, President Carter says that he told his mother about his feelings right away. Rosalynn, however, would only find out some years later. 
Jimmy and Rosalynn maintained a long-distance relationship while Jimmy was in the U.S. Navy. This is when they began a tradition that would last their entire life: finishing their correspondences with ILYTG — "I love you the goodest." As soon as Jimmy got back from the navy, he and Rosalynn got married.
A generational message of love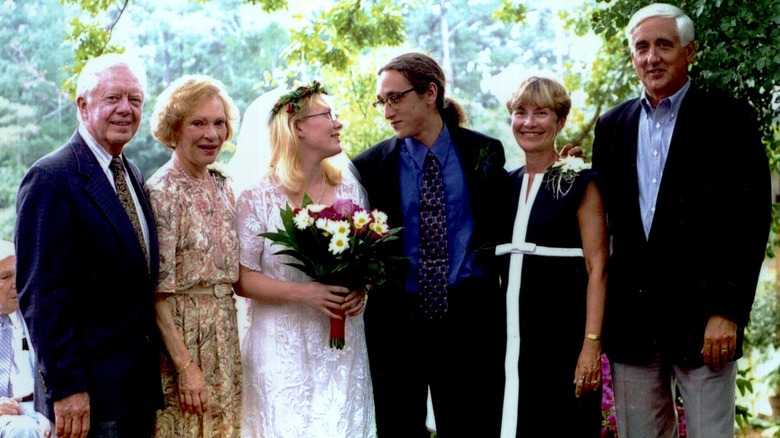 Getty Images/Getty Images
While ILYTG has come into habitual use in the lives of Jimmy and Rosalynn Carter, neither one of them made up the acronym. That honor goes back to the woman who helped deliver Rosalynn: Jimmy Carter's mom. She and Jimmy Carter's father, James Earl Carter, Sr., were the first to coin the term ILYTG, the former president told People. They used it in their everyday lives with each other, and Jimmy Carter, perhaps sensing his eventual marriage to Rosalynn, slipped it into his and Rosalynn's correspondences in imitation of his parents.
Now, his four children have picked up the ILYTG baton, using it in communication with their mother and father. Whether they've passed on the acronym to their own children — Jimmy and Rosalynn have 22 grandchildren — remains their own business. President Carter, being his usual affable and open self, told People, "Now all our children do the same thing — ILYTG on the phone or in emails. They generally just put the initials." He continued by interjecting a bit of comedy and saying, "And sometimes they change the initials and make you guess what they're talking about." We can only guess about alternative acronyms, but either way you cut it, the whole thing sounds just as wholeness as Jimmy and Rosalynn Carter themselves.