The Lucrative Business Of Adolf Hitler Art Forgeries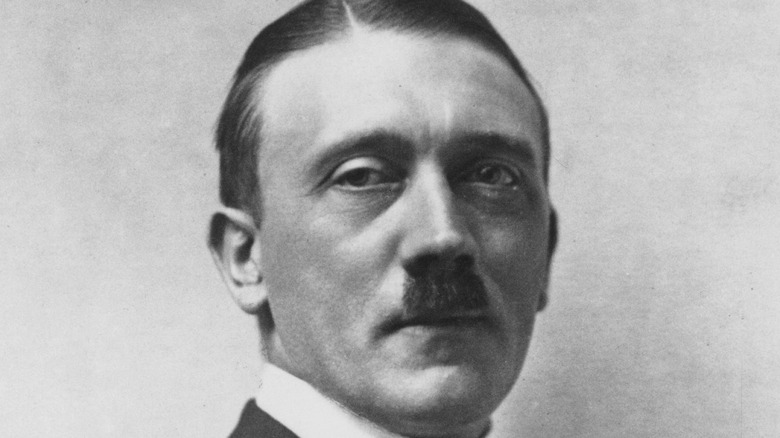 Keystone/Getty Images
Adolf Hitler: history's best cautionary tale about psychologically fragile artists. Long before the future führer began ranting on stage about Jews, German destiny, Übermensch, and whatnot, he aspired to a career path far different from mass murderer: artist. But when the young and naïve Hitler got his entrance exam results from Vienna's Academy of Fine Arts — "unsatisfactory" — the news hit him "as a bolt from the blue," as he rather derivatively wrote in his 1925 autobiography Mein Kampf (per History). 
At that point, as History Place explains, Hitler had already dropped out of high school at 16, got enthralled by the art and architecture of Vienna, and moved there fully confident of his future as an illustrator. But unfortunately for him — not to belittle a brutal and insane dictator or anything — his art was kind of meh. Or as journalist John Gunther wrote of Hitler's paintings in "Inside Europe," "They are prosaic, utterly devoid of rhythm, color, fading, or spiritual imagination. They are architect's sketches: painful and precise draftsmanship; nothing more." Ouch. If you doubt this assessment, have a look at some of Hitler's work — largely depicting buildings — on All That's Interesting. He's no Bob Ross.
If you recognize any of those paintings, Hitler did paint a lot — more than 2,000 pieces over his entire life. But it's more likely that you saw a forgery. After all, what says lucrative business opportunity better than copies of watercolors brushstroked by a madman?
A horde of fakes seized by police
Deutsche Welle reports that German police raided the Kloss Auction House in Berlin in January, 2019 and seized three paintings suspected of being forgeries of Hitler's work. All three are marked "A. Hitler" on the bottom, come with certificates of authenticity, and were supposedly painted from 1910 to 1911. Each one was valued at €4,000 (over $4,500). There's no telling whether or not the auction house was in on it, or was duped into believing the paintings were real. But at least Kloss representative Heinz-Joachim Maeder came to the same conclusion about Hitler's work as everyone else: "In my view, they have no artistic value. It's simply adequate craftsmanship. If you walk down the Seine and see 100 artists, 80 will be better than this."
The very next month, as The Art Newspaper says, police seized not three but 63 fake watercolors, pastels, sketches, and more from the family-owned Weidler Auction House. This time authorities suspected the auction house knew that they were forgeries. Only five of the works — still-life paintings — were deemed authentic. Bids started in the hundreds of euros and went to over €100,000.
Prospect Magazine goes further and states that 77 entire Hitler-based lots — groups of auctioned items — were sold from 2009 to 2018 by Mollocks auction house. In total, the works went for £271,000 (over $320,000). That time Mollocks admitted that they couldn't verify the authenticity of the paintings, but people bought them anyway.
An entire industry of Hitler paraphernalia
At this point, many people might be wondering, "Who in the world would want one of Hitler's paintings?" Lest you think that only droves of rabid neo-Nazis would purchase such works to fall prostrate before, it's usually the historically curious and maybe museums who go in for Hitler's work, per Deutsche Welle. That being said, there's a sphere of wealthy, speculatively sane collectors like Texas millionaire Billy Price who in the 1980s bought massive private collections of all things führer before eventually selling it all — Price even owned Hitler's eating utensils (per Prospect Magazine). British millionaire Kevin Wheatcroft is a big Hitler fan, too, owning some of Hitler's art, his wine racks, Eva Braun's gramophone, and 88 actual tanks. He also sleeps in Hitler's bed.
None of these individuals really care about the artistic merit of Hitler's paintings, though. As Kloss Auction House representative Heinz-Joachim Maeder pointedly says on Deutsche Welle, "The value of these objects and the media interest is because of the name at the bottom." And so, while it remains illegal to sell forgeries, it's completely legal to trade in legit Hitler paraphernalia. Deutsche Well describes "Portrait of a Girl," for instance — a painting done by Hitler of his "French lover" complete with exposed breasts and her gripping a pitchfork, per Luxury Launches – going for $74,000. Even in Germany, as the Art Newspaper says, all such sales are okay unless an item depicts a swastika. All things considered, that's a reasonable restriction.