The Time Philadelphia Eagles' Jerome Brown Invaded A KKK Rally In His Hometown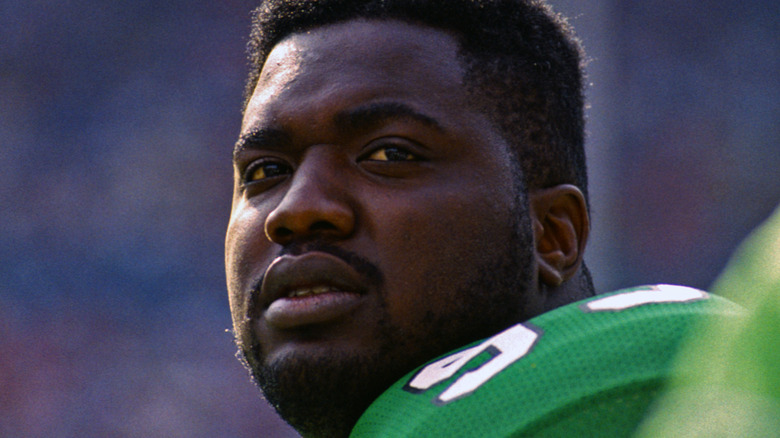 George Gojkovich/Getty Images
All-Pro Philadelphia Eagles defensive tackle Jerome Brown played in the NFL for five seasons before he tragically died in a car accident in 1992. Despite all the success Brown had on the field, for those in his hometown of Brooksville, Florida, the 6-foot-2, 292-pound University of Miami graduate is maybe best known for an incident in which he stood up to the Ku Klux Klan at a 1988 Klan rally at the Hernando County Courthouse.
Up to that time, the state of Florida had long been a hotbed for Klan activity, and Brown's bravery came just eight years after Florida struck down a ban on Klan members covering their faces on public property. On the day that he took on the KKK in his hometown, Brown said (via The New York Times): "I'm not a hero ... I'm just a big kid who had a big, loud stereo." But Brown's actions earned him a special place in the hearts of many Brooksville residents to this day.
Brown was tipped off to the rally by the sheriff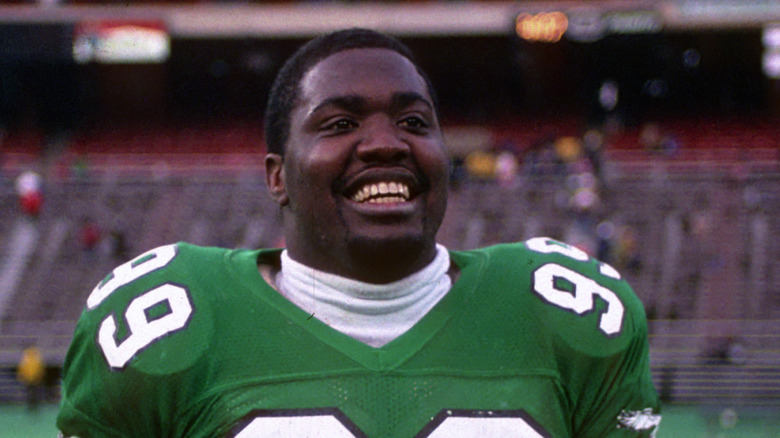 George Gojkovich/Getty Images
The late Eagles defensive tackle Jerome Brown was informed of the planned Klan rally at the Hernando County Courthouse in Brooksville by Hernando County Sheriff Ed Tincher. The year was 1988, Brown's second year in the NFL, and he'd already made a name for himself playing his college ball for the University of Miami.
Among other examples, Brown had reportedly proved his dedication with donations to the local high school sports teams. In 1997, Brown was inducted into the University of Miami Sports Hall of Fame. Philly picked Brown ninth in the 1987 NFL draft. At the time the Brooksville Klan rally was planned, Sheriff Tincher reportedly asked Brown for a favor. That's when Brown's idea reportedly struck him. Soon after, he traveled to nearby Tampa and had a new top-of-the-line stereo installed in his truck.
Brown chased Klan members away with his pounding stereo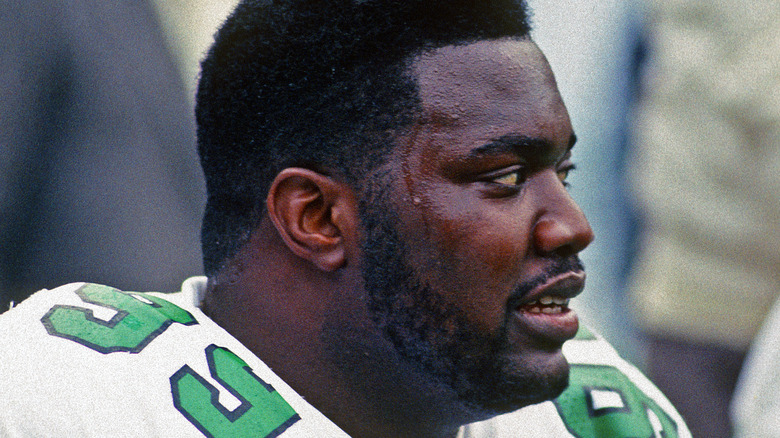 George Gojkovich/Getty Images
With the KKK rally underway, Jerome Brown pulled up in his truck with that new stereo pumping so loud it drowned out the hateful things the Klan members were saying. The large football player then jumped from his truck, a Ford Bronco, with a sign that said "Go Away, KKK" and with the nearly 300-pound lineman barreling toward them, the Klan members, including the Grand Dragon, swiftly exited. In total, 12 speakers from Brown's new truck sound system overwhelmed the Klan's rhetoric.
Among many reasons — including the 1988 Klan incident — Brown's childhood friend, ​​Tim Jenkins, said (via The New York Times): "Every time I hear a stereo booming, I think it's him." At the age of 27, Brown died when his Corvette flipped in a rainstorm. His 12-year-old nephew was also killed. On the day of the Brooksville Ku Klux Klan rally, Brown reportedly said (via the Orlando Sentinel): "I may play football in Philly, but I care what happens here. This is my hometown. We care about each other. We don't hate."