The Murdaugh Family Patriarch, Randolph Murdaugh Sr., Died Under Suspicious Circumstances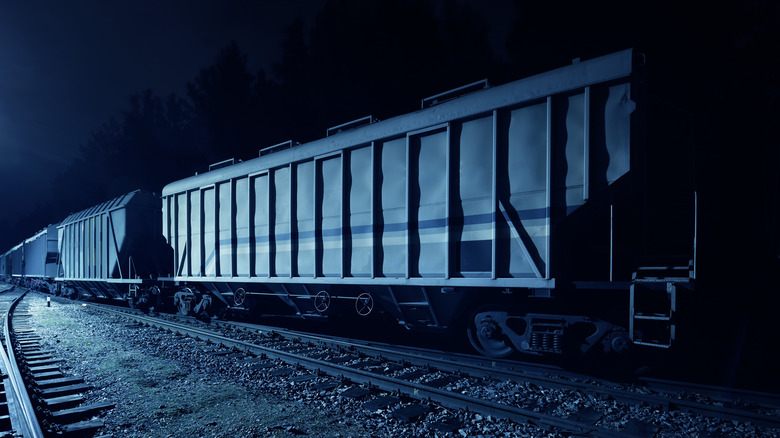 Aastels/Shutterstock
It was muggy and a thick fog lay over Hampton County, South Carolina, in the predawn hours of July 19, 1940, as a Charleston & Western Carolina freight train barreled through the darkness heading west. About 40 yards before a railroad crossing just after 1 a.m., engineer W.W. Bartlett saw a car by the crossing and a man in a car near the side of the tracks. As the train rushed on, the car suddenly jumped to life, and the man drove onto the tracks but then stopped. The train conductor reported the man raised his hand as if in greeting (via the Greenville News). 
The ensuing impact flung the car 900 feet up the track and sent Randolph Murdaugh Sr. — the man who the engineer had earlier seen waving — 150 feet from the crossing, killing him. According to his death certificate (via Find a Grave) his skull was crushed among many other injuries. 
Murdaugh was a solicitor, the equivalent of a prosecutor for five South Carolina counties, and the patriarch of a powerful family that would have an outsized influence on this rural region for three generations. That ended when the state sentenced his great-grandson, Richard "Alex" Murdaugh, a disgraced lawyer whose prowess as an attorney was seen by his peers as lackluster (via Daily Beast), was convicted of killing his wife and adult son and sentenced to life in prison without the possibility of parole on March 3, 2023. 
Crash ruled an accident 
Randolph Murdaugh Sr., was born on Feb. 28, 1887, into a wealthy Hampton County family. His father had made his money in mining and real estate, but it would be Randolph who founded their legal dynasty. In 1910, after graduating from the University of South Carolina law school, he started a one-man practice that would eventually become a massive law firm with hundreds of lawyers. Ten years later, the area's residents elected him solicitor. And for nearly 100 years after that, a member of the Murdaugh family in an almost unbroken succession would hold the position, giving them prosecutorial power over the region.
Following the death of Randolph Murdaugh Sr., rumors abounded. The 53-year-old had been sick in the months before his death and even spent time in the hospital a few months before the train crash. He was so sick that his son Randolph "Buster" Murdaugh Jr., sometimes had to fill in for him in court. Many wondered if he'd died by suicide. Others speculated alcohol could have played a part in the tragedy since he'd been coming from a poker game at a friend's place a few towns over. It could have been a combination of both, or it could have just been a tragic accident, as the coroner's jury ruled. The medical examiner even went so far as to cross out the words "suicide" and "homicide" as possible causes of the crash, as can be seen on the death certificate.  
The rise of a powerful family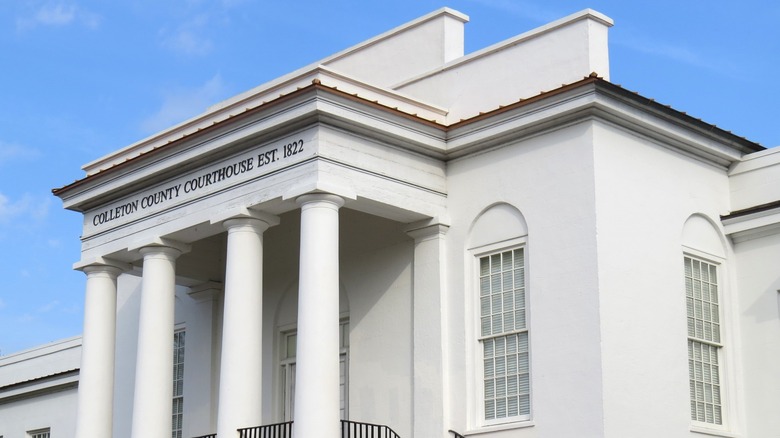 Al Munroe/Shutterstock
In the fall of 1940, Randolph Murdaugh Jr. — nicknamed Buster — sued the freight train company alleging its poor maintenance of the tracks, high rate of speed, and failure to blow a warning signal before reaching the crossing, led to the "wrongful death of said Randolph Murdaugh Sr." (per the Greenville News). The suit asked for the equivalent of more than $2 million today. The parties settled the case for an undisclosed amount of money. The dead man's family, including his son Buster, was a beneficiary of his untimely demise. Buster ran for his father's old job and won by a landslide, remaining in office for 46 years and cementing the Murdaugh clan's legacy of holding the reins of justice in the region. Furthering that rein, Randolph Murdaugh III, Alex Murdaugh's father, took over the position when Buster retired in 1986 and held the office until he went into private practice in 2005. Alex never went after the position, per The New York Times. 
Besides Alex Murdaugh's murder convictions, he's still facing financial crimes for allegedly stealing millions from his law firm and bilking his clients. There are also several unexplained deaths that some believe are tied to Alex Murdaugh, including that of a housekeeper and two of his children's acquaintances. In another instance, Murdaugh told police in 2021 that he'd attempted a suicide-for-hire scheme in which he'd asked his drug dealer to shoot him so his surviving son, Buster, could receive a life insurance payout.
If you or anyone you know is having suicidal thoughts, please call the National Suicide Prevention Lifeline​ by dialing 988 or by calling 1-800-273-TALK (8255)​.