Bill Russell's Basketball Career May Have Never Happened If He Hadn't Met Legend George Mikan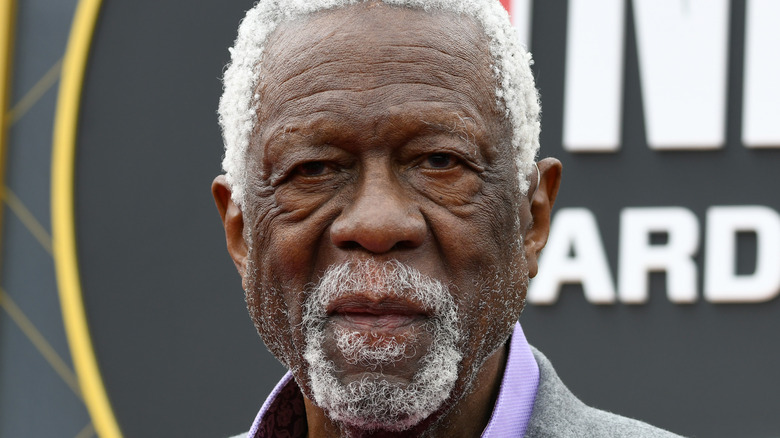 Michael Kovac/Getty Images
At this point the history of the NBA is filled with legendary names: Kareem Abdul-Jabbar, Wilt Chamberlain, Larry Bird, Michael Jordan, Magic Johnson, LeBron James, and many, many more. We've got loads of online ranking lists, stat breakdowns, player comparison videos, all-time great tributes, and more. And among those players, we've also got certain lineages. And out of those lineages, one lineage stands head and shoulders — literally — above the rest: the big man. And out of those big men, many people remember one big man as the first: The Boston Celtic's Bill Russell, who played with the team from 1956 to 1969.
Russell, who died in July 2022, won 11 championships, is a 12-time All Star, a five-time MVP, and a Basketball Hall of Famer. He also, as the NBA describes, was more of a defensive player than an offensive one, and was consistently basketball's leading rebounder. The Celtic's Don Nelson told the Boston Herald that Russell was the "type who makes the players around him look better than they are." Russell only met his match when Wilt Chamberlain joined the NBA in 1959.
And yet, Bill Russell almost didn't join the NBA at all. As Biography says, as a child, he was often sick. He didn't stand out on the court right away and wasn't even particularly athletic. But at 6-foot-9, he stood ready to join the ranks of his predecessor, George Mikan (pronounced Mike-an). It's Mikan who encouraged Russell to strive for the NBA.
The NBA's first big man
George Mikan is one of those players that might get overlooked without a deeper dive into basketball history. Reason being, Mikan started playing professional basketball before the NBA was the NBA. Mikan, aka "Mr. Basketball," started playing center in 1947 for the Chicago American Gears. The Gears were part of the National Basketball League (NBL), which by 1949 merged with its rival league, the Basketball Association of America (BAA), to become the NBA that we know and love.
Mikan, at 6-foot-10, was not only basketball's first celebrity superstar but its first "big man" who exemplified and defined the role of center in a time when players were typically smaller and faster. The YouTube channel Jonny Arnett overviews Mikan's numbers and accomplishments. After being allocated to the Minneapolis Lakers following the creation of the NBA, Mikan led his team to five championships in 1949, 1950, and then three in a row from 1952 to 1954. Mikan was the best scorer, best rebounder, and most dominant person in the game, with a field goal percentage ranked second in the entire league. His trademark ambidextrous hook shot has been replicated time and again since then, as has his Mikan Drill, which Kareem Abdul-Jabbar demonstrates on the YouTube channel YounGala.
Mikan retired in 1956 at 31 after younger players started to catch up to him, as The Sports Rush says. But before he did, he passed along some support, wisdom, and encouragement to the young Bill Russell.
A young, rising star
On the YouTube channel YounGala, Bill Russell talks about meeting George Makin, basketball's first superstar. As Russell says, he was in high school at the time and went to a Lakers' exhibition game to watch Makin play. He also hadn't considered playing professional basketball at all, or even going to college. He was a third-string varsity high school player, and that's it.
Russell says that Mikan just strolled out of the locker room after the game and walked right up to him, a story he also repeats on the Instagram account NBA History. The two stood there for 20 minutes talking. Makin described how wonderful it was to play for the Lakers, and said that Russell should come and join them. "He expressed expectations of me and outside of my family and my high school coach, there was nobody else who ever said anything like that to me. That we expect you to be successful," Russel said.  
While he didn't get a chance to join the Lakers, he "did the next best thing" he said: beat them six times in playoffs. Incidentally, Russell joined the NBA the same year Mikan left — 1956 — in a true passing-of-the-baton moment.
As The Sports Rush says, the Lakers retired Mikan's #99 jersey on October 30, 2022. While neither Mikan nor Russell were there to see the ceremony — Russell had died mere months earlier — their spirit, comradery, and friendship live on in the game and all whom they inspired.