Alex Murdaugh's Brother Randy Had No Doubt Alex Was A Liar
In the first interview of its kind since the conviction and sentencing of Alex Murdaugh, his brother Randy opened up to The New York Times about what he thinks happened the night his sister-in-law, Maggie Murdaugh, and his nephew, Paul, were shot and killed. Those 2021 murders took place on the expansive rural estate of the Murdaughs, a prominent legal family in the Charleston, South Carolina area. After a six-week trial and only a short period of deliberation, Maggie and Paul's father, Alex, was found guilty of both crimes and given two consecutive life sentences in prison.
Over the course of the trial, Alex's serious substance use issue and long history of financial fraud related to the Murdaugh family law firm were revealed. He reportedly defrauded millions from the firm's clients, and he will stand trial for those crimes at a later date (via CNN). On the topic of his brother's guilt, Randy, who attended the University of South Carolina with his brother and did not testify at Alex's trial, told The New York Times he's still not sure who pulled the trigger. However, he said: ​​"[Alex] knows more than what he's saying," Randy said. "He's not telling the truth, in my opinion."
Randy worked with Alex at the Murdaugh family law firm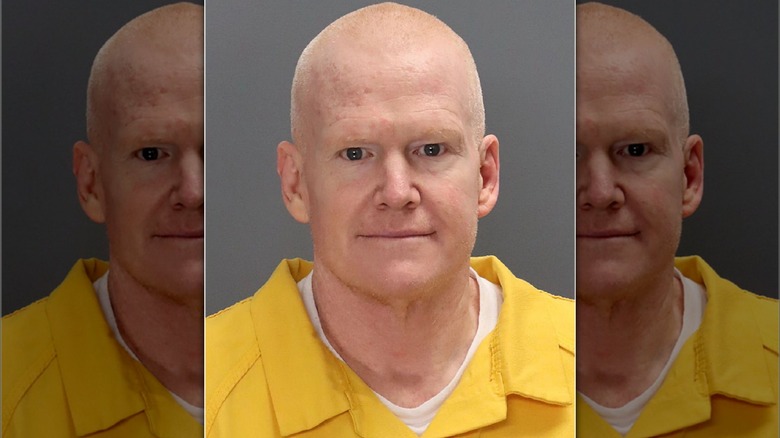 South Carolina Department of Corrections
Though Randy Murdaugh worked alongside his brother Alex at the Murdaugh family law firm, he had not spoken to his brother in roughly a year. In the New York Times interview, Randy Murdaugh said that the pair we not exactly close. "It's not like there was some problem with our relationship, necessarily," he said. "We just really weren't alike, so we didn't do stuff together." The outlet noted that Randy described himself as a "hometown boy" and spent his college weekends heading home to hunt and fish, while Alex liked to party.
In the weeks after Maggie and Paul Murdaugh were brutally shot and killed, Randy did everything he could to try and find out what happened to his sister-in-law and nephew: "I spent considerable time, day after day for weeks on end, calling people." But he claims the same could not be said for Alex — a fact that he found notable. Those observations about Alex's demeanor after the death of his wife and son were corroborated by Maggie's sister, Marian Proctor, on the witness stand, Fox News reports.
In contrast, Alex's surviving son, Buster, testified under oath that his father was, in his words, "destroyed" and "heartbroken" over the deaths of Paul and Maggie, according to The Independent. Alex had reportedly confessed to his brother Randy the embezzlement and other financial crimes, which he attributed to his opiate addiction. Shortly after that happened, and following the death of his wife and son, Randy recalled the 2021 incident when Alex claimed someone tried to shoot and kill him (per the Associated Press). Alex later confessed that he paid his purported drug dealer, Curtis Eddie Smith, to try and shoot and kill him in an act of assisted suicide, but Smith missed.
Randy still doesn't know what happened
Despite Alex Murdaugh's conviction on the double-murder of his wife and son, Randy still can't say for certain he's guilty, according to his New York Times interview. According to what Randy told the outlet, despite all his faults, he'd only known his brother, Alex, to be a loving and protective father. Randy's characterization of the likelihood of his brother's guilt — or at the very least involvement in the crime — diverges from what Randy and John Marvin, another Murdaugh brother (pictured together, above) said on "Good Morning America" shortly after Maggie and Paul died (via YouTube).
In that GMA interview, Randy said: "My brother loved Maggie and loved Paul like nothing else on this earth, just like he loves Buster ... So there's no possible way he could have anything to do with this, I can assure you." Shortly after that point, the Murdaugh family released a statement that read (via The Independent): "The entire family has been consistent that regardless of what goes on, we want the truth." In his 2023 interview with The New York Times, Randy said: "The not knowing is the worst thing there is. I hoped that after the trial, because there's nothing more that can be presented, that I'd stop thinking about this. But so far, that has not been the case."
If you or anyone you know needs help with addiction issues, help is available. Visit the Substance Abuse and Mental Health Services Administration website or contact SAMHSA's National Helpline at 1-800-662-HELP (4357).