Kobe Bryant Predicted His Teammate And Friend's Well-Deserved Honor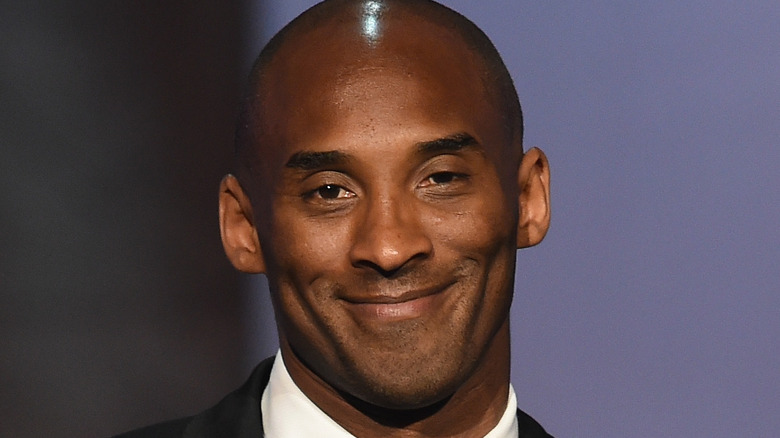 Kevin Winter/Getty Images
Former Los Angeles Lakers center and two-time NBA champion Pau Gasol was honored with a jersey retirement ceremony on March 7, 2023, ESPN reports. The observance took place at halftime at Crypto.com Arena, formerly the Staples Center, in Los Angeles, where the Lakers play. As an introduction were pre-recorded words from Lakers superstar, Kobe Bryant's wife, Vanessa Bryant. In her statement, posted on Youtube, Vanessa mentioned that her late husband, Bryant, a five-time NBA champion who played his entire career in LA, knew this day would come for Gasol, his former teammate.
Bryant died in 2020 along with his 13-year-old daughter Gianna and seven others in a helicopter crash near Los Angeles. Gasol is only the 12th Lakers player in franchise history, including Bryant, to have his number enshrined in the rafters of Crypto.com Arena. Of the unique distinction, the Spanish-born retired center said (via ESPN): "In the blink of an eye, you can be a kid playing basketball in your school with your buddies, then all of a sudden, you're realizing your dream. Tonight, it really exceeds any dream or expectation that I've had because it means so much," Gasol added. Vanessa was present at Crypto.com Arena when Gasol's jersey, No. 16, entered the annals of Lakers history.
Gasol was a special teammate for Bryant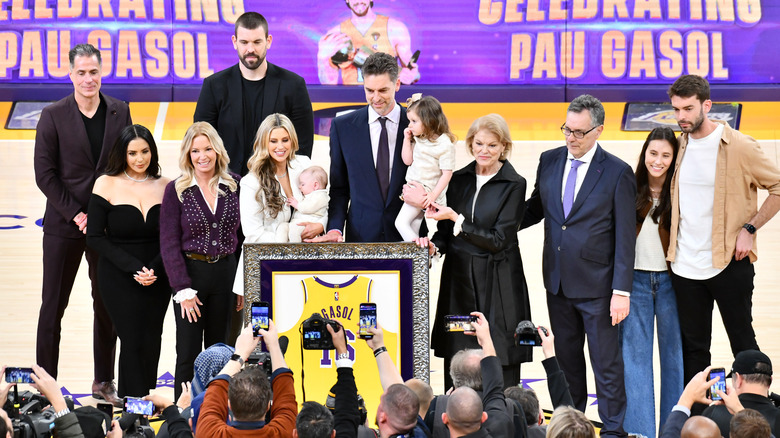 Allen Berezovsky/Getty Images
In her pre-recorded message for Pau Gasol at his jersey retirement event, broadcast for all in attendance at Crypto.com Arena to see and hear, Kobe Bryant's wife, Vanessa Bryant called the 7-foot-tall center a special friend and teammate to her late husband. 'It is my honor to introduce my dear friend Pau tonight,' Vanessa said in her remarks. "Pablo," she continued, using Gasol's Spanish name, "Kobe predicted that you and he would be together in the rafters. Here's a little video I want you to watch,'" she added.
After Vanessa's video statement, she was then seen alongside Gasol on the court at Crypto.com Arena in what was reportedly her first appearance at the iconic venue since her husband and daughter died. Joining Gasol at the ceremony was Gasol's 2-year-old daughter, Elisabet Gianna, named in honor of the late Gianna Bryant. Also on hand were Gasol's wife and brother, Marc Gasol, also an NBA champion with the Toronto Raptors, Lakers governor Jeanie Buss, and Lakers Vice President of Basketball Operations and General Manager, Rob Pelinka.
Bryant's Gasol prediction was captured on camera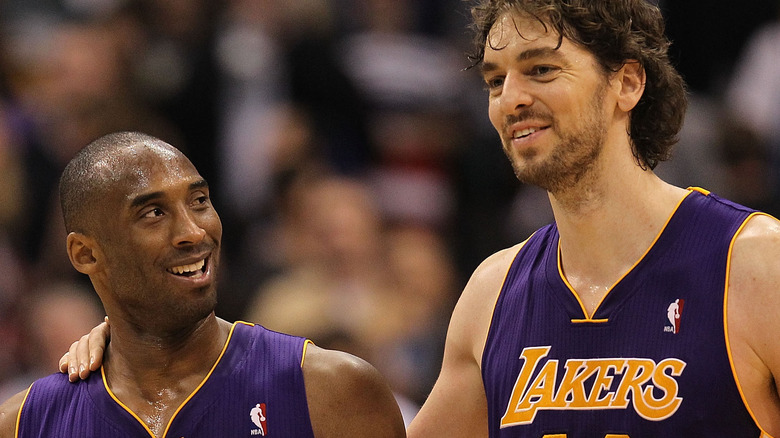 Ronald Martinez/Getty Images
As mentioned, in her opening remarks, Vanessa Bryant referenced a video message from her late husband, Kobe Bryant, which was then played for all in attendance at Pau Gasol's jersey retirement ceremony (via Youtube). In that video message, Bryant said, "The reality is, I don't win those championships without Pau. The city of LA doesn't have those two championships without Pau. So, we know that. Everybody knows that. I'll be looking forward to the day when he's there giving me his speech at center court in front of all the fans who have supported him over the years. It's gonna be an awesome night."
On the close working and personal relationship Gasol shared with Bryant, after his jersey was retired the retired Lakers great said: "We just complimented each other well. [Bryant] brought a unique edge, work ethic, dedication to the game." According to Gasol, Bryant appreciated his basketball IQ , understanding of the game, "and my ability to catch the ball," Gasol added, "having good hands and being able to make plays for myself and my teammates. I think I kind of balanced what he brought to the table," he said. Gasol played seven years in Los Angeles, alongside Bryant. Both of Gasol's NBA championships were won in LA.