Two NBA Legends Discovered They Were Related At A Family Reunion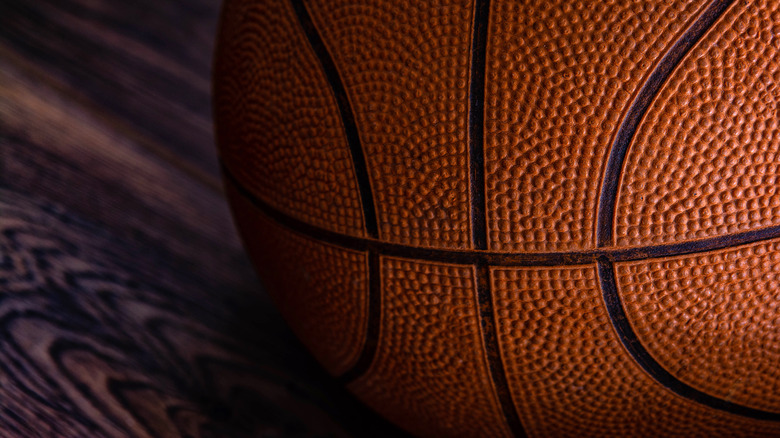 Stefanstudio/Getty Images
It was the summer of 1997, and Tracy "T-Mac" McGrady was back home in Florida for a family reunion. The 18-year-old had spent his senior year at Mt. Zion Christian Academy in Durham for the exposure and would go practice at the University of North Carolina campus during the summer, where his friend, Vince Carter, was a student and allowed him to use his locker. The two both grew up in Florida, about two hours from each other, and had become friends through their participation in the Amateur Athletic Union.
At the reunion, McGrady sat next to his grandmother, who was chatting with another older woman McGrady didn't know. His grandmother introduced the woman as her cousin, and they began talking. "Hey, my grandson plays college basketball," she told McGrady. "Who does he play for?" McGrady recalled asking in an interview with "Pardon My Take." When he learned it was UNC, it intrigued him. "Who is he?" he asked. "Vincent," she answered. "Vince Carter?" McGrady asked excitedly. The answer was yes.
A surprise phone call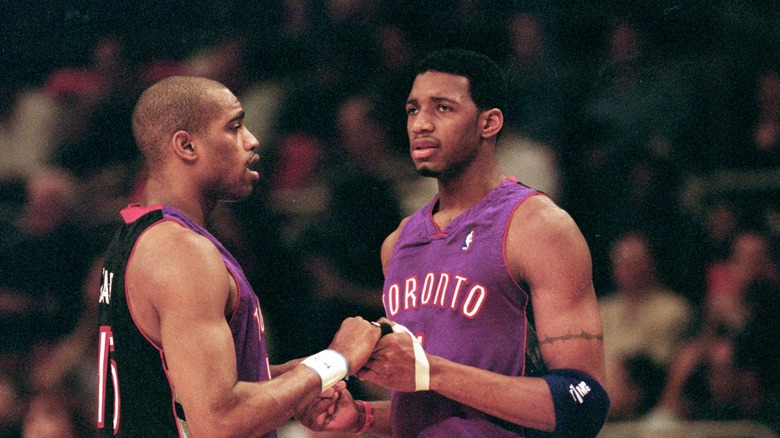 Ezra Shaw/Getty Images
The news blew Tracy McGrady away. He turned to his grandmother. "We're cousins?" Yes, they were. Third cousins, to be exact. McGrady had just seen Carter the day before at the UNC campus and couldn't believe what he was hearing. "Please call him right now," he told Carter's grandmother (via Pardon My Take). "He's gonna freak out. I was just with him the other day."
She obliged. Vince Carter picked up his phone, a little concerned to be getting a call out of the blue from his grandmother. "Grandma, you good? What's going on?" he recalled saying on ESPN. Suddenly, Carter heard someone shouting into the phone. "What's up, cuz!" "Who is this?" Carter asked. "It's Mac, cuz! We're family, cuz!" The two friends, and now cousins, would soon also become teammates. That same summer, the Toronto Raptors picked up McGrady — who'd gone straight from high school to the NBA — ninth overall in that year's draft. A year later, the Raptors would scoop up Carter during the first round of the draft.
From friends to cousins to teammates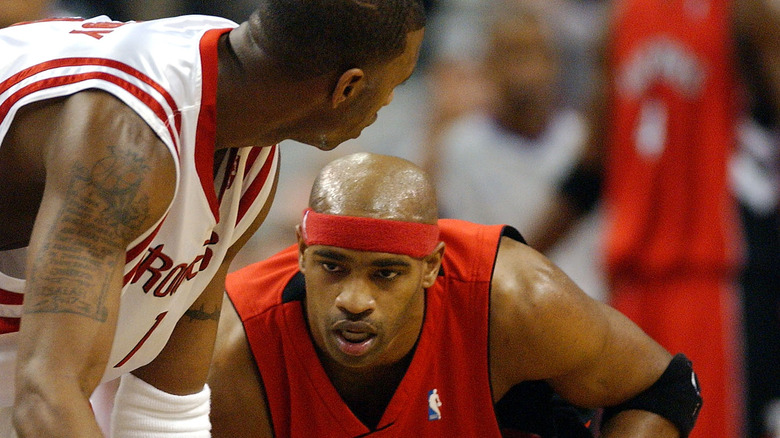 Dave Sandford/Getty Images
During the 1998-1999 season, Vince Carter quickly made a name for himself, averaging 18.3 points a game. His cousin, Tracy McGrady, had a harder season, with 9.3 points per game. The next season, the team seemed unstoppable until the post-season when the Knicks knocked them out in the first round of the playoffs. McGrady then left for the Orlando Magic as a free agent. "We played together for two years and then I went to Orlando," McGrady recalled on ESPN Throwback. "It was a tough decision to leave. ... Now that I look back and it's all over, I wish I had stayed. I'd grown the two years we played together, but I know I could have continued to elevate my game and evolve into the player that I became playing alongside him."
The two cousins faced off during the unforgettable 2000 Slam Dunk Contest. Carter spent weeks trying to convince McGrady to join him. And while Carter ruled the event — with the media coining the term "Vinsanity" because of his jaw-dropping performance — McGrady held his own. The two cousins also faced off over the years on opposing teams, something Carter loved. "T-Mac and I were obviously family, so it's nothing like going against your superstar cousin," he told NBA.com. "You can't beat that." McGrady, a Hall of Famer, retired in 2013 after 16 seasons, and Carter, who is likely to also be inducted into the NBA Hall of Fame, retired after 22 seasons in 2020.