A Nuclear Meltdown Left A Young Jimmy Carter Dealing With Months Of Radioactivity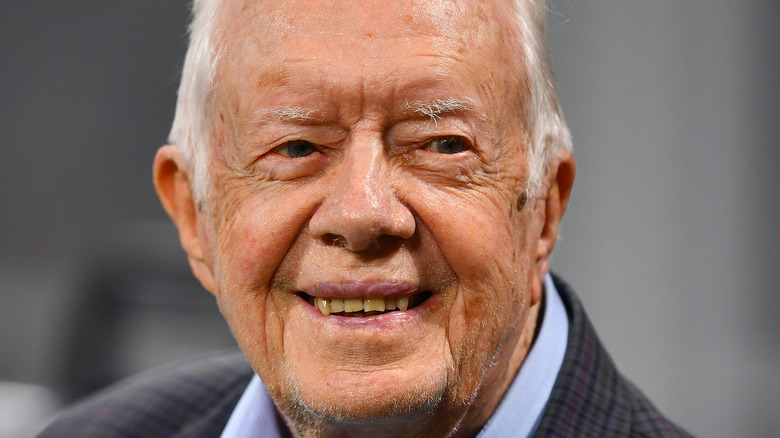 Scott Cunningham/Getty Images
The naval crew slowly lowered Lt. James Carter into the National Research Experimental (NRX) Reactor in Chalk River, Ontario, Canada. It was December 1952, and Carter — who a little more than 20 years later would become the 39th U.S. president — was leading a U.S. Navy team of 23 men in dealing with the world's first nuclear reactor accident. Once Carter reached the ground, he had 90 seconds to rush across the room, use a wrench to remove a bolt, and then hurry back out of the building.
On December 12, 1952, mechanical problems exacerbated by an employee mistake set off a chain reaction that overheated the reactor's fuel rods, which ruptured, causing a partial meltdown and the release of hundreds of thousands of gallons of radioactive water that flooded the facility's basement and poured into the air. For Carter, the experience didn't just affect him physically — it also influenced his perspective on nuclear proliferation.
A highly radioactive environment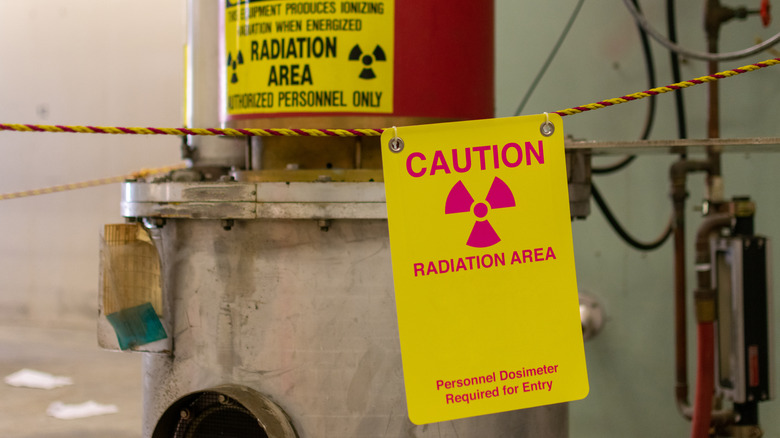 Michael Vi/Shutterstock
In the wake of the Chalk River accident, the Canadian government asked the U.S. for help in the cleanup, and Lt. Jimmy Carter — who was stationed in Schenectady, New York, working in the Navy's nuclear submarine program — had the exact skill set needed for the job. "It was a very exciting time for me when the Chalk River plant melted down," Carter told Canadian journalist Arthur Milnes (via CNN). "I was one of the few people in the world who had clearance to go into a nuclear power plant."
Because there was such an extreme level of radiation at the facility, the men could only spend about 90 seconds each inside. In order to plan out the needed repairs, they built a mockup of the reactor on a nearby tennis court and practiced their strategy. When it came time for the actual job, Carter and his crew wore white protective coveralls that by today's standards afforded little shielding from the radioactivity. Eventually, they finished their work, and the reactor went back online. but for Carter, the memory and effects of his work at Chalk River lingered for a long time.
The aftermath
Consolidated News Photos/Shutterstock
For months afterward, the Navy continually tested Jimmy Carter and the other men and told them it was unlikely they could have children. "We were fairly well instructed then on what nuclear power was, but for about six months after that I had radioactivity in my urine," Carter told Arthur Milnes (via CNN). "They let us get probably a thousand times more radiation than they would now. It was in the early stages and they didn't know." In Carter's case, his fourth child, Amy Carter, was born after his work at the nuclear facility. The experience tempered his decision-making with nuclear arms when he became president, which included signing the SALT II nuclear arms reduction treaty with the Soviets.
Just six years later, on May 23, 1958, the Chalk River nuclear facility would once again experience a catastrophic accident. A fuel rod ruptured, sparking a fire and leading to radioactive contamination of the reactor building and nearby land. Carter wasn't involved in this cleanup. He had resigned from the Navy and was by then busy trying to save his family farm in Plains, Georgia, and fighting segregation, a stand that pushed white residents to boycott his business. Carter, while civically involved, hadn't yet entered state politics, although he had been elected to the local school board. His jump into state and national politics came in the 1960s and 1970s.