Baseball Stories That Sound Fake But Aren't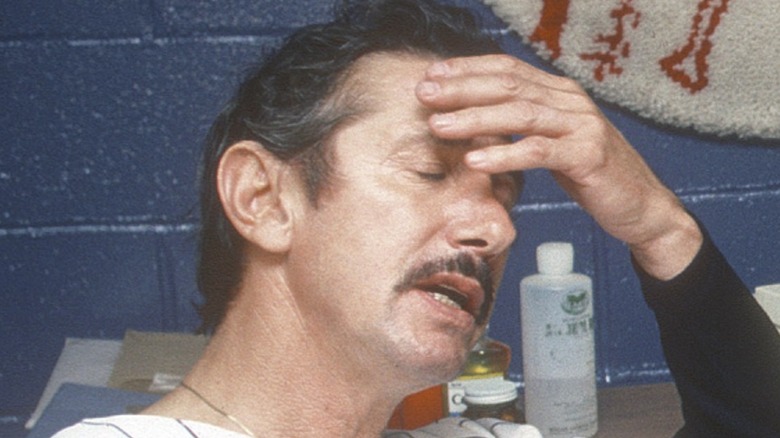 Focus On Sport/Getty Images
In 1901, the modern era of baseball kicked off when the brand-new American League first began play alongside the already established National League. In the century-plus since then, both leagues have been host to some outrageous stories and players, who have made indescribable impacts on the game. From the dominance of Babe Ruth, who famously excelled as both a pitcher and a hitter, to the longevity of Cal Ripken Jr., who played in 2,632 consecutive games, baseball has had some incredible legends over the years.
Yet, some things truly have to be seen to be believed, and baseball has also had its fair share of outrageous and preposterous moments, too. Whether it's spectators finding themselves a part of the game, or foreign objects — or animals — inserting themselves into the action, there are some truly wild baseball stories that are almost too unbelievable. From playing without umpires to assassinating pigeons, these are the top baseball stories that sound fake but actually aren't.
The supremely unlucky Alice Roth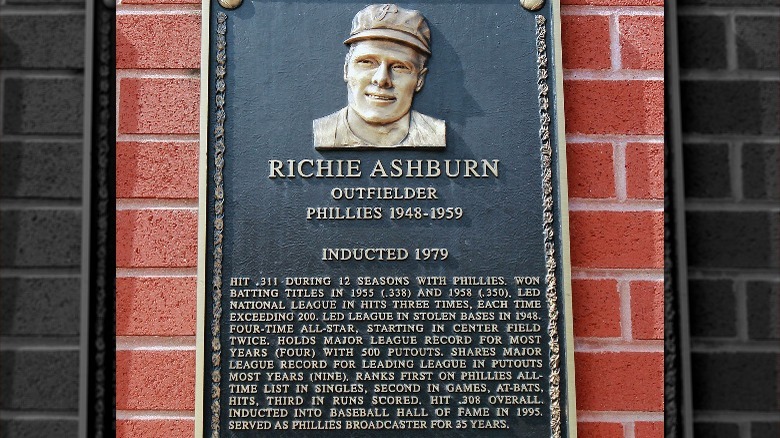 Len Redkoles/Getty Images
In recent years, most MLB ballparks have started to put up netting around the infield to protect the fans in the stands from being on the wrong end of fast-moving foul baseballs. With the exit velocities of some of them reaching more than 120 mph, it's little wonder why teams have moved to mitigate the consequences of dangerous but inevitable foul balls. Unfortunately, for people like Alice Roth, these precautions have come more than a few decades too late. What makes Roth's case unique is that she was hit by not one but two fly balls, and it all happened in the same at-bat (via Forbes).
The date was August 17, 1957, and National League rivals the Philadelphia Phillies and New York Giants (later to relocate to San Francisco) were playing a game at the former Connie Mack Stadium in Philadelphia. Roth was watching the game from the stands when Phillies leadoff hitter Richie Ashburn came to the plate.
While at the plate, Ashburn fouled off a pitch that went careening into the crowd behind him. With no protective netting, the ball smacked Roth in the face and broke her nose. Then, as if a scene from a comedy movie, as she was being wheeled out on the stretcher another foul ball hit her and broke her knee, this one also courtesy of Ashburn. Luckily, Roth recovered and would later meet Ashburn, but it's still a game she probably wanted to forget.
Randy Johnson vs bird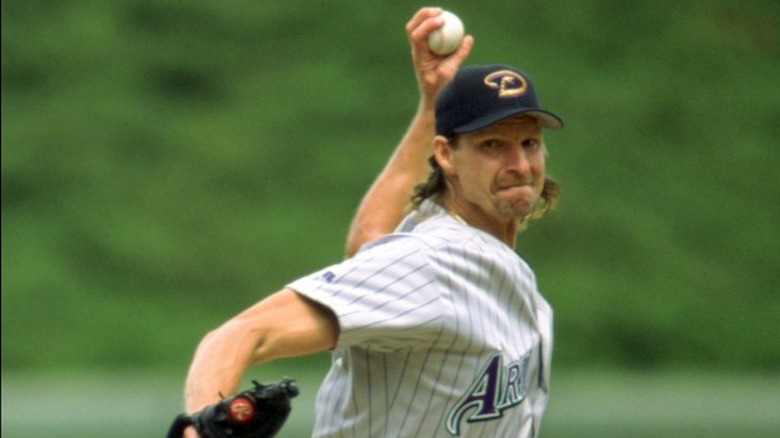 Ron Vesely/Getty Images
During his more than 20-year career, flamethrower Randy Johnson created a reputation for himself as one of the most feared left-handed pitchers of all time. Armed with a fastball that could reach more than 100 mph — in an age when that was very uncommon — Johnson was the premier fastball pitcher of the '90s and '00s. He won more than 300 games and pitched more than 4,100 innings, eventually earning himself a spot in Cooperstown, New York, in the Baseball Hall of Fame.
Yet, while he may have faced more than 17,000 batters during his illustrious career, one of the strangest at-bats took place during spring training in March 2001. Johnson was facing Calvin Murray of the San Francisco Giants, when he delivered one of his trademark fastballs to the plate. However, the ball never reached Murray or catcher Rod Barajas behind the plate, instead exploding in a blaze of feathers halfway there. While making its way to the plate, the baseball collided with a dove that happened to be flying in the ballpark that day.
Once the incident happened, everyone, Johnson included, was completely bewildered by what they had seen. The odds of a bird flying into the trajectory of a pitch as it's being thrown are astronomical, and it will probably never be seen again. It created one of the all-time great MLB memes, and really has to be seen to be believed.
The color barrier was first broken in 1884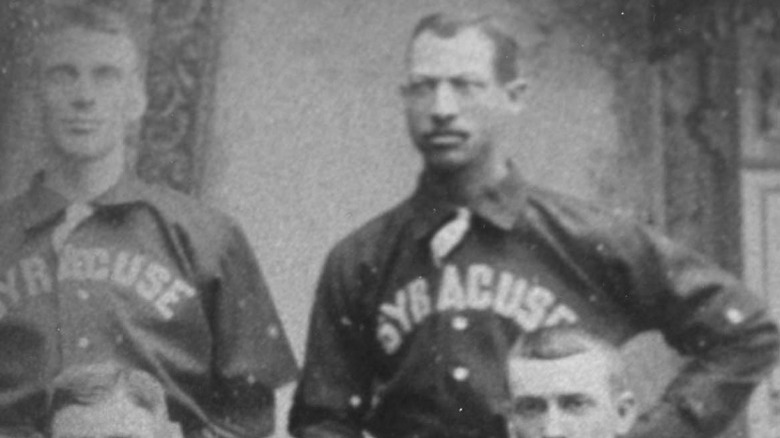 Transcendental Graphics/Getty Images
If you were to ask virtually any baseball fan today who first broke the racial color barrier in MLB, almost undoubtedly the response would point to Jackie Robinson and his historic 1947 season with the Brooklyn Dodgers. And while it is true that Robinson is widely celebrated and recognized as the first Black player in MLB, many people now argue that it was in fact Moses Fleetwood Walker who first broke the racial divide in professional baseball in 1884, more than six decades before Robinson put on a Brooklyn uniform.
According to David W. Zang's "Fleet Walker's Divided Heart: The Life of Baseball's First Black Major Leaguer," (via the Society for American Baseball Research), Walker first started playing baseball around 1880 when the sport was just gaining steam. He played in college for Oberlin and Michigan, but was stopped from playing in a semi-pro game in 1881 due to bigotry and racism, per John Thorn's "Baseball in the Garden of Eden." In 1883, Walker signed with the Toledo Blue Stockings to play in the Northwestern League, and that same year they faced off against Cap Anson's Chicago White Stockings. The next season, the Blue Stockings joined the American Association, one of the first professional baseball leagues in history.
Walker made his debut on May 1, 1884, officially becoming the first Black player to play in a major league game. Incredibly, just over two months later, Moses' brother Weldy Walker would also join him on the team, making his debut on July 15. Neither made it to the end of the season, but their achievements still stand very tall in the annals of baseball history.
Bobby Bonilla Day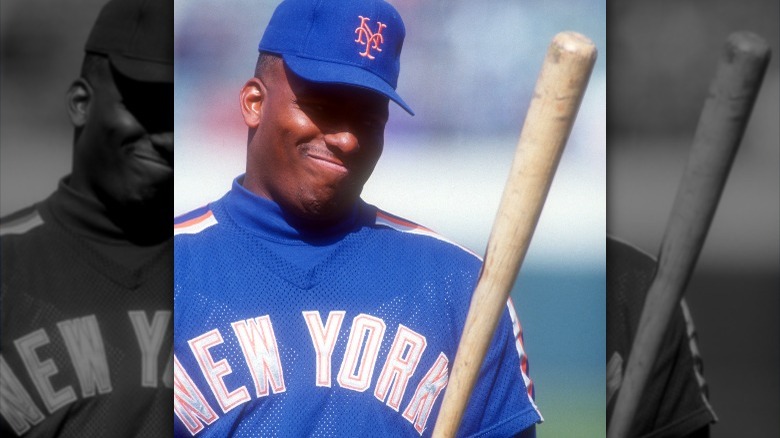 Mitchell Layton/Getty Images
Every year on July 1, baseball fans rejoice at one of the best modern traditions in MLB: Bobby Bonilla Day. A particularly embarrassing tradition for the New York Mets and their ownership, Bobby Bonilla Day is a tale of either amazing negotiating or incredibly poor planning, depending on which side of the story you're telling.
In 1999, Bonilla signed to play with the Mets but only appeared in 60 games. After the season, still owing him $5.9 million, the Mets released Bonilla, but agreed to a very unusual deal to buy out his contract. Instead of paying him then, the Mets and Bonilla reached an agreement where the Mets would keep the $5.9 million, and starting on July 1, 2011, would pay Bonilla $1.2 million per year for 25 years. 
The Mets wanted to use the money to make various improvements, and they thought that through savvy investing they would make more than the value of the payout. Unfortunately, some of their investment schemes involved notorious fraudster Bernie Madoff. The Mets never saw the returns they were expecting, making the deal absolutely horrible for them decades later. Bonilla's career ended in 2001 after 16 seasons, but he still gets an annual check from the Mets. And while having one contract like that is already pretty unbelievable, it's actually not that uncommon in MLB. Other stars like Todd Helton, Manny Ramirez, and Ken Griffey Jr. are all still being paid by their former teams, despite being out of the game for years.
Dock Ellis' LSD-soaked no-hitter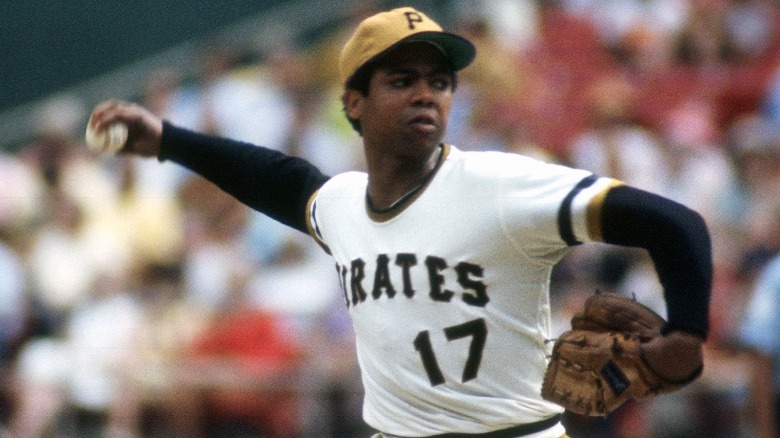 Focus On Sport/Getty Images
On the night of June 12, 1970, Pittsburgh Pirates' pitcher Dock Ellis stepped onto the mound at San Diego Stadium and prepared to deliver his first pitch to San Diego Padres second baseman Dave Campbell. The result of the play was a simple flyball to right field. On his way back to the dugout, Campbell was probably pondering a number of things about his plate appearance and near hit. Yet, he probably wasn't thinking to himself, "Hey, I wonder if that pitcher is under the influence of LSD right now?"
Well, if he had thought that, he would have been correct. That afternoon, just hours before he took the field, Ellis had ingested a hit of LSD. He thought that he had the day off and wouldn't have to worry about pitching, but he had made a horrible miscalculation. Still incredibly high on acid, Ellis managed to take on the Padres best that night, mowing down each and every one of them. And while just throwing in a major league game under the influence of acid would be a feat in and of itself, Ellis did everyone one better: He threw a no-hitter.
No-hitters are some of the rarest achievements by pitchers in baseball, and some of the greatest of all time have never accomplished the feat. The fact that Ellis did it while tripping on acid is both incredible and inconceivable at the same time. A truly unbelievable moment. 
Billy Martin manages the Yankees, again (and again)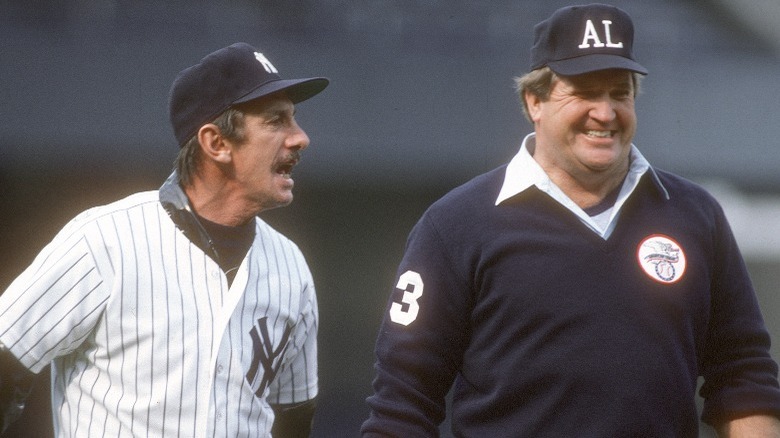 Focus On Sport/Getty Images
From the mid-'70s to the late '80s, it seemed like three things were always true for New Yorkers: death, taxes, and Billy Martin returning as manager of the Yankees. Following an 11-year career in the majors, during which he won five World Series with the Yankees from 1950–1957, Martin retired after the 1961 season. Yet, by 1969, he was back in the league as a manager, and after stints with the Minnesota Twins, Detroit Tigers, and Texas Rangers, Martin found himself out of a job following his dismissal from the Rangers in July 1975.
Luckily, just weeks later on August 2, 1975, the Yankees named Martin as their new manager. Martin would last on the job until July 1978, when he would resign following remarks made about owner George Steinbrenner, per The New York Times. He was hired back briefly for four months from June to October 1979, before once again getting the boot. Yet again he was given the reins in January 1983, following a season that saw the team go through three different managers. He didn't even make it to the end of the year, and was replaced by former teammate Yogi Berra that December. 
Martin himself replaced Berra in April of 1985, only to be again jobless that October. His final stint lasted from October 1987 until June 1988, when he was again given the ax. In all, he managed 941 games for the Yankees in an improbable five different stints, winning 556.
The Pittsburgh drug trials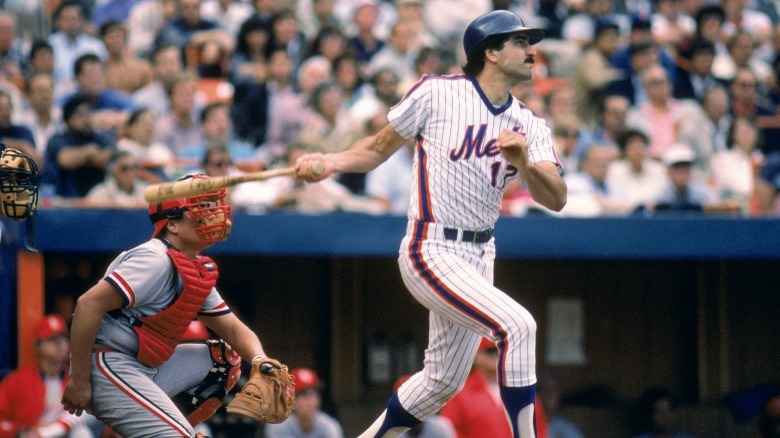 Rich Pilling/Getty Images
It's no secret that the United States had a cocaine epidemic in the 1980s. Yet, what most people don't realize is the scourge of cocaine also made its way into MLB, too. Much of it was and has been kept under wraps, and may never have become public fodder if not for the very public trials of two Pittsburgh drug dealers, Robert McCue and Curtis Strong. According to the Los Angeles Times, McCue and Strong were indicted and later convicted on a number of drug charges, including supplying drugs to many MLB stars like Dale Berra and John Milner.
The baseball history journal The National Pastime (via the Society for American Baseball Research) reports that several MLB stars actually took the stand during the trials, including legends like Keith Hernandez and Dave Parker. They detailed stories about drug abuse in the majors, and their testimony eventually led to the convictions of both McCue and Strong. However, their testimony, which was ridiculed in the newspapers and tabloids, was far from their only punishment.
The following February in 1986, MLB commissioner Peter Ueberroth handed down suspensions to several players, among them Hernandez and Parker. They were only allowed to play again after meeting a series of conditions, which included donating to anti-drug programs and doing community service. It was shocking at the time, and still stands out as a bizarre and sad part of MLB history.
If you or anyone you know needs help with addiction issues, help is available. Visit the Substance Abuse and Mental Health Services Administration website or contact SAMHSA's National Helpline at 1-800-662-HELP (4357).
Len Koenecke tries to hijack a plane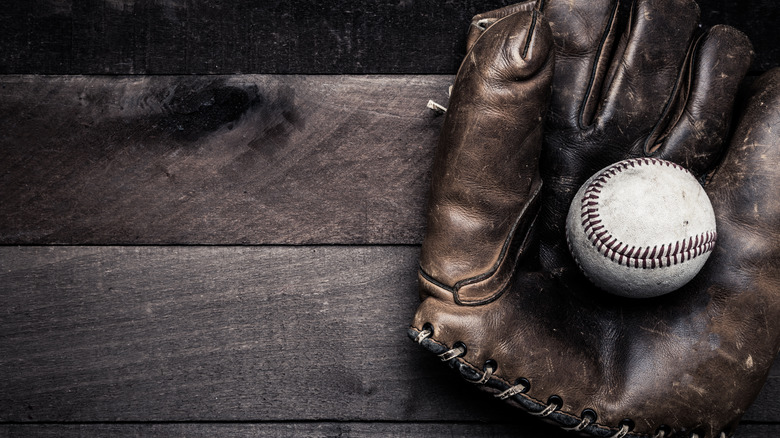 Janece Flippo/Shutterstock
In the history books of baseball, few stories stand out as being more bizarre and beyond belief than the tragic story of Len Koenecke. In 1935, Koenecke was 31 years old and working his way through his third year in the major leagues as the center fielder for the Brooklyn Dodgers. However, that September he was given his walking papers by the team in favor of younger and cheaper replacements.
Koenecke, along with fellow roster cuts Les Munns and Bob Barr, soon began the trip back from Chicago to their homes in New York. However, only Munns and Barr would make it back to their families alive. According to the Associated Press (via The New York Times), on the return flight a possibly intoxicated Koenecke got into a fight with the aircrew that was transporting him. He was poking the pilot, William Joseph Mulqueeney, when Mulqueeney's assistant, Irwin Davis, tried to stop him.
In response, Koenecke began to bite Davis' shoulder, inaugurating a 15-minute brawl between the two. Fearing that the plane was going to crash due to the commotion, Mulqueeney briefly left the controls and "walloped" Koenecke in the skull with a fire extinguisher. The blow killed Koenecke, who left behind a wife and 3-year-old daughter. Mulqueeney and Davis were initially charged with manslaughter, but those charges were quickly dropped. While he may not have been an all-star, Koenecke was still a decent player, with his best season coming in 1934. 
From the major to high school, and back again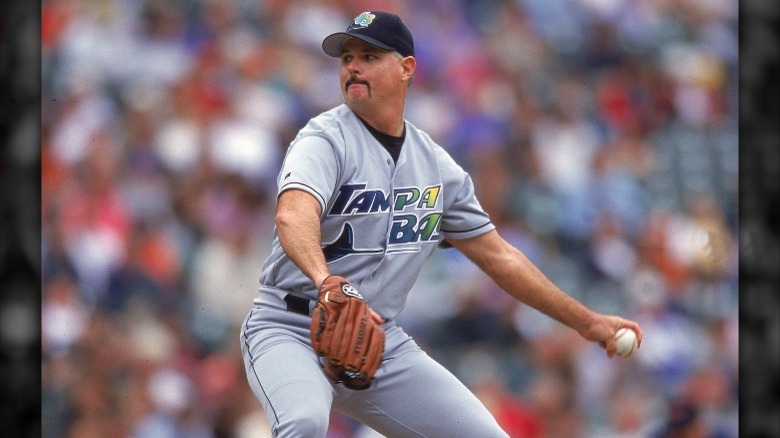 Doug Pensinger/Getty Images
Jim Morris' story is one of the most heartwarming, and unbelievable, tales in all of baseball. Morris was a left-handed pitcher who was originally a first-round pick by the Milwaukee Brewers in the 1983 MLB draft. Unfortunately, injuries and poor performance quickly derailed his pro career, and in 1987 the Brewers released him four years after making him their first pick in the draft. Morris briefly caught on with the Chicago White Sox and played for their A-league team in 1989, but only made two appearances before being released. 
With his career effectively dead in the water, Morris decided to retire from baseball and started teaching science at the high school level. In 1999, he got back into baseball, taking over the reins of the Reagan County High School's baseball team as their coach. He would occasionally throw the high schoolers batting practice, and later that year he was signed to the Tampa Bay Devil Rays following an impressive performance at an open tryout.
Morris made his professional debut barely a few months later, with his wife and kids cheering him on. He pitched for parts of the next two seasons in Tampa Bay, appearing in 21 games. In 2002, Disney made a movie about Morris' story, affectionately titled "The Rookie."
The 2014 Detroit Tigers starting rotation goes on to glory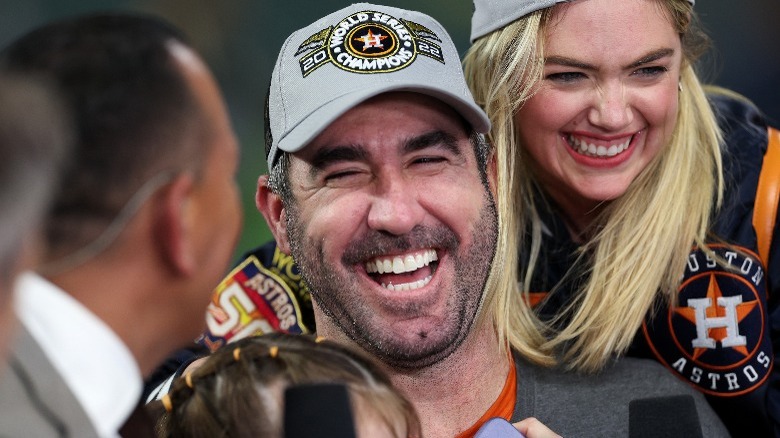 Rob Carr/Getty Images
The 2014 MLB season for the Detroit Tigers started out promising but ultimately collapsed into a fiery pit of despair. Ending the season with a record of 90–72 and in first place in the AL Central, the Tigers hoped to bring home their first World Series title since the mid-1980s. However, they were swept in the Divisional round by the Baltimore Orioles, ending their season prematurely. The Tigers used six different starting pitchers that season: Max Scherzer, Anibal Sanchez, Justin Verlander, David Price, Rick Porcello, and Drew Smyly. None of them had previously won a World Series title.
Fast forward to 2021, and now every single one has a World Series win under his belt. Except there's only one problem: None of them did it in Detroit. Incredibly, all six starting pitchers have managed to win a series title after leaving Detroit, and the Tigers haven't even made it back to the postseason since.
The first domino to fall was Verlander, who has actually won it twice since leaving Detroit, in 2017 and 2022 with the Houston Astros. In 2018, Porcello and Price both won the championship as members of the Boston Red Sox. Like clockwork, in 2019, both Scherzer and Sanchez added their names to the list with the Washington Nationals' victory. Finally, to round out the sextuplet, Smyly won it in 2021 as a part of the Atlanta Braves pitching staff. Oh, to be a Tigers fan.
Umpires!? We don't need no stinking umpires!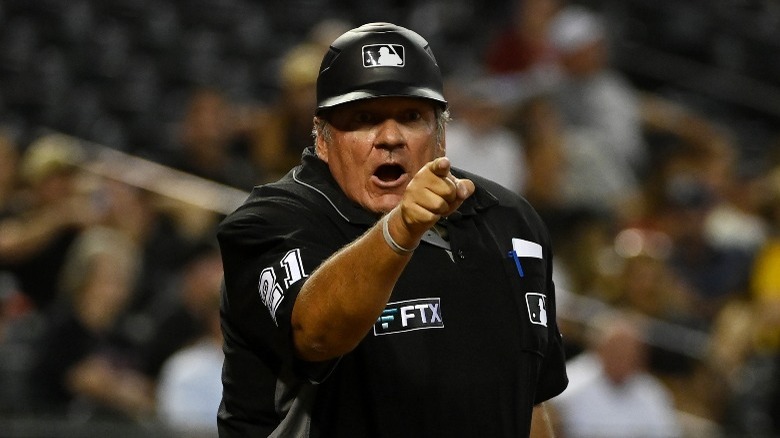 Norm Hall/Getty Images
While they might not be the most popular figures among fans, umpires are an inevitable and integral part of baseball. From their positions behind the plate, inside the infield, and along the baselines, umpires have significant control of how a game plays out — for better or worse. Every call they make has to be perfect and balanced, or else they risk earning the wrath of whichever team is on the wrong side. In the future, it's possible human umpires will be replaced by the so-called "robot umpires," but as of now we still have people behind the plate.
Yet, during a 2023 spring training game where the Baltimore Orioles took on the Pittsburgh Pirates, they actually experienced the impossible: a half-inning without any umpires (via NBC Sports). As the top of the ninth inning closed and the Pirates were ahead by three runs, the game should have ended. However, due to the quirky rules of spring training, both teams elected to continue playing to get their players some extra practice. Unfortunately, no one told the umpires, who left the field.
This left the players to call their own game for the bottom of the ninth inning. Luckily, there was no controversy, and the inning ended relatively quickly. Amazingly, the same thing had happened a few years earlier during a game between the San Francisco Giants and Cleveland Indians, which also ended with players calling balls and strikes (via The Score).
Father and son hit back-to-back dingers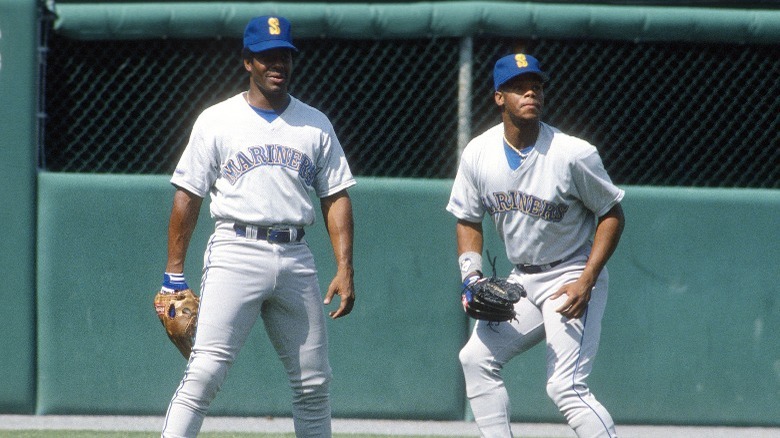 Focus On Sport/Getty Images
On September 14, 1990, the Seattle Mariners took on the California Angels at Anaheim Stadium. Pitching for the Angels was Kirk McCaskill, a right-hander hailing from Canada. Following a Harold Reynolds walk, veteran outfielder Ken Griffey came up to the plate and immediately cranked a home run to center field off McCaskill. The next batter up was none other than Griffey's son, Ken Griffey Jr. Unbelievably, Griffey Jr. proceeded to match the elder Griffey and smash a home run to deep left field, with it ending up just feet from where his father's had landed.
This is the first and only time that a father-son duo has ever hit home runs for the same team in the same game, let alone going back-to-back. In addition, Griffey Sr. only played in 21 games that season and hit just three home runs, making the feat all the more improbable.
Griffey Sr. was playing in his 18th season at the time while his son was playing in just his second. The duo would play together for one more season in 1991 in Seattle, before the elder Griffey hung up his cleats for good. Even today, the feat still stands as one of the most unique in baseball history, and likely will not be repeated for a very long time. In 2016, almost 26 years after it happened, MLB posted a video of the home runs to their YouTube channel.