The Final Performance Of These Legendary Acts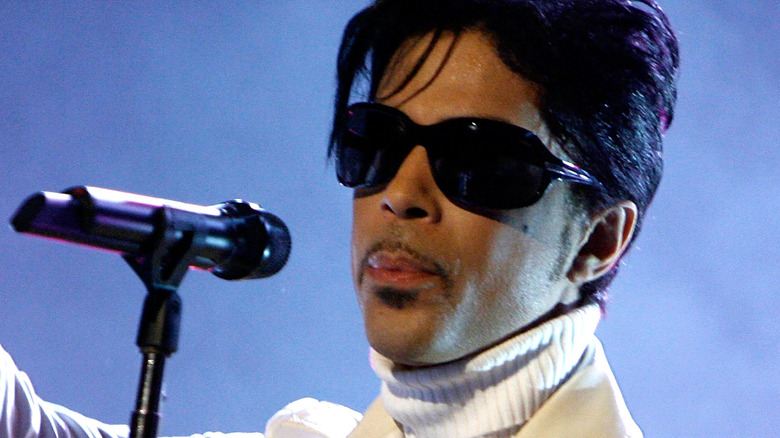 Kevin Winter/Getty Images
Ask any rock star (we're sure you're acquainted with several) if they prefer performing to recording, and it's pretty definite you'll get an affirmative response roughly 100% of the time. Making records can be a tedious process even when it's going really well, and for most performers, the stage is where they're in their element — rocking out with their buds in front of thousands of screaming fans, perhaps getting pelted with undergarments, presiding over a giant, raucous party in their honor, then packing up to move out and do it again in a different town the next night.
The artists on this list are all legends, but even for them, the party had to wind down eventually. These are the final performances of some of the greatest acts of all time, and while a few went out with a whimper instead of a bang, the vast majority of these curtain calls were suitably epic.
Warren Zevon
Warren Zevon was an absolute legend, and those who only know his name because of his borderline-novelty tune "Werewolves of London" are missing out big time. Any man who would write a spooky, eerie tune titled "Roland the Headless Thompson Gunner" in collaboration with an actual ex-mercenary is pretty cool in any book, to say nothing of his brilliant songs that have become hits for the likes of Linda Ronstadt, Jackson Browne, and Bruce Springsteen.
Zevon was good buddies with David Letterman, even having sat in as bandleader a time or two in Paul Shaffer's absence. When he was diagnosed with terminal cancer in 2002, Letterman booked him for the entire hour, and it made for riveting television. Ever the straight shooter, Zevon was candid about his approaching death, gifting fans with one iconic piece of advice: "You're reminded to enjoy every sandwich." Zevon called Letterman "the best friend [his] music ever had," and in accordance with this, his appearance constituted his final public performance. Sprinkled throughout the hour, Zevon performed "Mutineer," "Genius," and — at Letterman's request — his signature tune, "Roland the Headless Thompson Gunner," with a visibly emotional Shaffer providing backup vocals.
The Cars
Boston-based New Wave outfit The Cars had a relatively brief run, releasing six albums between 1978 and 1987 (and unexpectedly reuniting for a seventh, "Move Like This," in 2011). But their sound, rooted equally in the shredding guitar of Elliot Easton and the razor-sharp keyboard work of Greg Hawkes, was highly influential on their peers, and the contrasting lyrical and vocal styles of co-lead singers Ric Ocasek and Benjamin Orr provided an ever-shifting and always-interesting complement to the band's unique sonic palette.
Minus Orr, who died in 2000, The Cars mounted their final performance for a fitting occasion — their induction into the Rock and Roll Hall of Fame in 2017. With Weezer's Scott Shriner filling in for Orr on bass, the band performed a quartet of their most iconic hits: "My Best Friend's Girl," "You Might Think," "Moving in Stereo," and "Just What I Needed." At the time, Ocasek indicated that he almost enjoyed the experience enough to reconvene the band, with one understandable reservation. "Maybe this will be a good reason to do it again, though I really miss Ben as part of the thing," he said. "As much as I want it to be The Cars and I love everyone so much in The Cars, without him it just feels different" (via Rolling Stone). Unfortunately, any chance of that happening came to an end just two years later, when Ocasek passed away in September 2019.
Nirvana
Nirvana was a legendarily powerful live band even when they were keeping things subdued, as during their iconic 1993 appearance on "MTV Unplugged." Per Rolling Stone, that set was their final widely-seen performance, but it was followed by several dates in the U.S. and Europe. During the overseas leg, guitarist and singer Kurt Cobain was diagnosed with bronchitis and laryngitis — but despite the obvious problems this gave him, he disregarded doctors' advice to take a break and continued with the band's planned dates.
The concert that ended up being Nirvana's last took place on March 1, 1994, in an airplane hangar in Munich, Germany. The set was dragged down by poor acoustics, technical problems, and Cobain's obvious trouble with his vocals. For the band's encore, they performed their hit "Heart-Shaped Box," and by that time, Cobain was barely able to sing at all; he was forced to drop his voice an octave just to hit the proper notes in the chorus. Finally ready to acknowledge his struggles, Cobain allowed the remaining dates on the tour to be canceled, and that final lackluster performance became the swan song of one of the greatest rock bands of all time. Cobain died just over a month later on April 5, 1994.
Beastie Boys
When "Licensed to Ill" by the Beastie Boys became the first rap album ever to reach #1 on the Billboard chart, few expected them to put together a long, fruitful career while earning the complete respect of their peers — and yet, that is exactly what they did, displaying a remarkable ability to find fresh, inventive angles to their craft while staying totally true to their hip hop roots. Their 1989 sophomore effort "Paul's Boutique" constituted a 180-degree turnaround from its predecessor's sonic and lyrical simplicity, and is widely regarded as a masterpiece; 1992's "Check Your Head" saw them picking up instruments to function as an actual band (and do it quite well).
By the time the Beasties played a barn-burning set at Bonnaroo in 2009, they were nothing less than Hip Hop elder statesmen. They blazed through all the hits, from "No Sleep 'Til Brooklyn" to "Intergalactic" and the set-closing "Sabotage." Nobody expected the set to be their last — but even then, Adam "MCA" Yauch was dealing with a pain in his throat that would, weeks later, be diagnosed as cancer of the salivary gland. In a statement, Yauch announced his intention to "get this in check" so the band could get back to performing — but it was not to be. The cancer proved to be aggressive, and Yauch passed away on May 4, 2012. Speaking with NME in 2015, Adam "Ad-Rock" Horovitz confirmed that Yauch's passing meant that the Beastie Boys were no more, saying, "Adam started the band, so we couldn't do anything without him."
Stevie Ray Vaughn
For those who appreciate the blues, deeply soulful guitar work, and brain-exploding talent, there are few guitar gods who are the equal of the late, great Stevie Ray Vaughn. His albums with his band Double Trouble, beginning with 1983's "Texas Flood," are masterful; he collaborated with such towering artists as James Brown, Dick Dale, and Bob Dylan; and he played lead on David Bowie's 1983 album "Let's Dance," the recording that made Bowie a massive international pop star. He was also an electrifying live performer, which he continually proved right up until the last night of his life.
Vaughn's final performance came on August 26, 1990, at the Alpine Valley Music Theater, a venue situated within the Alpine Valley Ski Resort in East Troy, Wisconsin. Per Rolling Stone, Vaughn and Double Trouble opened for Eric Clapton in front of roughly 40,000 fans, and that night's show concluded with an extended all-star blowout jam featuring Clapton, Vaughn and his brother Jimmie (the lead guitarist for the Fabulous Thunderbirds), and blues legends Robert Cray and Buddy Guy. Their final number, in a bittersweet piece of serendipity, was the blues standard "Sweet Home Chicago." 
Early the next morning, Vaughn boarded a helicopter bound for that very city; not long after takeoff, the copter crashed into a ski hill in the foggy night, killing everyone on board.
Prince
If humankind were to endeavor to select footage for a time capsule in order to illustrate for future civilizations what a rock star is, pretty much any clip of Prince in action would suffice. The Purple One not only embodied rock 'n roll, he simply seemed to subsist on music. As one of the most insanely talented musicians to ever live, he habitually surrounded himself with prodigious talent when performing live, which makes his final tour — and performance — an interesting outlier.
Dubbed the "Piano & A Microphone" tour, Prince's last outing saw him alone onstage with ... well, you can probably guess, performing stripped-down versions of tunes from his voluminous catalog. The final two shows took place in Atlanta, Georgia, where those in attendance were treated to a powerhouse performance with no signs of the illness that had previously forced Prince to cancel the dates, per TMZ. He was, as ever, the consummate showman; wrote CNN's Lisa Respers France, who was in attendance, "He played with one hand. He hovered above the piano seat pounding on the keys as if sweetly punishing them. He chuckled that Prince chuckle that made men grin and women swoon." For his final number, Prince performed his iconic, majestic ballad "Purple Rain." Just a week later, he was no more. Prince passed away from an accidental drug overdose at the age of 57 on April 21, 2016.
If you or anyone you know needs help with addiction issues, help is available. Visit the Substance Abuse and Mental Health Services Administration website or contact SAMHSA's National Helpline at 1-800-662-HELP (4357).
Joy Division
Beloved British band Joy Division bridged the gap between punk music and alternative rock. They were among the first bands to be described as "post-punk," with lead singer Ian Curtis' lyrics infusing their music with a sense of introspective melancholy which was the polar opposite of punk's raw aggression. In the late '70s, their live shows became the stuff of legend, and you have absolutely seen a goodly number of people wearing T-shirts bearing the image that adorned the cover of their debut LP, 1979's Unknown Pleasures.
On May 2, 1980, the band performed at Birmingham University to an appreciative crowd, just weeks before they were to depart for their first-ever tour of the United States. Per Far Out, Curtis — who had been diagnosed with epilepsy two years prior — physically struggled during portions of the set, even having to be helped offstage to sit out for a spell before returning for the encore. Tragically, the performance that should have been a triumphant sendoff for the overseas-bound band turned out to be their last. On May 18, 1980, on the eve of their departure, Curtis died by suicide, leaving his fans and bandmates heartbroken. The band would later reconstitute to carry on, in Curtis' memory, as New Order.
If you or anyone you know is having suicidal thoughts, please call the National Suicide Prevention Lifeline​ by dialing 988 or by calling 1-800-273-TALK (8255)​.
Tupac Shakur
During the last few years of his career — and in particular, those during which he was affiliated with Suge Knight's Death Row Records — Tupac Shakur was famously combative toward his perceived rivals. His final performance, at Los Angeles' House of Blues, is illustrative of this. It took place on July 4, 1996, as Tupac opened for label mate Snoop Dogg and his associates, the Dogg Pound, and it saw Tupac in full diss mode, lobbing shot after shot at his former friend Christopher "Notorious BIG" Wallace and his label Bad Boy Records, with which Death Row had been embroiled in a bitter feud.
In between songs, Tupac reiterated his previously-stated belief that Bad Boy CEO Sean "Puff Daddy" Combs and Wallace had masterminded the shooting that had left him hospitalized two years prior, per AV Club. He also chided Wallace for failing to approach his own formidable sales numbers, doubled down on his declaration that he had slept with Wallace's wife (which he had asserted on the venomous diss track "Hit 'Em Up"), and dismissed out of hand the prospect of ever making peace with his former buddy. 
Tupac never got the chance to change his mind. On September 7, 1996, he was shot four times while leaving a Las Vegas boxing match with Knight; he died in the hospital six days later. On March 9 of the following year, Wallace was likewise killed in a drive-by shooting in Los Angeles; both crimes remain unsolved.
Van Halen
Van Halen was an extreme rarity in the world of rock: A wildly commercially successful band, they switched lead singers at the height of their success, only to become even more successful afterward. While replacement vocalist Sammy Hagar helped steer the band to unprecedented commercial heights, original lead singer David Lee Roth always held a special place in the hearts of the band's fans — and after a number of breakups and reunions (one of which resulted in the band's final studio album, 2011's "A Different Kind of Truth"), it was Roth who, perhaps fittingly, manned the stage for Van Halen's final gig.
On October 4, 2015, legendary lead guitarist Eddie Van Halen led the band through a laundry list of its greatest tunes at the Hollywood Bowl in Los Angeles. Per Rolling Stone, he even treated the fans to a dizzying live rendition of his signature solo, "Eruption," and for the band's final encore, they performed "Jump" — the biggest hit of the band's storied career, and their only single to ever reach #1. 
Eddie Van Halen had tussled with cancer of the tongue, throat, and lungs for many years, and was being treated for lung cancer when he passed away on October 6, 2020.
Genesis
When a band has been in existence for over 50 years, they're bound to go through a stylistic change or two. But Genesis, which dropped their first album in 1969, took this notion to an extreme, beginning as prog-rock innovators before moving into a more rock-oriented sound in the late '70s, then sidling right on through to conquer the world of pop in the '80s. When original lead singer Peter Gabriel left the band to pursue a highly successful solo career in 1975, they simply turned to drummer Phil Collins to sing lead — and when he in turn became a solo star in the early '80s, he continued to hold down Genesis through their greatest period of commercial success, which reached its peak with their multi-platinum 1986 effort "Invisible Touch."
While the band's final studio album was released in 1997, they continued to sporadically tour, with Collins singing even as a spinal injury slowly robbed him of his ability to play drums. On the final night of the band's "The Last Domino?" tour in 2022, Collins informed the crowd at London's O2 Arena that evening's performance would be the final one for Genesis, per Rolling Stone. ("After tonight, we've all got to get real jobs," he quipped.) The band's final two songs: "Dancing With the Moonlight Knight" and "Carpet Crawlers," both tunes from the tenure of Peter Gabriel, who was in attendance and snapped a photo with Collins and longtime tour manager Richard McPhail backstage.
Kenny Rogers
Even those who would not describe themselves as country music fans would have to agree that there were few more heartfelt, textured voices in popular music than that of the great Kenny Rogers. He of the silver mane and majestic beard always gave his all to a vocal performance, even in his early days with psychedelic rock outfit The First Edition (if you didn't know that was Rogers singing lead on the classic "Just Dropped In (To See What Condition My Condition Was In)," now you know). His biggest hits, such as "Lucille," "She Believes In Me," and his signature tune, "The Gambler," could inflict the toughest punk rocker with a case of the misty eyes — and for his nationally-televised 2017 farewell tribute concert, he engaged the services of a plethora of superstars.
Icons like Lionel Richie, Reba McIntire, and Idina Menzel all put their spin on classic Rogers tunes, and for the grand finale, Rogers himself brought out his longtime friend and frequent collaborator Dolly Parton, who serenaded him with her towering ballad "I Will Always Love You," sandwiched between a pair of duets: "You Can't Make Old Friends" and, of course, their massive crossover hit "Islands in the Stream." As reported by USA Today, at the conclusion of the performance, Rogers asked Parton, "How about you and me go out like rock stars?" The two friends then extended their arms, literally dropped their mics, and strolled off the stage with arms linked. Rogers passed away on March 20, 2020, at the age of 81 — but in those words, we found an ace that we can keep.
Roy Orbison
Of all the distinctive voices to grace the world of popular music, perhaps the most distinctive belonged to Roy Orbison. He began his career at the dawn of the rock era in 1956, and soon established himself as one of the most gifted singers of his time with hits like "Only the Lonely," "Crying," and "Running Scared." Possessed of a quavering, emotional vibrato, Orbison was also capable of digging deep into the baritone range, then leaping to the other end of the spectrum to produce a soaring, powerful tenor and a searing falsetto.
In the late '80s, Orbison was in the middle of an amazing and unexpected career resurgence, having joined George Harrison, Tom Petty, Bob Dylan, and Jeff Lynne in the supergroup Traveling Wilburys. On December 4, 1988, he stepped onstage for a show in Highland Heights, Ohio. While he had recently completed a solo album with Lynne co-producing, the material wasn't ready for prime time yet, so his set focused on his classic hits, according to Rolling Stone; the final two songs he performed were "Oh! Pretty Woman" and "Running Scared." 
Orbison, who had been complaining of chest pains for a few weeks prior, passed away from a heart attack just two days later at the age of 52. His final album, "Mystery Girl," was released months after his death; per Billboard, it produced the Top 10 single "You Got It," and is considered to be among the finest albums of his storied career.