The True Story Behind Tim Duncan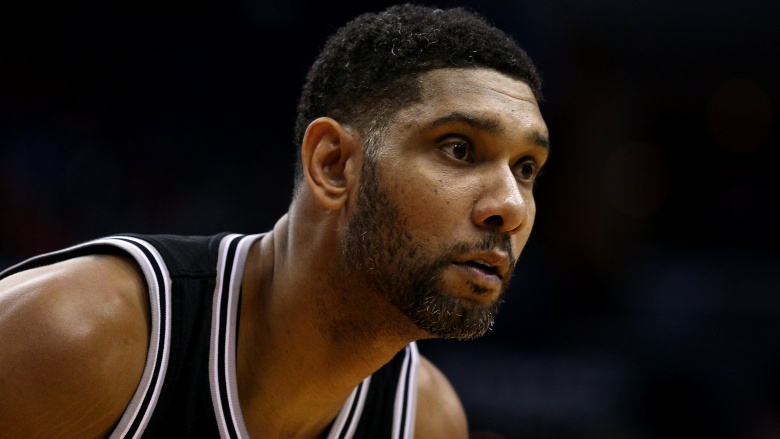 Getty Images
Tim Duncan is one of the most successful basketball players of all time. Yet despite his amazing track record, the mild mannered and cerebral star sometimes goes under underappreciated compared to his flashier peers. While Kobe and LeBron and Steph get the hype, Duncan just racks up title after title, powering the San Antonio Spurs to five world championships and counting. But what do you really know about Duncan?
He was born in the U.S. Virgin Islands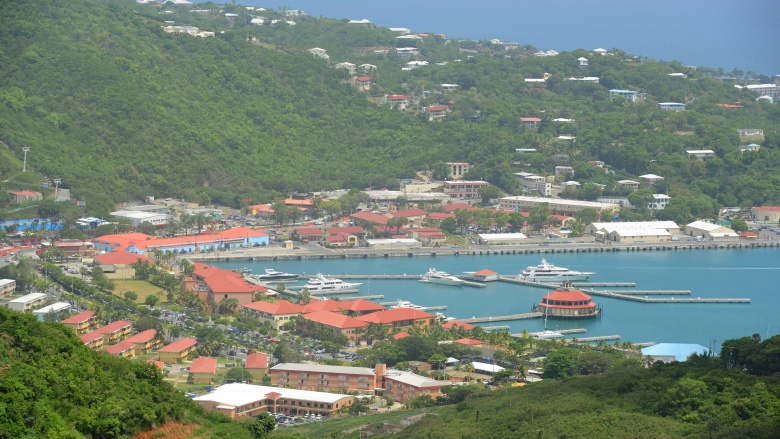 You'd think a player of Tim Duncan's magnitude would come from a basketball hotbed, like Indiana or the playgrounds of New York City. But that couldn't be further from the truth. In fact, Duncan was born on the tiny island of St. Croix in the U.S. Virgin Islands. With a population barely over 50,000, Duncan has since played in basketball games with a larger attendance than his island home. Just how unlikely was it that Duncan would emerge to become a generation defining superstar? He was the first player ever from St. Croix to actually play in an NBA regular season game.
His real love was swimming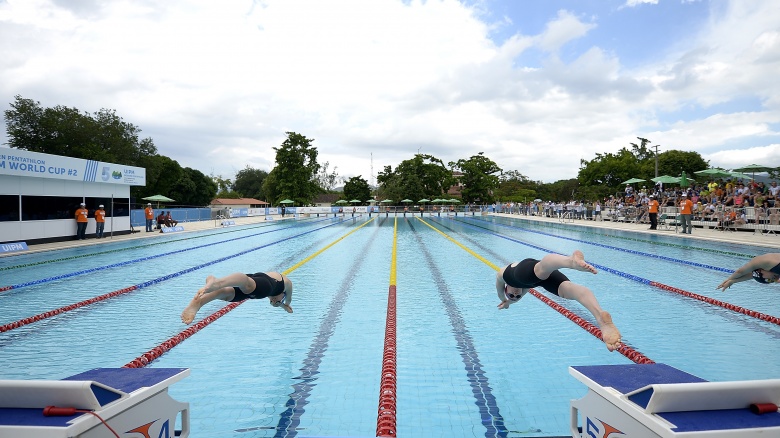 Getty Images
Growing up in St. Croix, Duncan had very little exposure to basketball. But he did have plenty of exposure to highly successful athletes: his own sisters, who were both champion swimmers. In fact, Tim's older sister Tricia swam in the 1988 Summer Olympics, representing the U.S. Virgin islands. This inspired Tim to follow in her wake, and he trained for years as a competitive swimmer in the hopes of participating in the 1992 Summer Olympics...not as a basketball player, but as a swimmer.
He started playing basketball because he was afraid of sharks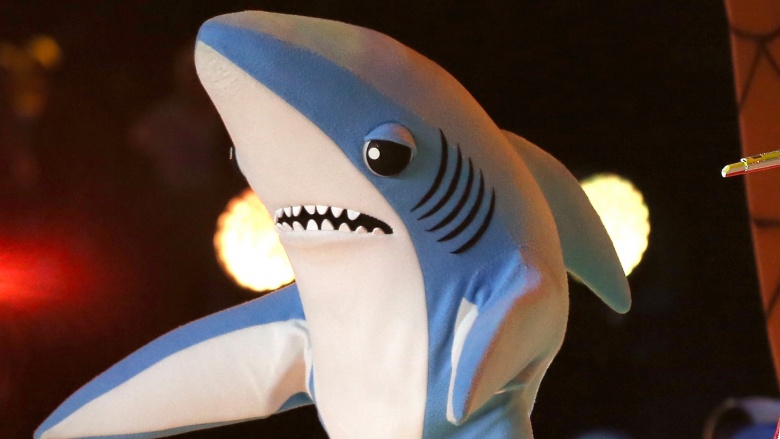 Getty Images
Duncan's life and his pursuit of Olympic swimming glory both took a sudden and unexpected turn thanks to one of the most devastating natural disasters in St. Croix history: Hurricane Hugo. A massive category 5 storm, Hurricane Hugo demolished large portions of the island before wreaking similar destruction on mainland America. Among the facilities ruined by the storm was the swimming pool Duncan used for training. With the pool unavailable to him Duncan attempted to continue his training in the ocean, but a deep fear of sharks caused him to abandon his training and give up on his lifelong dream of swimming in the Olympics. Instead, a family friend suggested he turn his athletic interests to basketball. Good choice.
His mother's death inspired his college career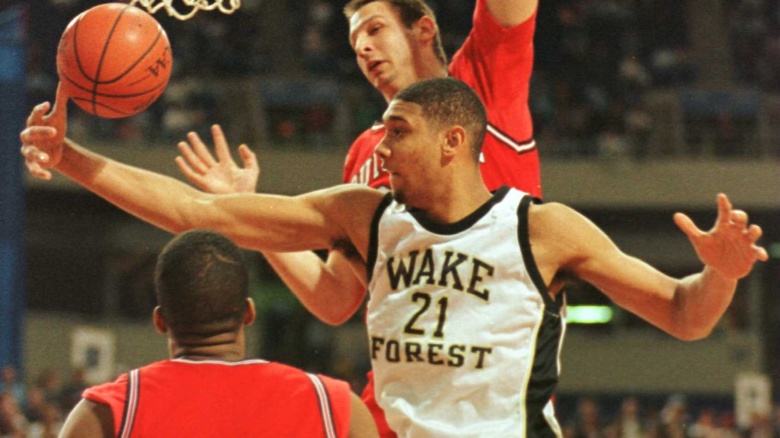 Getty Images
Despite becoming a breakout high school star in St. Croix, Duncan was only offered a handful of scholarships due to worry over the strength of his competition. He signed on to attend Wake Forest, and quickly proved to be a phenom, to the point he was encouraged by some to leave school early and land that fat NBA contract. But Duncan decided to stay in school for a very personal reason: he promised his mother on her deathbed that he would get his college degree. And he did, earning a degree in psychology and even co-authoring a chapter in a psychology book during his time at Wake Forest. No wonder he's earned such a reputation as a deep thinker.
He was supposed to be drafted by the Boston Celtics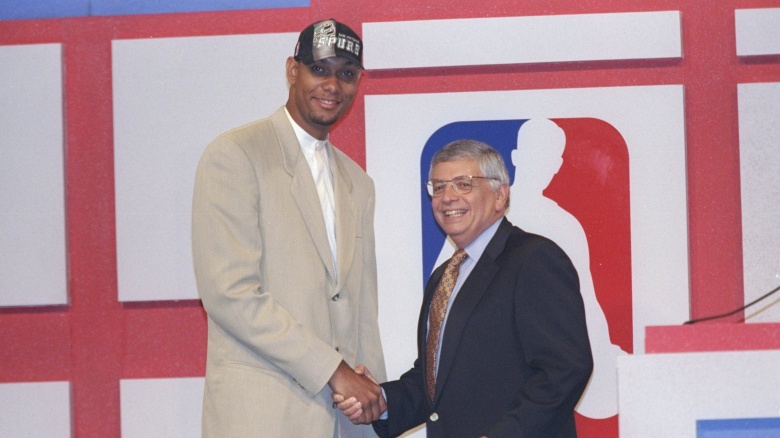 Getty Images
By the time Duncan finished his college career, it was clear to everyone that he was a once-in-a-generation talent that could immediately reverse the fortunes of a franchise. So every team wanted him. But perhaps nobody wanted him more than the Boston Celtics, who went on an epic and intentional losing spree, tanking their way to an abysmal 15-67 record. The tantalizing prospect of having Tim Duncan for a decade or more even lured Rick Pitino away from the college ranks to take over as Celtics head coach.
One problem, though: despite having the worst record by far, the Celtics ended up only getting the third pick thanks to a lottery system designed to counteract intentional losing. Instead it was the San Antonio Spurs who lucked into the first pick after their usually excellent team fluked into a bad record due to season-ending injuries to their top stars. Not only is it better to be lucky than good, it's apparently also better to be lucky than bad.
His Olympic dreams ended in disaster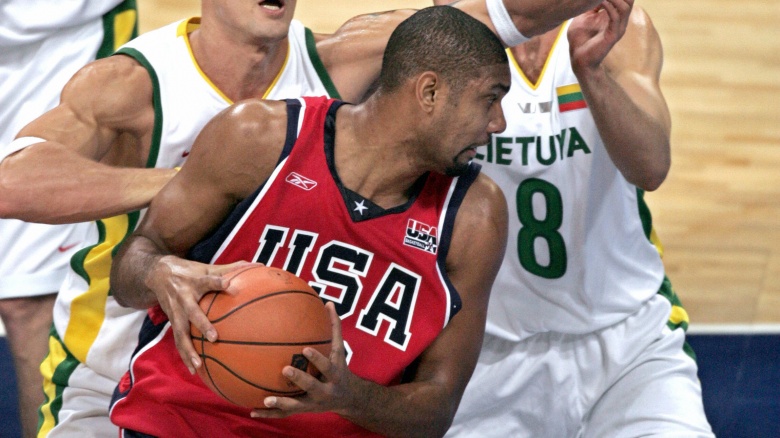 Getty Images
After establishing himself as one of the top players in the NBA, Tim Duncan finally got a chance to live out his boyhood dream and become an Olympian when he was selected for the USA national basketball team leading up to the 2000 Summer Olympics in Sydney, Australia. But his dreams were to be dashed. First, a knee injury caused him to miss the Olympics entirely. Then, after returning for the 2004 Olympics, Duncan was part of the most embarrassing squad in American history, as the team lost three games en route to settling for a bronze medal. It was more losses than the national team had suffered at the Olympics in the previous 68 years combined. It was also a massive disappointment for Duncan personally; he would never play for the national team again.
He is one of the most honored players in basketball history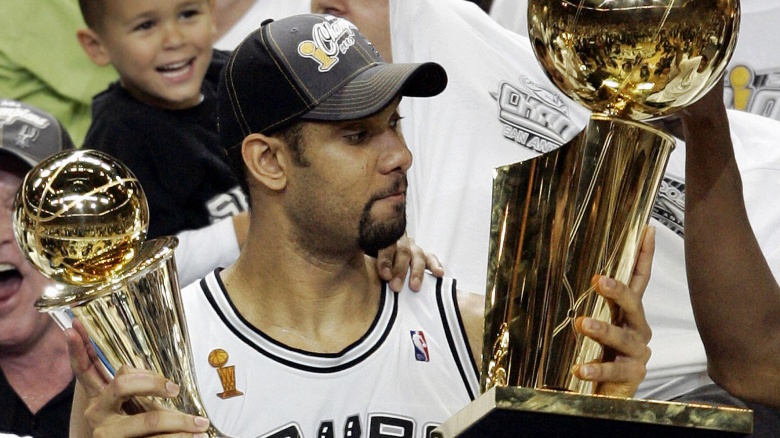 Getty Images
So just how good has Duncan been over the course of his 18-year NBA career? He's actually one of the most honored players in the history of the league. A five-time world champion and three-time NBA Finals MVP, Duncan has also won the league's Most Valuable Player award twice. He's been selected to 15 All-Star games, and is the only player ever to be named to the All-NBA and All-Defensive teams in each of his first 13 seasons. He was also Rookie of the Year, Sports Illustrated Sportsman of the Year, and was named one of the top ten players of all time by both Sports Illustrated and ESPN. Not bad for a swimfan who didn't even start playing basketball until the ninth grade.
He's founded and funded several charities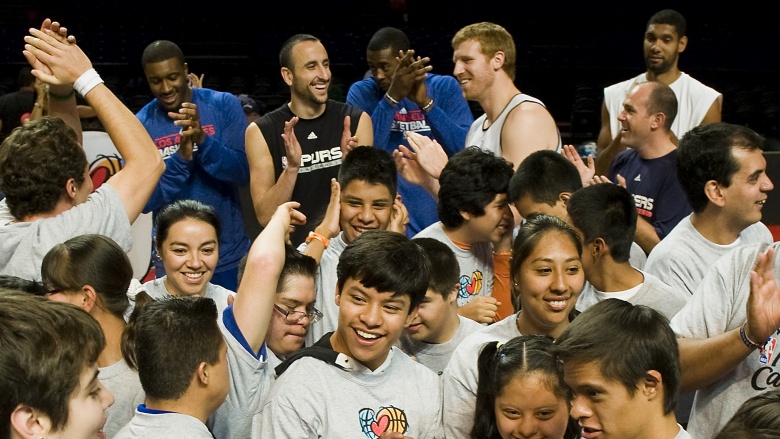 Getty Images
As great as Tim Duncan is on the court, he's even greater off the court, quietly dedicating his time and money to founding and supporting several charitable organizations. The Tim Duncan Foundation supports health education and youth sports in San Antonio, Winston-Salem (home of his alma mater Wake Forest), and St. Croix. He has also raised hundreds of thousands of dollars to fight cancer, especially breast cancer, which claimed his mother when he was just 14 years old. Fittingly, he also honors her memory by supporting the Children's Bereavement Center, the Children's Center of San Antonio, and the Cancer Therapy and Research Center.
He's an unrepentant geek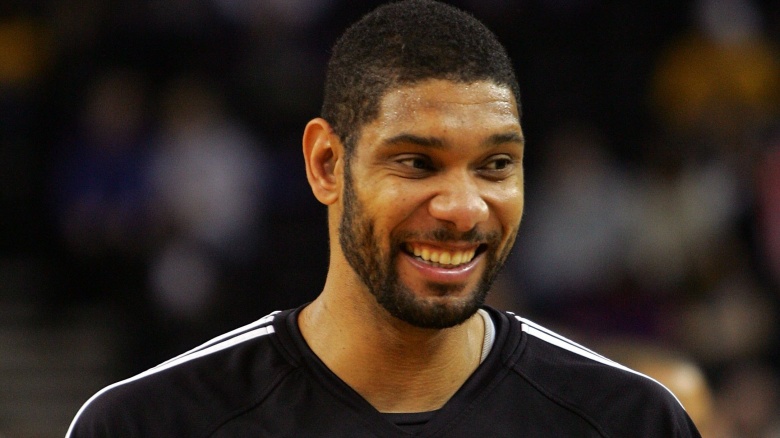 Getty Images
Given that Duncan is well known as a thoughtful guy who lives by his own rules, it should be no surprise that he's also a geek. Not only is he an avid video game player like many professional athletes, he also loves playing tabletop role playing games such as Dungeons and Dragons. In fact, he's been known to routinely cosplay as a wizard at events like renaissance faires.
He received the Virgin Islands Medal of Honor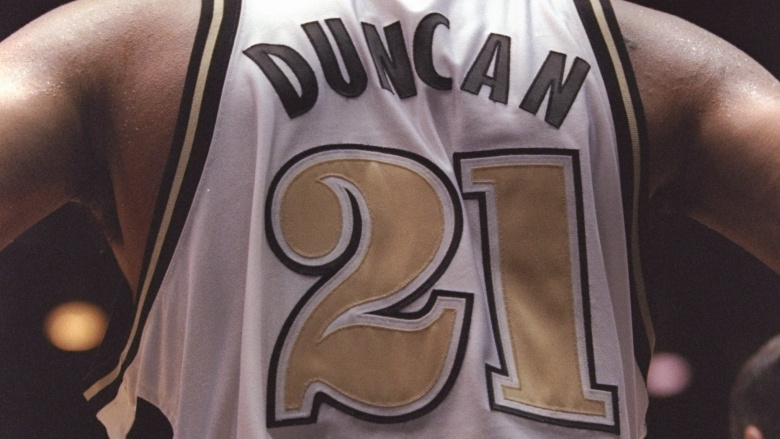 Getty Images
It's unclear yet just what Duncan will do when he finally decides to retire from the NBA, but it is clear that St. Croix and the Virgin Islands would love to have him back home. They've made their appreciation of their most famous son very clear over the years, hosting several Tim Duncan Days in his honor, praising his deeds with speeches in Legislature, and even awarding Duncan with the territory's highest award, the Virgin Islands Medal of Honor. With the exception of the success of the movie Jaws, never before has a fear of sharks paid off so well.