The Horrifying 2021 Murder Of Florida Cheerleader Tristyn Bailey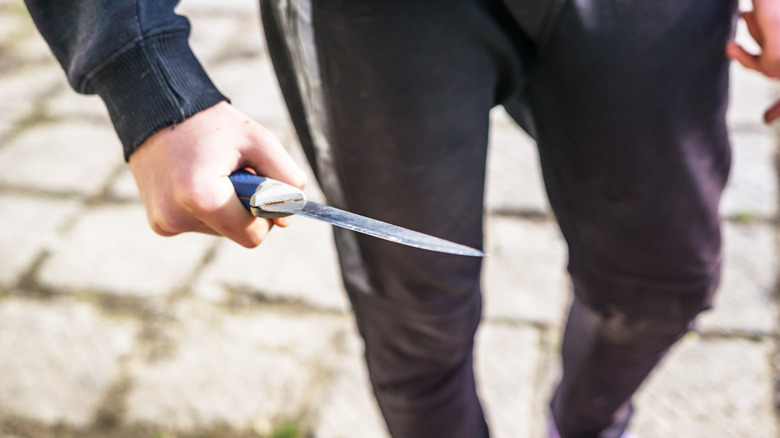 Gankatt/Getty Images
In February, 2023, Florida teenager Aiden Fucci pleaded guilty to the brutal 2021 murder of then 13-year-old cheerleader, Tristyn Bailey, NBC News reports. After her family reported her missing on Mother's Day, 2021, the teenager's body was found near Jacksonville, Florida with 114 stab wounds, many of which were defensive. Fucci was 14 years old when Bailey was killed, and Fucci's motivation for the murder, as well as his behavior from the back of the police car and while in prison, reveals the mind of a deeply troubled individual.
CCTV footage showed classmates Bailey and Fucci walking alongside one another on the night she died. In the same footage, Fucci was later seen running from the area. First considered a witness, Fucci's home was searched where the sheath of a buck knife was found. Evidence of blood was also located in the home. Fucci's mother, Crystal Smith, had tried to clean bloodstains from her son's clothing but later plead not guilty to evidence tampering. The murder weapon, a buck knife, was recovered from a nearby pond. At first, Fucci was charged with second-degree murder. After premeditation was determined, those charges were upgraded (per The Independent). 
Fucci had violent fantasies
According to Jacksonville news outlet First Coast News, interviews with Fucci's peers after he was arrested revealed he had long spoken openly about killing someone and other violent fantasies. According to Fucci's friends speaking to the police: "He said he wanted to slit someone's throat, he said it'd be satisfying." Fucci also talked about killing and fighting people, according to those who knew him. His best friend had also seen Fucci practice stabbing motions with a knife. For the most part, though, Fucci's friends didn't take him seriously. Bailey had plans to see Fucci that night but was otherwise chosen at random. Reportedly, the teen also used cannabis heavily.
Then considered just a witness, Fucci reportedly took Snapchat selfies from the back of the police car, The Independent elsewhere reports. Along with those Snapchat images, Fucci wrote blithe messages about being in police custody. "Hey guys has inybody seen Tristyn lately [sic]," one message read. While in prison, Fucci's bellicose behavior continued. He fought with other inmates and officers, and in one instance pepper spray was used to subdue him. 
The first time Fucci appeared in court, he displayed behaviors of mental health challenges, that he was unaware of his surroundings, or why he was there. Some wondered whether those behaviors were real. According to Fucci's girlfriend, though, (via First Coast News): "Aiden told me that he had voices in his head."
Fucci was charged as an adult
In February 2023, Aiden Fucci pleaded guilty to the crime in advance of the jury selection process, curtailing a trial. Though plea bargains were offered by Fucci's defense, none were accepted. After his arrest, Fucci had initially pleaded not guilty, and the last-minute plea change could speak to the strength of the prosecution's case against him. It was determined Fucci would be charged as an adult, but given his age, the death penalty was not an option. Prosecutors will seek life imprisonment, instead.
At the time of this writing, Fucci's sentencing was tentatively expected to take place on March 21, 2023, News4Jax.com reports. As First Coast News elsewhere notes, after Fucci's guilty plea, the Bailey family released a statement that read: "[W]e are confident that the jury would have returned a guilty verdict. Just as Tristyn fought for her life, we equally fought for her and would not agree to any plea deal." In his February court appearance, Fucci said (via The Independent): "I just want to apologize to the Bailey family." Fucci faces 40 years to life in prison.