Heisman Trophy Winners Who Flopped In The NFL
Ezra Shaw/Getty Images
Since 1935, the Heisman Trophy award has been given annually to the best player in college football. Regardless of offense or defense, there is only one winner each year, making it extremely prestigious and illustrious. At first, the award was known as the Downtown Athletic Club (DAC) Trophy and was given out by the New York Downtown Athletic Club. The very first winner was Jay Berwanger, who played for the University of Chicago on offense, defense, and special teams.
The DAC name only stuck for one year, and in 1936 the Heisman Memorial Trophy was officially born. It was renamed after former DAC athletic director John W. Heisman, and the name has stuck ever since. There has been a Heisman winner every single season since 1935, with the exception of 2005, which was won by Reggie Bush but was infamously vacated years later. Every level of college student has won the Heisman, from freshman to senior, and Ernie Davis was the first to break the color barrier in 1961.
There have been countless Heisman winners who went on to massive success in the pros, including NFL hall of famers Charles Woodson, Barry Sanders, and Marcus Allen. However, there have also been some spectacular misfires as well.
Danny Wuerffel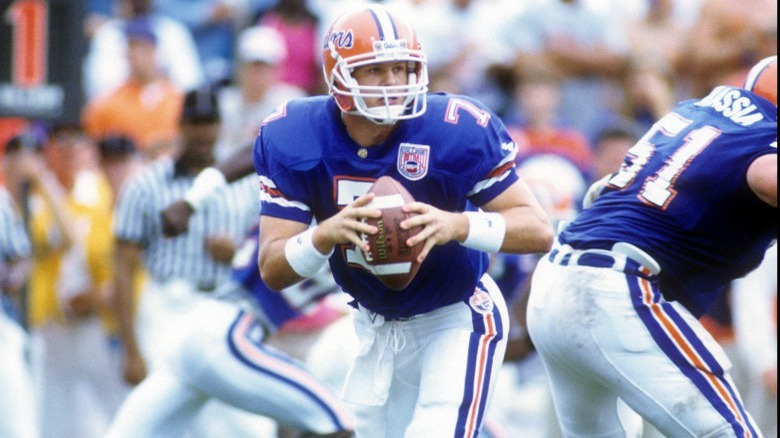 Scott Halleran/Getty Images
As quarterbacks who won the Heisman playing at the University of Florida for the Gators, Danny Wuerffel and Steve Spurrier were indelibly linked from 1996 on. That was the year Wuerffel won the Heisman for Florida, exactly 30 years after the elder Spurrier had done so in 1966. Spurrier was actually Wuerffel's coach that season, which would prove to be one of the best in college football history. Wuerffel helped the Gators to an 11-1 record and the college national championship.
This led to the New Orleans Saints to draft Wuerffel in the fourth round in the 1997 NFL draft. Unfortunately, things never worked out for Wuerffel in the pros, and he ended his rookie season with twice as many interceptions as touchdowns and an 0-2 record as a starter. Things only got marginally better in 1998, and 1999 was his last season in the Big Easy.
After not starting a game for three years, Wuerffel started four for Washington in 2002 under his former coach at Florida, Spurrier, but once again ended with twice as many interceptions as touchdowns before getting injured. Though he signed as the backup for Washington in 2003, he never appeared in another NFL game. 
Andre Ware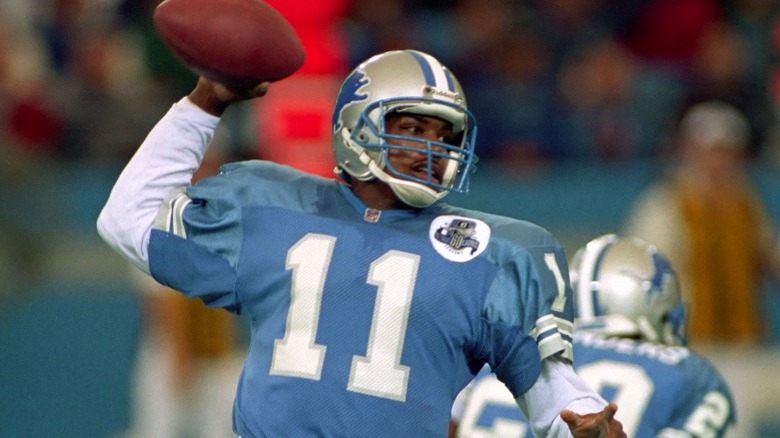 George Gojkovich/Getty Images
For as brilliant a career as Andre Ware had in college, his tenure in the pros went equally as terribly. As the quarterback for the University of Houston Cougars, Ware won the 1989 Heisman by throwing for nearly 4,700 yards and 46 touchdowns, leading one of the most potent offenses in college football history. However, in an unfortunate twist, Houston had been put on probation the year prior due to numerous violations, meaning Ware's exploits were not televised for everyone to see.
Still, his solid play led to the Detroit Lions drafting Ware as the seventh overall pick in 1990. In hindsight, this was an exceedingly poor decision by the Lions, as future hall of famers Emmitt Smith and LeRoy Butler were still on the board at the time. Ware lasted four injury-marred seasons in Detroit, starting only six games and attempting just 161 total passes.
Ware's low-point came in 1995, when the Jacksonville Jaguars — in the inaugural season as an expansion franchise — cut him during the preseason in favor of a rookie quarterback. The Jags actually had an open roster spot when they cut Ware, showing how far he had fallen. He briefly played in the Canadian Football League (CFL) for a few seasons, before retiring and becoming an analyst for college football.
Tim Tebow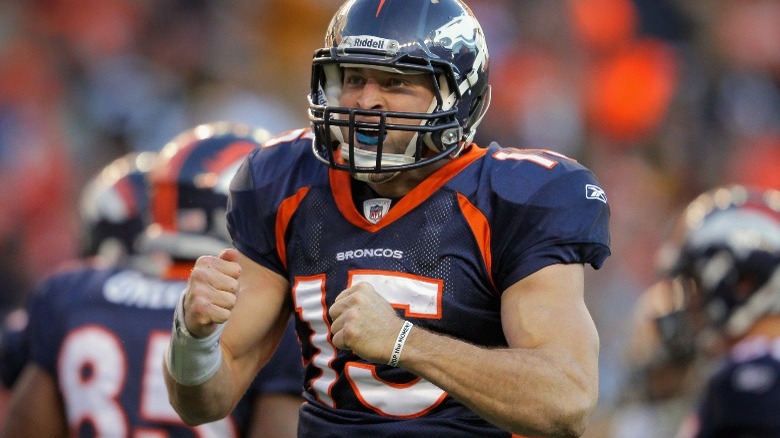 Doug Pensinger/Getty Images
Tim Tebow had perhaps one of the greatest careers in college football history as a Florida Gator, holding several records at the time of his graduation in addition to winning multiple championships. He won the Heisman in 2007 as a sophomore, becoming the first underclassman to do so in Heisman history. He was drafted in the first round in 2010 by the Denver Broncos, but despite being a hall of fame college player, his time in the pros was largely marked by poor play.
He didn't see much play his rookie season, but he gained the starting job the next year when fans put up billboards calling for him to play. He struggled, somehow conjuring up just enough magic for the Broncos to gain a playoff berth. However, his often public pronouncements about Christianity rubbed some the wrong way, and even provoked TV shows Saturday Night Live and Tosh.0 to parody him. His postgame habit of kneeling and praying was also widely mocked as "Tebowing" –- even inspiring its own website.
During the 2011 playoffs, Tebow helped beat the defending champion Pittsburgh Steelers by connecting on a overtime touchdown pass to the late Demaryius Thomas. However, he quickly washed out due to inaccuracy and only attempted eight more career passes before retiring. He attempted to resurrect his career in 2021 with the Jacksonville Jaguars as a tight end but was cut during the pre-season. In 2023, he was named to the college football hall of fame.
Johnny Manziel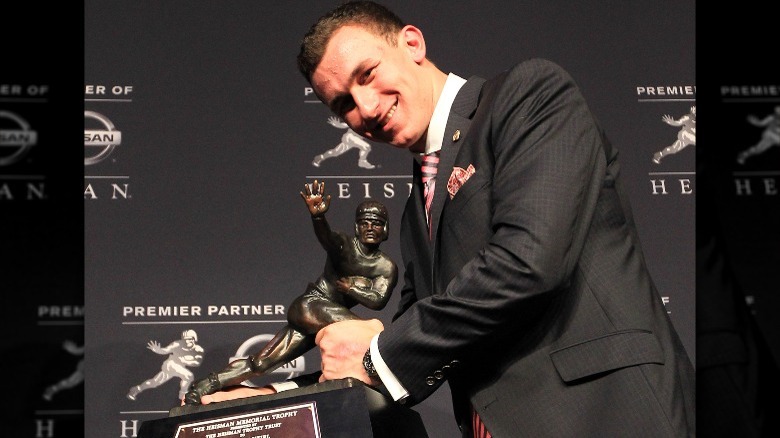 Debby Wong/Shutterstock
A homegrown Texas quarterback for the A&M Aggies, Johnny Manziel won the 2012 Heisman after a thrilling season that saw him inaugurate the Aggies into the SEC with a 10-2 record. A dual-threat quarterback, Manziel was known for his ability to throw and run for scores, earning the moniker "Johnny Football." After becoming the first freshman winner in Heisman history, Manziel placed in fifth in the voting the following season before becoming NFL draft eligible.
The Cleveland Browns drafted Manziel with their first round pick with high hopes, but his tenure with them was an unmitigated disaster. He appeared in 14 games for the Browns in two seasons, playing ineffectively. However, it was not just his poor play on the field that doomed his career. Off the field issues, including substance abuse, arrests for domestic violence, and questions about dedication and work ethic, ultimately spelled the end of his career.
Following his arrest the Browns cut him in early 2016, and soon after he revealed he was struggling with mental health issues, including bipolar disorder. After a brief stint playing in the Canadian Football League (CFL), Manziel played in the Fan Controlled Football League for the 2021 and 2022 seasons, with his NFL career effectively over.
If you or anyone you know needs help with addiction issues, help is available. Visit the Substance Abuse and Mental Health Services Administration website or contact SAMHSA's National Helpline at 1-800-662-HELP (4357).
Pat Sullivan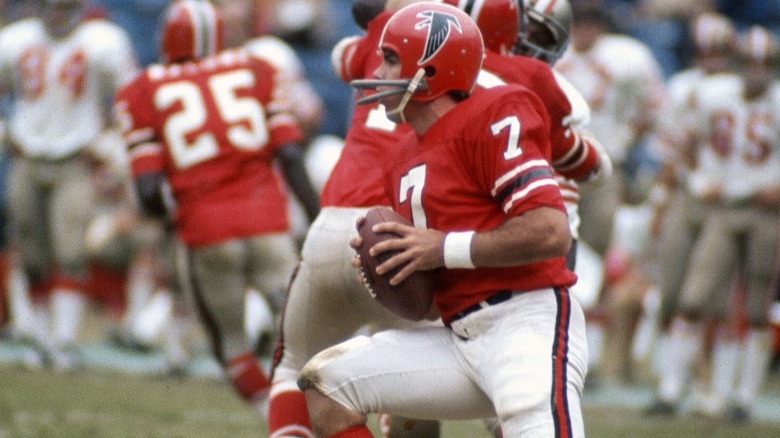 Focus On Sport/Getty Images
During his time in college at Auburn University, Pat Sullivan made his mark as one of the best quarterbacks in school history. A three-year starter, Sullivan won the Heisman as a senior in 1971 in addition to being named the SEC player of the year. He played well enough that the Atlanta Falcons drafted him in the second round to lead their team through the 1970s. Unfortunately, he was completely unable to adapt his game to the pros and quickly flamed out.
During his four year career with the Falcons, Sullivan started just four games, losing all of them. In all, he ended his career with more than three times as many interceptions as touchdowns and completing less than 50% of his passes. He would later catch on with Washington and the San Francisco 49ers but never appeared in another NFL game, retiring in 1976.
Still, for as poor as his professional career went, Sullivan was still widely beloved in Alabama for his college career. He is a member of both the Alabama Sports Hall of Fame and College Football Hall of Fame. Sullivan passed away in 2019 at the age of 69 from cancer.
Matt Leinart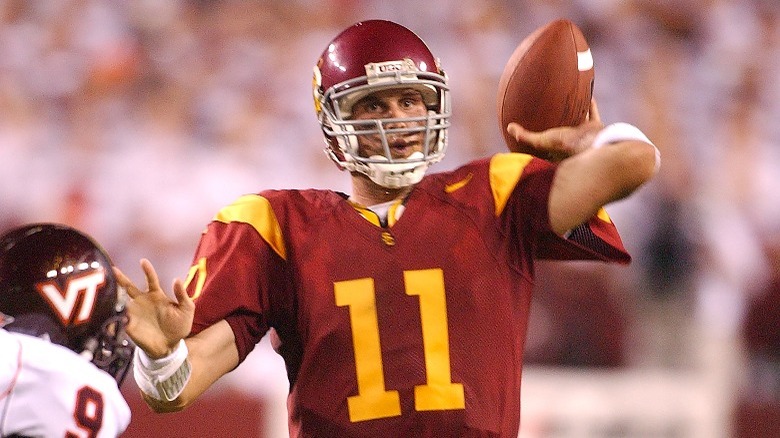 Mitchell Layton/Getty Images
When the Arizona Cardinals drafted Matt Leinart with the 10th overall pick in the 2006 NFL draft, their expectations for him were absolutely enormous. After an incredible career at the University of Southern California that included two national championships and the 2004 Heisman, Leinart looked like a pro-ready quarterback who could quickly be successful. He was immediately named the Cardinals starter and played well as a rookie, which was good enough for him to earn the starting position for the next season.
A broken collarbone derailed the 2007 season, but he was again named the starter prior to the 2008 preseason. However, that lasted only through the preseason, and by the beginning of the season future hall of famer Kurt Warner would be under center for the Cardinals. Leinart would only start one more game for the Cardinals, in 2009, largely watching from the sidelines as Warner led them to their first Super Bowl appearance that year.
During his time in Arizona, Leinart often earned scrutiny from the media for his antics, which included partying with celebrities like he was still in college instead of tending to his young son. Questions also arose about his work ethic and dedication to the sport. Leinart's career ended after further short stints with the Houston Texans, Oakland Raiders, and Buffalo Bills, with him making just four more appearances.
Troy Smith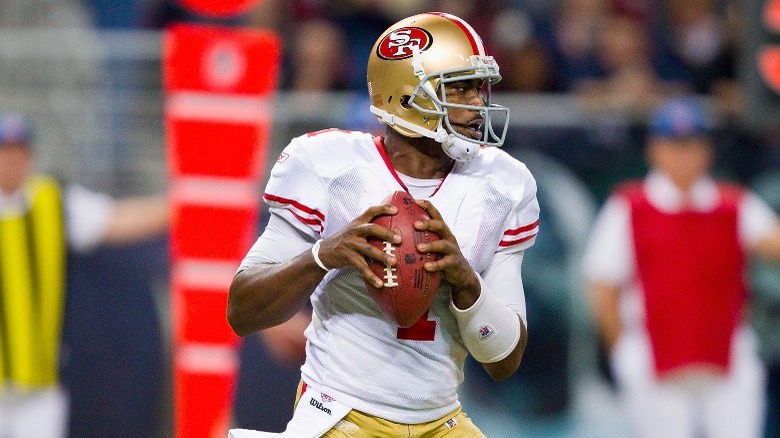 Dilip Vishwanat/Getty Images
In 2006, Troy Smith won the Heisman Trophy while playing for his hometown Ohio State Buckeyes. The Buckeyes were undefeated that season, and Smith won the Heisman with ease. He dominated the voting, collecting over 1,600 points more than the second place finisher Darren McFadden. He was immensely popular, to the point that parents actively recruited him to date their daughters, according to The New York Times. Still, questions about his ability to translate to the pros were evident, and he was not drafted until the fifth round by the Baltimore Ravens in 2007.
Smith made just 14 appearances for the Ravens in three seasons before being waived prior to the 2010 season. He signed with the San Francisco 49ers only a few days later, and when starting quarterback Alex Smith went down with injury midway through the season Troy was named the starter over fellow quarterback Derek Carr. In his first two starts Troy played exceptionally well, leading the 49ers to victories over the Denver Broncos and St. Louis Rams.
Then the wheels fell off. Against Tampa Bay the 49ers failed to score a point, and he was equally ineffective the next two weeks. Troy made his last start in a Week 16 loss against the Rams but was benched midway through the fourth quarter for Alex Smith after an on-field argument with his coach – hall of famer Mike Singletary. His last play in the NFL saw him getting sacked and fumbling the ball.
Ron Dayne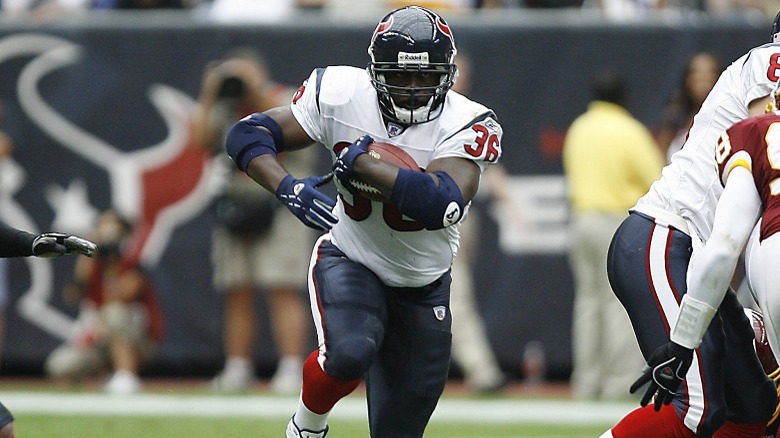 Bob Levey/Getty Images
Ron Dayne's career at the University of Wisconsin was the stuff of legends. He ended his time there with more than 7,100 rushing yards, a school and NCAA record, and won the 1999 Heisman Trophy. His nickname was the "Dayne Train," and his accolades also included winning the Rose Bowl MVP in 1999 and 2000. After he graduated, Dayne was such a high-value prospect that he was drafted by the New York Giants in the first round in the 2000 NFL draft.
But things never worked out for Dayne at the pro level like they did playing for Wisconsin. He never rushed for more than 800 yards in a single season, including a low of just 179 yards in 2004 despite playing in almost every game. According to an interview Dayne gave to On Wisconsin following his retirement, his weight became an issue immediately upon entering the NFL. Dayne was always a bigger running back, but he still utilized his speed as his biggest asset. However, owing to media pressure he lost 20 pounds as a rookie, which he felt actually led to his diminished performance on the field. 
He did not make an appearance at all in 2003, and his best season came in 2007 with the Houston Texans, which was his last before retiring. Dayne ended his seven season pro career with barely half the amount of rushing yards he gained in four seasons at Wisconsin.
Chris Weinke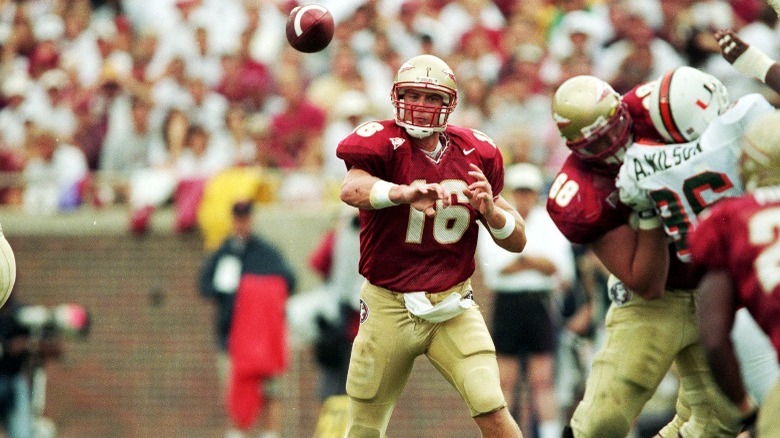 Andy Lyons/Getty Images
Chris Weinke's professional sporting career is unlike any other in history. Born in 1972, Weinke was first drafted by a professional sports team when the Toronto Blue Jays took him in the second round of the 1990 MLB draft. In 1996, after spending six seasons in the minor leagues without getting called up to the show, Weinke decided to leave baseball behind and attend college. He became the starting signal caller for Florida State his sophomore season in 1998 and won the Heisman in 2000 on the back of a 33-touchdown season.
In 2001, Weinke was drafted again professionally for the second time, when the Carolina Panthers grabbed him in the fourth round of the NFL draft. Weinke started 15 games as a rookie, compiling a terrible 1-14 record and throwing for 11 touchdowns against a whopping 19 interceptions. He did not appear at all in the 2003 or 2004 seasons and was finally released by Carolina following the 2006 season after making only six more appearances as a Panther.
He played in two more games for the San Francisco 49ers in 2007 before retiring. After he retired, Weinke started coaching football, being named the co-offensive coordinator of Georgia Tech in 2023. To his credit, Weinke was named to the 2001 All-Rookie Team, but the rest of his career was pretty dismal, and he never regained a starting position again.
Rashan Salaam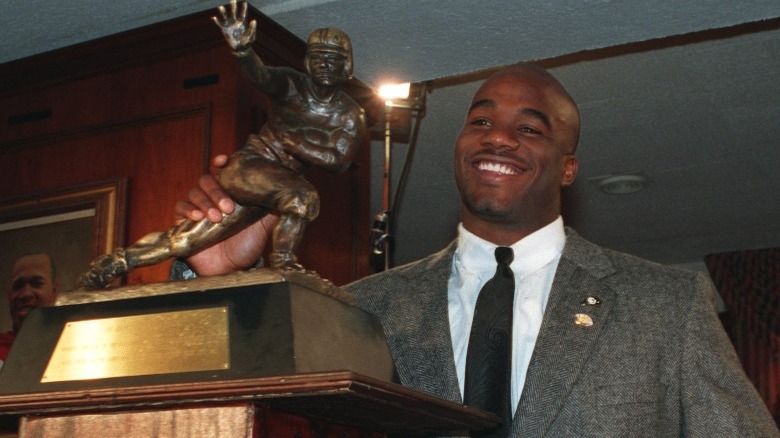 Jed Jacobsohn/Getty Images
The story of Rashan Salaam is one of the most saddening and tragic in all of football history. Salaam won the 1994 Heisman Trophy while playing for the University of Colorado Buffaloes as their star running back. He received 400 first place votes and the next year was drafted by the Chicago Bears in the first round. His rookie season was a success, with him rushing for more than 1,000 yards and scoring double-digit touchdowns, but everything went downhill from there. Injuries prematurely ended his next two seasons, and he was soon without a job.
The injuries also led him to start using marijuana to cope with the pain, which eventually brought about a stint in a rehabilitation center in 1999. Though he was signed with the Oakland Raiders for that season, they released him after he was again injured and gave an interview detailing his prior struggles with marijuana. While Salaam thought he was one of the better running backs in the league, teams disagreed, and he never made another NFL appearance after 1999.
Following his playing days, Salaam was affected by depression. His biggest accomplishment would later become his biggest shame, and his lack of a successful NFL career haunted him. In 2016, Salaam tragically died of a self-inflicted gunshot wound; he was just 42 years old.
If you or anyone you know is having suicidal thoughts, please call the National Suicide Prevention Lifeline​ by dialing 988 or by calling 1-800-273-TALK (8255)​.
Terry Baker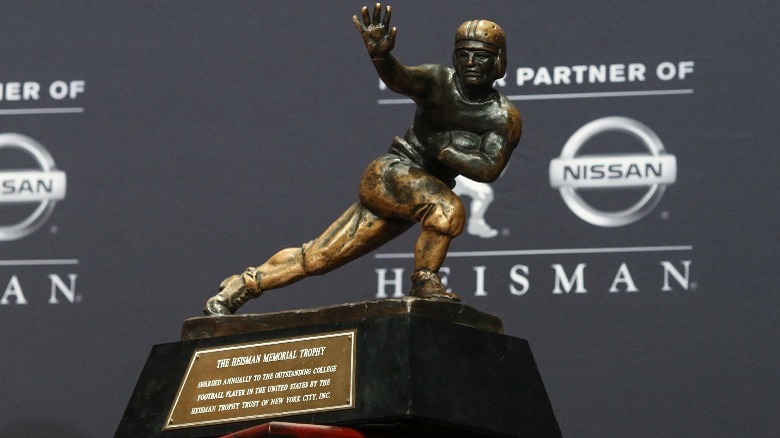 Debby Wong/Shutterstock
Excelling in one college sport is hard enough for most people, but not Terry Baker. Baker was a dual-threat quarterback and a dual-sport athlete from the time he was a sophomore in high school until he graduated from Oregon State. In addition to his time playing football, Baker was also one of the top basketball players at his school. This led to him winning the Heisman Trophy in 1962 and being named by Sports Illustrated as the Sportsman of the Year. 
His career was good enough at Oregon that the Los Angeles Rams used their number one pick on him in the 1963 NFL draft. Baker was also drafted by the San Diego Chargers in the 1963 AFL draft, but he decided to stick with the Rams. In hindsight, the Rams might have preferred if he had chosen to go with the Chargers, as his three short seasons in Los Angeles were abysmal.
Appearing in just 18 games, he ended his career with only 210 yards rushing and 302 yards receiving, and only a single solitary touchdown. He also played as quarterback for four games in 1963, throwing four interceptions on just 19 pass attempts. Baker was out of the league by age 25, and he turned his attention to studying and practicing law.
Archie Griffin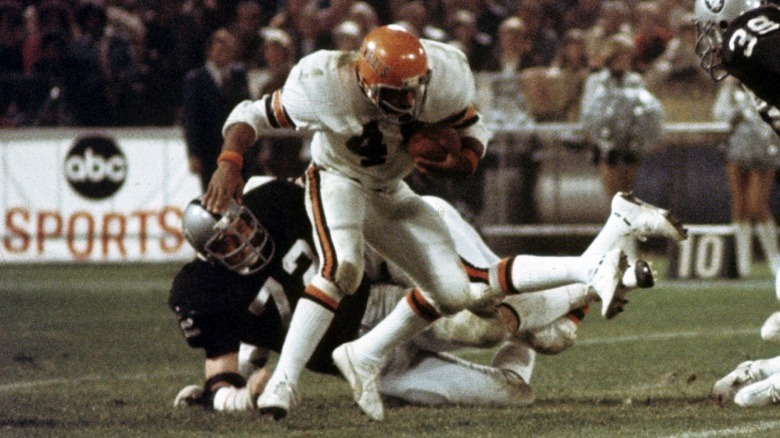 Arthur Anderson/Getty Images
In terms of Heisman winners, Archie Griffin is undoubtedly the greatest of them all. He is the only person to win multiple Heisman awards, earning it in back-to-back seasons in 1974 and 1975. As the starting running back for the Ohio State University Buckeyes, Griffin also won the Big Ten MVP twice and broke multiple school and NCAA records. In addition to his on-the-field success, Griffin was also known for his academic prowess, too.
However, when Griffin made it to the NFL he never carved out a role as an every-down back. The Cincinnati Bengals took him in the first round in the 1976 NFL draft, but Griffin never rushed for more than 700 yards in a season and only scored 13 total touchdowns in seven years. To make matters worse, off the field problems with his businesses led to him filing for bankruptcy in early 1982 during his penultimate season in the league.
By that point, Griffin was relegated to backup duty. He did appear in Super Bowl XVI, where he carried the ball only one time for four yards. He also fumbled a kickoff return that was recovered by the other team and led directly to a field goal. He ended his career with just 2,808 rushing yards and 1,607 receiving yards, a pretty paltry output for one of the greatest college rushers of all time.