Outrageous Court Cases That Rocked The Sports World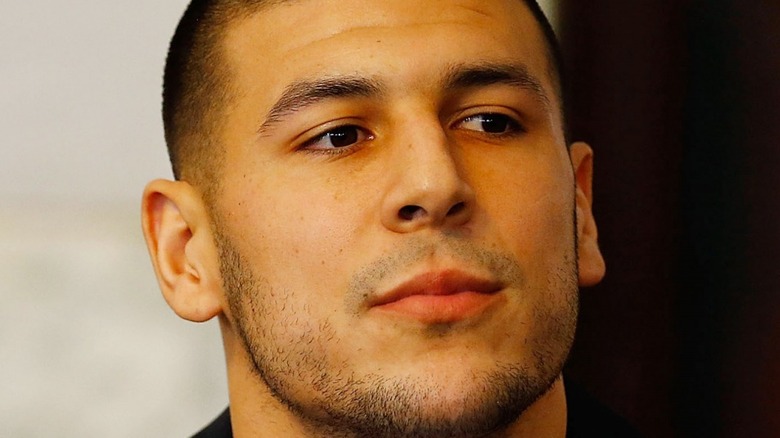 Jared Wickerham/Getty Images
Even though we often put celebrities and sports stars on a pedestal, it's always important to remember that they are people just like everyone else. They have the same flaws and shortcomings that the average person has, and they make mistakes just like we do. However, as fans we sometimes consider them to be on a higher plane, letting our infatuation with their on-field accomplishments cloud our overall judgment of them.
That might be why it is sometimes so shocking when they become embroiled in serious legal troubles. Nobody likes to see their favorite player subjected to a perp walk and put behind bars, especially when it can end up having implications for their team's season. Additionally, media outlets have field days whenever a sports star is potentially implicated in a lawsuit or crime, at times reporting exaggerated and sensationalist details like fodder.
Still, most off-the-field incidents barely make it past the 24-hour news cycle. Yet, there have been some real doozies that have captivated the attention of the sports world from beginning to end. Others have profoundly changed the way entire sporting organizations operate. As unfortunate as it sounds, lawsuits and legal trials are now becoming regular parts of professional sports. From Aaron Hernandez to BALCO, these are the most outrageous court cases that rocked the sports world.
The NCAA Antitrust lawsuits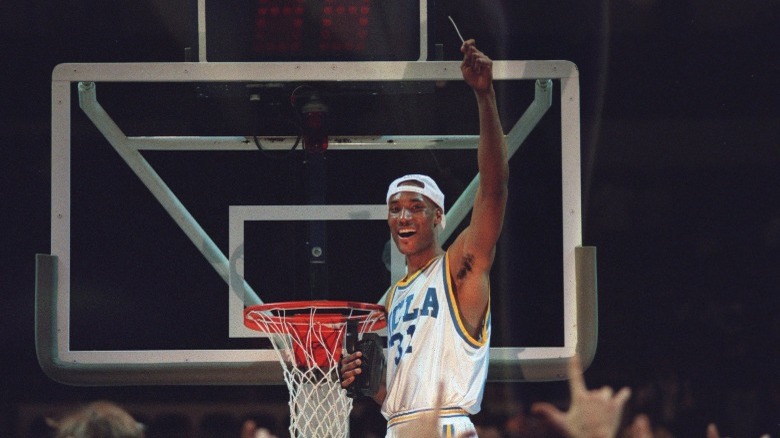 Stephen Dunn/Getty Images
For the longest time, it seemed like a maxim that college athletes could not and should not be paid while they were still in school. Most people agreed that the free education and pro-exposure were compensation enough. There were often severe punishments for those who were paid, like when Reggie Bush had to return his 2005 Heisman Memorial Trophy, after it was discovered that he and his family had been living large from backdoor payments.
However, in 2009, former college athlete Ed O'Bannon sued the NCAA over antitrust violations, alleging that it was unfair that student-athletes were barred from making money through the commercial use of their name while the NCAA could. In 2015, the U.S. Court of Appeals for the Ninth Circuit narrowly agreed with O'Bannon, but ruled that as long as colleges allowed athletes to earn as much as it cost to attend the school they were justly compensated.
Things seemed to be settled, largely in favor of the schools, until a subsequent antitrust lawsuit was filed against the NCAA by another former college athlete, Shawne Alston. In 2021, the U.S. Supreme Court officially ruled for Alston, that colleges could not prohibit players from earning money off their image and likeness — breaking decades of precedent. Immediately, the NCAA amended its rules to allow athlete compensation, meaning college players could finally start making money through sponsorships and endorsements. Subsequently, many students have taken advantage and signed lucrative deals.
Oscar Pistorius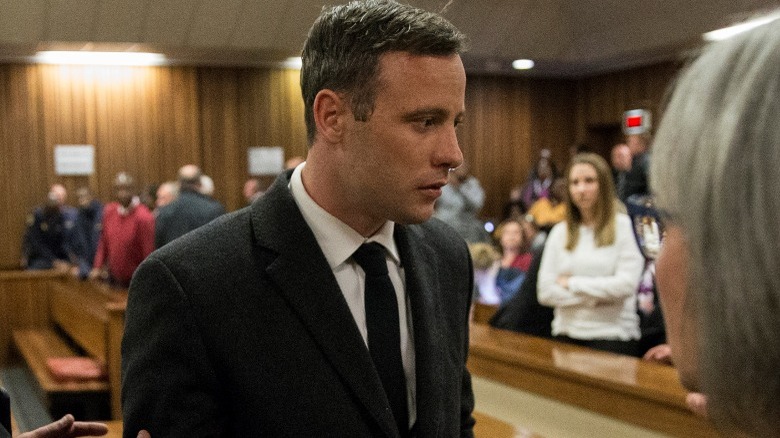 Pool/Getty Images
When Oscar Leonard Carl Pistorius was born in 1986, he had to overcome more obstacles within a year than many people face in their entire life. He was born without the fibula bones in either of his legs, leading to their amputation before he had even turned one. Hailing from Pretoria, South Africa, Pistorius was still able to realize his journey as a world-class runner, and he participated in the 2012 Olympic games in London in the 4-by-400 meter relay. He won a silver medal, and earned the nickname "Blade Runner" due to his prosthetic legs.
However, the following February he shot and killed his girlfriend Reeva Steenkamp, as she entered their home one afternoon. Claiming that he thought she was an intruder and arguing for self-defense, Pistorius faced trial in his native South Africa. In 2014, he was convicted of manslaughter and given five years in prison.
However, the verdict was considered extremely lax by some, and in 2015 the manslaughter conviction was vacated in favor of a murder conviction. The next year, Pistorius' five-year prison term was revised to a six-year term. However, that was again appealed, and in 2017 his sentence was further increased, now to 15 years. It was a stunning fall from grace and a tragic end to a once-inspiring story.
Mike Tyson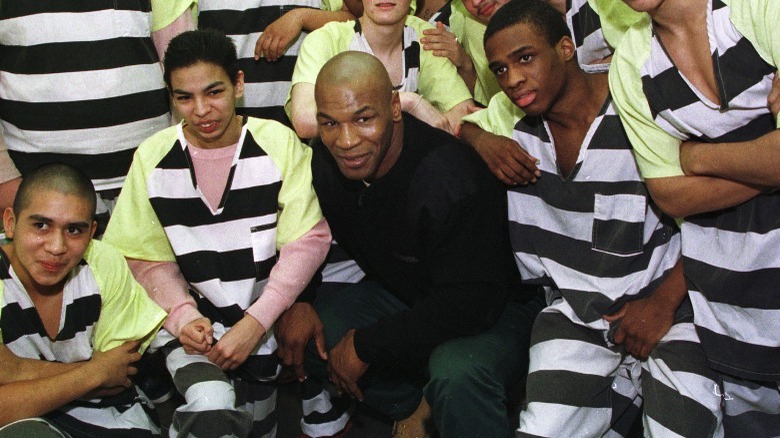 Mike Fiala/Getty Images
Since he burst onto the scene in the late-1980s, heavyweight boxer Mike Tyson has continually been one of the most controversial characters in the entire sports world. From biting Evander Holyfield's ears, to assaulting bystanders and finding himself bankrupt, Tyson's legal problems have accumulated to nearly epic proportions over the years.
Of them all, perhaps the most vile and shocking was his 1992 conviction for rape. According to the disturbing testimony of the accuser, Tyson sexually abused her the previous June when she was just 18 years old, and he had shown a disgusting lack of remorse afterward. He was convicted of rape and criminal deviate conduct charges, and the judge gave him six years in prison, in addition to community service and a $30,000 fine. 
Tyson was lucky: He could have faced up to 30 years in prison, as he was sentenced to 10 years on each conviction. However, the judge ordered the sentences to be served concurrently instead of consecutively, and also suspended four years on each of them. At his sentencing, Tyson had many fans show up to give him support and encouragement. He would serve less than three years in prison – with the media ready and waiting to meet him upon his 1995 release.
If you or anyone you know has been a victim of sexual assault, help is available. Visit the Rape, Abuse & Incest National Network website or contact RAINN's National Helpline at 1-800-656-HOPE (4673).
Muhammad Ali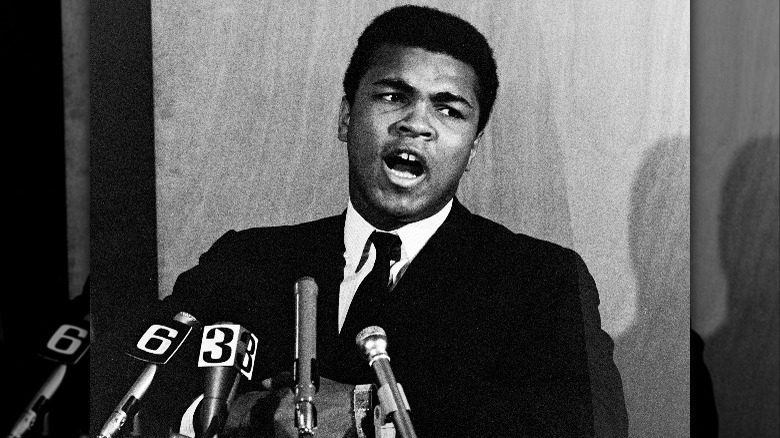 Charles Steiner/Getty Images
In 1960, the world first learned about Muhammad Ali when he won a gold medal at that year's summer Olympics. He was still known by his original name of Cassius Clay, under which he would win the heavyweight title after upsetting Sonny Liston in 1964. While Ali was making a name for himself as one of the best young boxers in the sport, overseas in Vietnam thousands of Americans were fighting a war against communism.
Originally ruled draft-ineligible in 1964, by 1966 he was considered eligible and was to be inducted into the U.S. Army. However, Ali refused to serve, saying he was a Muslim and a conscientious objector to fighting in a war. Complicating the issue however, were Ali's statements that he would be willing to fight in an Islamic holy war. He was convicted of violating federal selective service requirements and sentenced to prison, and though he was allowed to stay out while appealing his case, his boxing career languished, he was denied a license, and subsequently stripped of the title.
In 1971, Ali was finally vindicated when the Supreme Court unanimously ruled in his favor, saying he should not have been forced to join the army due to his conscientious objector status. Ali soon resumed his career, becoming one of the greatest boxers who ever lived.
The BALCO scandal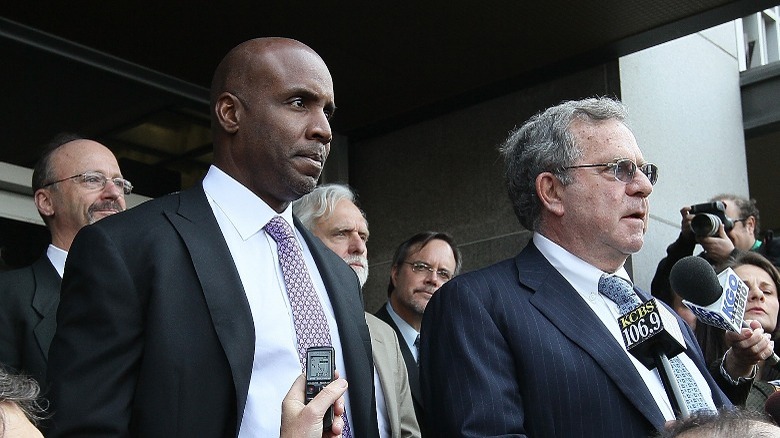 Justin Sullivan/Getty Images
Few sports stars can claim the success of Marion Jones and Barry Bonds. Bonds is considered by many to be the greatest baseball player of all time, and Jones won three gold medals out of five total — part of a historic performance in track and field at the 2000 Sydney Olympic games.
However, both Bonds and Jones owed part of their historic record-breaking2 to Victor Conte and the Bay Area Laboratory Co-Operative (BALCO). Conte supplied both Bonds and Jones with steroids that would not show up on drug tests, allowing them to cheat the system. Eventually, an anonymous tip prompted an investigation in Conte and BALCO, and soon several stars — including Bonds and Jones — were under investigation for doping.
In 2007, both Bonds and Jones were accused of lying to police, setting up separate trials. Jones pleaded guilty before going to trial and served six months in prison. Bonds was initially convicted of obstruction of justice, but it was overturned in 2015 on appeal. Other stars involved in the scandal included Gary Sheffield, Jeremy and Jason Giambi, and Jones' ex-husband, sprinter Tim Montgomery. The scandal destroyed Bonds' reputation in baseball, and has kept him out of the hall of fame, despite him having nearly 3,000 hits and holding the record for most career home runs.
Aaron Hernandez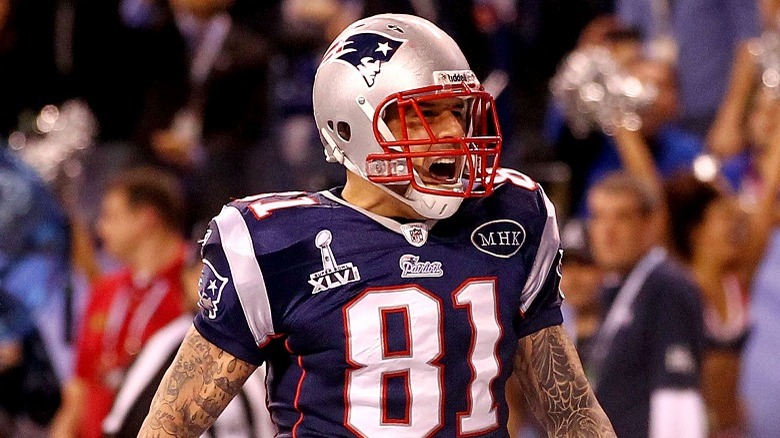 Al Bello/Getty Images
Prior to June 2013, former New England Patriots' tight end Aaron Hernandez's story would have been one of redemption. While playing for the University of Florida, Hernandez had found himself involved in legal trouble numerous times but avoided any convictions. In 2010, the Patriots took him in the fourth round, and he soon helped establish one of the most explosive offenses in the NFL with teammates Rob Gronkowski and Tom Brady.
Following his play in 2012, Hernandez had a killer off-season and signed a massive contract extension worth nearly $40 million. It seemed like he had gone from cautionary tale to an inspirational example of success. However, in June of 2013, he was implicated in the murder of Odin Lloyd, and everything started to fall apart. He was soon linked to another recent shooting and two more murders.
After a tumultuous trial, Hernandez was found guilty of Lloyd's murder in 2015, but found not guilty of the other killings in a separate trial that concluded in April 2017. That same month, Hernandez died by suicide while still incarcerated. He was only 27 years old. His original murder conviction was briefly vacated a month later, but was eventually reinstated in 2019. Later, doctors found that Hernandez's brain was diagnosed with chronic traumatic encephalopathy (CTE), likely from playing football.
If you or anyone you know is having suicidal thoughts, please call the National Suicide Prevention Lifeline​ by dialing 988 or by calling 1-800-273-TALK (8255)​.
Rae Carruth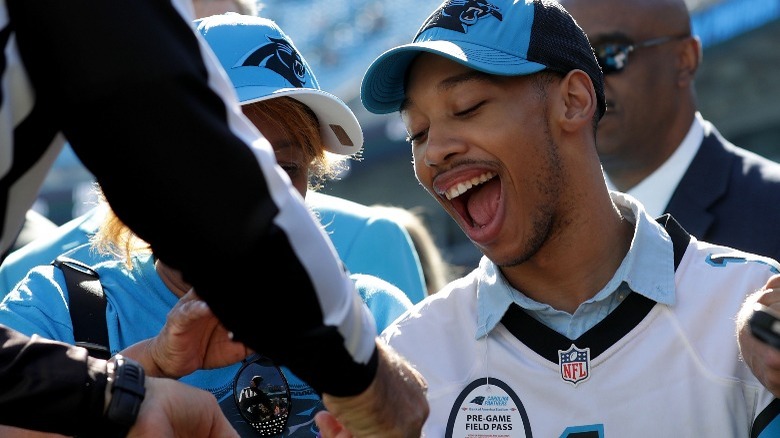 Streeter Lecka/Getty Images
It's almost never a good sign when your off-the-field exploits overshadow your actual career, but regrettably, that's the case for former NFL player Rae Carruth. Though he was a first-round draft pick for the Carolina Panthers and had a promising rookie season, he only played sporadically the next two years — making barely any impact. Then, in late 1999, he paid a man $5,000 to fatally shoot his girlfriend, who at the time was pregnant with his son.
The woman, Cherica L. Adams, died that December, but not before giving birth to a son, Chancellor, in November. The police were able to connect Carruth to the killer due to a note Adams was able to write while she was still conscious. The killer, Van Brett Watkins, testified that he was hired to commit the murder so that Carruth could avoid paying child support.
Carruth was sentenced to between 18 to 24 years in prison as a result of his actions, while Watkins was sentenced to a maximum of 50 years. Carruth would go on to serve just under 18 years, walking free in late 2018. His son Chancellor (pictured above) suffers from neurological problems and cerebral palsy as a result of the shooting. Still, in 2021 he was able to overcome substantial odds when he graduated from high school, and he was largely raised by his grandmother, Saundra Adams. 
Tom Brady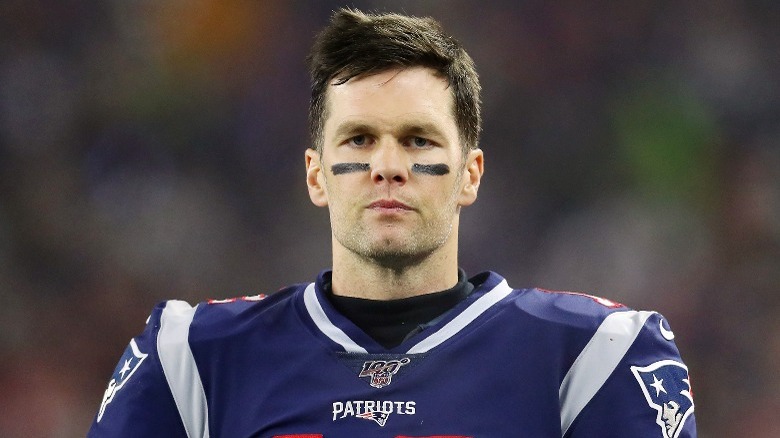 Maddie Meyer/Getty Images
The Deflategate controversy — when the New England Patriots were accused of intentionally deflating footballs to gain an advantage — was one of the biggest scandals in NFL history. The incident happened during the 2014 AFC Championship against the Indianapolis Colts, and led to numerous penalties levied against the Patriots, their owner Robert Kraft, and their quarterback Tom Brady. Brady was suspended by the league for the first four games of the 2015 season, for allegedly participating in the deflation scheme and obstructing and obfuscating the investigation.
Brady immediately appealed the suspension in federal court, and in September 2015 — just before the 2015 season was supposed to start — a judge agreed with him. She overturned the suspension, saying Brady was not treated fairly and should not have been punished for his actions. The NFL appealed but the case languished in court, allowing Brady to play for the entire season while his suspension was vacated. At issue was whether the collective bargaining agreement between the NFL and the NFL player's association gave Goodell the authority to suspend him.
In April 2016, the appeals court sided with NFL Commissioner Roger Goodell, reaffirming his authority to suspend Brady. Brady could have elected to appeal to the U.S. Supreme Court, but decided to give up and accept his suspension. Brady missed the first four weeks of the 2016 season, returning in week five and guiding the Patriots to a Super Bowl victory.
OJ Simpson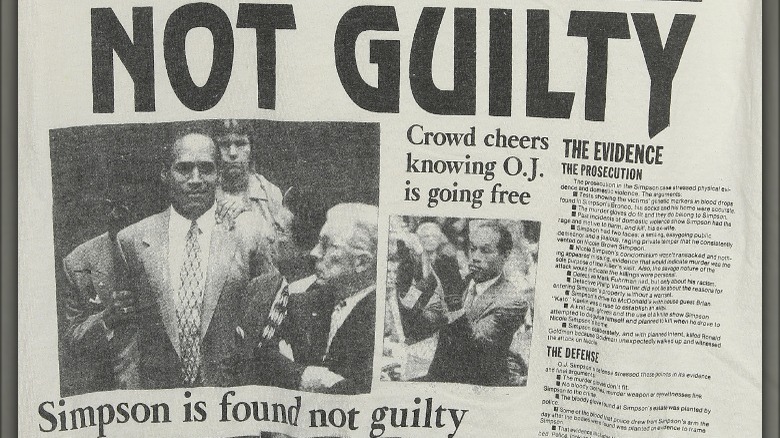 Joe Seer/Shutterstock
Even though he is arguably one of the best players of all time, and was the greatest running back in the era of the running back, pretty much no one talks about his playing days when they bring up OJ Simpson. Nobody cares that he was the 1973 MVP or a hall of famer – not after the highly publicized 1995 trial that saw him accused of murdering his ex-wife Nicole Brown Simpson and her friend Ron Goldman. Simpson had stopped playing in 1979, and had since developed a decently successful movie career, starring in movies like "The Naked Gun" trilogy.
That all ended when Brown and Goldman's bodies were discovered on June 13, 1994 , outside of Brown's house. Almost immediately, police charged Simpson with the murders. He subsequently fled the scene inside a white Ford Bronco with close friend Al Cowlings, before later giving himself up to be arrested. The proceedings became known as "The Trial of the Century," and America could not get enough of the trial — which was televised live.
Simpson was eventually found not guilty, alternatively delighting and outraging Americans, depending on how they viewed the case. However, in a civil suit filed the next year, Simpson was found liable for the wrongful deaths of Brown and Goldman, and saddled with a $33.5 million judgment. However, Goldman and Brown's families have had a tough time collecting any money from Simpson, who would later be incarcerated on separate robbery and kidnapping charges.
Bountygate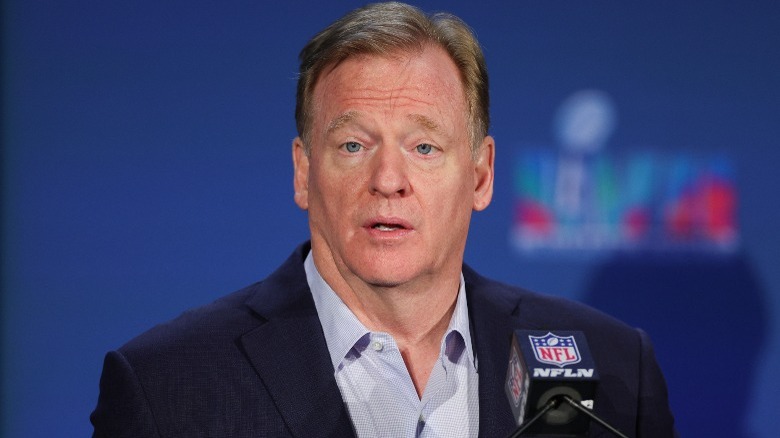 Carmen Mandato/Getty Images
Football has always been known as a violent sport. While the culture has changed in recent years, for decades the biggest heroes were those who delivered the most brutal and savage hits to their opponents. Still, there have always been levels of respect and decorum observed in the NFL, making the New Orleans Saints' infamous bounty scandal one of the worst in history. In 2012, the NFL investigated the Saints, finding that there was a program where defensive players were given financial incentives for hurting opposing players with hard hits. The league came down hard on them, issuing a $500,000 fine and suspending both players and coaches.
Several of the players fought back and appealed their suspension in federal court, and Jonathan Vilma also sued NFL commissioner Roger Goodell for defamation. At issue in the federal case was Goodell's jurisdiction. Goodell argued that the program constituted conduct detrimental to the league, which gave him the power to levy suspensions. However, the Saints' argued that the issue was instead related to salary cap violations, which were not under Goodell's purview but that of an independent arbitrator.
The court partially agreed with the players, vacating the suspensions but affirming Goodell's authority to punish them. Goodell immediately resuspended them, though at reduced rates. The players appealed again, and a special arbitrator vacated the suspensions for the final time. A month later, in early 2013, Vilma's lawsuit against Goodell was also dismissed.
Plaxico Burress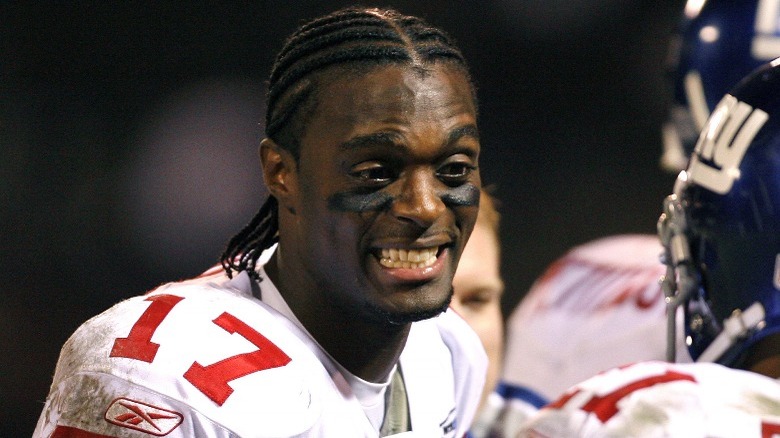 Robert B. Stanton/Getty Images
As a wide receiver for the Pittsburgh Steelers and New York Giants during the 2000s, Plaxico Burress made a name for himself as a dependable target for numerous quarterbacks. As a Giant, he won Super Bowl XLII, helping the team by scoring the game-winning touchdown. Unfortunately, things would take a drastic turn in the wrong direction the next year, when he accidentally shot himself in the leg and prematurely ended his season. Burress was reportedly partying at a nightclub when it happened, after ironically being unable to play due to a prior injury in the same leg.
Burress had just signed a massive contract extension with the Giants prior to the season, but had accrued negative attention due to being fined by both the league and the Giants over misconduct. Just under a year later, Burress was indicted on gun charges before the start of the 2010 season. It was found that he did not have a valid weapons permit, and the gun went off mainly due to negligence.
A media circus hounded Burress, and his case was even parodied on the football-based TV show "The League." Initially, it appeared as though Burress would be able to play for the 2010 season, but just a few weeks later he accepted a plea deal that gave him two years in prison. He was released from prison in June 2011, and played for two more seasons in the NFL.
Ray Lewis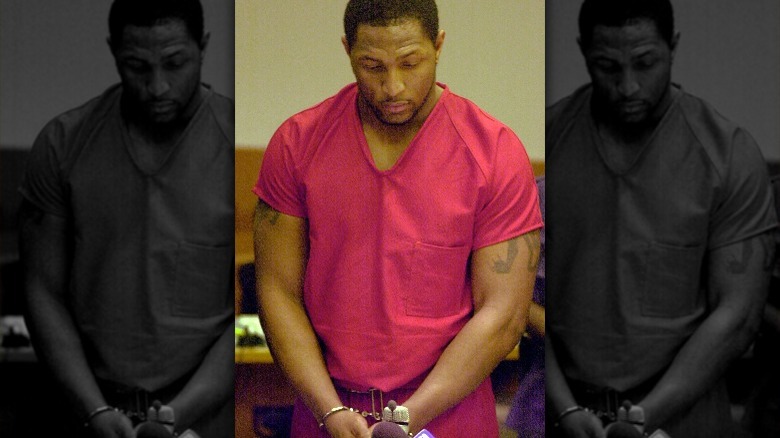 Erik S. Lesser/Getty Images
Now widely regarded as one of the greatest linebackers in NFL history, there was a time early in his career when Ray Lewis was on the verge of losing everything. Lewis entered the NFL in 1996 and quickly made an impact, getting named to three pro bowls in his first four seasons and setting the record for most tackles in a single season in 1997. For the 1999 season, the Baltimore Ravens failed to make the playoffs, but Lewis was in town for the Super Bowl, which was being held in Atlanta, Georgia.
At an afterparty, two men — Jacinth Baker and Richard Lollar — were stabbed to death by several attackers. Lewis was named as one of the assailants and the knife was traced back to him. He was quickly arrested and charged with two counts each of murder, malicious murder, and aggravated assault. He was also accused of obfuscating the investigation and being misleading and uncooperative.
In June 2000, all of the murder charges were dropped when Lewis agreed to flip on his two co-defendants, who were also indicted. They would eventually be acquitted of the murders, despite Lewis' testimony. Lewis would be fined a quarter of a million dollars by the league, and he was placed on probation and convicted of obstruction of justice. He never ended up missing a game over the incident, and the next season he won and was named the MVP of Super Bowl XXXV.