Oklahoma City Bomb Responder Terry Yeakey's Death Remains Shrouded In Mystery
As soon as the tragedy happened, the official story was questioned by some. Those doubts were far from the mind of Oklahoma City police sergeant and first responder, Terry Yeakey, though, early on April 19, 1995 when a large homemade bomb exploded outside the Alfred P. Murrah Federal Building in Oklahoma City, killing 168 people, including 19 children, and injuring hundreds of others (via the FBI). Among the first on the scene that day was Sergeant Terry Yeakey (pictured), credited with saving the lives of at least four people, The New York Times reports. Yeakey also injured his back on the scene.
As the dust settled on what's considered the worst act of domestic terrorism in U.S. history, Yeakey seemed to join the growing chorus of those skeptical of the official version of events: Although others were aware of the plot, on the day that it happened, Timothy McVeigh acted alone when he detonated the bomb outside the federal building in Oklahoma, according to federal investigators. On April 19, by the time Yeakey's ex-wife, Tonia Yeakey, picked her then-husband up from the hospital, he reportedly told her: "They're lying about what's going on down there." Around a year later, Yeakey was dead, CNN reports.
Yeakey's official cause of death was ruled to be suicide: He had cuts on his wrists and neck and he was shot in the head. But those closest to him say that's not possible. Yeakey, in their view, was murdered. 
Yeakey seemed to pursue his own bombing investigation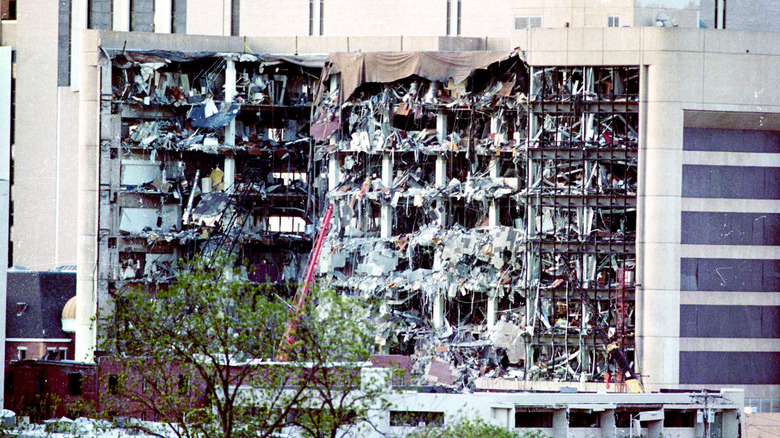 J. Pat Carter/Getty Images
In the days and months after the 1995 Oklahoma City bombing, for which Timothy McVeigh was executed in 2001 and his co-conspirator Terry Nichols was sentenced to life in prison, questions arose casting doubt on the official story. Even before McVeigh and Nichols were in custody, some claimed there were warnings that the government ignored, that it could have been an inside job, or that it could have been allowed to happen for political advantage. Nichols and McVeigh, both army veterans, had extreme right-wing ideologies, which federal investigators said motivated the attack. Those same beliefs could have led to the framing of the two men, among other possible theories, the independent investigators claimed.
Yeakey, himself, seemed to call out many inconsistencies in the official narrative. According to those close to Yeakey, he spoke of the bomb blasting out, as if it was inside the building, rather than from the outside, where McVeigh parked his rented Ryder truck. His ex-wife Tonia Yeakey also recalled Yeakey attempting to return to the scene a few days after it happened to photograph something in particular, but he was rebuked by federal agents. An in-depth report Yeakey filed on his experience the day the bombing happened disappeared, according to Yeakey's ex-wife, and he was reluctant to accept a medal of valor from the Oklahoma Police Department. For these reasons and more, once Yeakey turned up dead a short time later, the official story of what happened was met with almost as much uncertainty.
Yeakey was living with personal issues
There are a number of possible motivating factors that may have played a part in Terry Yeakey's decision to end his own life: possible untreated PTSD and depression from his experience as a first responder on the day of the bombing as well as reported personal issues as a husband and father over domestic violence allegations, which may have led to Yeakey being placed on administrative leave from the Oklahoma City police department shortly before he died. Like much else about Yeakey's death, the state of Yeakey's family and his status with the Oklahoma police department is disputed. 
Tonia Yeakey, Terry's ex-wife, also claimed her ex-husband was on his way to meeting on the day he died, possibly related to the bombing, but provided her no further information. Offering some insight into Yeakey's frame of mind of when he died, Yeakey reportedly wrote this in a letter to a friend, Romona McDonald (via the Los Angeles Times): "I think my days as a police officer are numbered. I think there is [sic] a lot of secrets floating around now about my mental state of mind. I believe that a lot of the problems the officers are having right now are because some of them know what really happened and can't deal with it."
No autopsy was performed on Yeakey's body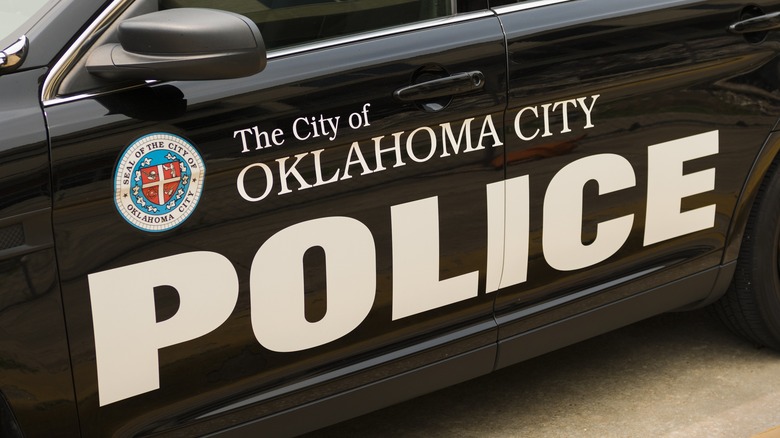 University of College/Shutterstock
Though many who knew Yeakey say there's no way that Yeakey took his own life, his blood was found in his car, and his body was found a short distance away with a fatal gunshot wound to the head. Yeakey's own mother, when she viewed her son's body, reportedly saw marks consistent with being tied up. There was no autopsy, and no suicide note. 
After Yeakey died, documents possibly related to his own personal investigation disappeared, and mysterious burglaries were reported in Tonia's home. According to CNN, there were signs that the scene where Yeakey's body was found was later disturbed as if someone was searching for something, among other irregularities in the case. Still, nothing has emerged that disproves Yeakey's cause of death as a suicide. 
According to Master Sergeant Gary Knight of the Oklahoma Police Department, who knew Yeakey (via CNN): "There is absolutely no hard or physical evidence whatsoever to support Yeakey was murdered." Yeakey's friend and fellow officer, Steve Vassar, remains unconvinced, though. All combined, "I have just a hard time believing that Terry would take his life," Vassar said.
If you or anyone you know is having suicidal thoughts, please call the National Suicide Prevention Lifeline​ by dialing 988 or by calling 1-800-273-TALK (8255)​.