The Most Haunting Footage Of Historical Figures Ever Found
"Cinema is a matter of what's in the frame and what's out," director Martin Scorcese once said (via The New Yorker). No more is this true when looking into the lives of the people and the timeline of events that have shaped our history.
Filmmakers have sometimes unexpectedly caught tragedies on camera — like footage of the HMS Albion's devastating wake or a king's final moments before his assassination and the ensuing chaos. Some films provide a window into happy times at odds with reality, such as private moment of F. Scott and Zelda Fitzgerald or Anne Frank simply being a happy child, unknowing of the dangers and horrors to come. 
Whether they wanted to commemorate a historical event or simply daily life, these moments captured on film are both poignant and eerie, giving viewers a surreal and personal look into the past. 
F. Scott and Zelda Fitzgerald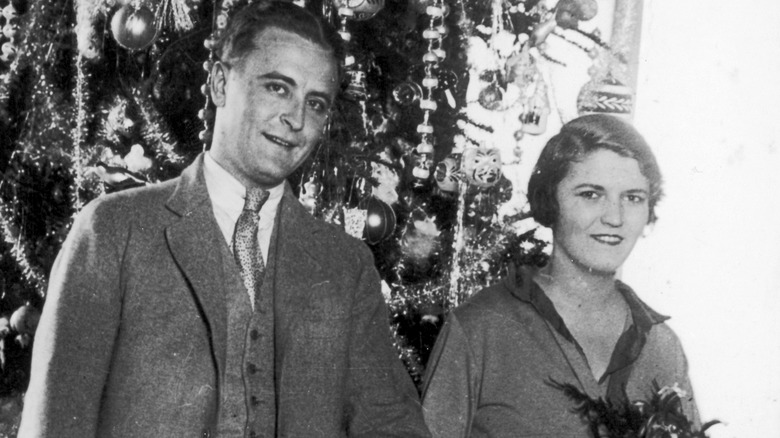 Hulton Archive/Getty Images
F. Scott and Zelda Fitzgerald embody the carefree fun of the Roaring Twenties, but their lives weren't as enchanted as they may have seemed. In the mid-1920s, they partied along the French Riviera while Scott wrote "The Great Gatsby," but their marriage was already crumbling. The documentary "F. Scott Fitzgerald: The Great American Dreamer" explains that, but also shows home video clips that present an idyllic life, quite different from the apparent reality. They sit together outside laughing and cuddling their baby daughter Frances "Scottie" Fitzgerald; Scott writes away diligently at a table in the garden. There's no hint of the discord between them -– such as Zelda's affair with a French aviator –- or the tragedies to come.
In the 1930s, Scott struggled with alcoholism and Zelda with her mental health. He was in and out of jails and hospitals , she in and out of mental healthcare facilities. Within 20 years, they were both dead. Scott died in 1940 of a heart attack brought on by his long-term alcohol abuse. Sadly, Zelda died in a fire at Highland Hospital in Asheville, North Carolina, in 1948, where she was being treated for schizophrenia and was set to be released soon. A nurse admitted to setting the fire, though she was never charged, and many of the women who died in it had been heavily sedated. Watching the videos of the Fitzgeralds, those somber endings are hard to imagine.
Pierre-Auguste Renoir
Impressionist painter Pierre-Auguste Renoir grew up in Paris and found his early inspiration there, but he went more and more frequently to the south of France as he grew older. The area provided both artistic inspiration and the warm weather he needed, because, beginning in 1894, Renoir developed rheumatoid arthritis. His movement became extremely limited over the next 20 years. He lost the ability to walk or to hold a paintbrush without tying it to himself. 
In 1915, Renoir was filmed by his young friend Sacha Guitry, who later became an actor and director. The clip of Renoir was part of Guitry's longer project, "Ceux de chez nous" ("Those of our land"), which also included film footage of other French artists, including Claude Monet, French writers including Anatole France, and French actors including Sarah Bernhardt. Guitry made it to showcase arts and culture in France in response to a German proclamation about the superiority of their own culture. In the film, Renoir can be seen painting at home, his gnarled hands holding his brush, also talking to Guitry while smoking a cigarette. 
While with Renoir, Guitry expressed sympathy for the recent death of Renoir's wife. Renoir, misunderstanding, referred to his arthritis: "You bet my foot is painful!" (via "Sacha Guitry: The Last Boulevardier"). But Guitry's film captured Renoir's perseverance in the face of that pain. Though others have to light his cigarette for him and hand him his paintbrush, Renoir is still creating.
Revolutionary Ros Serey Sothea
Ros Serey Sothea isn't a super well-known name in the United States, but she was the queen of Cambodia's rock and roll scene in the 1960s and 1970s. In the country's capital, Phnom Penh, pop and rock thrived during the Vietnam War –- with American influence filtering in –- and during the reign of King Norodom Sihanouk, who loved Western music. He dubbed Sothea "the golden voice of the royal capital," according to her sister in a documentary about the Cambodian music scene (via The Phnom Pehn Post). Sothea and other Cambodian stars covered Western rock songs, changing the meaning with new Khmer lyrics. Sothea's biggest hits were usually tragic love songsbut with upbeat music and vocals.
The good times came to an abrupt, violent end when Pol Pot and the Khmer Rouge took control of Cambodia in 1975. Under this regime, any sign of creativity or intellectuality was destroyed. Most of Cambodia's rock stars died in the killing fields . As for Sothea, she vanished, and there are varying stories about her ultimate fate, but she likely died, too.
Before all that, circa 1971, Sothea was filmed undergoing military training and parachuting out of a plane for a feature in Khmer Republic Magazine. Sothea, chatty and smiling in the film, had no idea she might need those skills a few years later, when her country descended into revolution.
Bonnie and Clyde
On May 23, 1934, Clyde Barrow's and Bonnie Parker's crime spree ended when they died in a shootout with police. That morning, six police officers were lying in wait for them as they left Gibsland, Louisiana. When Barrow began shooting when he saw the policemen, they returned fire. Barrow and Parker were only 25 and 23, respectively.
The infamous Bonnie and Clyde had spent a few years prior to their capture and murder on a crime spree that included bank robberies, kidnapping, car theft, and allegedly the murder of 13 people. They were nearly captured in Joplin, Missouri, in 1933, but escaped during another police shootout.
Only a few minutes after they were killed, someone filmed the scene, including their bullet-ridden car and the numerous weapons found in it. Still in the front seat, Bonnie and Clyde's dead bodies were slumped against each other. The video's voice-over suggests they only got what was coming to them, dying "as they lived, by the gun."
Amelia Earhart
Even before Amelia Earhart's final flight ended in disaster -– and became one of the enduring mysteries of the 20th century -– she was no stranger to dangerous situations. In May 1932, she became the first woman to fly solo across the Atlantic Ocean. However, after having trouble with her exhaust pipes, she had to land earlier than planned. Instead of making it to Paris, she landed in a field near Londonderry, Northern Ireland.
A few days later, British Movietone interviewed her at the American Embassy in London. In the video, she explained the issues she had and at what point in the flight they started. She joked about "frightening all the cows in the neighborhood" with her landing. But when the interviewer asked if she minded flying alone, her answer foreshadowed the tragedy to come. She said, "I should have felt much more responsible had anyone been with me. It was really a relief to be alone."
On her final flight five years later, Earhart would be responsible for not only her own fate but that of her navigator, Fred Noonan. The two were lost at sea together. Despite many theories -– some far-fetched, others practical –- what happened to them still isn't totally clear. Even if they simply crashed into the ocean, the mystery continues to fascinate people today.
The passengers of the RMS Lusitania
May 7, 1915, was a turning point in World War I -– but not because of any battle. It was the day a German U-boat sank the British passenger liner RMS Lusitania. More than 1,000 people died in the wreck, including 128 Americans. 
About a week before, the Lusitania left New York City for Liverpool on what would be its final voyage. The same day, the New-York Tribune and The Washington Times both reported on warnings from the German Embassy that Allied vessels might be susceptible to attack, so travel on them should be avoided. Despite the warning, the Lusitania was bustling with passenger activity — filmed before leaving New York, footage shows passengers arriving at the dock and waving goodbye from the decks (via the National Archives). They're blithely unaware of what will happen in less than a week. Important to note, as the ship pulls out to sea, the video clearly shows the lifeboats lined up on deck. Unfortuantely, because the ship sank within 20 minutes after being hit, only six lifeboats were used.
After the attack on the Lusitania, both the U.S. and the United Kingdom saw a rise in anti-German feelings. At that point, and for the next two years, German-American relations worsened. Later in 1915, under pressure from the Allies, Germany agreed to stop torpedoing non-military ships, but the truce didn't last. Two years later, Germany went back on their word and began submarine attacks on all ships. This was a major impetus for the U.S. eventually entering the war.
The victims of the HMS Albion
The HMS Albion was a brand-new battleship launched into the Thames River in East London on June 21, 1898. With its launch came lots of fanfare: It was christened by the Duchess of York, Mary of Teck, future queen of England. About 30,000 people had gathered to watch the christening and launch, and 200 of them were perched on a rickety stand on the riverfront. As the ship slid into the river, it caused a massive wave that swept over the stand and destroyed it, killing 38 spectators in the process.
An onlooker filmed the launch from the opposite side. Eerily, one minute the stand with the spectators is visible, but the ship then blocks it from view. Once the ship moves past they're no longer there. The filmmaker later met with backlashfor sharing his footage of the disaster, ultimately sparking debate about ethicsin filmmaking. 
Newspapers reported that week that many of the 200 people who fell into the river were saved by sailors on the ship who threw them life buoys. The many victims, however, included the elderly and the very young.
Titanic Captain E.J. Smith
The most famous maritime disaster was the sinking of the RMS Titanic. On April 2, 1912, Gaumont filmed a newsreel of the ship leaving Belfast, where the ship was built, and heading to Southhampton, where the maiden voyage would begin. About a minute into the video, the ship's captain, E.J. Smith, appears on deck, calm and collected. Smith had been a sailor for more than 40 years, and his career up until that point had been relatively uneventful. As he stood on the deck in Belfast, he had no idea that was about to change.
Smith has sometimes been criticized for not taking iceberg warnings seriously enough, but no official investigation blamed him.Though Smith died in the sinking, his specific fate remains unclear. Survivors gave at least five different accounts of his death, with the most infamous being he shot himself before the ship went down. Others said they saw him in the water later, clinging to an overturned lifeboat or saving a child. Businessman Peter Pryal, who wasn't a Titanic passenger but knew Smith personally, claimed to have seen him alive months later.
Wireless operator Harold Bride's account to The New York Times of the sinking describes some of Smith's actions at the time. Bride described joking with Smith and others about what distress call to send, before they realized the gravity of the situation. As the ship floundered, Smith eventually told Bride and his partner to abandon the wireless cabin and save themselves, assuring them, "You have done your full duty."
King Alexander I of Yugoslavia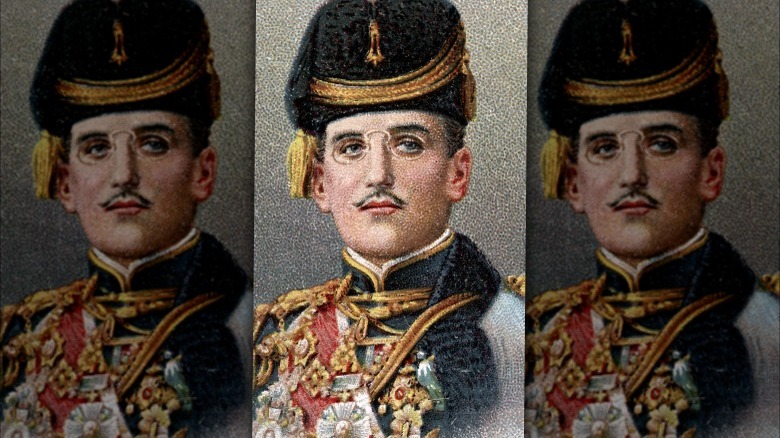 Print Collector/Getty
King Alexander I of Yugoslavia was ruler at a time of great discord. The kingdom included many different ethnic groups that didn't get along. Because of the dissention between the groups, Alexander established a dictatorshipmidway through his reign. All this made him a target of the Internal Macedonian Revolutionary Organization, which fought for Macedonian independence from Yugoslavia.
On a state visit to Paris in 1934, Alexander was assassinated by a member of the organization, Vlado Chernozemski.A spectator captured the moments just before and just after the incident. The film, via British Pathe, shows Alexander arriving by ship to Marseille, France, walking with French Foreign Minister Louis Barthou through a throng of people to their car. The New York Times reported beforehand that his visit was crucial for the future of relations between France, Yugoslavia, and Italy.
Unknowing of the horror to come, the two smiled and waved to the crowd as they proceeded through Marseille. In an open car, the pair were easy marks. The film immediately cuts way the chaos after the shooting and an unsettling close-up of the king's corpse. Chernozemski had jumped out of the crowd of spectators and shot the king. He also died in the chaos that followed. Just out of frame can be seen Berthou disappearing, but he was also killed, possibly by shots from the responding police.
Martin Luther King Jr.
On April 3, 1968, Martin Luther King Jr. was in Memphis supporting Black sanitation workers who were striking for higher wages, giving a speech at the Bishop Charles Mason Temple. The next day, he was assassinated.
His April 3 speech was eerily prophetic. He spoke of a previous assassination attempt against him in 1958. Later, he acknowledged that he might not live to old age but said he'd made peace with the idea. "Like anybody, I would like to live a long life — longevity has its place. But I'm not concerned about that now. I just want to do God's will. And He's allowed me to go up to the mountain. And I've looked over, and I've seen the Promised Land," he said. He assured his supporters that they would get there, with or without him.
On April 5, the day after the assassination, outlets reported looting and arson in Memphis, as well as violence in Harlem and Brooklyn. Other Black leaders, as well as President Lyndon B. Johnson, advocated for nonviolent resposes, in keeping with King's legacy. As King had predicted, the Civil Rights movement carried on without him.
Anne Frank
Before the diary, before the secret annex, before the concentration camps, Anne Frank had a life much like any other 13-year-old girl's, including watching her neighbors get married. On July 22, 1941, she was captured on film leaning out the window of her family's apartment at Merwedeplein 37 in Amsterdam to watch her neighbors' wedding party pass by. Less than a year later, Frank would go into hiding in the secret annex of her father's business, where she and her family would remain for two years.
More than a decade later, after Frank's diary had become famous, the neighbors recognized her in the video and shared it with her father. Later still, they shared it with the Anne Frank House museum. It's the only known film footage of Frank. 
Less than four years later, Frank died at Bergen-Belsen concentration camp. Frank's legacy –- and the reminder of her fate -– lives on through her diary and the museum. As for her former apartment, seen in the video, "Its purpose remains the same: the apartment provides accommodation to writers from abroad who cannot work in freedom in their own countries" (via Anne Frank House).