Why Guns N' Roses Won't Release A New Album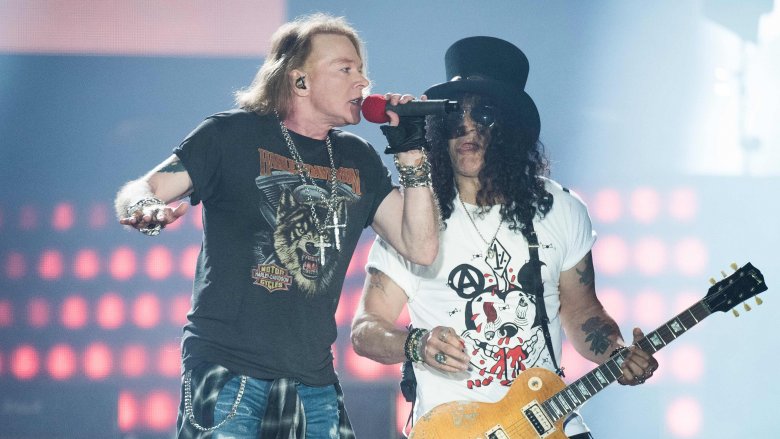 Getty Images
When Guns N' Roses singer Axl Rose announced a reunion tour with former bandmates Slash (on guitar) and Duff McKagan (on bass), the cheers from hard rock fans could be heard around the world. Rose had spent years touring with a "new lineup" of GN'R (which basically consisted of Rose and whomever he wanted to play with), and fans had flocked to shows to see him, but not with the fervor with which they had greeted the original lineup of the band. This new version of the group even completed and released the Chinese Democracy album, which took 15 years to make, though it was greeted with a collective yawn from listeners.
The reunion tour has been successful, both financially and as an artistic endeavor, which raises the question: Will the classic trio be making any new music together? Some have high hopes that Rose, Slash, and McKagan can find some creative spark that will guide them to creating an opus on par with their best work — a new "Welcome to the Jungle," "November Rain," "Rocket Queen," or "Sweet Child O' Mine." Not to ruin anyone's hopes, but the likelihood of new Guns N' Roses music happening is, at best, slim.
They're making a ton of money on the road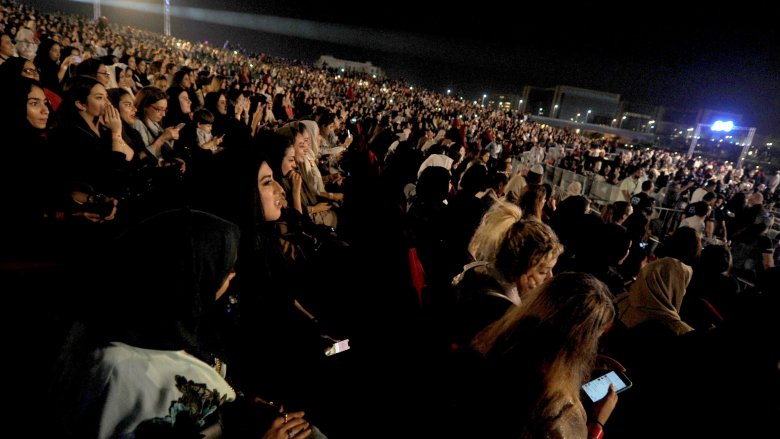 Getty Images
The members of Guns N' Roses don't need to record even one more note to stay financially solvent; they're among the highest-grossing concert attractions of all time. According to Billboard, the band's never-ending Not in This Lifetime tour (which started in April 2016) has made more than $475 million in ticket sales thus far, with more shows coming up in Europe, Russia, the Middle East, and East Asia. That's more money than almost any other tour in the history of concert tours, with the exception of U2's 2009-2011 stadium tour ($736 million), the Rolling Stones' A Bigger Bang tour ($558 million) and Coldplay's 2016-2017 A Head Full of Dreams Tour, which grossed $523 million.
Guns N' Roses have played to 4.3 million fans, not including the tens of thousands who saw the band at festival dates. The biggest engagement on the tour was a two-night stand at London Stadium that sold more than 140,000 tickets and racked up $17.6 million in sales. The tour's biggest night in North America was the July 2016 show at MetLife Stadium in New York City, which bagged $11.6 million from a single concert. These figures come as a result of millions of people paying to see a band whose three core member have not recorded new, original music together since 1992 ... and very likely don't need to.
Axl and Slash are a volatile combination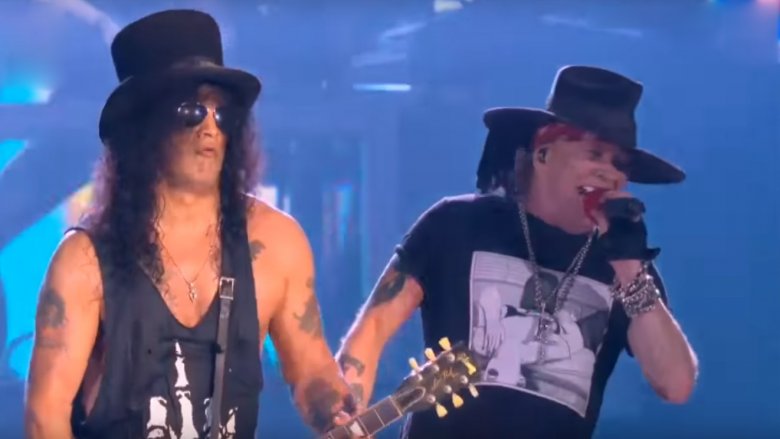 YouTube
There was a time not so long ago when the idea of Axl Rose and Slash being in the same room together was to invite the chance of a fight breaking out, or at least a really loud argument. The first signs happened when Rose indirectly called out Slash onstage in 1989, referring to the guitarist's heroin addiction when he told the crowd, "I'm tired of too many people in this organization dancing with Mr. Brownstone," referring to their song about heroin abuse. Doug Goldstein, Guns N' Roses' ex-manager, told Rolling Stone Brazil (via AOL) that the rift that broke up the pair was exacerbated when Slash agreed to play on Michael Jackson's song "Black or White." "I told [Slash] not to do it because Axl was molested by his father when he was two and he believed the charges against Michael Jackson," Goldstein said. 
The name-calling between the two in the press was legendary. According to Rolling Stone, Axl called Slash a "cancer" in 2009, and Slash admitted that Rose "hates my guts" in an interview with the magazine. Even though they appear to get along onstage now, with such volatility in play, it's hard to imagine the pair ever spending the kind of time together that recording a new album would warrant — months, if not years, of studio sessions, in close quarters.
Fans don't necessarily want new music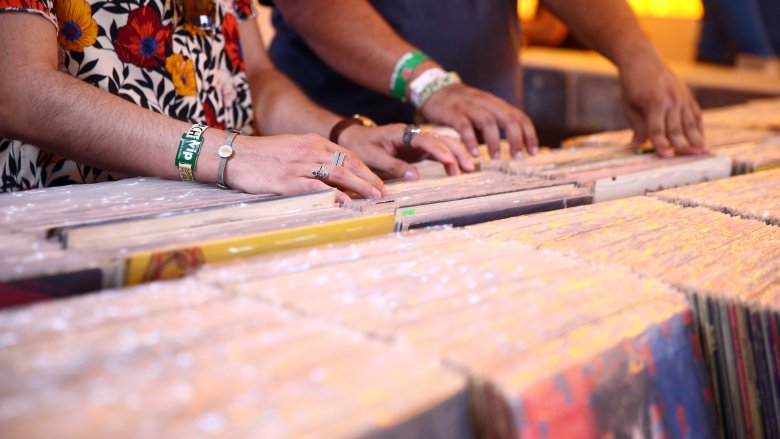 Getty Images
There's a joke that goes, "How do you increase beer sales at concert venues where so-called 'heritage' acts play?" The punchline: Just have the singer tell the crowd, "Here's one of our new songs." It works for making bathroom lines longer, too. Truth is, once bands hit 20 or 30 years, they tend to attract fans who want to relive nostalgic moments from their lives, not hear new songs that sound like old songs. Def Leppard put out a new album a couple years ago; you might hear one song from it on their current tour. Paul McCartney played 40 songs on his most recent stadium date; only four of them were from later than 1982.
Obviously, were Guns N' Roses to write, record, and release an album's worth of songs equal to the classics on Appetite for Destruction, fans of the band might clamor to buy them. Those songs would not, however, carry the emotional import of that summer night when you and your friends were driving around and "Sweet Child O' Mine" came on the radio and you had nothing but time ahead of you. Or when you'd come off a shift at that lousy summer job and play "Garden of Eden" just to blow off some steam. That's why most people pay the prices bands and promoters charge for stadium concerts — to relive old glories as their life's soundtrack plays right in front of them.
They might go to Vegas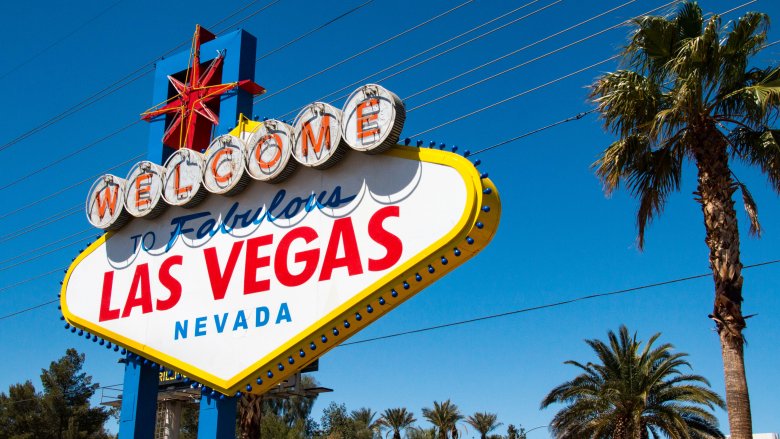 Shutterstock
Why drag (according to the Phoenix New Times) 36 trucks, 125 crew members, 106 speaker cabinets, 300 lights, and endless cables to locations around the world, when you could just compel your audience to come to you? And what better place to have them find you than Las Vegas, home of Wayne Newton, Cirque du Soleil, and Celine Dion?
Bands like Kiss, Def Leppard, Motley Crue, ZZ Top and The Who have all staged extended residencies at various locations in Sin City. Even Guns N' Roses themselves did it (albeit before Slash and Duff McKagan returned to the fold), performing 12 concerts at the Hard Rock Hotel and Casino in 2012 and another nine-date residency in 2014. Between these two runs of shows, there were pyrotechnics, Andrew Dice Clay opening, Nicolas Cage introducing the band, Sex Pistols covers, and several Izzy Stradlin sightings. Why wouldn't the band just set up shop on the Strip and do it all again, rather than slog through making another record?
Slash has other things he could be doing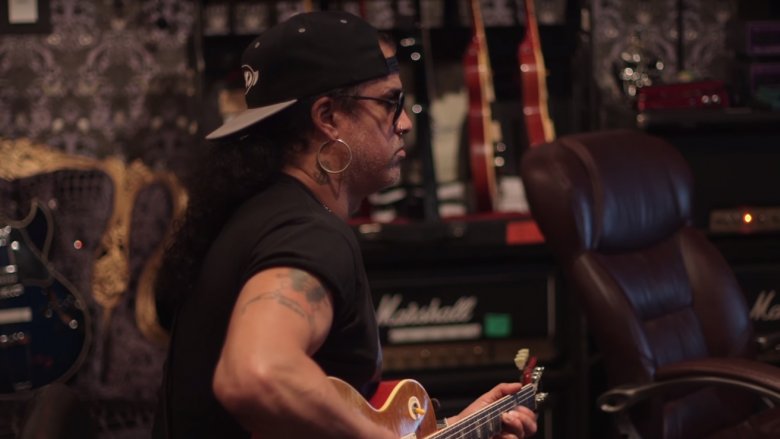 YouTube
Of the original five Guns N' Roses members, Slash has been easily the most active musician, playing on dozens of records with everyone from rock 'n' roll wild man Jerry Lee Lewis to animated step-brothers Phineas and Ferb. Under his own name, he's made three studio and three live records, mostly with Alter Bridge vocalist Myles Kennedy and a band Slash dubbed the Conspirators. With Slash's Snakepit, he made two albums, and playing with ex-Guns Duff McKagan and Matt Sorum (not to mention the late Stone Temple Pilots front man Scott Weiland), he helped navigate Velvet Revolver through two studio albums, including their double-platinum No. 1 debut, Contraband (the one with "Slither" and "Fall to Pieces"). In other words, he has not rested on his laurels, though as the man who co-wrote "Welcome to the Jungle," "Paradise City," and "Sweet Child O' Mine," he very well could have.
Slash seems to enjoy the process of creating music, as well as playing existing compositions, and is not likely to cease creating, even as he spends years focused on playing classic material with Guns N' Roses. In March 2018, Slash's girlfriend Meegan Hodges shared a video of the guitarist in the studio with Conspirators bassist Todd Kerns for an undetermined project, which may or may not be a new record with Kennedy and the Conspirators. Kerns thinks such a project will happen. "I 100 percent believe that this will reconvene at some point," he told Alternative Nation.
There will always be someone willing to pay them to perform
Getty Images
A decade ago, the prospect of a reunion of Axl Rose, Slash, and Duff McKagan was unthinkable, regardless of how much money was thrown their way. That had them in the same company as acts like ABBA (who had turned down $1 billion to reunite, according to E! News), Led Zeppelin (whose singer, Robert Plant, allegedly turned down an $800 million deal from Virgin honcho Richard Branson to get back together — a rumor that turned out to be untrue), and, however jokingly, even the Beatles, whom Saturday Night Live producer Lorne Michaels once offered the princely sum of $3,000 to appear on the show.
Animosity can keep one from earning a ton of dough, though. While most would agree there aren't a lot of people willing to pay for records anymore (streaming and illegal downloading have seen to that), there seems to be no shortage of those willing to pay for GN'R to perform live. This includes the organizers of such festivals as Coachella, Rock in Rio, and Download, as well as the backers of a Formula One race in Abu Dhabi. It's one reason the band's Not in This Lifetime tour has stretched on for years, and it probably gives them several million reasons to keep working on the road and not at the studio.
They're celebrating their past, and have plenty more they could celebrate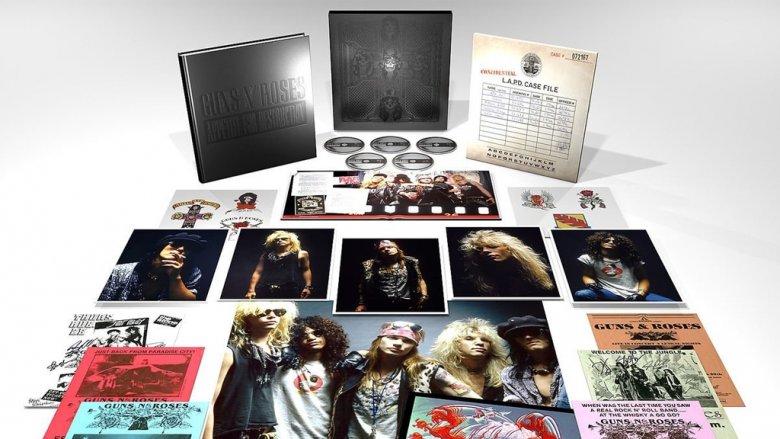 Geffen Records
Guns N' Roses are celebrating the 30th anniversary of Appetite for Destruction's release by issuing a massive box set chock full of bonus materials, in addition to a remastered reissue of the album. According to Billboard, the Appetite for Destruction: Locked N' Loaded Edition features "73 total tracks (49 of which are unreleased) spread out across four CDs and seven 12-inch 180-gram LPs. Housed in a custom wood box wrapped in faux leather, the massive set will also include a pressing of 1986's Live ?!*@ Like a Suicide EP," as well as unreleased recordings from various sessions, plus a book, patches, guitar picks, a USB stick, temporary tattoos, and more related accessories. The set was preceded by a newly released video for "It's So Easy," and an advance single, "Shadow of Your Love," even made the Billboard Mainstream Rocks Songs chart, the first time in nine years the band had appeared there.
The possibility of further reissues down the road could pull the band's concentration away from moving forward and making new music. If Appetite for Destruction's box set took up four CDs and seven slabs of vinyl, imagine what a box for the Use Your Illusion albums might look like. There would be much to sift through, both in studio sessions and two and a half years' worth of live shows. Would they have the time for new music if they undertook such an extensive project?
They don't want to become 'ordinary'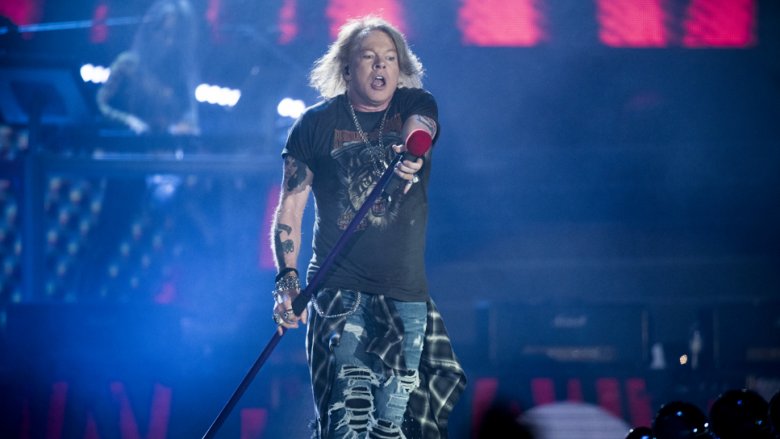 Getty Images
One reason Guns N' Roses' ongoing tour started out so strong was the novelty of seeing Axl Rose, Duff McKagan, and Slash on the same stage again. (It's one reason the name "Not in This Lifetime" was so apropos.) What has sustained the tour's popularity is the idea that it could all go away at some point — when you've played every enormous stage on the planet, there's not much more to do except either go back and play them again with the same songs (to diminishing returns), change things up somehow, or hang it up. The first option is probably a non-starter, and, judging from the group's set lists, they seem unwilling to do more than throw in an extra cover song or two to alter the selections they play, so the second option is also probably out.
Rolling Stone made a few suggestions of where they band could go from here, and one of the thoughts they offered was to record a new album in order to "simply become a normal band again that releases new albums and takes them on the road." After years of being greeted as conquering heroes, though, it's unclear why they would want to embrace the "normal" album/tour/album/tour cycle, particularly since they really haven't done that since the Use Your Illusion records were released. If one thing is certain about GN'R, it's that they've never done the "ordinary" thing.
AC/DC might come calling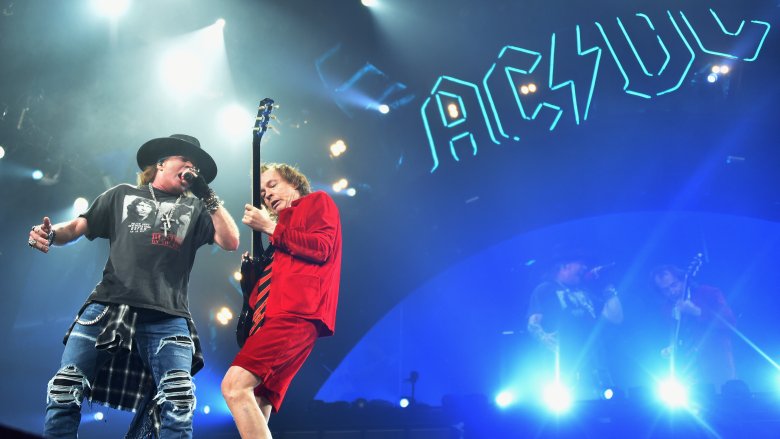 Getty Images
Axl Rose turned heads by picking up the lead singer mic for AC/DC when Brian Johnson had to put it down, reportedly for medical reasons. Though some were skeptical before he took the stage the first time with the Australian powerhouse, Rose proved himself more than capable of fronting the band, impressing guitarist and AC/DC leader Angus Young. Whether AC/DC will continue on with Rose as vocalist has been the subject of an abundance of rumors. The band's biographer, Murray Englehart, said in a Facebook post, "AC/DC will continue with Axl on vocals — new album, touring, the whole nine yards. What was a massive gamble by Angus turned out to be an equally enormous triumph that has set the scene for the future."
Rose Tattoo front man Angry Anderson, a friend of Young's, recounted a conversation with Young in an interview with The Rock Pit: "[Young said] 'Mate I'm writing a new album.' I thought 'Cool' so I asked him who was in the band and he said 'Axl.'" When asked about the situation by Duke TV, AC/DC's current drummer, Chris Slade, coyly responded, "My lips are sealed." If AC/DC do indeed rev up again with Rose on vocals, and if the band's history is any indication, it would likely take years to complete an album/tour process — years that Axl would be unavailable for new Guns N' Roses tracks.
A 'Chinese Democracy' sequel waits in the wings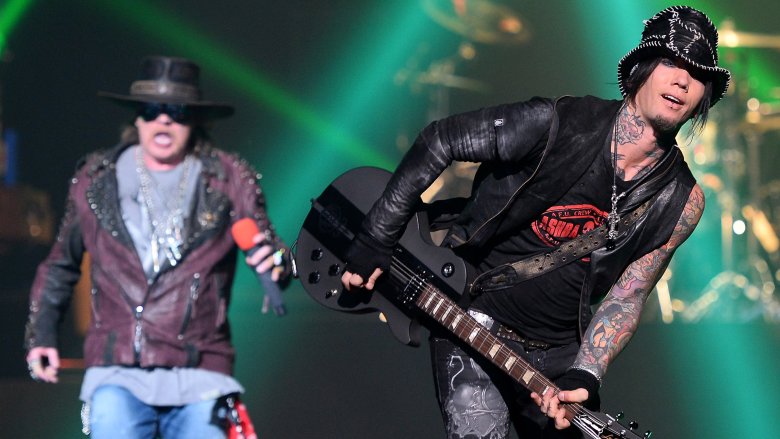 Getty Images
Prior to the conception of the Not in This Lifetime tour, Axl Rose still ran a version of Guns N' Roses, with Tommy Stinson (of the Replacements) on bass and guitarists Ron "Bumblefoot" Thal and DJ Ashba. Stinson and Thal were among the many musicians who helped Rose record Chinese Democracy, and who ostensibly played on new material that GN'R lineup recorded after the album was released. Rose referred to a follow-up album in a 2014 interview with Revolver. "[W]e have what I call kind of the second half of Chinese [Democracy]," he said. "That's already recorded. And then we have a remix album made of the songs from Chinese. That's been done for a while, too." Guitarist Richard Fortus, who still plays in GN'R, also told the Associated Press in 2014 that the band was "working on stuff."
There are several questions that arise when considering this new music, in the context of what has transpired since, with the reunion. Will Axl Rose do anything with the music he and the Chinese Democracy lineup of the band recorded? If he does move forward, will he release the music as is, or have Slash and Duff McKagan record new parts? Will they be willing to do that, or would they prefer to contribute their own songwriting to such an endeavor? As is so often the case with Guns N' Roses, there's only one person who can answer those questions — the guy with the microphone. And he's not talking.