Mick Mars' Bitter Lawsuit Against Mötley Crüe Explained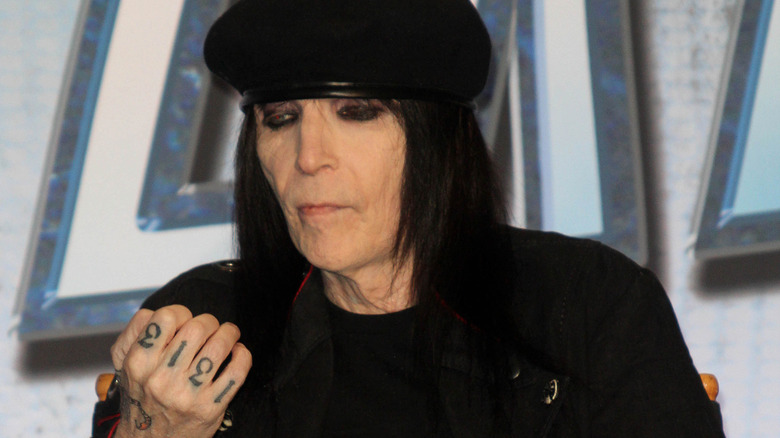 s_bukley/Shutterstock
All is not well for Mötley Crüe, the long-running hair metal band from the '80s, Variety reports. In 2022, Rolling Stone wrote that Crüe's lead guitarist and founding member, Mick Mars, would no longer tour with the group. Worsening health issues were cited. Mars, in his early 70s when his retirement was announced, had lived with ankylosing spondylitis for decades, an often debilitating form of inflammatory arthritis, per Cleveland Clinic.
As of Rolling Stone's report, it seemed like Mars might maintain some involvement with the veteran rock group, as the other members — Vince Neil, Nikki Sixx, and Tommy Lee — graciously accepted his decision to quit touring. Mars' statement to Variety announcing the news read: "Mick will continue as a member of the band, but can no longer handle the rigors of the road." 
The remaining Crüe members saw things differently, though. According to Neil, Sixx, and Lee, Mars had retired completely. "While change is never easy, we accept Mick's decision to retire from the band due to the challenges with his health. ... To say 'enough is enough' is the ultimate act of courage," their statement read (via Billboard). One year later, Mars brought a lawsuit against his bandmates in Los Angeles, alleging that his fellow Mötley Crüe musicians not only tried to "gaslight" him, but they also tried to fire him and block all his future Crüe earnings.
The band may have tried to fire Mick Mars once before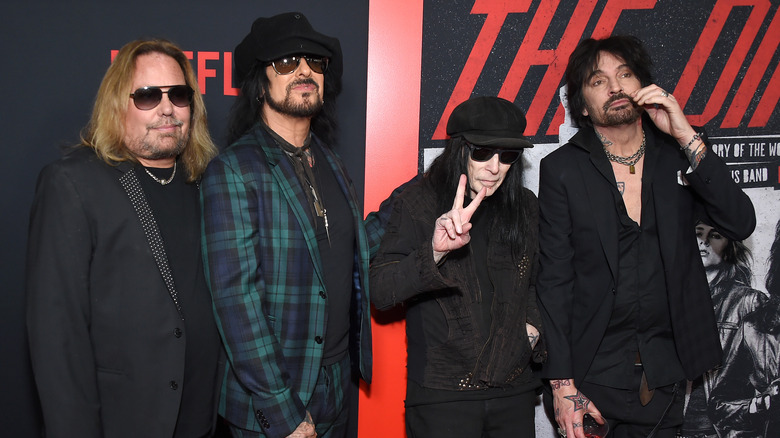 DFree/Shutterstock
The 2023 lawsuit brought against Mötley Crüe by lead guitarist Mick Mars was not the first time in the band's history that possible divisions emerged between him and the rest of the group. According to the suit, Crüe et. al — but especially bassist Nikki Sixx who reportedly heads up Crüe business matters — verbally harassed Mars for years. It also claimed the group was intentionally withholding business information from him about Crüe-based franchises.
As alleged in legal documents filed with Los Angeles County's Superior Court in early April 2023, Sixx, Lee, and Neil tried to compel Mars to relinquish all involvement in the band and accept a diminishing share of future earnings. According to Mars, he would eventually earn nothing. In 2015, Crüe, with Mars in tow, embarked on their so-called final tour, only to reunite in 2019, BBC News reports. At the time that Mars' lawsuit was filed, Mötley Crüe had plans for another world tour.
Per Blabbermouth, Mars' bandmates tried to ax the ax man once before in 1984. According to Ozzy Osbourne guitarist Jake E. Lee, he was the possible replacement (via Loudwire). According to Ozzy bassist Bob Daisley, he talked the band out of the decision. In 2019, Crüe bassist Nikki Sixx called the Mars replacement theory "a made-up story" on Twitter. "Everybody wants peice of the Crüe now [sic]," Sixx wrote.
Some Mötley Crüe members don't play their parts on stage, Mars alleged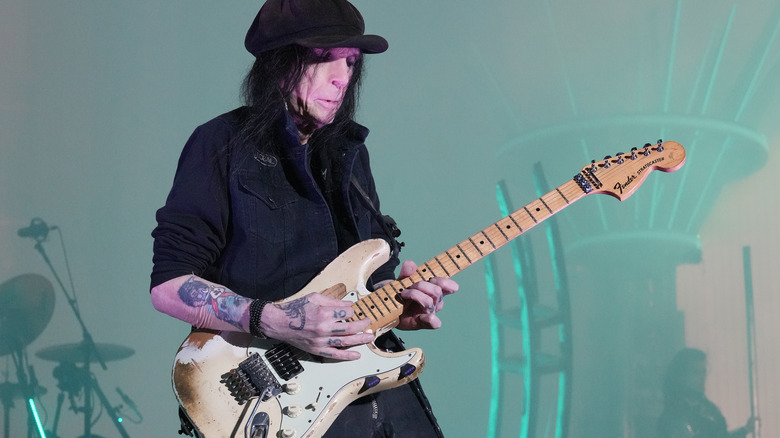 Kevin Mazur/Getty Images
Mick Mars' 2023 lawsuit also claims members of the group — especially bassist Nikki Sixx — were verbally abusive toward him. The suit also alleges that on a 2022 world tour, Mars could no longer play his parts due to cognitive challenges. Mars admits he made some mistakes playing live on stage but countered by saying that he played his parts better than the other band members, who purportedly performed almost completely to pre-recorded backing tracks.
Mars' lawsuit, which reportedly only asks for paperwork and documents related to sundry Mötley Crüe-related enterprises — some of which Mars was not even aware of until only recently — asks that the band abide by their longstanding 25% split between bandmates. According to the suit, once Mars' decision to quit performing was announced, remaining members held "an emergency shareholders' meeting for the band's main corporate entity in order to throw Mars out of the band, to fire him as a director of the corporation, to fire him as an officer of the corporation, and to take away his shares of the corporation." When Mars failed to acquiesce, they took further punitive actions against him.
As of April 2023, heavy metal guitarist John 5 was set to replace Mars on Crüe's world tour the same year. According to Mars, he wanted to remain involved in recording projects, occasional live appearances, and possible performance residencies.