The Story Of Edvard Munch's Haunting Painting, The Dead Mother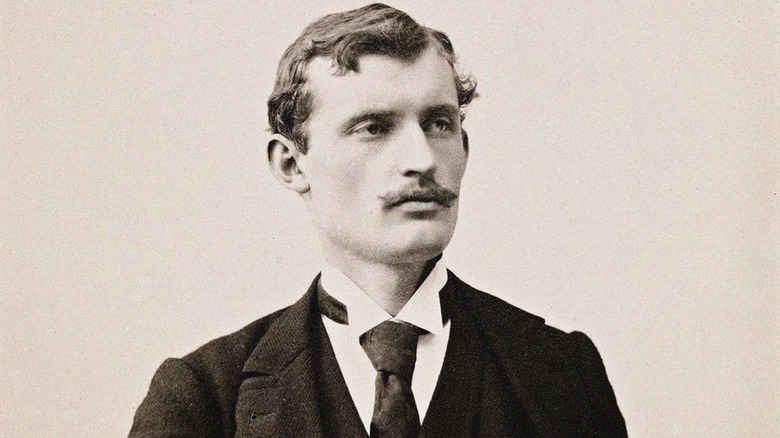 Heritage Images/Getty Images
When people think of Norwegian painter Edvard Munch, they most often picture "The Scream." Rendered in four different versions throughout Munch's life, "The Scream" depicts a haunted spectral figure standing on a bridge, with both hands on either side of its face, twisted in some form of anguish, according to BBC Culture. Today, Munch's infinitely recognizable image — first painted in 1893 — can be seen on any number of postcards and posters, but as Munch himself said, the work was inspired by nothing more than a "gust of melancholy."
Less well-known, Munch's "The Dead Mother" (sometimes called "The Dead Mother and Her Child") tells a far more autobiographical story. In it, similar to "The Scream," a young child stands in the foreground, hands to its head, with an equally shocked and existentially unsettled expression on its face. Munch, who lived with a number of mental and emotional challenges, produced several versions of "The Dead Mother" in his lifetime. In the foreground, a dead woman lies on a bed, per the Jule Collins Smith Museum of Fine Art. The subject matter is drawn from tragedy early on in Munch's life.
Munch's mother died when he was five
The most obvious autobiographical reference in Munch's "The Dead Mother" across all its different versions is the fact his mother, Laura, died from tuberculosis (TB) when the artist was just five years old, according to Munch Museet, a museum named after the esteemed artist in Oslo, Norway, where Edvard Munch lived. Munch himself was sickly as a child, and many of Munch's drawings, sketches, and paintings reference this time period. The death of Munch's beloved mother was just one of many tragedies that befell young Munch. 
At the age of 15, Munch's sister, Sophie, also died from TB. Additionally, Munch's father died when Munch was young, as did his brother. Meanwhile, the mental health of another Munch sister declined. Of the terrible tragedies from Munch's childhood and younger years, Munch said, "Illness, insanity, and death were the black angels that kept watch over my cradle and accompanied me all my life" (per Britannica). It's easy to imagine, then, that the young figure seen in "The Dead Mother" in all its iterations was Munch himself, processing his mother's loss while he was a child. What's more, images of so-called sick rooms showed up in other Edvard Munch works, such as "Death in the Sickroom," among others.
The image is possibly haunted
It's not certain if the figure in "The Dead Mother" is Munch, as it also appears to be dressed as a young girl, possibly representing Munch's sister, Sophie, reacting to her mother, Laura's death. That ambiguity is more apparent in an etching also called "The Dead Mother and Her Child," seen above (via The Art Institute of Chicago). As Munch was only five when his mother died, it's difficult to determine whether the figure is Munch as a child, since many young boys at that time wore female-coded children's clothing, according to Babyology.
Given the intense subject matter of "The Dead Mother," there are also many urban legends that it's haunted, or possibly cursed. Some are said to have claimed to see the young child's eyes follow them as they move or to have heard the bed sheets rustling, according to the "ArtCurious" podcast hosted by Jennifer Dasal. Per The History of Art, Munch commented on the impact his mother's early death had on him: "In my childhood I always felt that I was treated unjustly, without a mother, sick, and with the threat of punishment in Hell hanging over my head." It's a feeling aptly depicted in "The Dead Mother," perhaps Munch's most haunting series of works.