The Guinness World Record Al Jaffee Proudly Held
Longtime Mad Magazine cartoonist Al Jaffee died on Monday, April 10, 2023 in Manhattan at the age of 102. His cause of death was multiple-system organ failure, according to his granddaughter, Fani Thomson, The New York Times reports. Jaffee's Mad Magazine contributions were hugely influential on 20th-century humor. He also innovated the Mad fold-in cover, among the publication's most recognizable features and developed Mad's "Snappy Answers to Stupid Questions." In 2016, Jaffee's career earned him one further distinction: a Guinness World Record for the longest career ever as a comic artist (via Guinness World Records). 
On Jaffee's contributions over more than half a century, current Mad Magazine art director Suzy Hutchinson told CNN: "[Jaffee] was a national treasure, and it was an honor to work with and learn from such an ingenious, caring, and wholly creative soul, the best of the Original Gang of Idiots," Hutchinson said, referencing the nickname for Mad Magazine staffers — "The Usual Gang of Idiots." Jaffee remained a freelance contributor to Mad Magazine his whole career and never joined the magazine staff full-time.
Mad Magazine premiered in 1952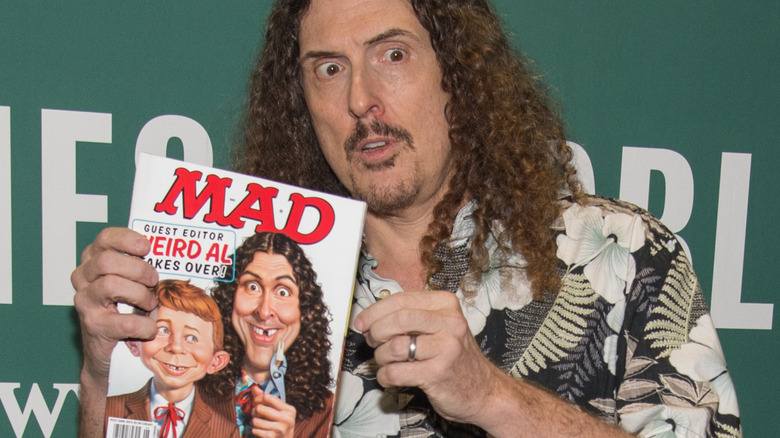 Mark Sagliocco/Getty Images
Founded by Harvey Kurtzman and William Gaines, Mad Magazine's first edition is dated 1952, and Al Jaffee joined three years later, The Guardian writes. His first fold-in came out in the April, 1964 edition, a cover that at first seemed to present one image only to fold-in and reveal a second visual punchline. This device parodied the Playboy Magazine centerfold which debuted in the same era. The only other cartoonist to ever create a fold-in was Johnny Sampson, who took the reigns for a special issue in 2019, with Jaffee's consent. 
Remembering the early days of the fold-in, in 2008, Jaffee told The Times the concept was meant to only be a one-off. At that time, he told then-editor, Al Feldstein, and publisher William M. Gaines: "I have this idea, I think it's a funny idea, but I know you're not going to buy it. But I'm going to show it to you anyway. And you're not going to buy it because it mutilates the magazine." A smashing success, the Mad fold-in cover was here to stay.
Jaffee retired from Mad Magazine in 2020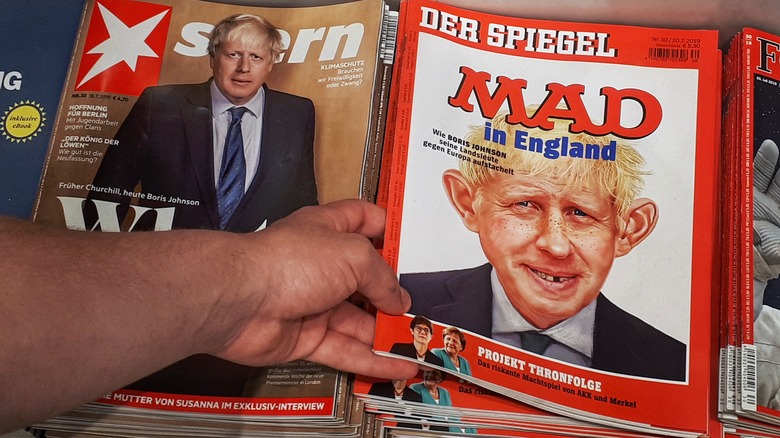 David Silverman/Getty Images
Among other accolades, in 2016, on this 95th birthday, Al Jaffee earned the Guinness World Record for the longest career as a comic artist: 73 years and 3 months. His career in cartooning overall began in 1942, and Jaffee worked for other publications prior to Mad Magazine, such as Timely Comics which evolved into Marvel Comics. After his first contribution to Mad in 1955, he left and worked elsewhere when co-founder Harvey Kurtzman quit. Jaffee came back a short time later, and brought the fold-in cover concept with him, the Associated Press reports.
Also in 2016, then-New York mayor Bill de Blasio declared Jaffee's birthday, "Al Jaffee Day" in the city. In 2019, Mad announced it would no longer produce all-new material in print, save a year-end special edition. In 2020, he officially retired from the magazine at age 99, per The Washington Post. 
The late artist was born Abraham Jaffee in Savannah, Georgia, March 13, 1921, in Savannah, Georgia to Lithuanian Jewish immigrants. When he was 6 his mother took him and his brothers back to Lithuania where Jaffee lived until returning to the U.S. when he was 12. Per The New York Times, his father would send him comics from the Sunday papers while they were apart, which sparked his interest in drawing cartoons. When he came back to New York, he enrolled in art school where his peers included some of the people who would one day start Mad Magazine.