What Happens After A New American President Takes Office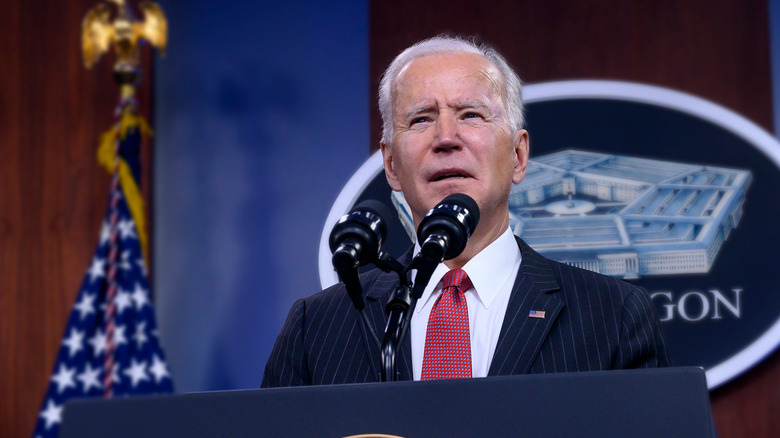 BiksuTong/Shutterstock
Being president of the United States –- or any nation for that matter –- is no easy job. There is an endless amout of work, whether dealing with national crises, natural disasters, foreign policy, or working with politicians in Congress to lobby for legislation you campaigned on. The presidency can be a real headache. Due to these high-stakes responsibilities the president is expected to fulfill, there is a lot of housework needed to be done on the first few days of the job.
It may seem fun and surreal to be standing on the balcony of the Capitol building, giving a speech to millions as the president gets ready to go headfirst into the new role, but sadly it's not all sunshine and rainbows. As great as it would be to celebrate and eat nothing but ice cream those first few days, as the current President Joe Biden is very fond of, being a newly inaugurated president means getting acclimated with political leaders, federal agencies, and showing the American people they mean real business ... and no, not playing golf. So what exactly does a new American president do their first few days? 
Inauguration Day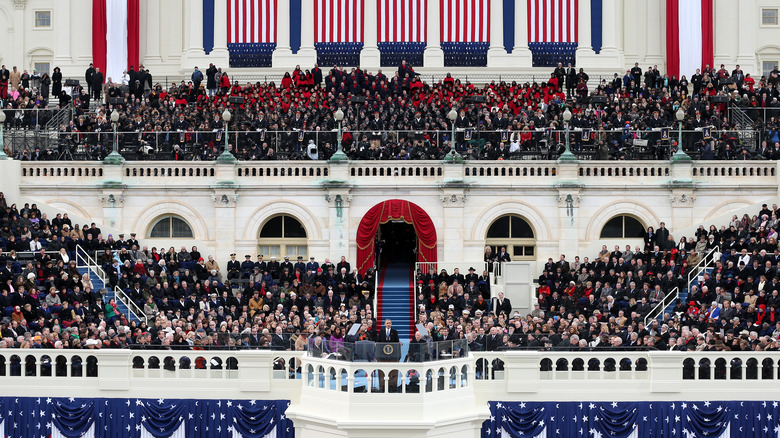 Justin Sullivan/Getty Images
According to the 20th Amendment of the U.S. Constitution, the president-elect takes the oath of office at high noon on January 20 every four years. This day is usually full of celebration, and many public officials, celebrities, and other influential people worldwide come to participate in the event. Since President Ronald Reagan's inauguration in 1981, the ceremony has been held on the West front of the U.S. Capitol building, though the new incoming president doesn't spend the entire day here. This event is also ceremonial, as shows the world that the United States can have a peaceful transfer of power between administrations, even if they sharply disagree on how to run the country. When Trump left the White House in 2021, he did so without attending the ceremony, breaking a 150-year-old tradition.
After being sworn in, the new president then typically gives a speech to set the tone of their term, outlining goals and ideas for their administration. The next few hours of the president's first day is spent enjoying the pomp and circumstance the big day. Following a luncheon at the Capitol, the new president and spouse, along with guests, enjoy the inaugural parade. Many presidents have chosen to walk in the procession, although it's not a long-standing tradition. Also a wreath-laying ceremony at Arlington National Cemetary marks one of the president's first official acts that day. Inauguration day closes out with a little glitz and glamour courtesy of the inaugural ball, which in years past has seen celebrities like Beyonce, Frank Sinatra, Alicia Keys, and even John Lennon and Yoko Ono. 
Attending the National Prayer Service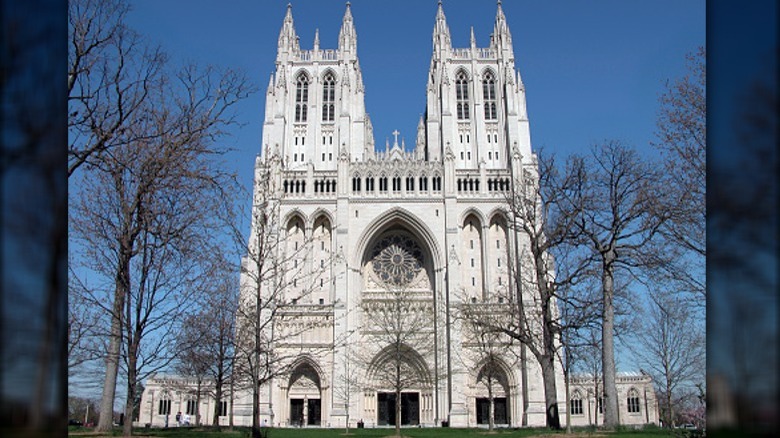 Jmaehl/Getty Images
On the morning after Inauguration Day, the president usually partakes in the Inaugural Prayer Service, a tradition that was started by the United States' first president, George Washington. Though the ceremony had not been consistent since Washington, President Franklin Delano Roosevelt had the first official service at his 1933 inauguration, and there has been a service at every inauguration since. Usually, the event is held at the National Cathedral in Washington D.C., but some presidents choose to have the service elsewhere.
Former President Bill Clinton did this in 1993 and 1997 when he had the Inaugural Prayer Service held at the Metropolitan AME Church, which was known for being a historically Black church. For President Joe Biden's inauguration, the prayer service was held virtually to accommodate for social distancing during the COVID-19 pandemic. The service has multiple religious leaders from a variety of faiths that come together to provide inspiration to not only the new president but the American people as well.
Setting the Agenda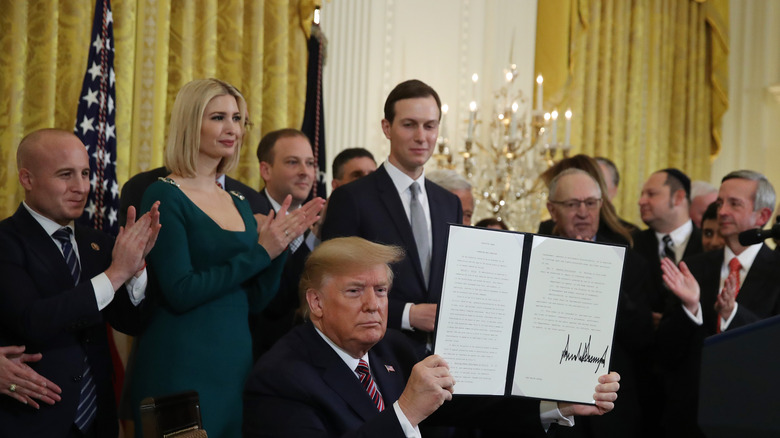 Mark Wilson/Getty Images
Once the president of the United States gets to the Oval Office for the first time, they usually immediately get to work by signing a slew of executive orders. For instance, President Joe Biden signed 17 executive orders on his first day of office. These executive actions implemented policies on a variety of issues, ranging from setting up a Covid-19 committee to protecting LGBTQ+ workers from discrimination by employers. Many of these executive orders also overturned the Trump administration's policies, such as halting the construction of the United States-Mexican border wall.
Biden's predecessor, former President Donald Trump, only signed one executive order on his Inauguration Day. This order gave federal agencies and other departments the right to delay the implementation of the Affordable Care Act, also known as Obamacare, one of former President Barack Obama's hallmark policy achievements. Though there isn't a specific provision in the U.S. Constitution that details what a president can and cannot do with an executive order, presidents have used Article II in the Constitution, which broadly defines the president's authority, including to "take care that the laws be faithfully executed," to justify this usage of power.
Assembling the Cabinet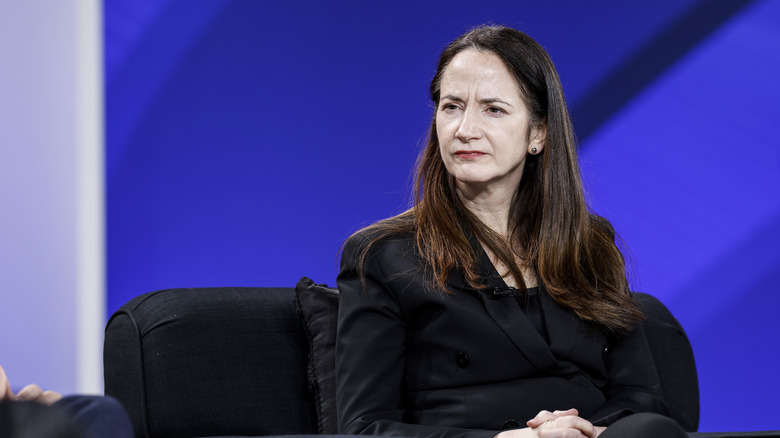 Anna Moneymaker/Getty Images
When you're the leader of the Free World, you'll probably find you can't do it all by yourself, and if you think you can, you're probably not doing the job exactly right. That's why one of the first tasks the president of the United States must do is appoint their Cabinet. The Cabinet is a group of people who are the heads of agencies within the executive branch that are responsible for collecting data, implementing and suggesting regulations, and cooperating with private industry to keep the economy running smoothly. Usually, these members advise the president on the best course of action, and they help the president get their legislative agenda passed.
While the president might start putting together their picks for Cabinet members before they are sworn into office, the positions must first be approved by the Senate. During the transition period before the commander-in-chief takes their oath on January 20, the nominees undergo their confirmation hearings. However, confirmations usually go on without a hitch and happen on Inauguration Day or immediately thereafter. 
President Joe Biden's first Cabinet pick to be accepted by the Senate was Avril Haines, the director of national intelligence, who was accepted by the Senate with an 84-10 vote on his first full day of office. His predecessors also had several nominees officially appointed on their first day, including President Barack Obama with six, and President George W. Bush with seven. 
Sending Bills to Congress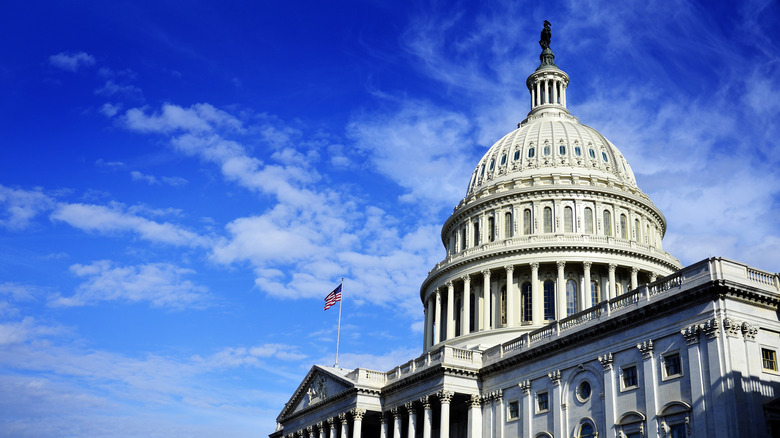 Eric1513/Getty Images
If you went to American public schools, then the "Just a Bill" song by Schoolhouse Rock is probably ingrained in your head, and therefore you're probably familiar with the amount of time it takes for a bill to become law. But even though the actual process of writing a bill, debating a bill, voting on a bill, and passing a bill may take months, newly inaugurated presidents might use their first few days to get a head start on their legislative agenda. On President Joe Biden's first full day of his presidency, he presented Congress with an Immigration Reform bill he was hoping would pass both chambers.
Likewise, former President Trump signed a bill (although he didn't send it to Congress himself) on his first full day that shortened the amount of time needed between being active military personnel and becoming secretary of defense from seven years to three years. This allowed Trump to nominate Gen. James Mattis for the position. Though sending bills to Congress in the first days is mostly a symbolic act, given that it might take months for a bill to even reach the president's desk, it still gives the president an early PR win.
Meeting with other Departments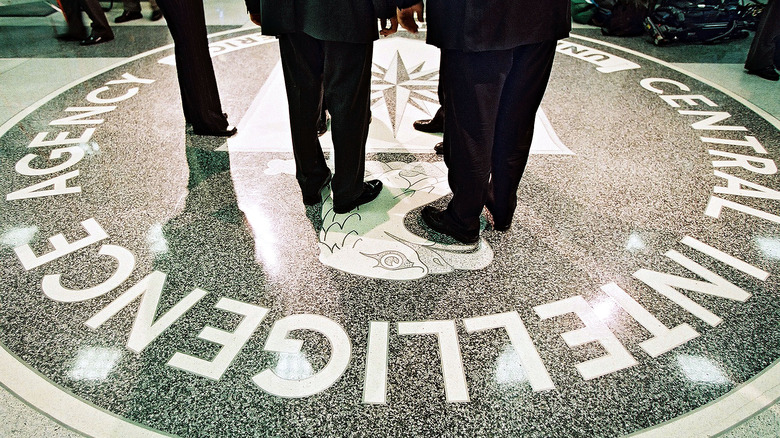 Pool/Getty Images
Other agencies within the federal government have leaders who are appointed by the president but serve after that president's term, unless the new incoming president fires them, as former President Donald Trump did with FBI Director James Comey, which led to claims that Trump was obstructing justice about the FBI's investigation involving Russia meddling in the 2016 election. Given that the new president might've not appointed them to their position, they may take the time to become acquainted with the heads of each department. Trump did this on his first full day in office when he went to the CIA to talk to officials to make amends for accusing the CIA of lying about Russian involvement in the election. Needless to say, it probably wasn't a jovial meeting. Likewise, former President Barack Obama met with leaders in the State Department, such as then-Secretary of State Hillary Clinton, on his third full day in office. 
Building relationships with these agencies is important for a new incoming president because they may have the information the president needs to take the right action on specific policy initiatives. Spreading disinformation or lacking communication with these intelligence groups sews public confusion and can worsen national crises if or when they occur. Given that one of the president's responsibilities is to guide the nation during such trying times, they must stay on good terms with these officials.
Talking to the Military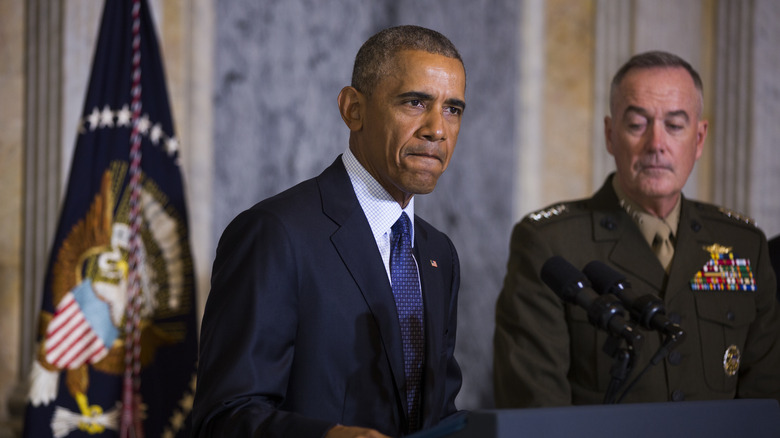 Pool/Getty Images
The president of the United States is not just the head of the Executive Branch, they are also the commander in chief. This means that the president has ultimate control over the nation's military, and all other high-ranking officers report to them. Because of this, the president usually takes the first couple of days to get acclimated with leading military officials or other retired military personnel to advise them on policy issues.
When former President Barack Obama became president in 2009, he quickly scheduled meetings with certain military officials, such as the Joint Chiefs of Staff, and other advisors to discuss a withdrawal of U.S. troops from Iraq, a major campaign promise when Obama was a candidate. Obama had this meeting to discuss whether the United States should withdraw for 16 months, as was Obama's wish, or if it should be the three-year process that both Iraq and the United States had already agreed to. By the end of 2011, the U.S. troops withdrew from Iraq, giving the former president a foreign policy victory.
Meeting with Congressional Leaders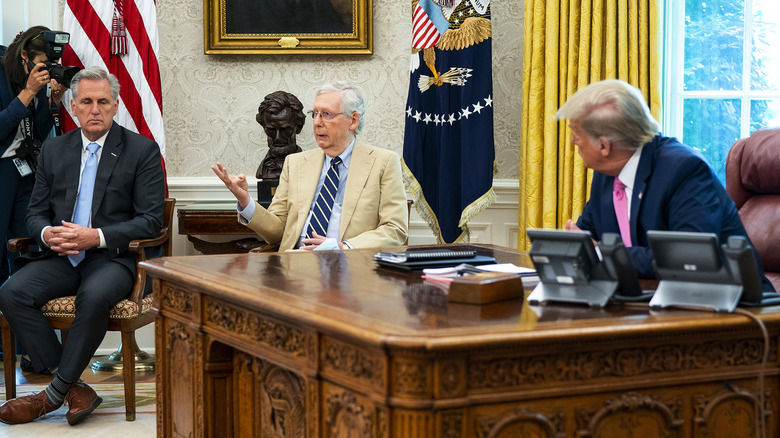 Pool/Getty Images
As much as the president may not like it, the Executive Branch doesn't yield all the power in the federal government, and thank goodness for that. However, this makes it a little more difficult if the president wants to get their legislative agenda passed, because they're going to have to work with members of Congress — and that means building political connections. When a new American president first takes office, they may use these first days to talk to leaders from across the aisle to try to navigate the best course of action for their agenda.
Former President Donald Trump did this on his third-full day of office when he had a meeting with both Democrat and Republican congressional leaders, where he came under controversy for claiming voter fraud in the general election that gave his opponent, Hillary Clinton, a victory with the popular vote. Nonetheless, meeting with these officials allowed Trump to create personal connections that helped him later on in his presidency, something that helped him in the long term.
Calling Foreign Leaders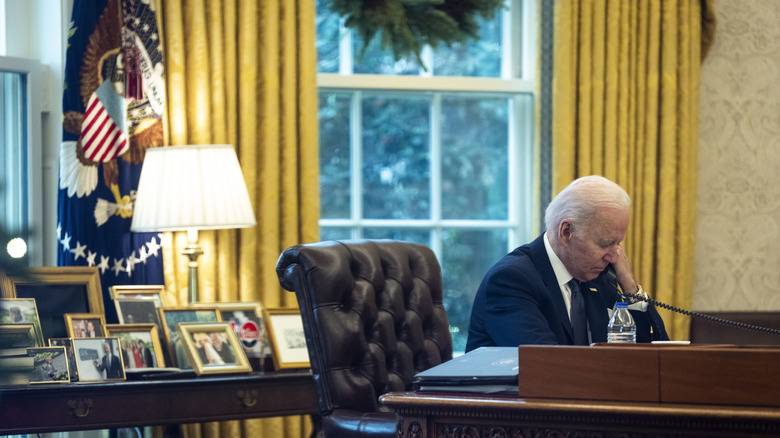 Pool/Getty Images
Being head executive of the federal government means that you are also the main representative of your nation's interests, and that means you'll have to communicate with other world leaders. New presidents take their first days to establish diplomatic communications with other countries across the world to clearly state their foreign policy positions going forward in the future.
On President Joe Biden's second full day in office, he called Prime Minister Justin Trudeau to discuss economic cooperation, and how to deal with the Covid-19 pandemic, as well as other issues such as climate change. The next day Biden got in contact with Boris Johnson to emphasize NATO's international role, military ties, and facing common enemies such as China and Russia. However, the president may talk with foreign leaders before they ever become president, either through diplomatic channels due to a prior position in the government, or when they win the presidency and talk to foreign leaders after the election. Altogether though, coordinating with different states allows the president to deal with more efficient and effective tools when it comes to protecting American interests.
First Intelligence Briefings
When the new incoming president takes office, he must get up to date with the most top-secret intelligence that has been collected by the U.S. government. Former President Barack Obama received his first intelligence briefing on his first full day in office. This event is commonly referred to as the presidential daily brief (PDB), and it's been a tradition since Harry Truman's administration. While the document is classified, a some from previous presidents have been declassified. For example, President Richard Nixon's daily brief the day after his inauguration included issues with the Middle East and Vietnam, an update on the Soviet space program, and early warnings of potential protests and harrassment from the USSR during an assembly to elect a new West German president (via the CIA).
The president has some discretion with how and when they receive the PDB. When Biden first came into office, he scheduled to have the PDB delivered to him and Vice President Kamala Harris in a written format consistently throughout the week, something that his administration felt was important when dealing with foreign adversaries. Former President Donald Trump, on the other hand, was known to have the PDB read to him aloud, and not very often either. 
The First 100 Days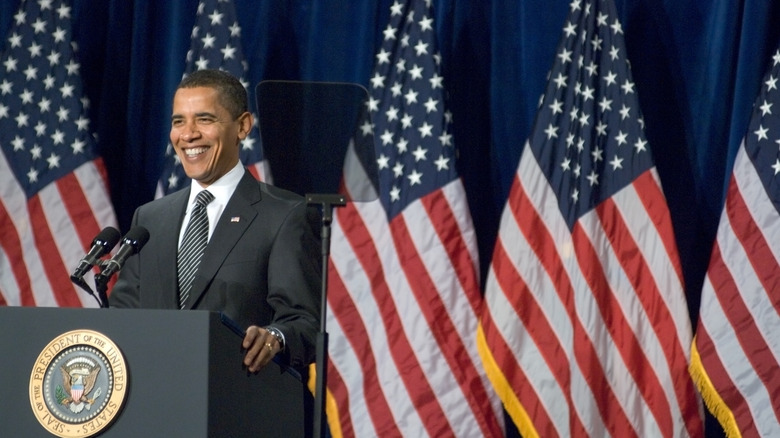 Christopher Halloran/Shutterstock
Overall, the first few days of the presidency can be quite stressful, but they are an important benchmark for what's to come. After the president meets with advisors, congressional leaders, foreign powers, and other activist groups, the public will start to have a clearer view of what the administration is focusing on. During this period, the president may emphasize their First 100 Days agenda, something that was popularized under President Franklin D. Roosevelt's first term.
Presidents usually try to use this timeframe to fulfill a lot of their campaign promises, and pundits take the time to examine how effective the president has been. President Joe Biden promised to have 100 million Americans vaccinated by his 100th day in office, and by the time that day came over 200 million had received at least their first shot. Before Biden, former President Donald Trump focused his first 100 days on deregulation, weakening the federal government, withdrawing from trade agreements, and passing term limits on Congressional leaders. Trump did make strides in achieving his First 100 Days agenda on his third full day of office when he implemented a hiring freeze on all federal agencies, excluding the military, something that he campaigned on and believed would stop the growth of an over-bloated federal government. Trump also withdrew from the Trans-Pacific Partnership on his first day in office, a major campaign promise he often discussed on the trail. 
Receiving a Word of Advice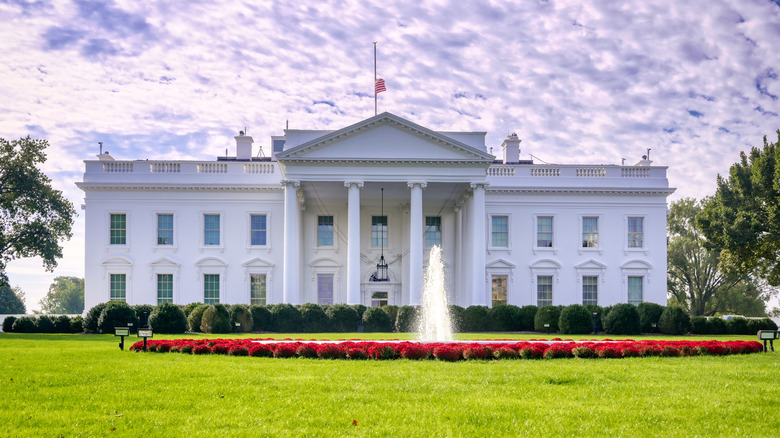 Jbyard/Getty Images
Not many people have the experience of being president of the United States, and this can make the job quite tricky at times. Who do you go to if you're not exactly sure how you should do your job? Well, luckily for the new incoming president, they may have some people who are watching their back. The first time the president enters the Oval Office, they may receive a gesture of kindness from their predecessor — a note of advice. While this tradition is fairly recent, starting back with President Ronald Reagan's letter to President George H. W. Bush, these notes can be comforting to the new leader of the free world.
Usually, these letters are used to exemplify unity and show that the former president hopes nothing but the best for the new president. Bush's letter to then-President Bill Clinton showed just this when he famously stated in his letter: "You will be our President when you read this note. I wish you well. I wish your family well. Your success is now our country's success. I am rooting hard for you. Good luck — George" (via CNN). And what better way to get started than knowing that regardless of political beliefs, you have the support of your nation?