The Symbolism In King Charles III's Coronation Invitation Explained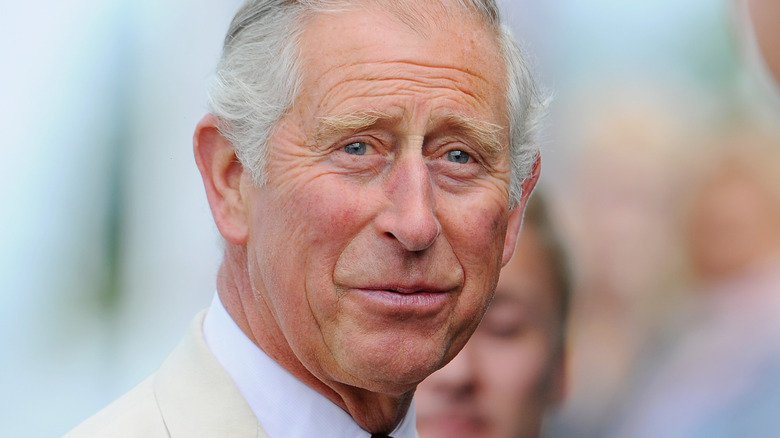 Eamonn M. Mccormack/Getty Images
Nation-states of all kinds are replete with symbols, but those of monarchies are often particularly ornate and eye-catching. Besides the crowns, robes, scepters, and other symbols of temporal power worn by kings and queens to state functions, the British royal family has coats of arms, ciphers, and standards, which change appearance depending on which side of the Scottish border you're talking about. As one reign comes to an end and another begins, monarchies might also choose to amend their symbols, or at least their use throughout society, to reflect the change of sovereign.
With no shortage of royal imagery to work from, one might think there was no need for additional material. But coronations aren't an everyday occurrence, and Charles III has built up a strong public image. Ahead of his crowning on May 6, 2023, the royal family commissioned a custom design for its coronation invitations, painted in watercolor and gouache by artist Andrew Jamieson, and made public on April 5 through the monarchy's various web platforms (via Instagram). The design by Jamieson, by trade a heraldic artist, not only incorporates the recognizable coat of arms of the United Kingdom, but a number of less apparent symbols and meanings in its nature-inspired patterns. Here's the significance of this symbology explained.
The Green Man has deep roots in British folklore
At the base of Charles III's coronation invitation, artist Andrew Jamieson painted a prominent green face, made of various leaves and crowned with wildflowers. This is a depiction of the Green Man, which the royal family's website claimed is a folk character with a long history in the British isles as a symbol of rejuvenation, hence his inclusion in an invitation to the beginning of a new reign.
That the Green Man is widely believed to be a figure from antiquity isn't disputed, but whether or not he actually is an ancient symbol is another matter. The modern perception of the Green Man comes from an article written by Julia Somerset, the Lady Raglan, in 1939. She was interested in the ubiquitous presence of faces made out of leaves in church architecture throughout Europe (per The New Yorker). Her interpretation of those carvings, as an ancient pagan deity of spring that coexisted with Christianity throughout the medieval period, became very popular, but it's been widely challenged by scholars in the years since. 
Most folklorists hold that there was no tradition of a springtime spirit made of leaves, in Britain or anywhere else, and that the church heads were only decorative. On the other hand, some historians have found evidence for the Green Man as a genuinely ancient figure. Whether he's that old or not, the perception of him as such is well-supported by the British press, and so the perception remains.
Four flowers for four nations
Many of the symbols included in Charles III's coronation invitation are well-established representations of the United Kingdom, or its component nations. This extends to some of the flowers used throughout the design, since for three of the nations, flowers have long served as royal heraldic symbols. England's heraldic flower is the Tudor rose, a combination of the red rose of the House of Lancaster and the white rose of the House of York, unified after Henry VII of the Tudor dynasty took the throne and wed Elizabeth of York. Their combination was meant to mark a new era of peace in England.
Scotland's heraldic flower is the thistle. A popular legend claims that invaders of Scotland in the 13th century gave away their attack thanks to this prickly plant, when they cried after stepping on thistles before the Battle of Largs (per Parliament's official website). Northern Ireland, like the Republic of Ireland, is identified by the shamrock, which was allegedly used by Saint Patrick to explain the Trinity to his converts.
As for Wales, it has no flower officially designated a royal heraldic badge. The leek, a white and green vegetable, shares colors with the Welsh standard, so it's long been used as a symbol of the nation. But Wales is also popularly identified with the yellow daffodil. For the coronation invitation, Wales was represented by the latter flower.
[Featured image by Sodacan via Wikimedia Commons | Cropped and scaled | CC BY-SA 3.0]
The wildflower meadow includes a tribute to Queen Elizabeth II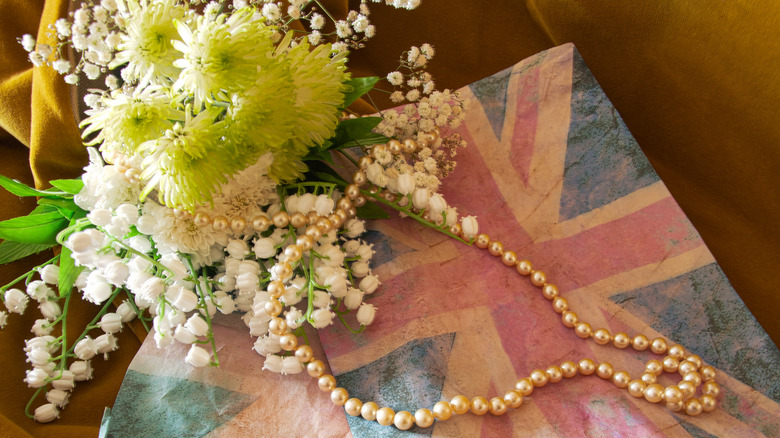 Debra Angel/Getty Images
Flowers dominate Andrew Jamieson's artwork for Charles III's coronation, and the flowers used in the design weren't chosen at random. They all have long-standing use as symbols in Western culture, a connection to the British royal family, or both. One of them pays tribute to Charles's predecessor, his mother Queen Elizabeth II. Her favorite flower was the lily of the valley, a flower with a mythology linked to the Bible (per Country Living). It's been used throughout history to symbolize royalty, purity, a return to happiness, and motherhood.
Another flower with ties to the royal family is that of the wild strawberry; strawberries and cream are said to be a favorite royal dessert (per Town & Country Magazine). Cornflowers don't have such a direct tie to the British monarchy, but they are longstanding symbols of anticipation, the future, and prosperity, among other virtues. Dog roses have symbolized love and beauty since the days of the ancient Greeks, and bluebells have been associated with gratitude and humility, though the latter also feature prominently in fairy folklore. And lastly, rosemary is often used to represent remembrance.
Three flowers for three Charleses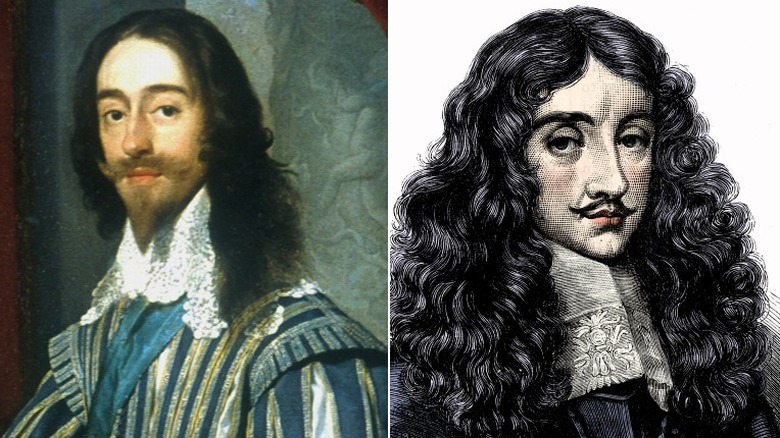 Photos.com & Culture Club/Getty
According to the royal family's website, the flowers in the invitation design for Charles III's coronation are grouped in threes. This was done to acknowledge that Charles is the third monarch of that name to reign over Britain. 
Before his accession, there were rumors and speculation that he might not use his own name as king: Sovereigns can choose a separate regnal name, and since Charles's grandfather, George VI, was so beloved and so influential on Queen Elizabeth II, it was wondered if Charles might become George VII. Besides, "Charles" hasn't always been a lucky name for English kings.
Charles I was said to be courteous, devout, and sensitive, but also inflexibly committed to the principle of divine right. His inability and unwillingness to work with Parliament culminated in civil war, the end result being Charles's execution and England's brief experiment with republicanism. His son, Charles II, was luckier in his rule — his reign is known as the Restoration — but his character was of a very different nature than his father's. While reputed to be a sharp wit, the second Charles was also a spendthrift hedonist who may have presided over a more stable England than his father had, but neglected some of the duties of governance.
The coats of arms of Charles and Camilla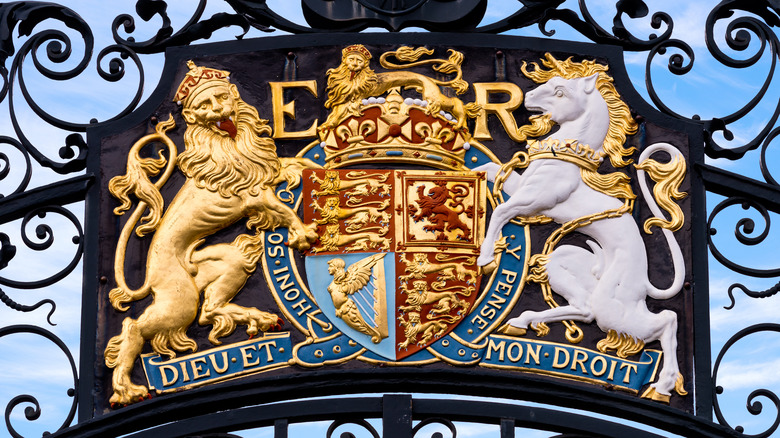 Michael Warwick/Shutterstock
At the top of Charles III's coronation invitation are two coats of arms, one on either side. To the left is the royal coat of arms of the United Kingdom, widely seen at home and abroad, though artist Andrew Jamieson did put a personal spin on his rendering. It features a quartered shield, with two representations of the three golden lions of England, the red lion rampant of Scotland, and the harp of Ireland. The lion of England and the unicorn of Scotland act as heraldic supports. It's topped by a crown, while the royal family's motto, "Dieu et mon droit" ("God and my right") is displayed below. This particular coat of arms is reserved for the reigning sovereign.
To the right is the personal coat of arms for Camilla, Queen Consort. Her arms have a halved shield, with one half holding the quartered standard of the U.K. and the other featuring a boar's head, two red stars, and a cross. The supports are the lion of England and a blue boar, taken from the arms of Camilla's father, Major Bruce Shand (per the royal family's official website). There's no motto on Camilla's arms, but she does have the crown on top, and both arms feature a blue garter to symbolize the Order of the Garter, Britain's oldest order of chivalry.
Is it Queen Camilla now?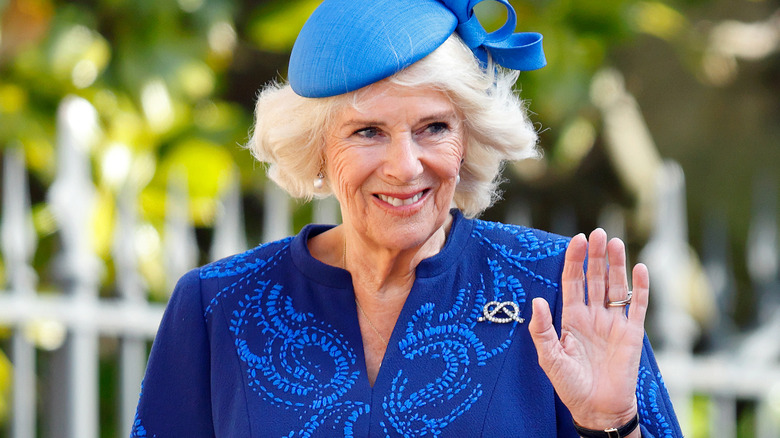 Max Mumby/indigo/Getty Images
Notable on the invitations to Charles III's coronation was the way that his wife was described. As the spouse of the monarch, Camilla is to be crowned as well. But the invitation describes her as Queen Camilla, not Camilla, Queen Consort.
The latter would be the more traditional title for the wife of a reigning king: The spouse of a reigning sovereign cannot take the throne, which is reserved only for those directly descended from the royal line to inherit. Husbands to a reigning queen are traditionally titled prince consorts, while wives to kings are queen consorts. In Camilla's case, early reports in her marriage to Charles claimed that she would be known as princess consort. But before her death, Queen Elizabeth II declared that she wanted Camilla to have the queen consort title once Charles acceded to the throne.
The comments on the royal family's Instagram post featuring the coronation contained some criticism of Camilla being described as queen. For some, that title was still associated with Elizabeth II, and calling Camilla anything more than consort seemed to go against Elizabeth's publicly-stated wishes. Others compared Camilla negatively with Diana, Charles's first wife. When he and Camilla first married, she notably did not take the title Princess of Wales, which had been so strongly associated with Diana.
Nature and environmentalism run throughout the invitation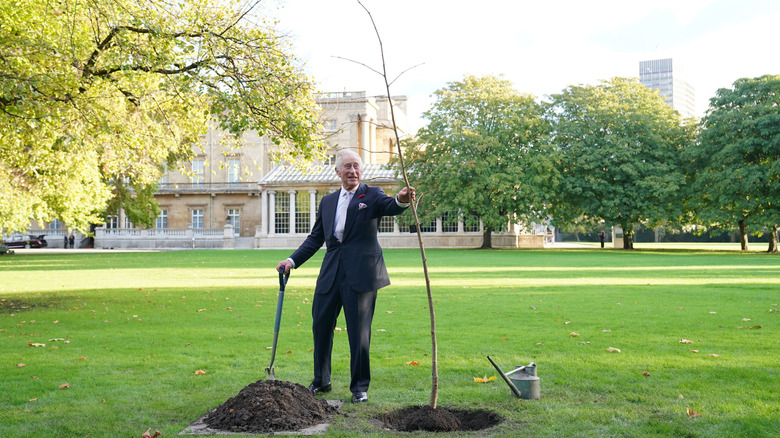 Pool/Getty Images
If the British monarchy is well-represented in the artwork created for Charles III's coronation invitations, so is nature: Flowers, birds, bees (and other bugs), a lion, a boar, and a unicorn appear throughout. While the royal family's website didn't explicitly give a reason for this motif in its description of the invitation, it's hard not to connect it to Charles's long and well-publicized interest in environmentalism.
As Prince of Wales, Charles was outspoken about the dangers of pollution as early as 1970, advocating for action with preserving the natural world and fighting climate change well before it became a mainstream issue. In his brushes with the political world, for which he attracted criticism, environmental issues were often raised by Charles to government officials. How much of this sort of soft power he'll be able to use as king is likely to change; as a nonpolitical head of state, it's required of the sovereign to remain neutral and detached from politics. But Charles's commitment to conservation is unlikely to ebb, and the coronation invitations reflect this in another way — they were all printed on recycled card stock.