Actors Who Died After Filming Horror Movies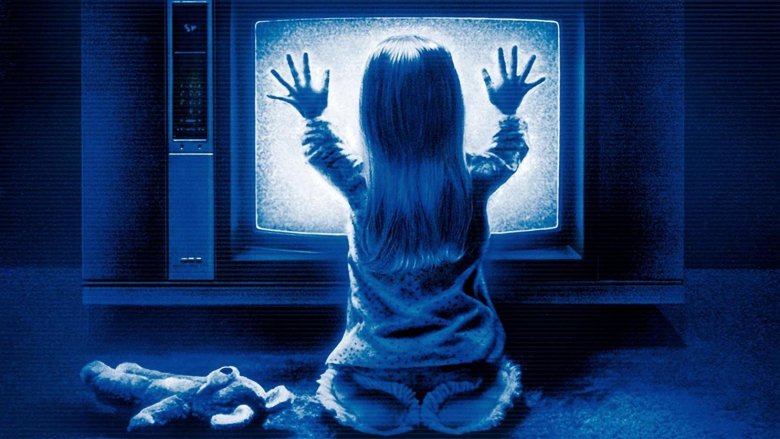 If Hollywood has taught us anything, it's this: Don't join the cast of a Poltergeist movie. Actually don't work on any movie where characters are haunted, possessed, or tormented by supernatural forces. Mostly though, just don't work on a Poltergeist movie.
A horror movie set should be just like any other movie set, but for some reason horror movies tend to be associated with more death, injury, and strange happenings than action movies and romantic comedies. Some movies even have a reputation for being "cursed," which would seem ridiculous if there weren't so many credible actors and others describing the creepy things that happen on set, and oh yeah, the actual real-life death. So here's a public service announcement for actors who might be considering an audition for a movie about demonic possession or spiritual torment: Run the other way. You might be able to count on a stuntman to protect you from on-set injury, but a stuntman isn't going to save you when Beelzebub comes for your soul. You have been warned.
The first victim of the Exorcist curse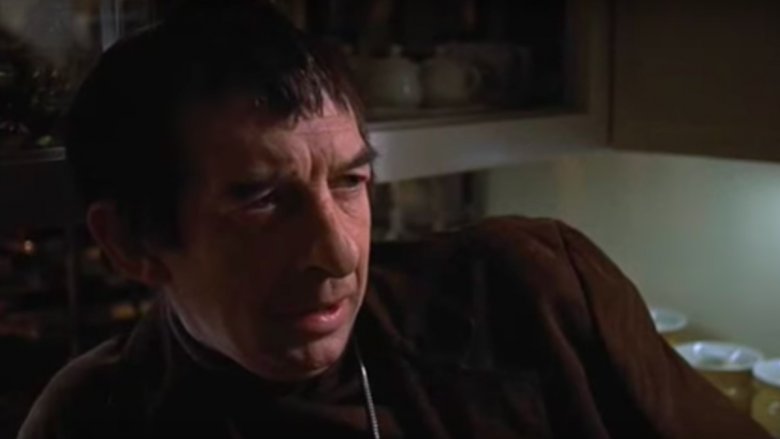 The Exorcist is arguably one of the most terrifying films of all time, but it's not just scary to watch on the big screen. The movie was associated with a ton of bizarre incidents like a fire that burned down the entire set (except for the possessed girl's bedroom, which is extra-super creepy) and a lightning strike that took out a 400-year-old cross across the street from where the movie was premiering. In fact producers were so weirded out by the things that were happening that after the fire they hired a priest to come bless the cast, crew, and the entire set. Some people even thought that the film itself was cursed — Billy Graham famously said that "an actual demon lived inside the celluloid reels of the film."
According to The Guardian, the film was also associated with the deaths of nine different people, from the night watchman to a special effects professional. Most notably, actor Jack MacGowran, who played Burke Dennings in the movie (the guy who gets thrown out a window by the angry demon) contracted influenza during the 1973 London epidemic and died from complications. Now, people die from complications of influenza all the time, but MacGowran died right around the time of the premiere and eight people followed him, so ... we like to think it was a coincidence. Right?
The first victim of the Poltergeist curse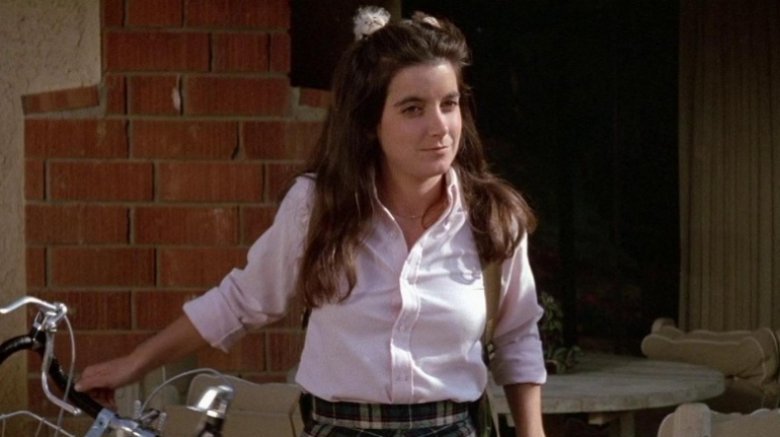 Poltergeist is a classic tale of people who live in a house built on a cemetery and who are haunted by toy clowns, partially eaten by trees, and sucked into intra-dimensional closets. In other words, it's a clear metaphor for life in American suburbia.
The original Poltergeist was one of the scariest movies of its time, so scary that some people think it irked the actual forces of evil, who rose in protest and haunted the set and the cast for real. No one really knows why the forces of evil would give a rat's ghost about a Hollywood movie, unless they were annoyed by the assertion that they would ever do anything as lame as hang out inside a television set.
Anyway, the Poltergeist franchise has been linked to so many deaths that most people have lost count, and the first was Dominique Dunne, who played the haunted family's teenage daughter. According to People, Dunne was murdered by her ex-boyfriend in 1982, the same year Poltergeist debuted in American theaters. John Sweeney, a talented chef who worked as Wolfgang Puck's chief assistant, strangled her a few weeks after she ended their relationship. Which does seem kind of like just another day in Hollywood, except she wasn't the last Poltergeist actor to die.
The Poltergeist curse is just getting started...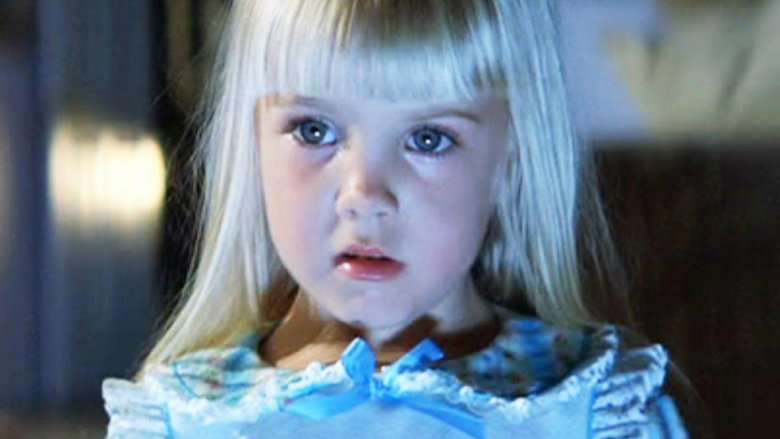 The star of the original Poltergeist franchise was Heather O'Rourke, the adorable little girl who got sucked into her closet and then ended up inexplicably inside a television set, which is evidently like a resort for supernatural forces or something since that's also where Samara from The Ring liked to hang out. Anyway O'Rourke starred in three Poltergeist movies before dying suddenly at the age of 12, just before the last movie in the trilogy was released.
There was nothing really strange or violent or shocking about O'Rourke's death, other than the usual fact that an unexpected death is always horrifically tragic. According to the LA Times, O'Rourke died from an undiagnosed congenital problem — her official cause of death was "intestinal stenosis," a severe bowel obstruction that led to infection and septic shock. O'Rourke suffered sudden abdominal pain and was rushed to the hospital, where she died on the operating table.
Doctors said O'Rourke's abnormally narrow intestines had been present at birth, so in other words, way before the Poltergeist curse and probably not supernatural in origin. Still, the timing of her death was a little bizarre, which is probably what really gave the whole curse thing its legs.
Actual horror on the set of a horror film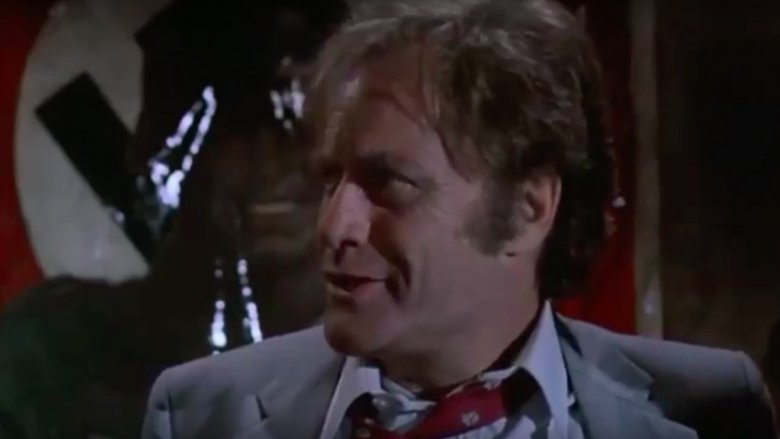 The Twilight Zone franchise has been around forever — in the late '50s it was a creepy black and white television show and it's been rebooted like a billion times, twice as a TV show, and as a telefilm, a radio show, comic books, and a pinball machine. It was even a Disneyland ride, until eventually it became so old that kids were all, "What the heck is 'The Twilight Zone'" and then Disney just turned it into a Guardians of the Galaxy ride because no one knew.
Anyway, at one point during all of that they decided to make a movie, and according to Slate, during filming they decided to blow something up right under an airborne helicopter, and three people died. One of the three was veteran actor Vic Morrow, who played a bigot learning some hard lessons courtesy of time-traveling, body-snatching forces of justice. During his big redemption scene, Morrow's character was supposed to rescue two Vietnamese kids from a war zone, but instead he got decapitated by a crashing helicopter.
Morrow died instantly, but the franchise lived on for a while before finally dying the long, slow death of irrelevance and Netflix reruns.
Vic Morrow wasn't the only one to die on the set of the Twilight Zone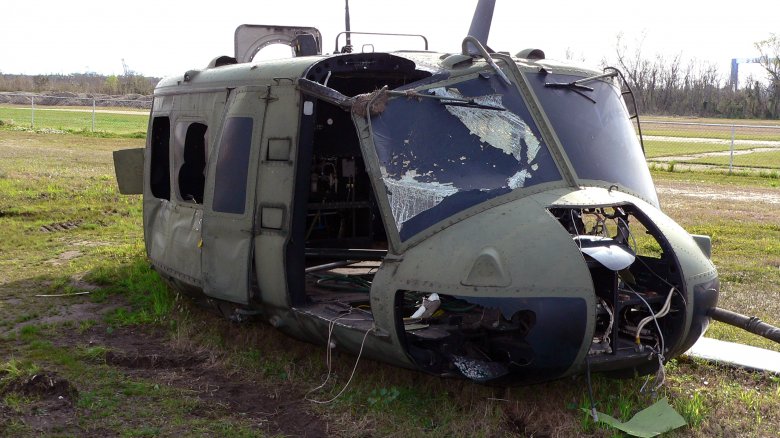 Shutterstock
Besides Vic Morrow, two other people died in that helicopter crash on the set of the Twilight Zone: the two kids his character was supposed to be rescuing.
Six-year-old Renee Shinn Chen and 7-year-old Myca Dinh Le were paid under the table so producers could get around the child labor laws that forbade kids from working at night or near explosives. According to the New York Times, the father of Renee Shinn Chen later testified that he wasn't told there would be pyrotechnics or a low-flying helicopter.
The deaths were so horrific (one child was crushed, the other decapitated) that co-director John Landis, the special-effects coordinator, and the pilot were all charged with manslaughter. In court, much of the testimony focused on whether telling a low-flying helicopter to fly "lower, lower, lower" was negligent, especially given the fact that there were two small children directly below, they were about to set off explosives, and it was against California law for those kids to be there in the first place. And yet, for some reason the defendants were all acquitted, thus proving that all you need to do to not be convicted of manslaughter is have money and work in Hollywood.
The families did get at least a small amount of monetary justice, though, when Landis, producer Steven Spielberg, and Warner Brothers settled the families' lawsuits out of court.
Bela Lugosi's dead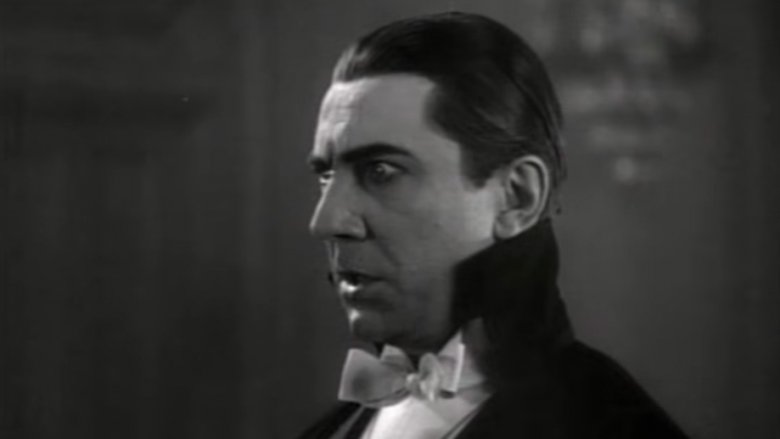 Bela Lugosi was best known for playing Dracula and other horror villains. He tried to land other roles, but his Hungarian accent was limiting in an era when audiences thought all central European accents were Transylvanian.
After a long career, Bela Lugosi died of a heart attack. Just before his death he shot some test scenes for Ed Wood, who you might remember as the Golden Turkey Award-winning "worst filmmaker in history." Wood was left with just a few minutes of footage, which he decided to make into a feature film. 
Instead of sticking with the vampire theme, Wood made a zombie flick, and he also put aliens in it because everyone loves aliens. There was so little Lugosi footage available that Wood hired a double to fill in for his deceased star and made him walk around with a cape over his face, which we all know from way too many seasons of The Walking Dead is something zombies always do because they really don't like being recognized by living family members.
Anyway, that's the story of how Bela Lugosi became the post-mortem star of the worst movie of all time. He may not be rising from his grave anytime soon, but he's certainly rolling in it.
Let's see how much crap will fit in this plane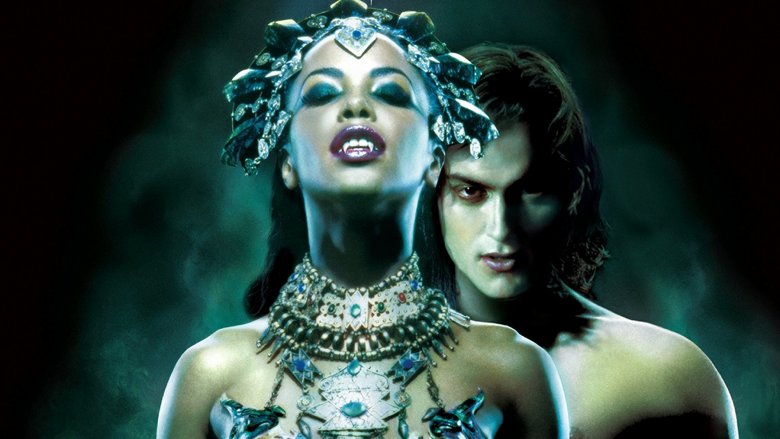 Singer Aaliyah had just finished filming Queen of the Damned, an adaptation of Anne Rice's gothic horror novel, when she was killed in a plane crash in the Bahamas. The whole incident was pretty seedy — according to Billboard, the plane was carrying more passengers than it was certified to carry, it was overloaded by about 700 pounds, and it was operated by a company that wasn't licensed in the Bahamas. The pilot had been recently been sentenced to three years' probation for possession of crack cocaine, and there was a poltergeist on board. (Not really that last one, just trying to stick with the theme.)
Investigators believed the plane crashed simply because there was too much weight in the tail and too much weight overall, which led to the pilot losing control. The plane was otherwise in good working order.
Aaliyah had finished shooting Queen of the Damned but some of her lines needed to be overdubbed because the accent she used for the role was hard to understand in places. Her brother, whose voice was similar to her own, stepped in and revoiced all the questionable lines, which was a fitting tribute to his sister but had to have been hard for him to do. At any rate, unless those pesky supernatural forces added some extra stuff to the cargo area, this particular death can be blamed on good old human error.
More Poltergeist cursing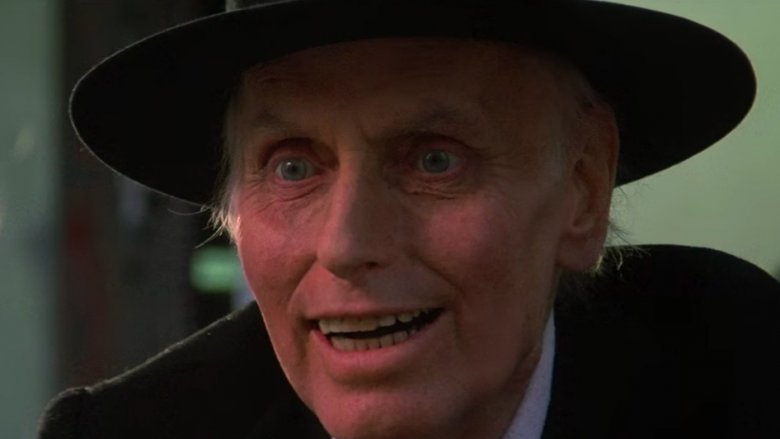 The scary evil preacher in Poltergeist II wasn't quite as iconic as the terrifying, terrifying, terrifying clown or the little old lady who said, "This house is clean" (it wasn't), but he still registered at least a 9 on the creep-o-meter and for many people is the most memorable element of the film. He also died during post-production, thus proving once and for all that no one should ever be in a Poltergeist movie, ever. Except he was actually dying during filming — the sunken eyes, the yellowish skin, and the skeletal frame that helped make the character so terrifying weren't special effects, they were symptoms of late-stage cancer.
The actor's name was Julian Beck, and he was something of a theater icon — with his wife Judith Malina, he founded The Living Theatre, a repertory company known for experimental drama. Beck was diagnosed with stomach cancer years before Poltergeist II premiered, so it was no great surprise to anyone that he died so soon after completing the film. Therefore his death was not the result of a curse — unless the forces of darkness actually prophesied his participation in the movie and then gave him stomach cancer two years before they actually started shooting the film. But you know, those forces of darkness are pretty wily, so anything's possible.
Yet more Poltergeist cursing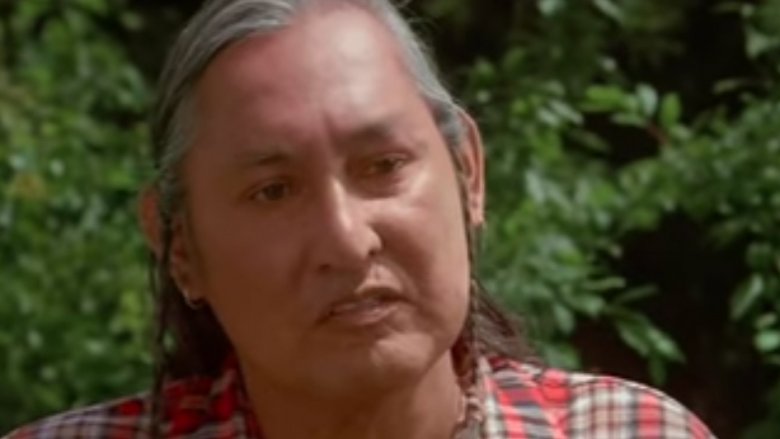 Honestly, this isn't even the last Poltergeist actor connected to this so-called curse, but it's the last one we're going to talk about because it's starting to get kind of redundant at this point. Will Sampson, who played the Native American shaman Taylor (and incidentally was also the dude who threw a hydrotherapy cart through a window at the end of One Flew Over the Cuckoo's Nest), died in 1987 after undergoing a risky heart-lung transplant, just about a year after the release of the second Poltergeist film. But before you say, "Curse!" keep in mind that Sampson had a degenerative condition called scleroderma, which causes heart, lung, and skin problems. The operation, which had a very low chance of success to begin with, was a last-ditch effort to save his life.
Maybe you're still a little suspicious that there was a curse at work, so let's just sum up the whole Poltergeist discussion with a word from Oliver Robins, who played tree-food Robbie in the franchise: "I don't think anyone that was involved in the movie ever really took the curse seriously. There is no curse — it is just tragic coincidences. ... People may try and connect the dots and make something out of it, but they are possibly going to make connections that probably aren't there." And that's all there is to say about that. Until the curse claims someone else. Which it won't. Because there's no curse. Probably.
The Exorcist curse returns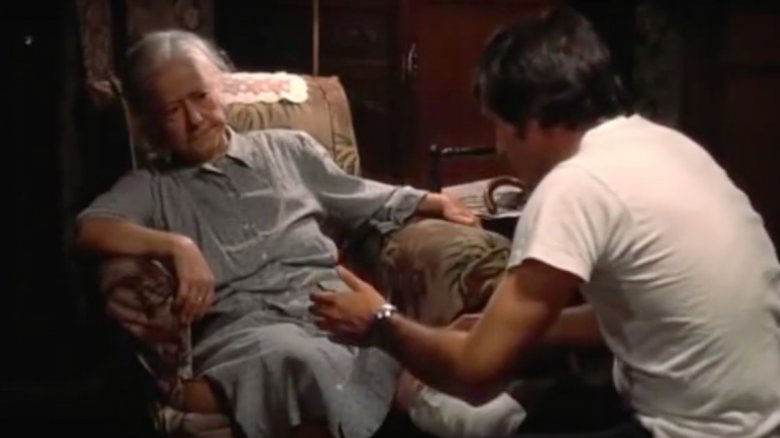 The Exorcist wasn't a one-actor-death production, either — according to Daily Star, Greek actor Vasiliki Maliaros, who played Father Damien Karras' ailing mother, died just ten days after Jack MacGowran succumbed to the common flu. The Exorcist was Maliaros' only acting credit — director William Friedkin literally discovered her in a Greek restaurant in New York and asked her if she wanted to be in a movie. And then she was cursed, so thanks a lot, William Friedkin.
Maliaros and MacGowran didn't have much in common — MacGowran was a career actor and Maliaros got a fairly late start to her own very short-lived career. But they did both play characters who died in the movie, and then they died in real life, so wooooooo spooky.
Maliaros was 89 when she died, though, and her death was due to "natural causes," which seems to suggest she died of old age. So if the Exorcist curse mostly dooms its stars to die of old age, then that's a curse everyone should probably get behind.