The Near-Death Experiences That Changed Cat Stevens Forever
Slaven Vlasic/Getty Images
If not for two near-death experiences, the life of folk singer Yusuf/Cat Stevens — formerly known just as Cat Stevens — could have been very different than it is today. And both of these brushes with death bookend what's debatably the singer-songwriter's most creative period. The first came when Stevens — born Stephen Demetre Georgiou in 1948 in London — was just 20 years old. At that time, Stevens had a bad case of tuberculosis (TB), and although already a working musician, in Stevens' period of convalescence from TB he wrote a large share of his most potent and well-known material.
The next time Stevens nearly died came roughly eight years later in 1976, when the "Peace Train" songwriter — who was an international star at that point — almost drowned while swimming off the coast of Malibu, California. After escaping the clutches of the Pacific Ocean, Stevens converted to Islam, changed his name to Yusuf, and — for a time — gave up on pop music entirely. In 2020, Stevens, who at first billed himself as just Yusuf after his 2006 return to secular songwriting, remembered that near-drowning incident in an appearance on the BBC Four radio program "Desert Island Discs."
In that interview, Stevens said (via The Independent): "I called out to God and he saved me. A little wave came from behind. It wasn't big. It was just simply pushing me forward. The tide somehow had changed and I was able to get back to land. So I was saved. I didn't know what was going to happen next."
Stevens released two records before his bout with TB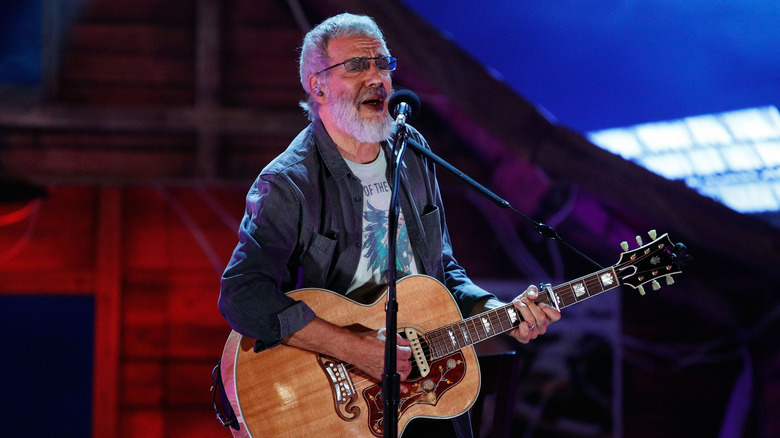 Taylor Hill/Getty Images
In 1968, Cat Stevens had released two records when he came down with tuberculosis, a now treatable bacterial infection that once killed millions of people worldwide (via the Centers for Disease Control and Prevention). Stevens' had a few hits chart in the U.K., including the song "Matthew & Son," which shares the same name as his debut album. But Stevens' much less well-received second record, "New Masters," was recorded in the midst of a record label dispute, and in a bout of depression, he turned to alcohol and smoked heavily. His health paid the price for it.
Around that same time, Stevens came down with a severe case of TB. With a collapsed lung and a case of pneumonia, Stevens was confined to the hospital for three months and a long period of recovery. At this time he wrote scores of songs for what would be his landmark records, including "Mona Bone Jakon" and "Tea for the Tillerman," both of which came out in 1970.  In 2021, Stevens, then calling himself Yusuf/Cat Stevens, spoke with Goldmine Magazine about this experience. 
In that chat, Stevens said: "I'd just been through a very traumatic experience of contracting tuberculosis and being hospitalized, maybe only weeks away from death, so that also definitely spills on your consciousness and your understanding and knowledge of what life means when you're trying to hold on to it. I suppose a lot of my development of myself and my music happened in that kind of period of convalescence after my illness."
After nearly drowning, Stevens' brother gave him a Quran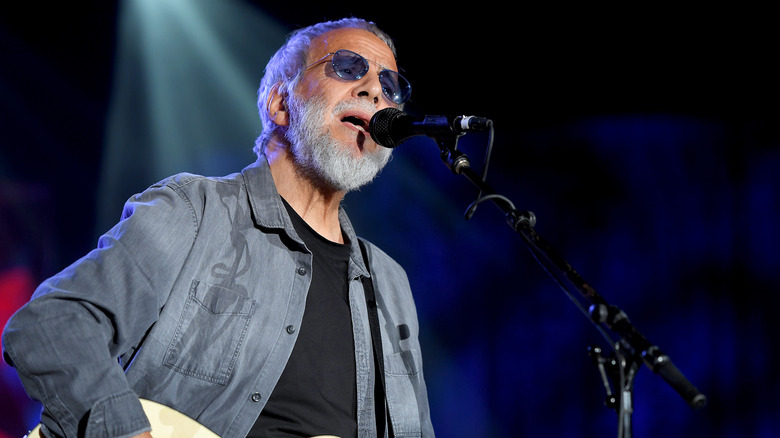 Larry Busacca/Getty Images
Some eight years later, in 1976, Stevens — who was a massive star all over the world at that point — decided to take of swim off the waters of California. Speaking on BBC Four's "Desert Island Discs" in 2020, Stevens, then in his early 70s, explained that as an Englishman, he had no idea how risky it was to swim in the Pacific Ocean. At that time Stevens said (via The Independent): "I decided to turn back and head for shore and, of course, at that point I realized, 'I'm fighting the Pacific.' There was no way I was going to win. There was only one thing to do and that was to pray to the almighty to save me. And I did." 
Once back on dry land, Stevens' brother reportedly gave him a Quran, after which time he famously converted to Islam in 1977 and changed his name to Yusuf. This move was controversial for Stevens, and as a result, he quit the world of popular music entirely, although he continued to write and record religious music during this period. Stevens returned to pop music in 2004, and in 2006, he released the critically-acclaimed "An Other Cup," then under his adopted name, Yusuf. Since then, Stevens — who since 2016 records and performs as Yusuf/Cat Stevens — remains active, and today, Yusuf/Cat Stevens is among the most awarded and beloved singer-songwriters of his generation.
If you or someone you know needs help with mental health, please contact the Crisis Text Line by texting HOME to 741741, call the National Alliance on Mental Illness helpline at 1-800-950-NAMI (6264), or visit the National Institute of Mental Health website.